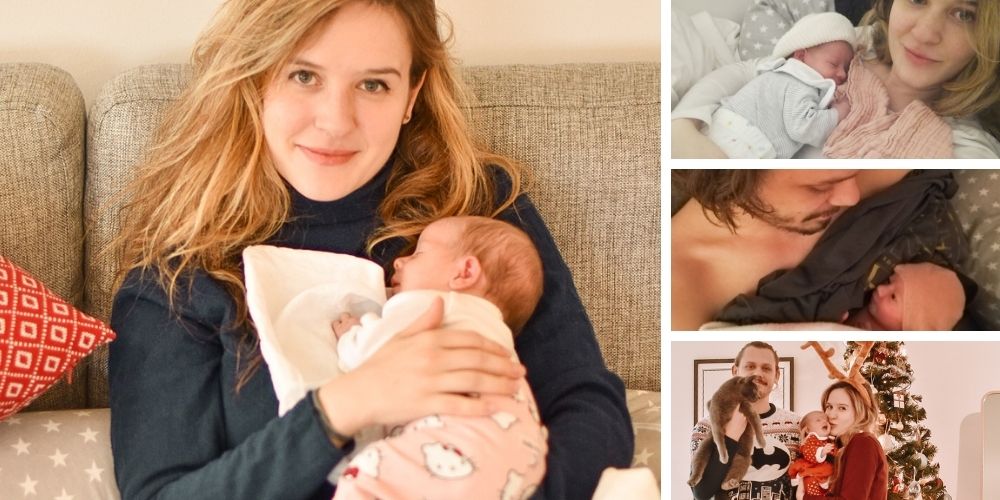 Hello, everyone! On the last Instant Plume article (November), I ended my article with, I quote myself, "Next article, next Instant Plume, I will tell you about my first month as a mom! It's crazy to say it like that! Send me good waves in the sky so that my cesarean section goes well "… and well here we are, everything went well, it's January, my little Élise is already 6 weeks old, I'm perfectly happy with my little family and everything went very well. So much happiness! Well, there were ups and downs and a LOT of emotions! But all in all, so much happiness. I'm telling you more about all this!
The good things of December
The birth of my sweet little girl
An event could not be more unforgettable. So much happiness, but also a lot of mixed emotions. A moment both feared, and so desired … a birth by caesarean section so sweet, and at the same time so scary side effects. A fire at the hospital. But at the same time, such a sweet, healthy baby. Her little body all warmed up against me. Those first unforgettable moments with my little family. And then in the end… everything went SO well. The fire, the side effects… more than fear than harm. Because in fact, everything was PERFECT. I have written you with precision my birthing story in a dedicated article. If you are curious to know more about everything I wrote above, I invite you to read it. In any case, December 7, 2020 was clearly the happiest day of my life. And the first day of the rest of my life as a mom, the most beautiful of roles…
---
Cocooning December
December was a cocooning time for the 3 of us, simply enjoying our first moments as a small family. So much happiness once again! Discovering our baby, discovering ourselves as parents, learning from each other… enjoying every moment. And all these first times of our little Élise: the first bath, the first Christmas, the first walk … my phone, my heart and my head are already filled with beautiful memories. I am looking forward to all those that we still have to live and create.
---
A very nice month, to say the least! Unforgettable…
Like every month, I'll be on instagram to share YOUR Instant Plume of December in a story (to be found in the highlights story #instantplume to discover some nice accounts!).
Lot of kisses xx