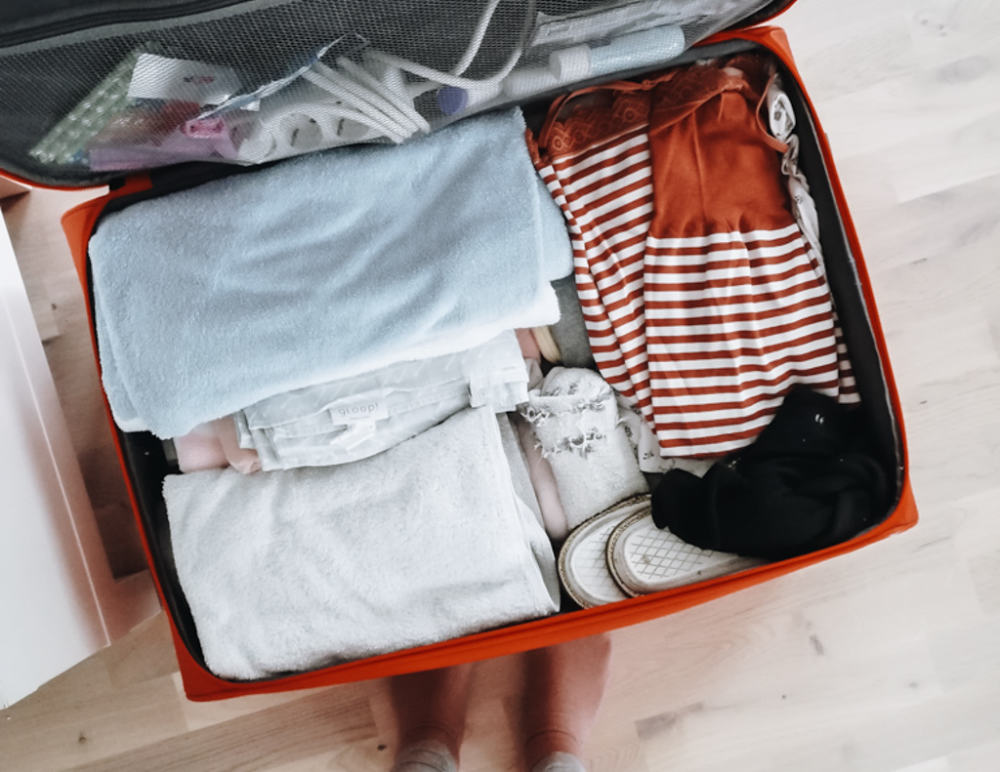 Hello to all of you! Today, I want to write a practical article for all future moms (or future dads involved in pregnancy and preparation for childbirth): about the maternity suitcase. What do you put in it? When do you make it? I asked myself these questions and after much research, I now have a good vision of the question. So here it is, I'm sharing with you all my recently acquired knowledge :).
Maternity suitcase: what to pack?
When do you start the maternity suitcase?
Personally, I packed my maternity suitcase around 36 – 37 weeks. But my pregnancy applications had already been telling me to prepare for a while (maybe since about 34 weeks). Indeed, you can never be sure that your baby won't be too eager to come out, so it's better to be ready in advance!
The list of things to put in it
So here it depends:
From the country (how long you will stay in the maternity ward): I know that in France (where I am from) it is longer than in Sweden for example, (where I live. With 6 hours if vaginal delivery, and 48 hours if cesarean section, if everything goes well, of course. Otherwise it is longer).

From your mode of birth (vaginal delivery, cesarean section, etc.) which influences the length of your stay.

From the possibility of receiving visits if you need to stay longer for a reason. In my case for example, in a Covid-19 situation, my darling is not accepted for visits. So I was (very!) prepared just in case he cannot bring me extra things.
I've planned a whole collection of bodysuits, pants, hats & gloves (winter baby!), socks… etc… But I think I have too much. I think the best thing to do is to ask your midwife how many outfits to bring. But since it's so small, it doesn't take up much space, I thought "hey, at least I'll have some choice". And then, since I don't really know what size she'll be, I have several sizes.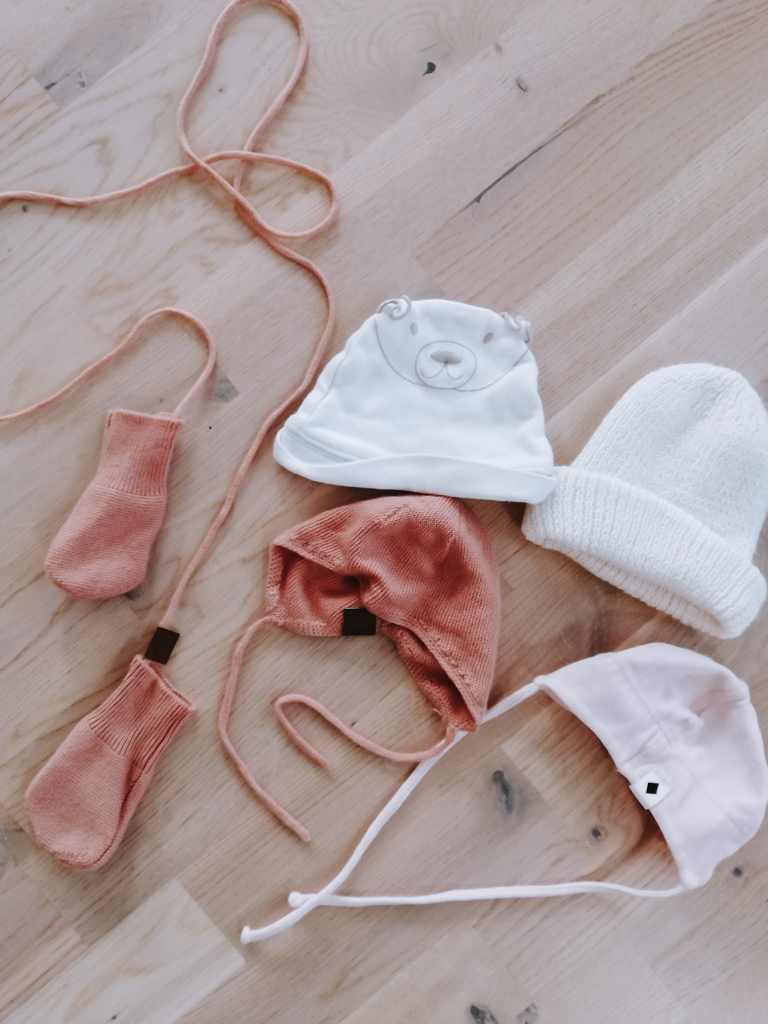 Diapers, a cuddly toy, a pacifier clip, and pacifiers
Some maternity wards provide diapers, others do not. You need to find out. Here in Sweden, they give us a pack, but it goes fast, so I brought an extra pack just in case (knowing that you can change them up to 8 times a day!). As for the pacifiers, I would say that the goal is not to use them from the beginning normally (because it can create breast/pacifier confusion if you want to breastfeed) but it's good to have some just in case.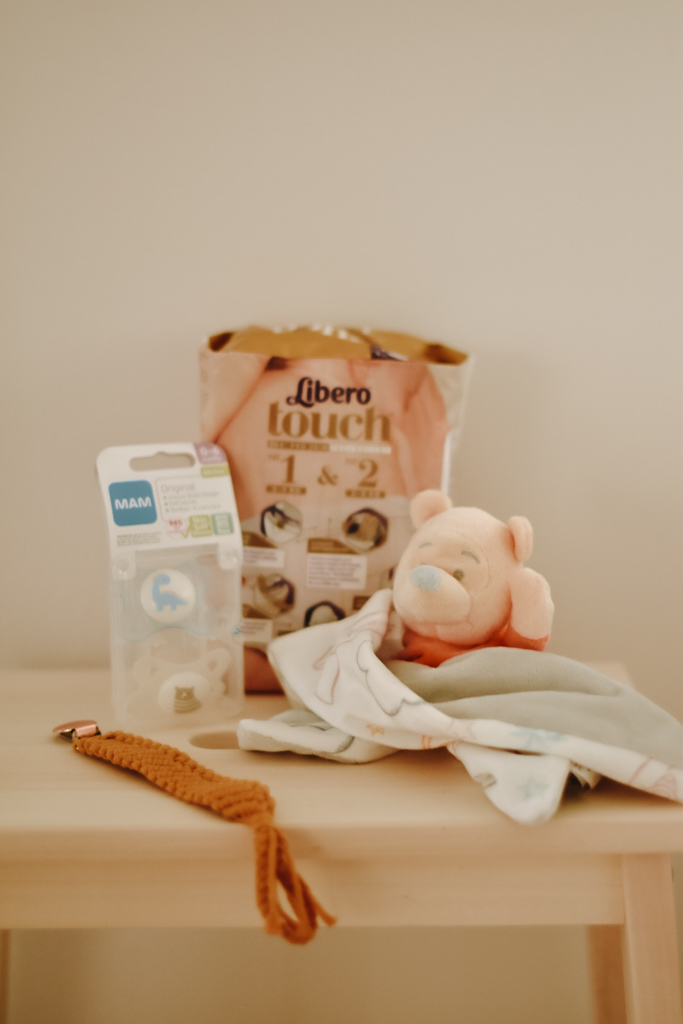 Small bath kit, perfume-free wipes (or even better, washable wipes that you will use with water and that's it), eventual baby products… plan what you need to clean your baby. Personally, I learned on the spot: actually, for baby's first days, you don't need much. A few wipes or washable cotton, and water. A small nail clipper if baby already has long nails coming out of the womb (yes yes, this happens, often!). 
In Sweden in any case, they advise not to give baby a bath before about 10 days, so that the umbilical cord dries well and falls well. Before, it is only with water and wipes. So I saved my little products and little bath accessories for later, at home.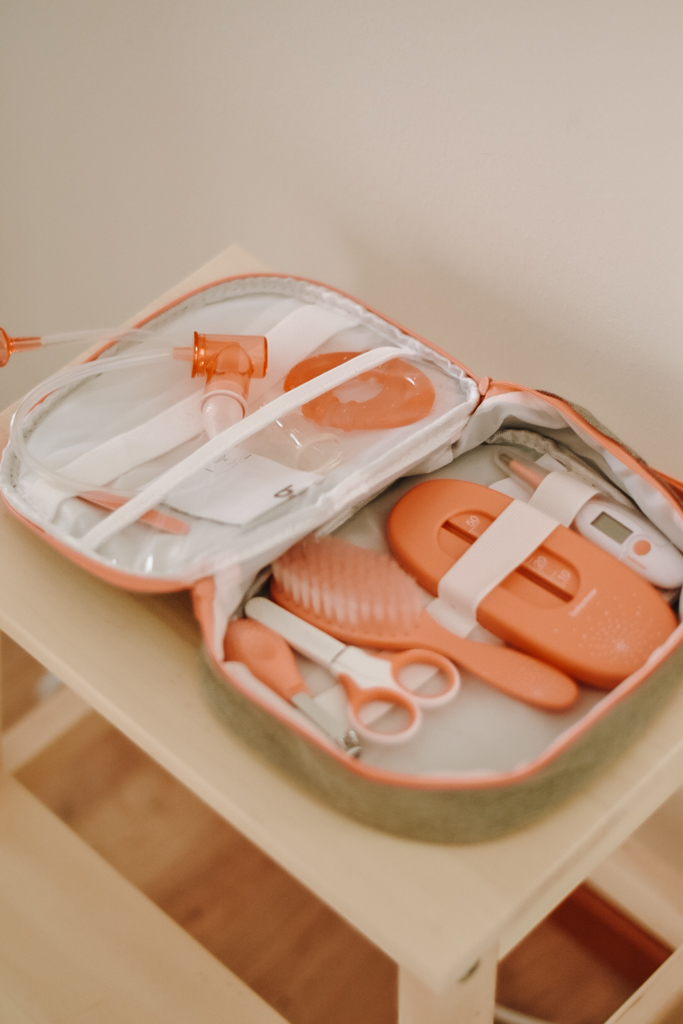 Swaddling clothes, towels, a sleeping bag, and bibs
It seems that swaddling clothes are LIFE, according to the feedback I have received from parents. To swaddle baby (in a mini burrito mode, so adorable!), to cover up when breastfeeding… so I took 2.
Towels to dry baby after washing. A sleeping bag for rest, and bibs for meals :).
I've equipped myself with a breast pump and bottles… if breastfeeding doesn't start the way I want it to. But here again, to be discussed with your midwife. Because it seems that in Sweden they lend you the breast pump at the hospital. I would rather have mine BUT if I take mine I have to clean/sterilize it etc. myself every time. It is complicated at the hospital, so I'm going to rely on their rental one. Again, I will have mine for afterward, when I get home if I need it, or later if I want to do mixed feeding or breast pumping feeding.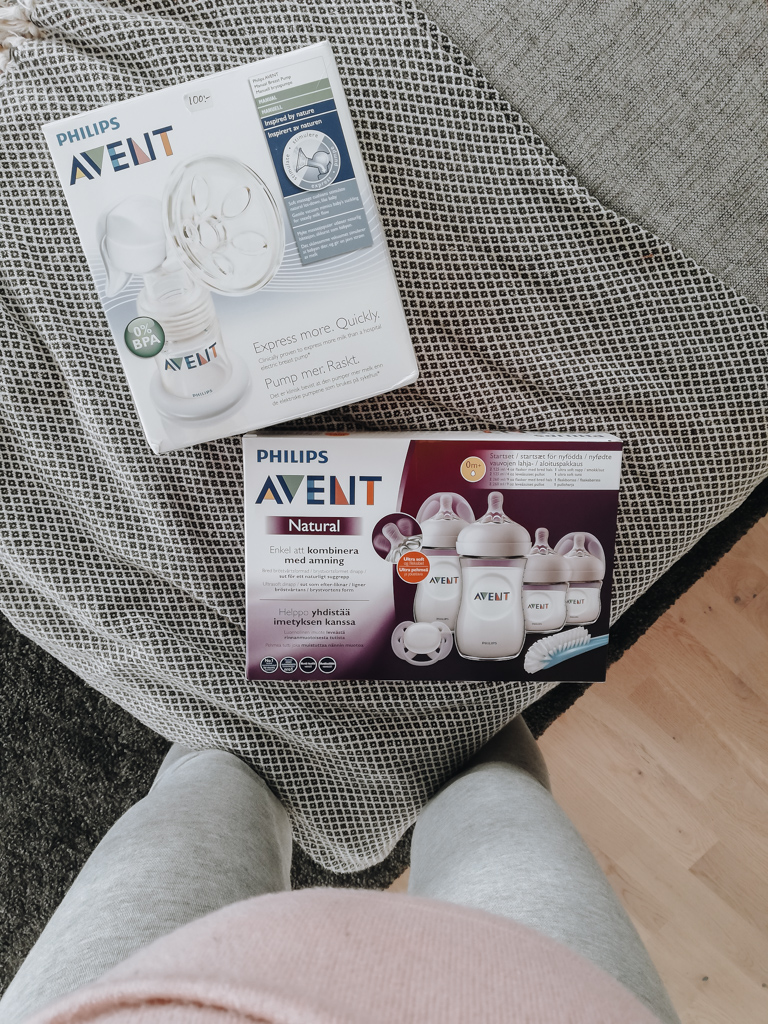 To bring your little love home. Or even to get up in the maternity ward and get your baby skin to skin. I chose a baby sling, perfect to have your baby against yourself and ideal in case of cesarean section (which is my case) to be able to carry the baby high and not to stress the car.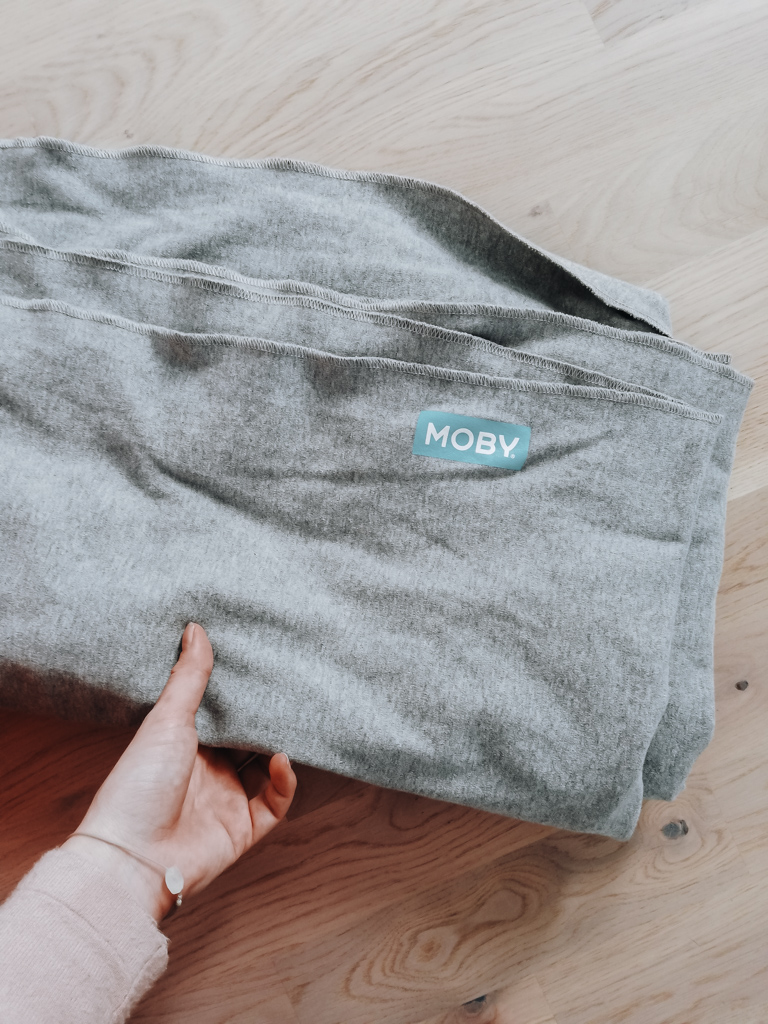 Make sure you have loose, comfortable clothing: one or two loose pajamas (nightgowns if you have a cesarean section so that there are no "bottoms" pressing on your scar). Also, disposable panties, because you'll probably lose some blood after giving birth and it's easier to just throw away the underwear. Sanitary napkins to add to the panties, for the same reasons. I would like to point out that this blood loss is completely normal, due to the contractions of the uterus which returns to its initial shape (it goes back from watermelon to fig, after all!). 
Also, if you wish to breastfeed, you should have two things for your nipples: nursing pads, which will keep your nipples dry, and a lanolin nipple cream to keep them well hydrated and prevent cracking. I also brought myself a small breastfeeding guide to read once on-site, and practice the different positions, etc. with the precious help of the midwives at the maternity ward. 
I can also only recommend you a post-delivery girdle (whether by vaginal route OR cesarean section), developed by Physiomat. It allows you to "tighten" the pelvis after childbirth, to help the body regain its shape, to soothe tensions, and to help the perineum recover. The tightening of the pelvis is practiced in many cultures… it is full of virtues. An essential!
If you have a cesarean section (and since you can never predict how the delivery will end, you can always leave a small amount of room for that probability), bring support socks or stockings to ease your circulation after the operation. 
If you have, take your comfortable pregnancy/breastfeeding pillow with you. And don't forget your toiletries: products, towels, etc. And slippers !
Finally, plan a nice outfit for going out ;).
An extension cord (so handy to always have a charged cell phone always close by!). Straws (to drink more easily if you are in pain). Plastic bags, to always have a small trash can near you.
Your chargers (laptop and other devices). A book, perhaps? Or another occupation? Whatever… not sure if you really have time in the maternity ward, but you never know. A camera to capture the first moments with baby. 
Also, I'm going to bring a night light so I can have a dimmed light in my room at night and not have to turn on the big hospital lights.
Also, plan snacks that will make you happy when you have a small (or big) hunger.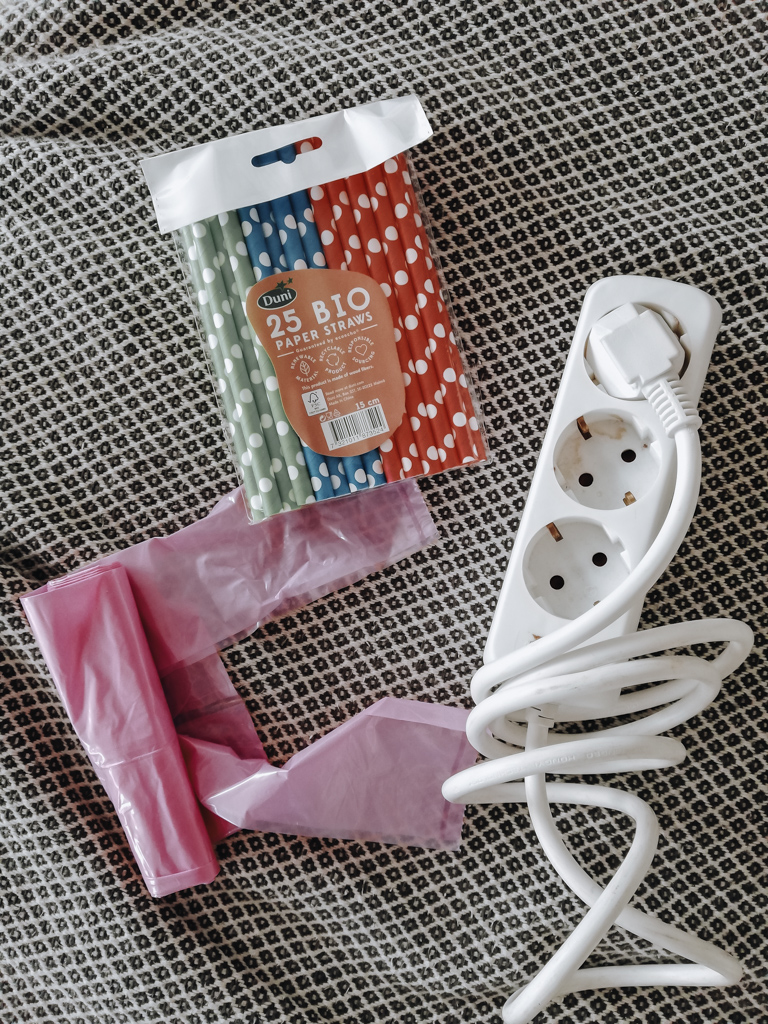 ---
Well, that turns it into a lot of things, doesn't it? Okay, I admit, maybe I'm too precocious. One thing is sure, I will arrive at the maternity ward with a big suitcase Hihi!
Hope this article has been useful to you. I wish you a wonderful end of pregnancy, a beautiful delivery, and a magical meeting with your baby. For me, it's only a few days away… ooh la la la… a mixture of hurry and apprehension!