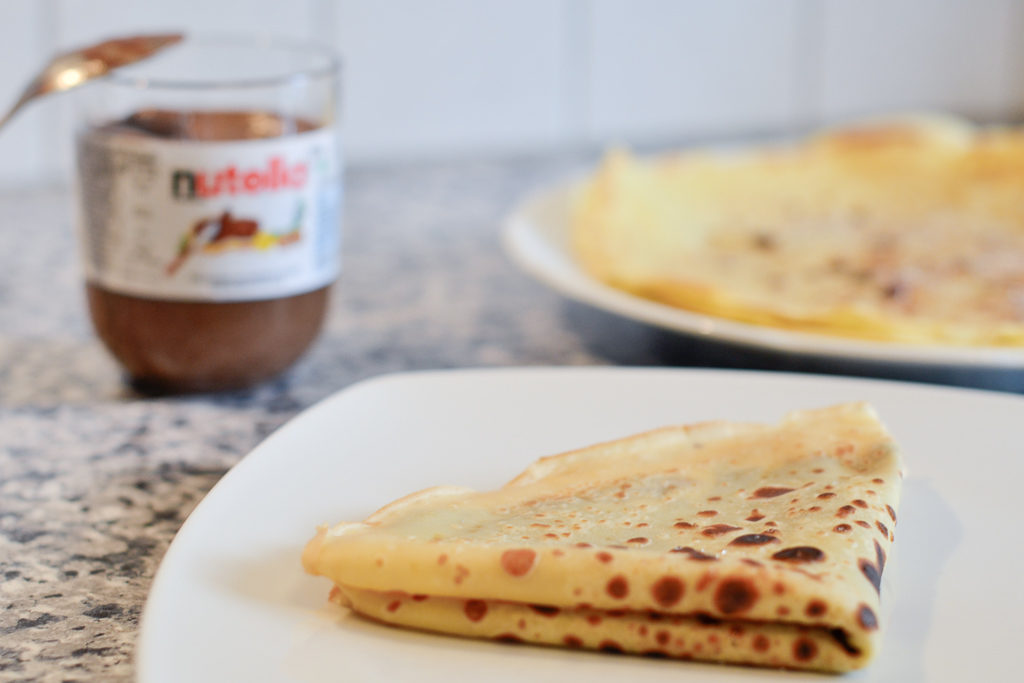 Hello little babes ! Tomorrow in France, it's the "Chandeleur" which is a French celebration where we eat French pancakes (the famous "crêpes"… so yummy right ?). So, here is a post dedicated to pancakes (or "crêpes" as we French say) ! Who does not like them? Sweet or salty, everyone enjoys them ! I make crêpes very often at home, and not necessarily only during the Chandeleur. My boyfriend, who did not necessarily eat these "French crêpes" that often before, loves them too! So, I had the opportunity to test several original recipes that have proven themselves, and I wanted to share them with you. I'm sure you already DO know the basic recipe (flour, milk, eggs … OK!). But have you thought of all those little "twists" that can be added / substituted to the basic ingredients for delicious and original french pancakes ? Here are all my secrets !
How to make original french pancakes ?
Let's lay the groundwork: the classic pancake recipe everyone knows
My basic pancake recipe, the one everyone probably knows is : 500g of flour, 1L of milk, 4 eggs + 1 yolk, a little sugar, and a little salt. Well, ok, that, everyone knows, right? And it's true that it's delicious! As people say, sometimes classic is best!
I eat them both sweet (with sugar, jam, nutella), and salty (with ham / cheese and a fried egg, yum). Everytime I make some, I eat them for a few days whether as a main or a dessert (or even for breakfast or for the afternoon snack… yeah I know, I am a #crepesaddict, haha!). Do you do this sometimes too ? If not, it's time for you to start ! 😀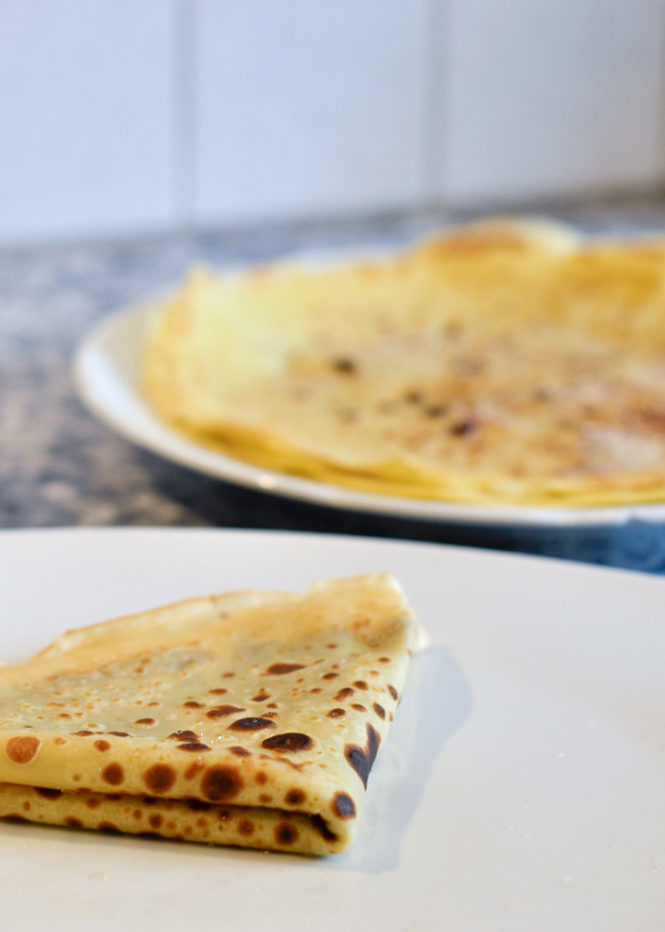 What about some originality ?
Now that we have done classic, let's do originality. A little change is always good! So here, I tried several things: change the flour, perfume my dough …
Basic trick is to add some Grand Marnier or Rum in the dough. And it's true that it's excellent! Other things I've tried and loved: vanilla sugar, cocoa, citrus zest, maple syrup, coconut powder, almond powder, chili powder (yes, not kidding, the chili is not bad for salted pancakes but without adding sugar though !). In short, let yourself go, be creative! In any case, everything that is part of this list is in my opinion super good!
In terms of flour, have you ever tried to replace your traditional wheat flour with corn flour or chestnut flour? Similarly for milk, why not replacing cow's milk for almond or soy milk? Personally I will tell you: after several tries my favorite recipe of the moment is to use chestnut flour, almond milk and eggs. It is just delicious and enhances the sweet little taste of pancakes that become super yummy. In addition, it is lactose and gluten free (if there are intolerant (s) among you)!
Another thing I really like to do when I make more classic pancakes: add some beer to my dough. This makes it lighter thanks to the carbon dioxide that the beer contains. Have you already tried ? If not, you should ! 🙂
An original presentation? Have you thought of cutting your pancakes in the lenght (4/5 strips / crepe) after adding some Nutella – for example – and roll them to serve them on small sticks? Guaranteed effect. Add sweet multicolored sugar beads, a half strawberry and here is a nice simple but sophisticated dessert for your guests !
With the same dough (or almost) : make – american- pancakes!
As long as we are there, crêpes… pancakes… french… american. Vary the pleasures ! Take the same ingredients (milk, eggs, flour, eggs, salt) and mix them in the same way except that you put half less milk, and you add 100 g of butter and 2 bags of yeast. And here, beautiful american pancakes!
So, here it's the same. You can also vary the flours, the milk … the ones you see there are made with love and with almond milk (my favorite!).
So, if we recapitulate for those who do not want to think too much after my charade, it gives: 500g of flour, 50-60cl of milk, 100g of butter, 4 eggs + 1 yellow, sugar, salt , and 2 bags of yeast! Voilà, here you go !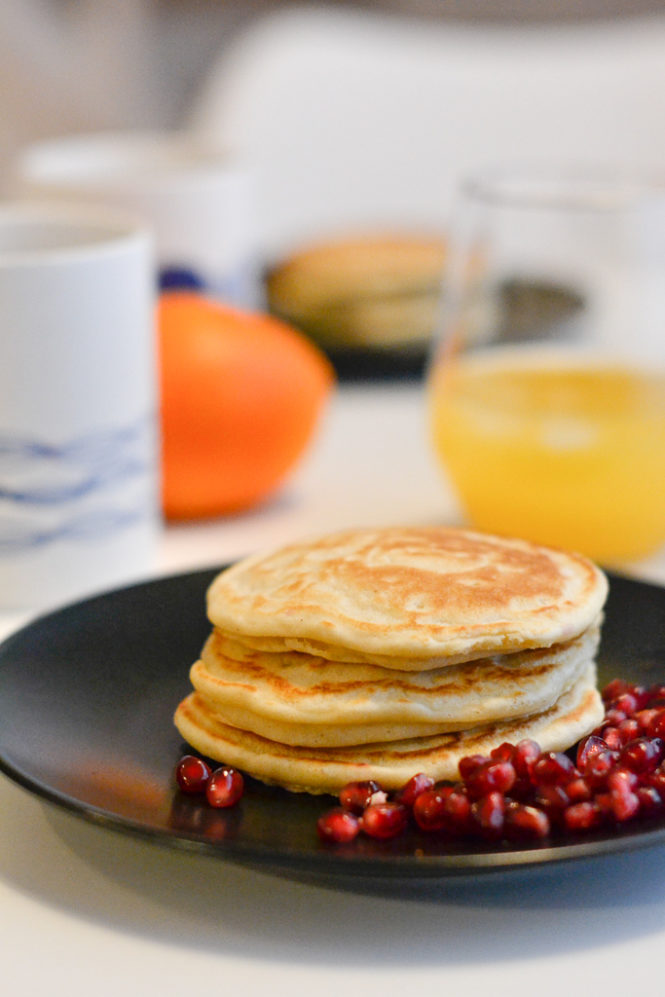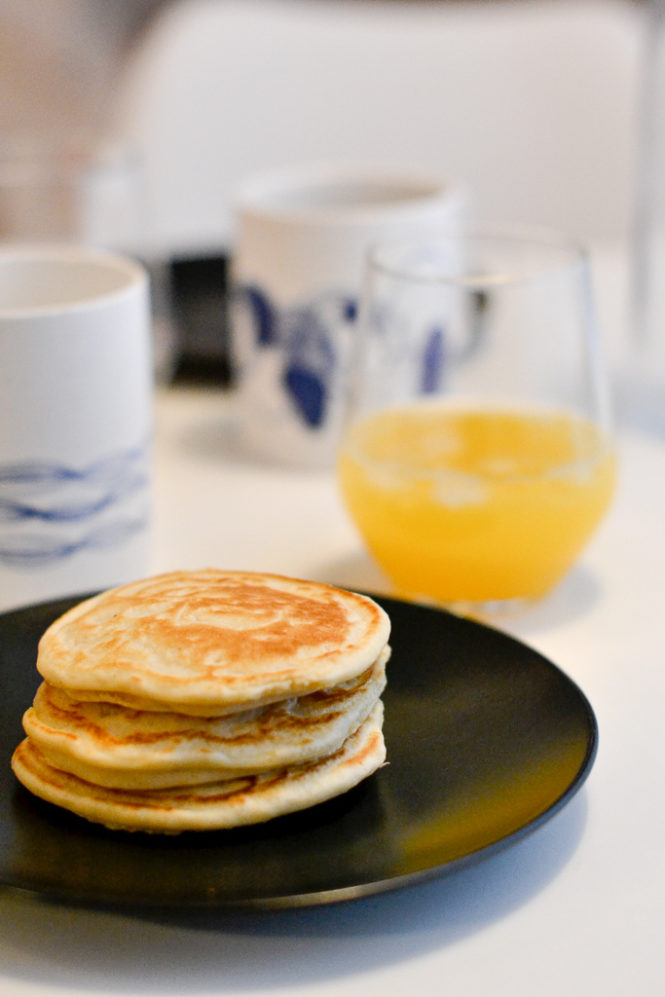 * Ready to make french crêpes ? *
Did you like these ideas? Feel free to pin this article on your Pinterest for others to enjoy them and for you to find these recipes easily <3 Just click on the Pinterest icon by hovering over the photo below!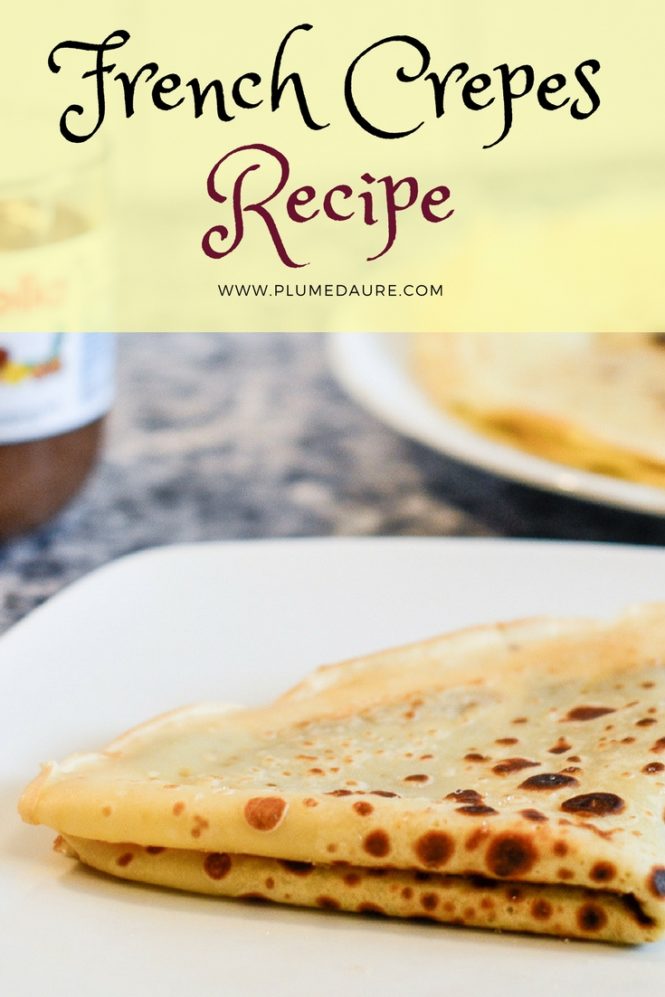 SaveSave
SaveSave
SaveSave
SaveSave