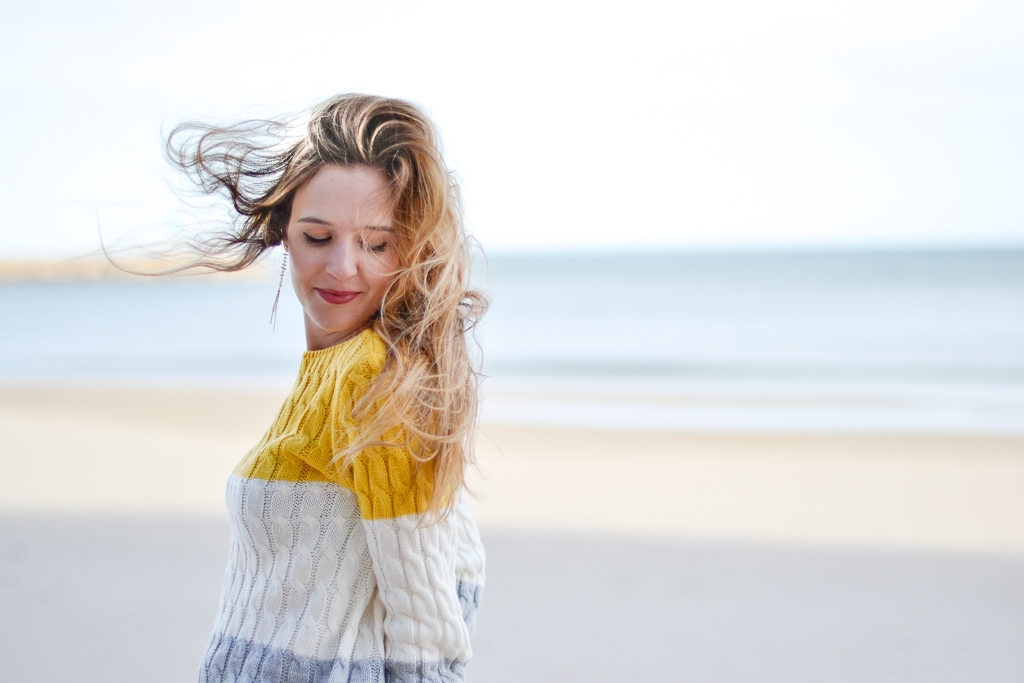 Hello dear readers <3 ! So … we are really starting to need sun now in February, right? Incessant rain or freezing cold … we are not spoiled with the weather right now ! Looking forward to having some vitamin D rays, hopefully soon. Just as we were able to enjoy some this winter in Spain, when we went for Christmas. And that makes me think that I still had a Spanish shoot to share with you ! And I want to share with you in particular my love for my "happy sweater", namely this tricolor and peps sweater found on the spot in a small Spanish shop. Which was a perfect fit for some photos in the beautiful colored frame, Port Saplaya. Why … Happy Sweater? Because I find it super colorful and it puts me in a good mood, simply!
Happy Sweater in Port Saplaya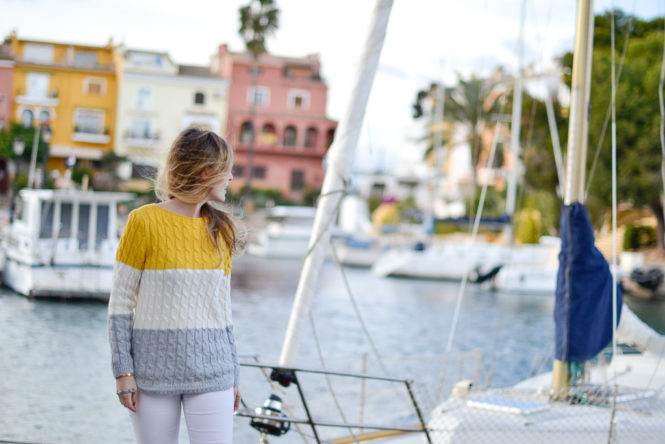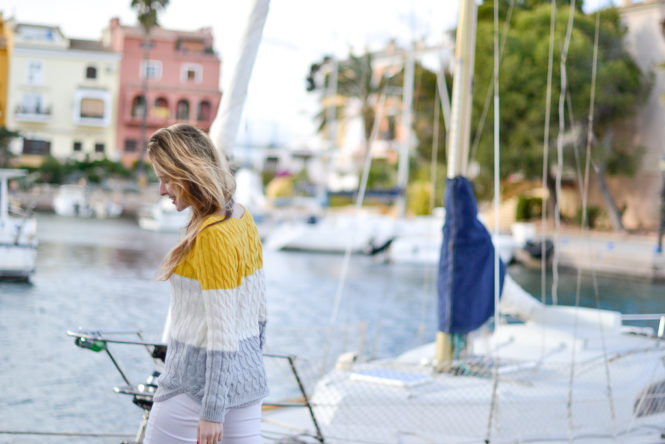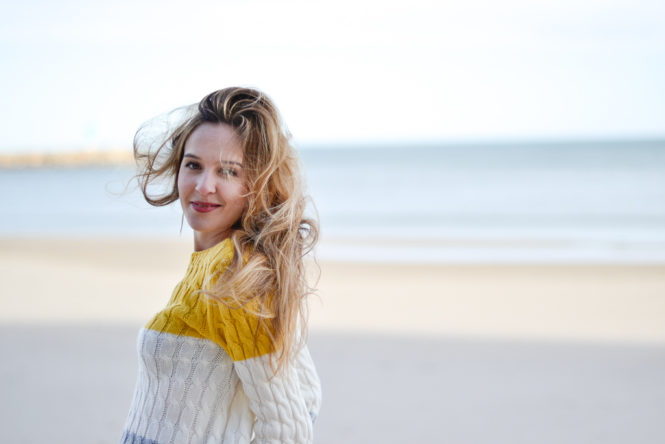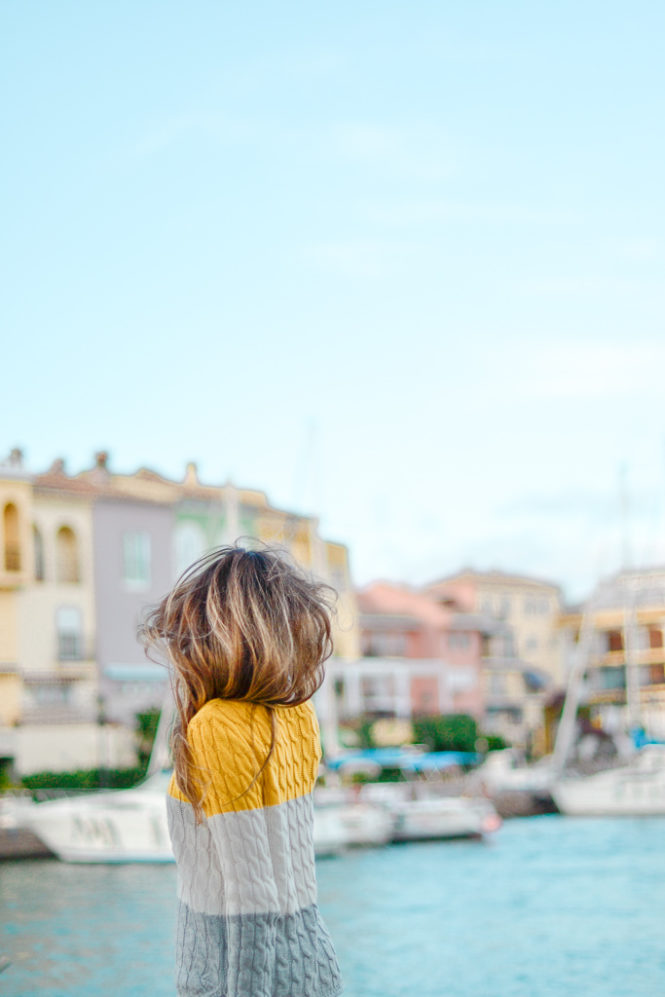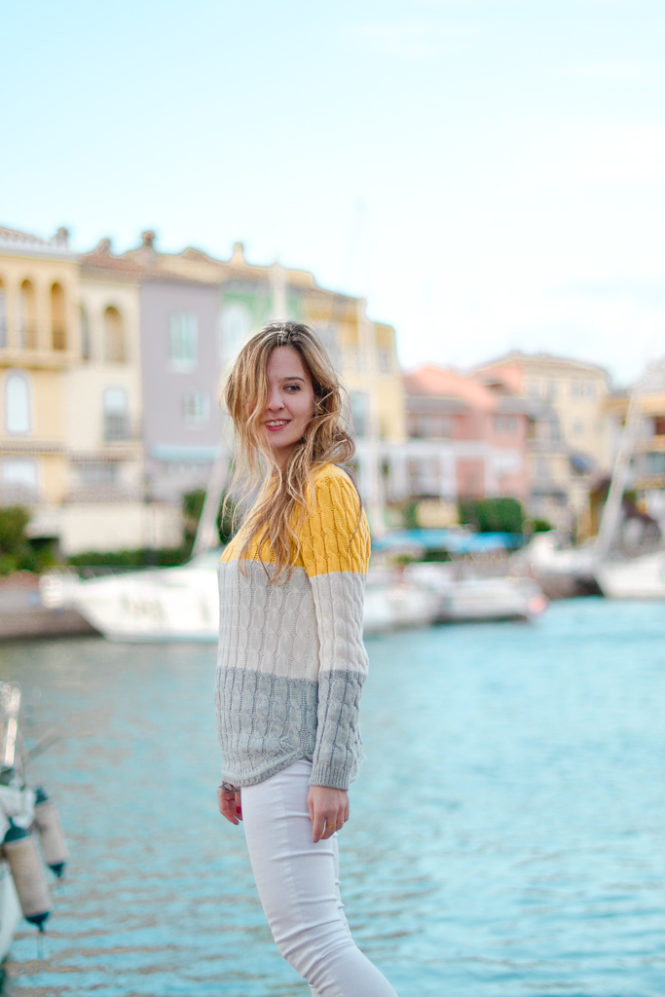 If you get to travel to Valencia, in Spain, do not hesitate to go to Port Saplaya: a small colorful village not far from Valencia and  on the seafront, which is BEAUTIFUL. It makes me think of the Italian Positano. Really, this place is a real beauty and it's perfect to fill up with colors vibes ! I love going there every time I go to Valencia where my dad lives.
This day I was matching the landscape with this pretty tricolor sweater found in a local shop, that my dad also actually gifted me for Christmas. Thank you daddy for this beautiful Happy Sweater ! I really love it ! It fits just as well with jeans (as on this look) that into a skirt or with shorts. And also, my favorite color is yellow. So it could only please me!
I wear it here with some of my favorite jeans. They fit perfect and they are of really good quality ! Tell me, do you wear white jeans? They come from Minimum Fashion, a brand I discovered in Denmark. I really recommend ! As well as my beloved long trench coat, which I wear super often right now.
As for the backpack, it comes from Granit, also a Chritmas gift but from my darling. The derbies come from Galeries Lafayette and they're in my top 3 favorite pair of shoes! Sincerely, derbies go with everything. This is for me A MUST have in your dressing room. Already have some?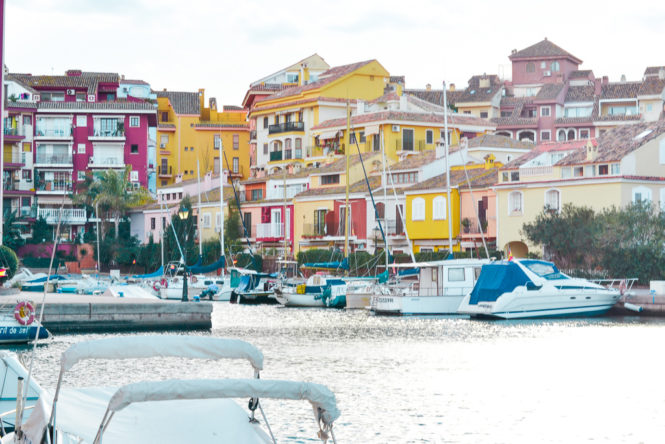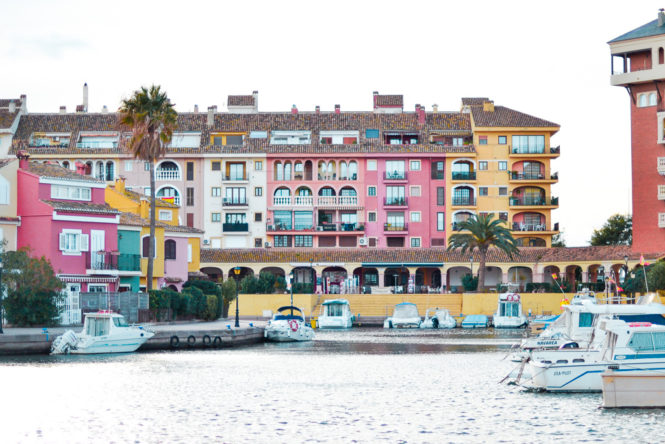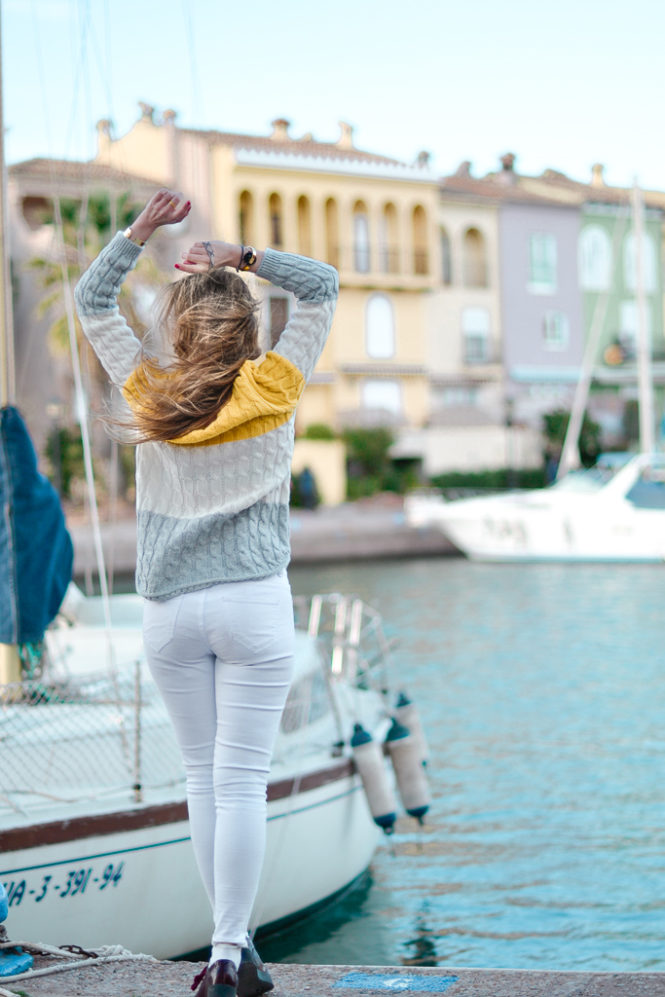 You don't have a Happy Sweater yet? Here is a selection of colorful cute ones for you on Zaful (or the site where I find everything when I'm looking for something!) And for having tried their clothes, I can tell you that the quality is more than OK for the price. I spoke about this in details in this Zaful look for those interested).
And some other happy sweaters found on different sites online: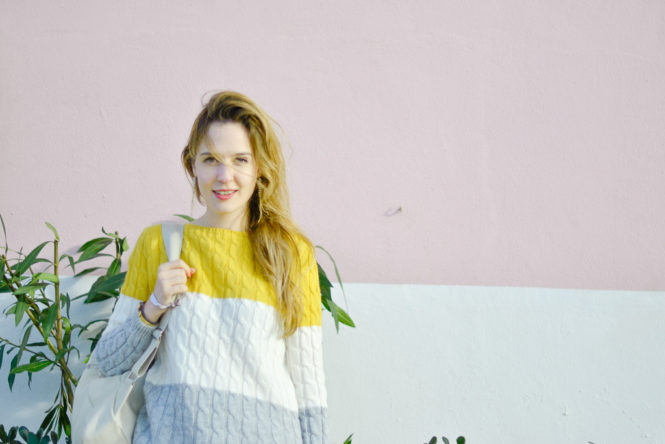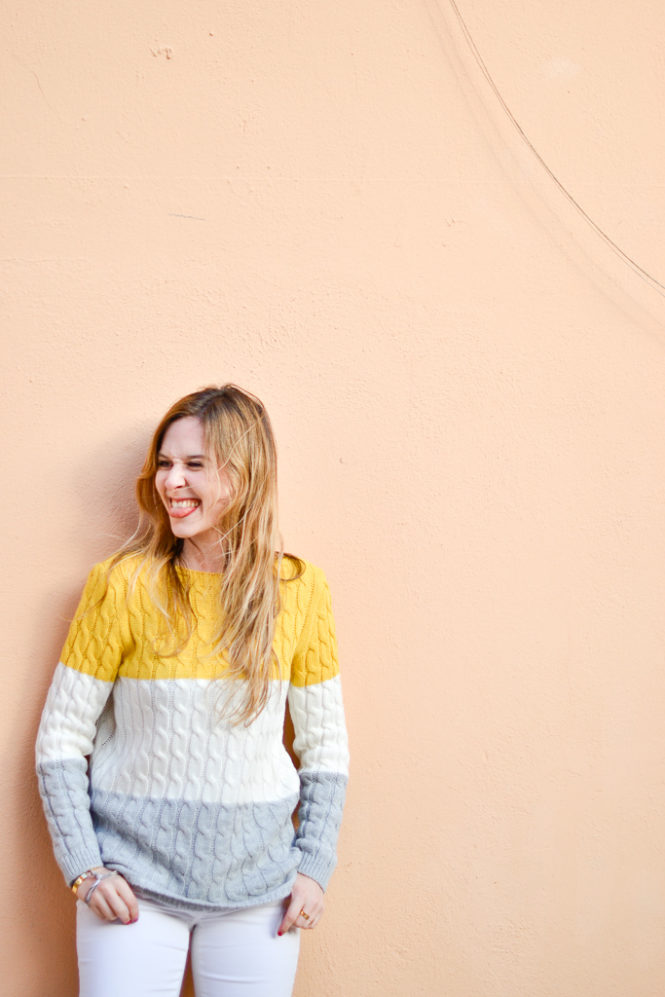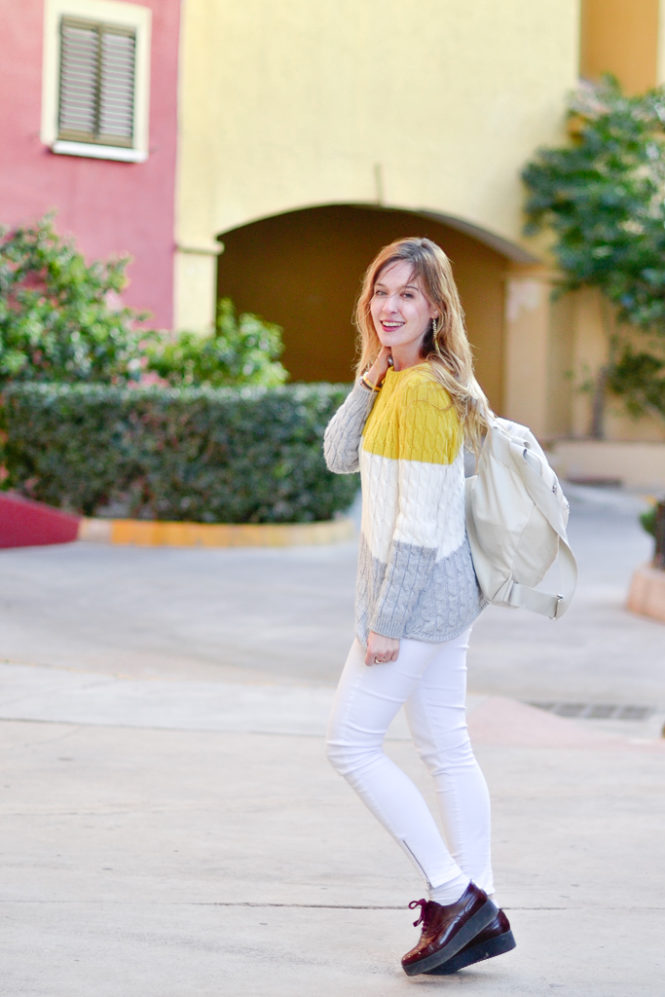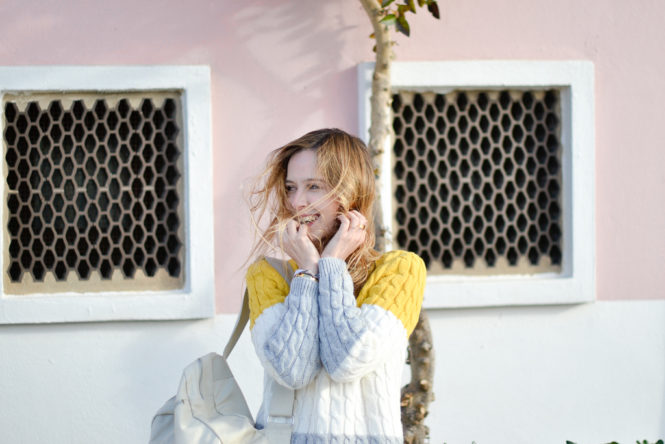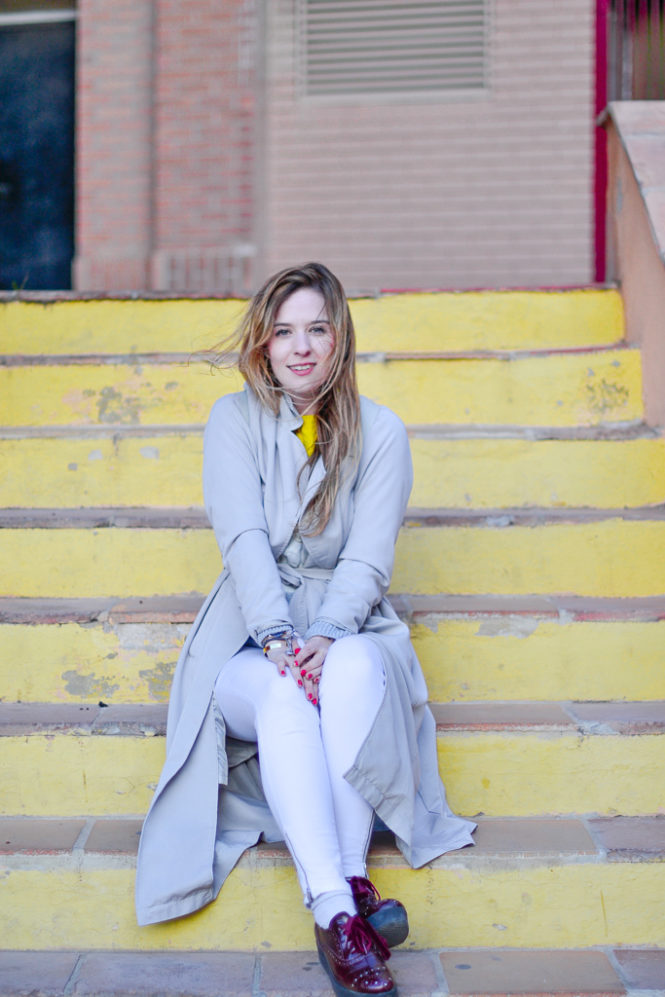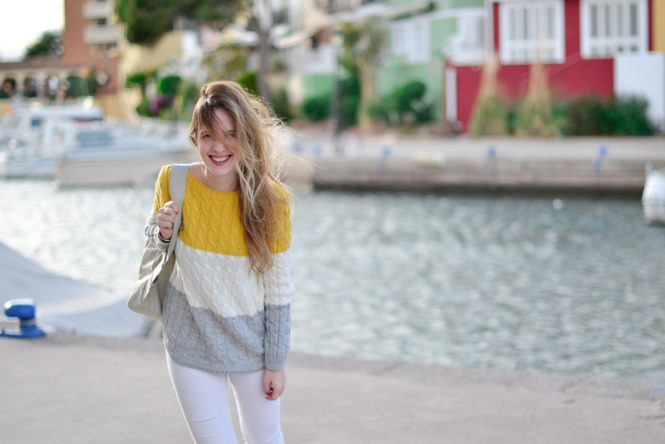 It was really SO good to take some sun! Ahhh … can't wait for summer, right?
* You too are starting to look forward to summer ? *
SaveSaveSaveSave
SaveSave
SaveSave
SaveSave
SaveSave
SaveSave
SaveSave
SaveSave
SaveSave