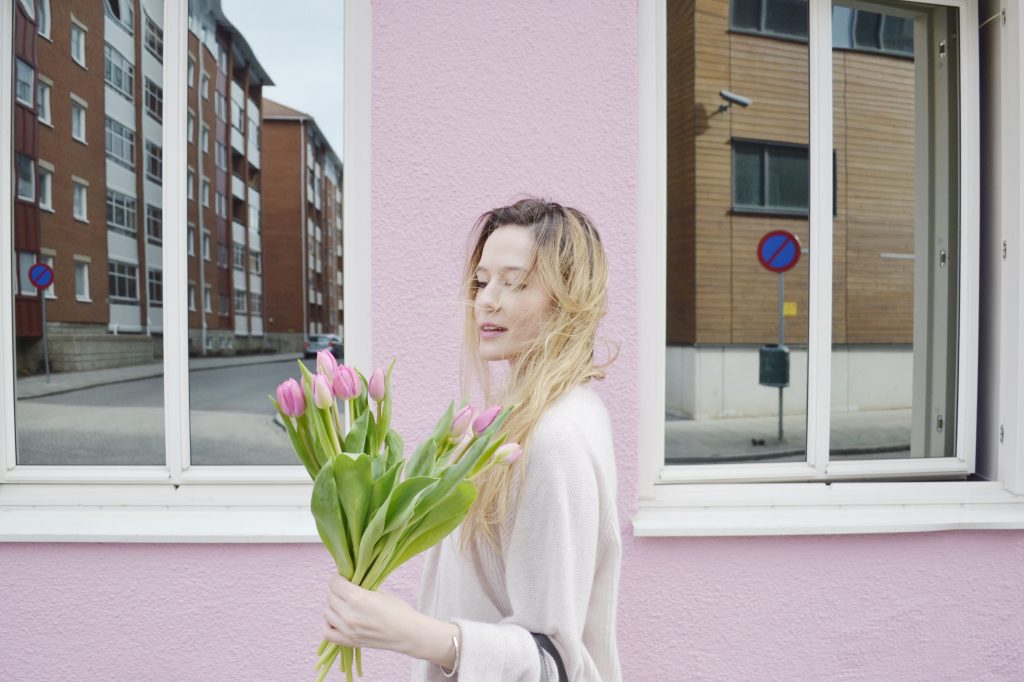 Hello my little feathers ! I hope you had a good weekend ! Here, the sun is back! Youpiiii, finally some vitamin D! The spring indeed made us a fake surprise about two weeks ago, when I even shot this spring look, but he finally left, the villain. Now sun is back, and we can take advantage of his rays to warm our hearts! Dear sun, will you stay this time? I hope so. In the same way that the temperatures are sweet, I wanted to compose a very sweet and soft look this Sunday. SOFTNESS, that's the word. I received this powdered pink / beige vest from Repeat Cashmere … and my god … I never owned anything SO soft! Incredible cashmere… when I wear it, I feel like on a little cloud!
Soft cashmere, like on a little cloud
I admit that I never really bought pure cashmere clothes, as they are always very expensive. I had a few pieces, but it was for example 50% cashmere and 50% other (cotton, wool). It was sweet and comfortable, but… I never really understood why some people invested so much in pure cashmere clothes. Yeah, that's because I never tried them. This Repeat Cashmere cardigan is really the softest thing I've ever owned (after my baby cat, of course – HAHA she looks at me dirty head like "but I'm not a thing!"). Sincerely, WOW … once in it, it feels like being on a little a cloud.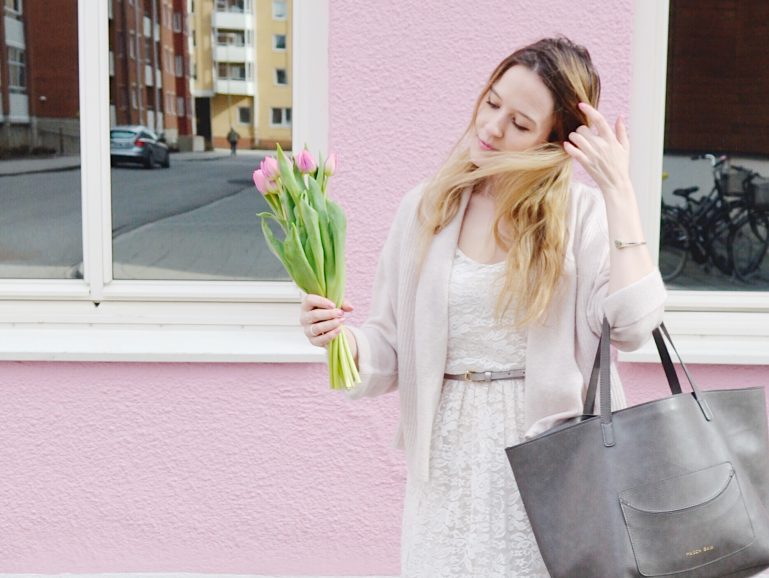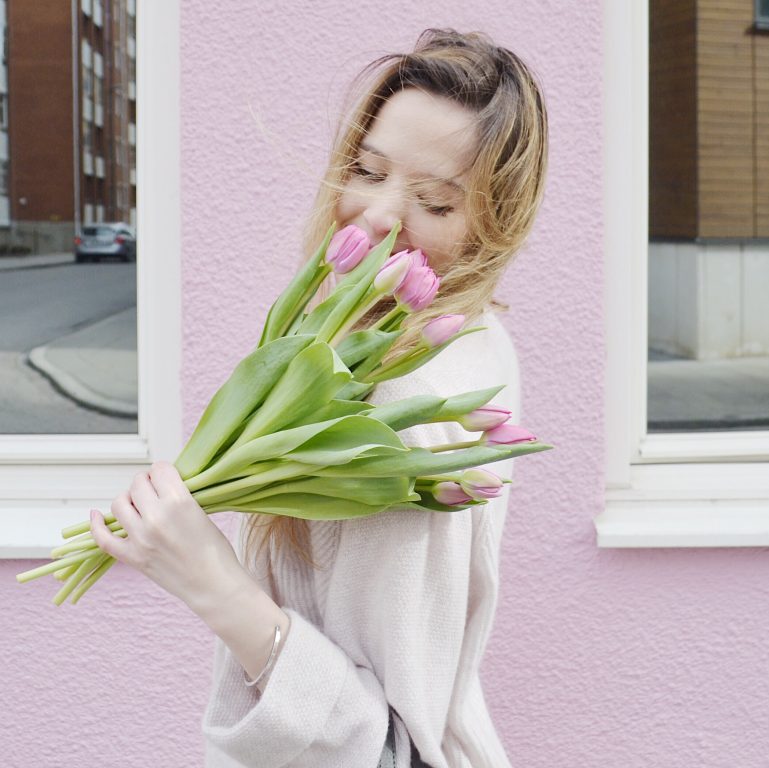 A real pleasure. I feel like I have a special piece, a little jewel. I take great care of it, I am afraid to wear it almost, for not having to wash it, I even fold it in its box every night and do not mix it with my other clothes. I've never had anything so fine and made of delicate materials. I am in love.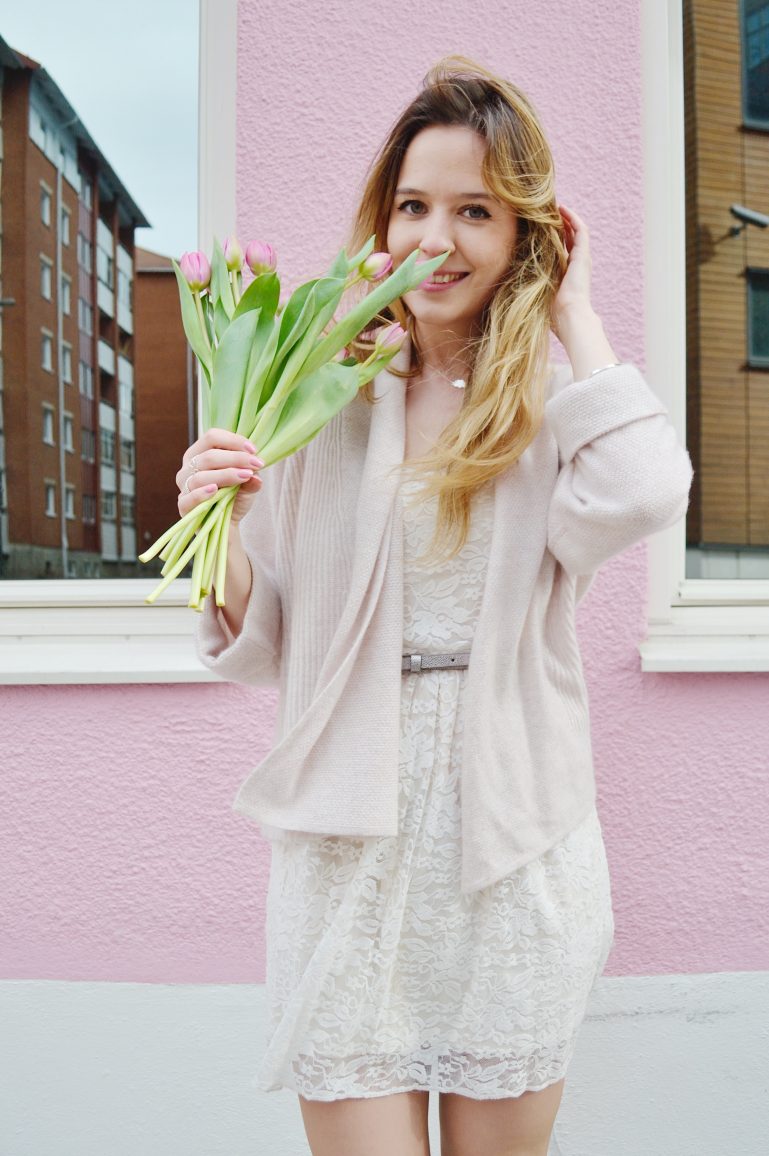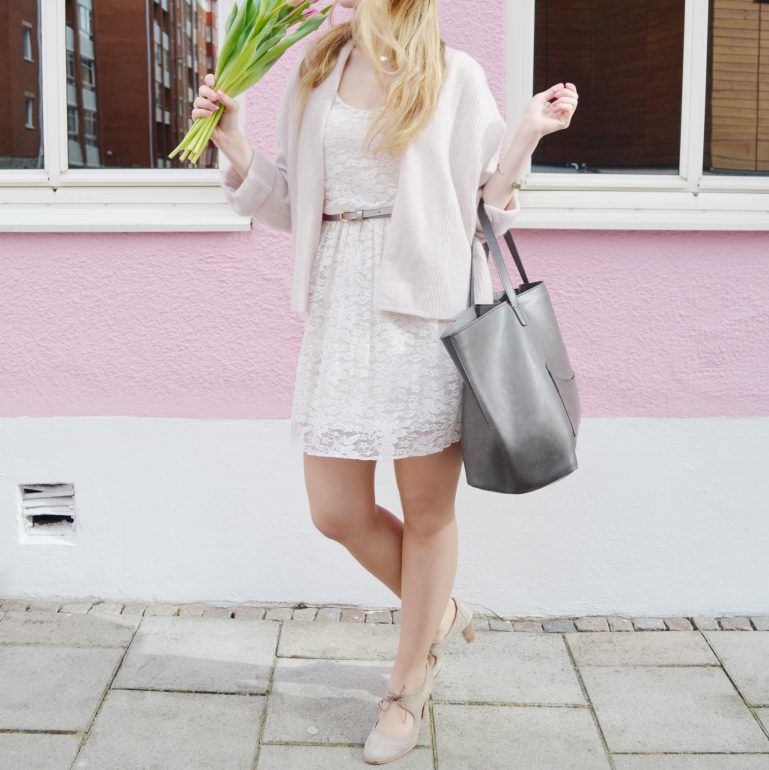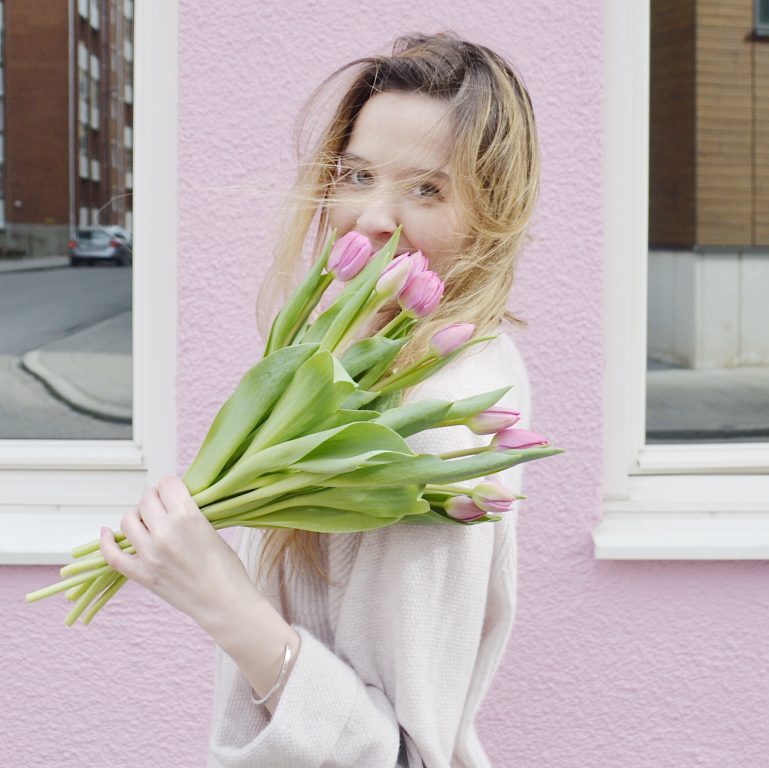 I have a confidence to make : it's not a gift from me to myself. I could not afford it. I received it adorably as a gift from the brand Repeat Cashmere, which I thank from the bottom of my heart. I tell you this, because if you go to their site, you will realize that the price of this cardigan is quite high … and don't worry, for me also it is off budget. Hihi. Take this as an exception. I love to always present you affordable pieces, so that you can reproduce the looks easily, but let's say that this one will be a small exception. A small exception cloud 🙂 The only thing I can tell you is that now that I've tried it, buying a piece in pure cashmere might even become a possibility for me. It is an investment like any other, which lasts, and is to be treated like a jewel. A little bit like a beautiful watch or a beautiful bag, that you'll love forever. And in addition to being incredibly comfortable and soft, these pieces are gorgeous, timeless, and hold super warm!
Really super warm… I can tell you because I'm very chilly! I was super surprised because I can wear it all day with just a small top underneath without being cold. So I searched on Google (because still, I normally need a lot more than that!) and discovered that cashmere has an 3 times more powerful insulating power than normal wool. Everything is explained … In short, I'm in love! Not you ? If some of you have the budget, I can only recommend this sublime brand, Repeat Cashmere (link to their site at the end of the article).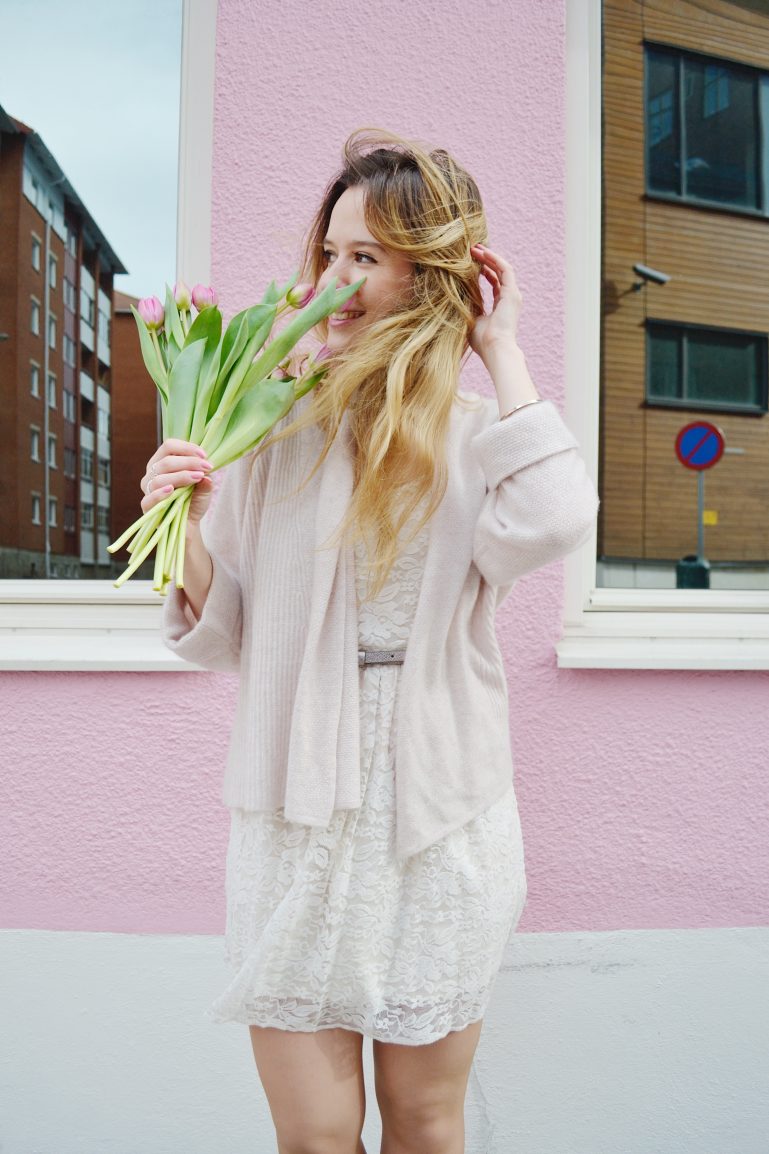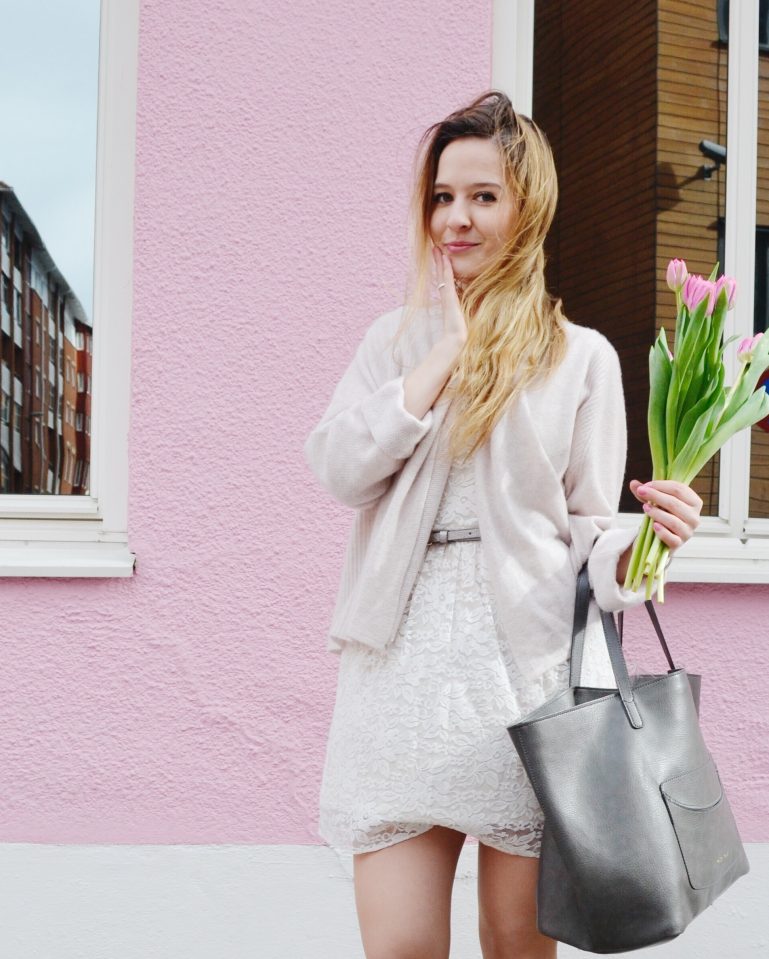 To match this magnificent cardigan, I chose to wear other sweet pieces. A white H & M lace dress that I have for years and that I adore. My Gray Mojito bag from Maison Gaja, my pretty gray shoes from Minelli, and, of course, pretty jewelry. My little cloud necklace fits perfectly with this soft look, and comes from a pretty brand that I just discovered, l'Atelier d'Amaya. As for the rings, they are all simple but make, I think, a nice effect when they are accumulated.
The bracelet comes from the brand Concerto n.1 and was a great discovery thanks to the monthly jewelry box Emma & Chloé that I really like. I love this raw stone, it's original and calming (yes, I believe a lot in the power of stones …). Last but not least, flowers … haha… I'm just an addict! 🙂 Especially when the sun points the tip of his nose. I love buying them and having plenty of them at home! They smell so good and bring so many good vibes in a home !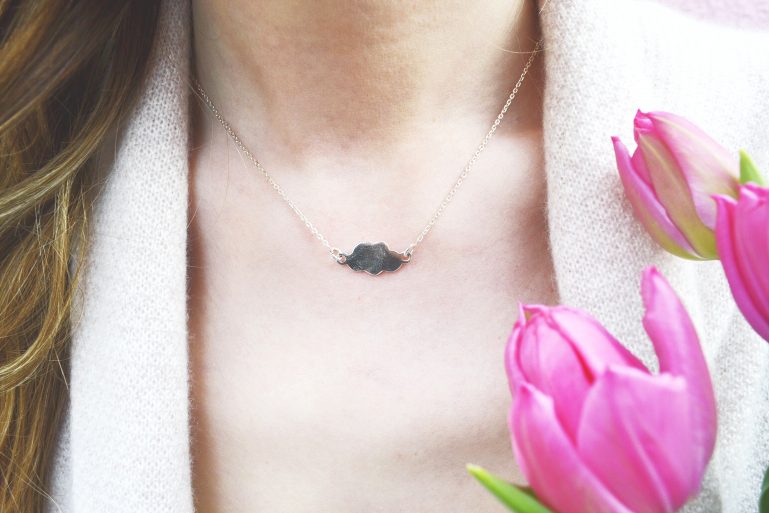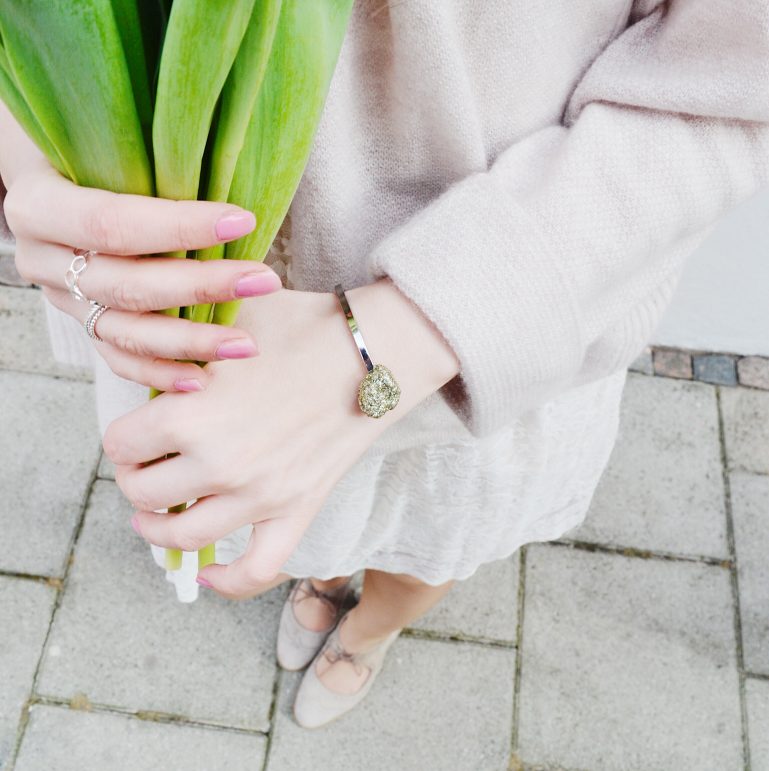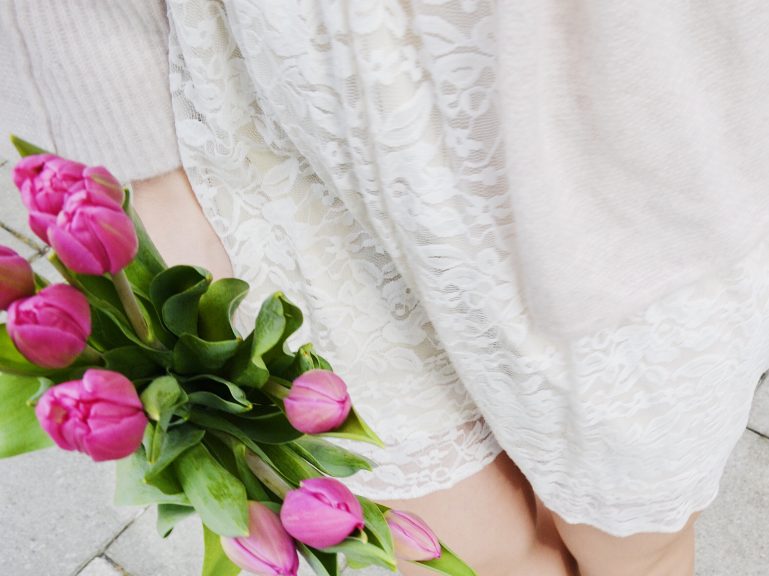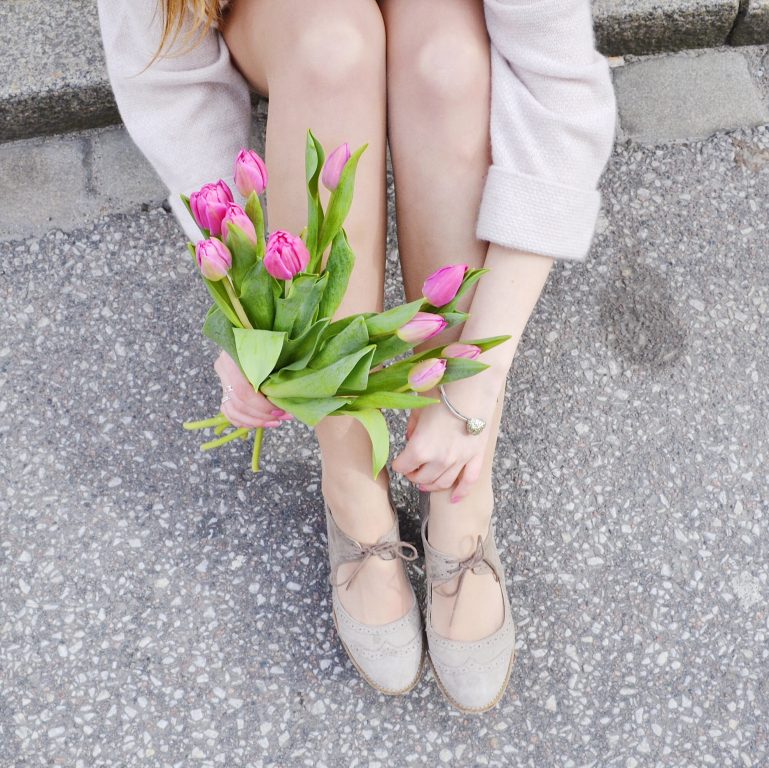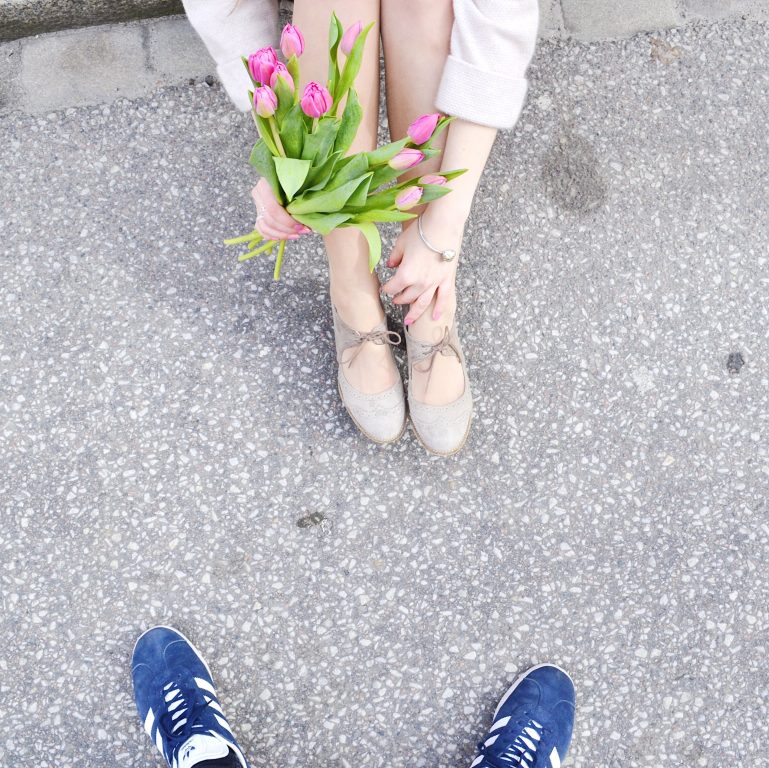 Here it is m. It's all in this pretty Sunday. I hope this look will have pleased you, and that I would have communicated you some sweetness with nice colors and cashmere. Here is a selection of similar pieces if composing a small soft look talks to you (I promise you full of things at affordable prices!). Lot of kisses ! <3 Plume d'Auré

Credits : 
Cashmere Cardigan from Repeat Cashmere
Lace dress from H&M
Cloud necklace and ribbed ring l'Atelier d'Amaya
Bracelet from Concerto n.1 received in the monthly box Emma & Chloé (-10 euros on your first box with the code "plumedaure")
Grey bag from Maison Gaja
Small dots ring from Joya Brussels
Honeycomb ring from Milvic Design
Shoes from Minelli