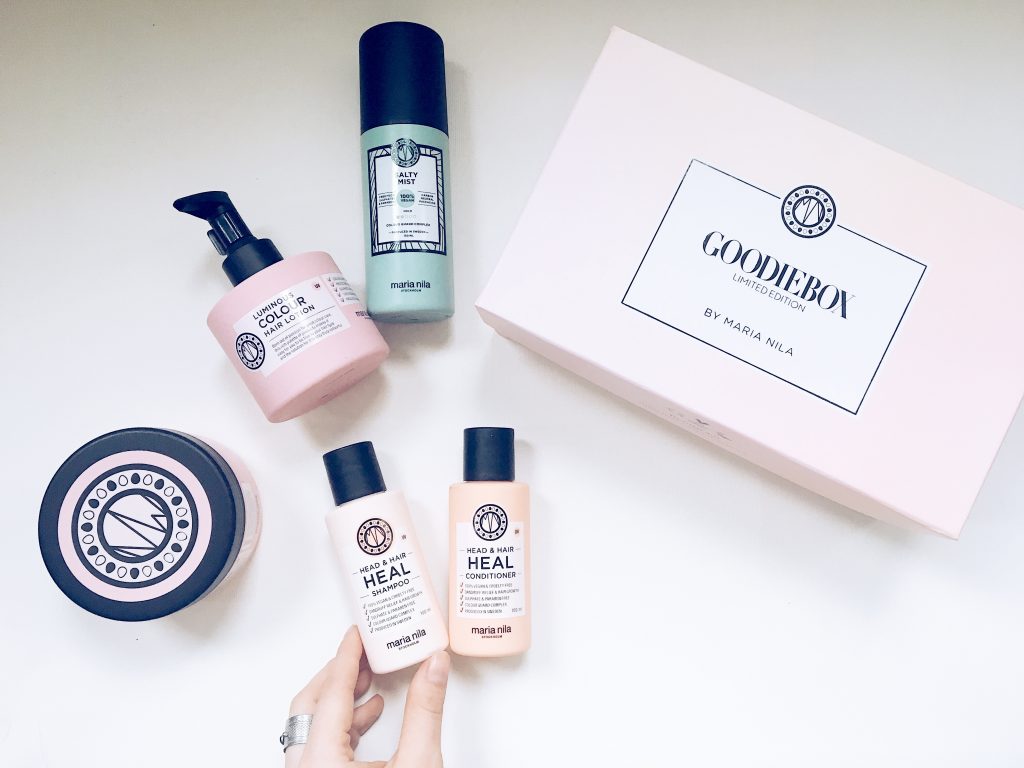 Hey my little feathers! How is your week? Here everything goes well, the sun is still here and beautiful since this weekend, as I told you in this spring look's post. And this Thursday, I want to present you a Swedish hair care brand that I recently discovered: Maria Nila. If you are looking for good 100% vegan hair products, without bad components like sulphates and paraben, I really advise you to read this post! I discovered Maria Nila Stockholm thanks to my favorite beauty box, Goodie Box, to which I have subscribed for months and I spoke about in a previous article. Two things particularly pleased me in the products I received, apart of course from the fact that they're totally vegan. Ultra feminine packagings, and smells. To me, visual and olfactory levels on this type of products are not always very attractive, and I find it difficult to have both a natural product, vegan but also nice to see and which smells good. But let's also talk about results, of course, after all you ask a product before everything is to be effective! Here is my complete opinion on the Swedish Maria Nila products.
My opinion on Maria Nila Stockholm
Before starting, small parenthesis.
You know that I normally write my articles on Wednesdays and Sundays every week. I wanted to let you know that I decided to change a little bit this rhythm. Now it will be on Mondays and Thursdays. We switch to summer time, hahaha. No, joke aside, the reasons for this is that I was lucky enough to be chosen as "Lifestyle Favorite" on my article "How to manage your blog" last Wednesday by the site HelloCotton.fr, and that this is perfect to give visibility to my baby blog. Indeed, HelloCotton is the largest social network in France for bloggers, and receives thousands of visits every day. It is therefore a great platform to develop a blog's traffic. Being selected as a favorite in a section means that you are shown on their home page for a few days, which is great! This really allowed me to introduce my blog to new people, and this article was my most read article since I've started. I don't even understand how I could not register earlier, because this social network is gold! I knew it very well by name, but I did not register until about a month ago. What a fool! In short, I hope to be chosen again as a favorite by HelloCotton. And so, after doing my little research online, I saw that it was better to post on weekdays because their teams do not work during the weekends (Which is normal! They also have the right to rest, after all!). Hence it will be Mondays and Thursdays, because these are weekdays and we still keep a few days between the publications so that you have time to read each article! There you are, you know everything! I also want to start posting in the morning, because personally I find it super nice to read blog posts in the transports when going to work. So I want to try this new rhythm, let's see what it does, at a HelloCotton level but also above all on your reaction level (=visits). Because of course, after all, it is you who count the most (yes yes, even more than HelloCotton!). 😀
+++ Any thoughts ? +++
Let's go back to our main topic : the Maria Nila brand. I suggest I'll review one by one the products I have received
HEAL Shampoo and Conditioner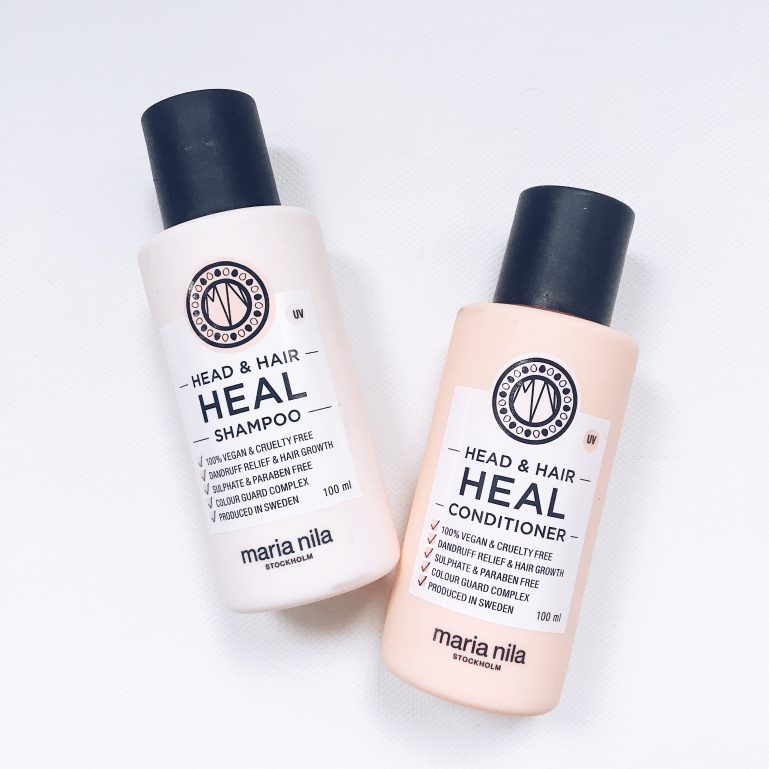 The goal of the box was to discover different products but also ranges of the brand Maria Nila. These two products come from the hydrating and restorative "HEAL" range. You will also see that I tested the "COLOR" range rather made for colored hair. Perfect for me in both cases as I always need moisturizing for my lengths, and I also have highlights in my hair.
Nothing to say for these two products that are really very good. The shampoo is very nice and produces a nice foam, and the conditioner moisturizes well and leaves the hair soft. In addition, they are 100% vegan and without sulphates or paraben. No risk of damaging your hair with this! In short I loved it!
The mask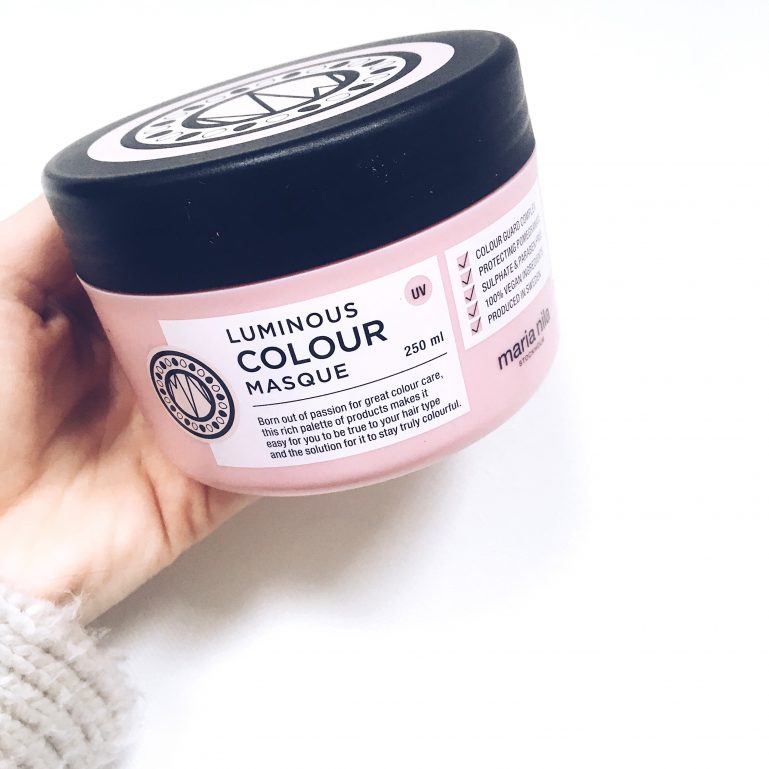 And here is the range "COLOR" of which I adore the smell, quite simply! It smells like fruity candy! In addition the packaging is super beautiful! Isn't it ? Great care. It contains a lot of product and you don't need so much to cover your whole hair. With one use per week, it should hold well! I am even surprised that I've obtained a complete mask in my box. Goodie Box, I tell you … The best! For a vegan and free from dirty stuff product, I can tell you: the effects and results are there! Great one!
The lotion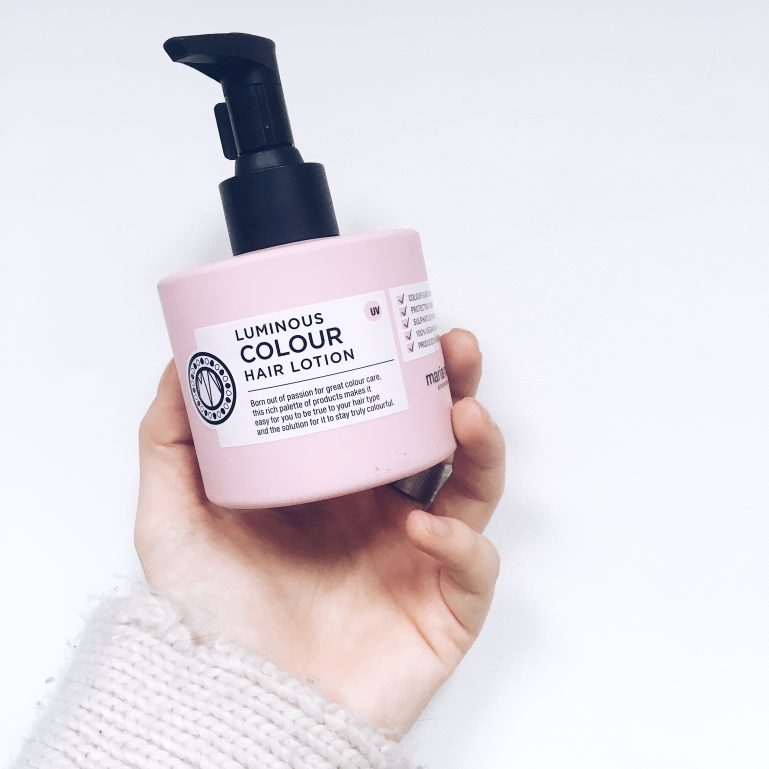 I love it and I use it before each styling / drying. It smells like candy (the range "COLOR"), it is easy to apply, non greasy, and prepares the hair for styling. It detangles, smooths, and makes the hair easy to style and shiny. I just love it ! Then, also, having hair that smells like delicious fruit, is not given to everyone! Hihi.
The salty mist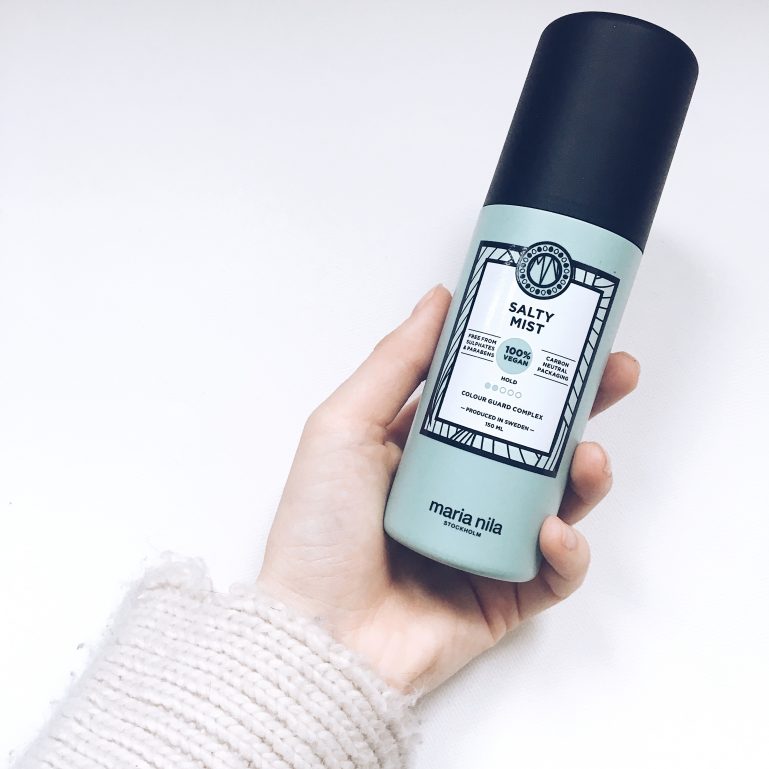 So this one … I have not tested it yet. I have to confess ! Simply because the salt water effect on my hair is not really the effect I want everyday … Apart during the summer, on the beach, maybe. If this is your thing, considering the quality of the other products I am sure that this one is also good. I promise to try it this summer and tell you about it if I liked it. I will try to be in sunlight as the salt on the hair accelerates the natural lightning when mixed with heat and UV. Let's see !
---
Here you go my pretty cuties, that's all for this review. If I had to conclude I would say that since this article where I told you about my favorite brand for organic shampoo, I found even better! Maria Nila offers 100% vegan shampoo with delicious smells, cute packagings and convincing results! I can only recommend !
Have a nice end of week ! XOXO.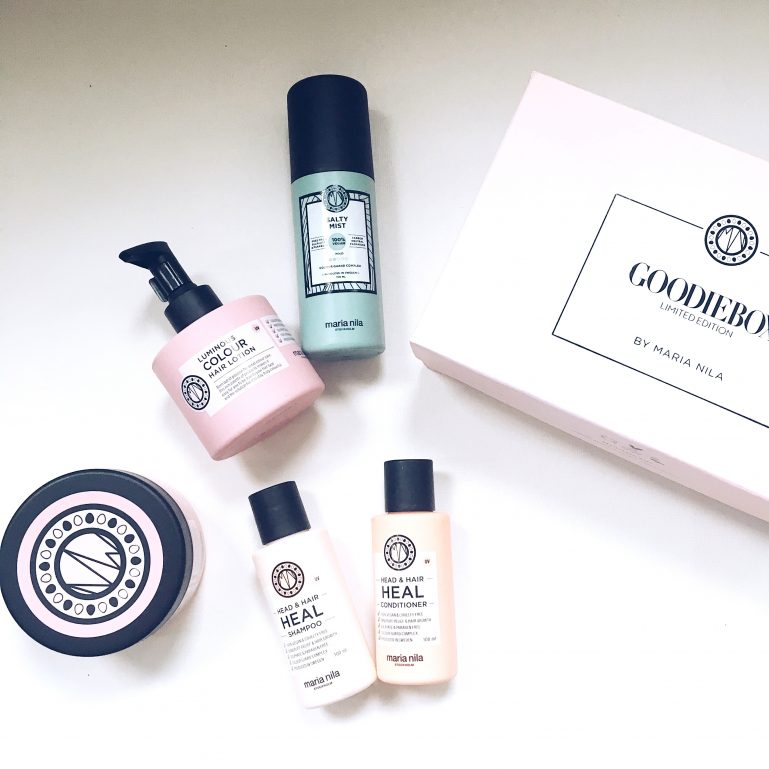 For the non Swedish of you : I let you discover these products for sale here. I put you the link of Amazon because the site Maria Nila exists well but it is a site entirely in Swedish.
For the Swedish ones : www.marianila.com
Credits : 
Maria Nila products received in the Goodie Box Limited Edition (unfortunately already out of stock due to its success!). Danish people, as Goodie Box is only available in Denmark, I would recommend you to order the limited editions quickly when you see one you like as they go pretty quickly.