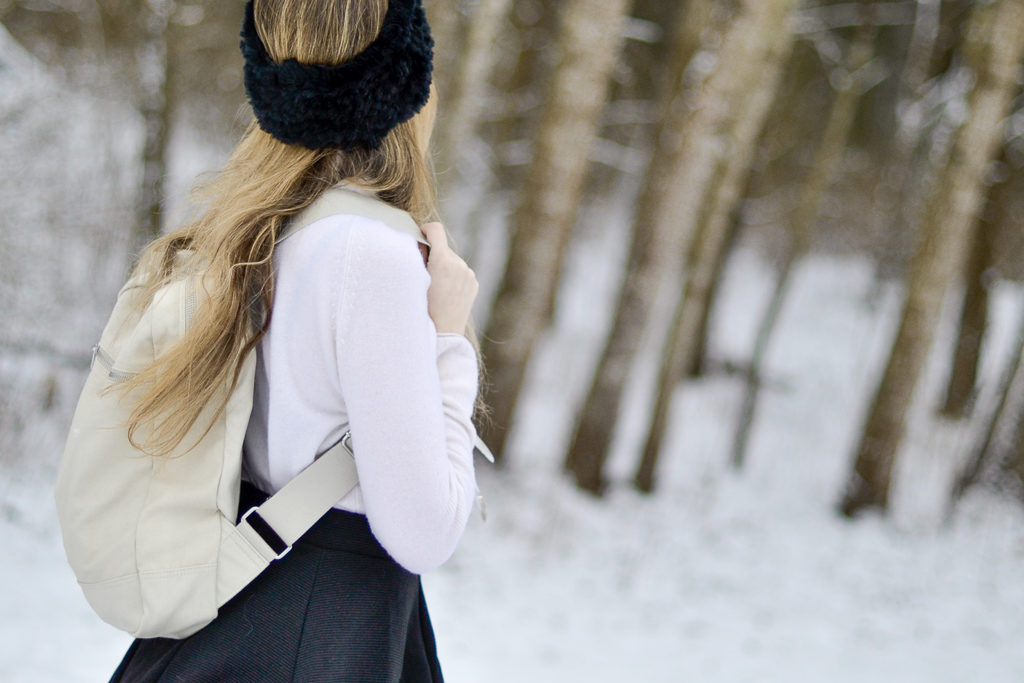 Hello my little babes ! Do you like snow ? Because here are some snowy winter photos, as I personally love them at the moment ! We shot this look in one of the coldest days we have had since the beginning of winter in Sweden. Frennarp (near Halmstad), where we are in these photos, was completely covered in snow and it was really beautiful. A winter wonderland. So, I took a lot of pictures! I also posted a few days ago an article with lots of pictures of the forest, pastel colorful houses, under the snow, that you can see here if you've missed it. Today, same place but this time with a fashion post where I present you some of my favorites of this winter! Come with me ?
Winter wonderland in Sweden
I had already presented you in an old article that pretty town that is Frennarp, in Sweden. But wow, under the snow what a beauty (see only landscapes photos here)! The perfect context to shoot one of my favorite looks this winter: a bit schoolgirl, a bit sexy, a bit preppy and especially very comfortable. Recipe ? A skater skirt, high socks, a big sweater and winter sneakers (those sneakers… I'm just addicted !).
You might notice the big smile and the joyous look that I have on all the photos! But really, I love snow too much! It's like a flash back to childhood ! Actually, next time I want to make a snowman … such a pity we did not think about it this time!
Sweater from Winser London / Skater skirt & High Socks from H&M / Sneakers from Le Coq Sportif (currently on sale -50%!)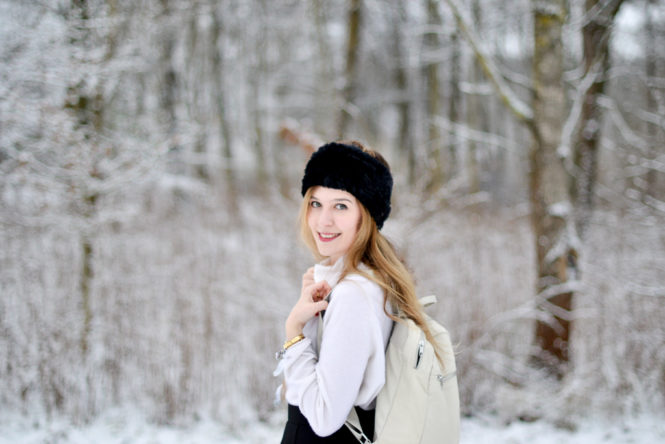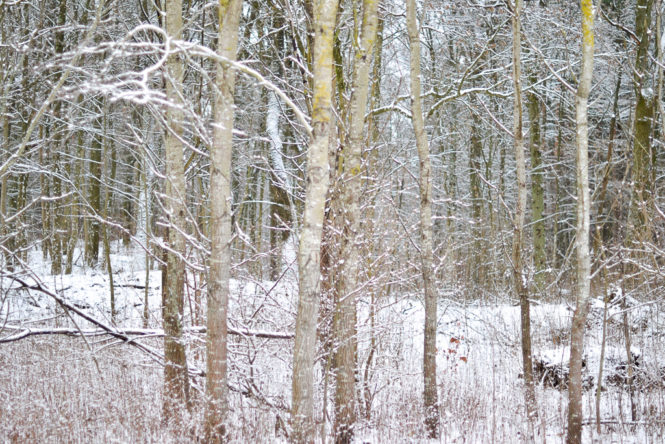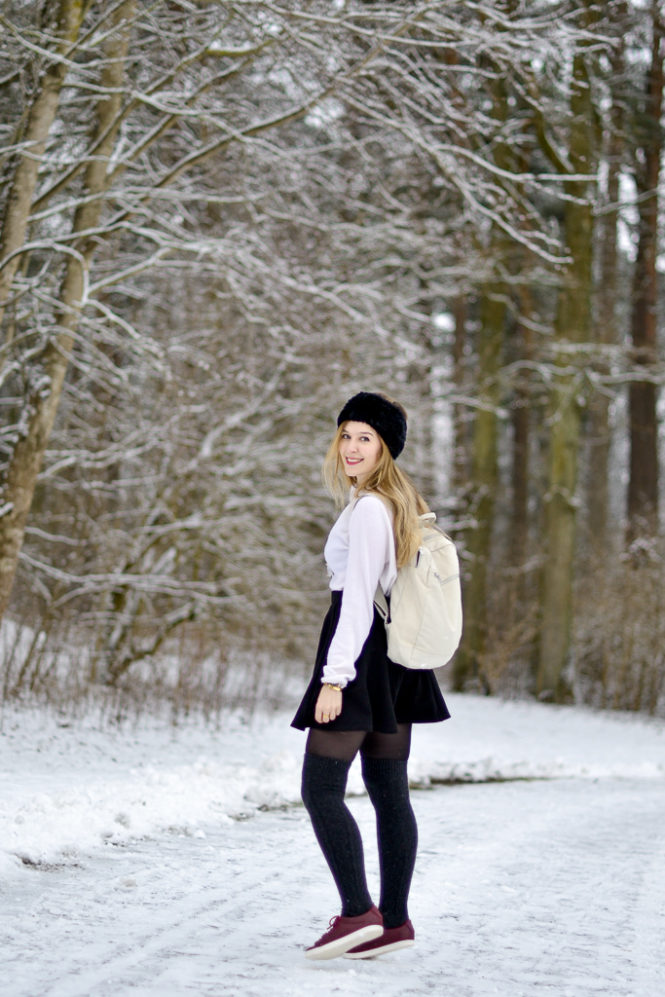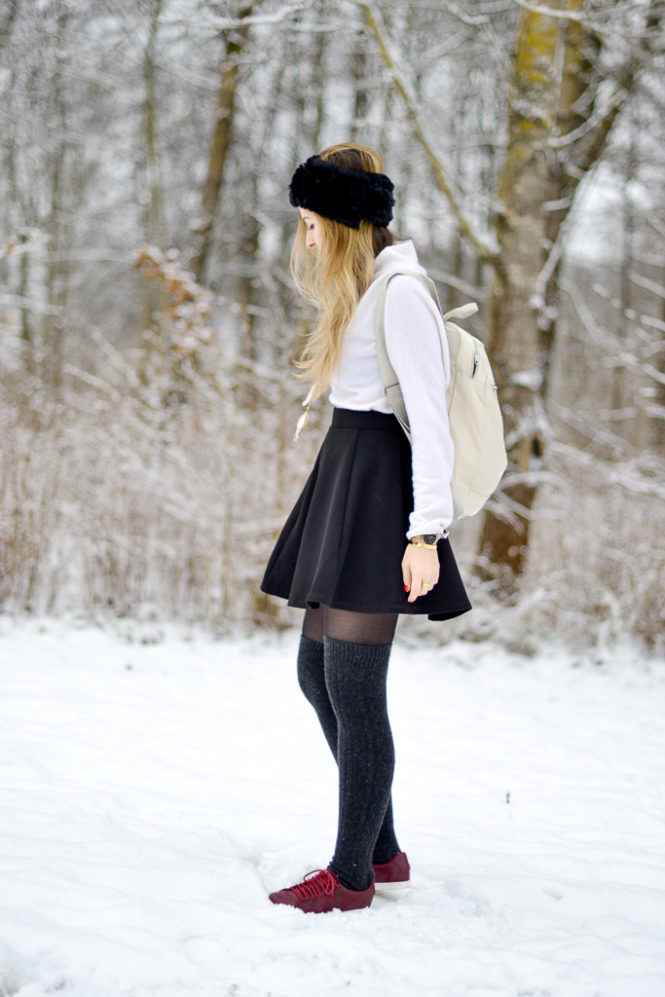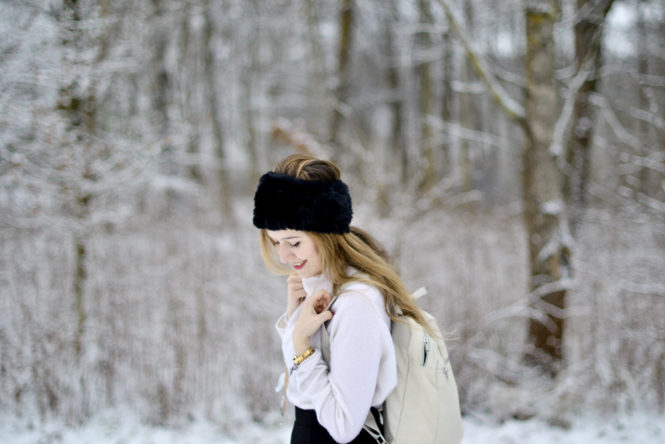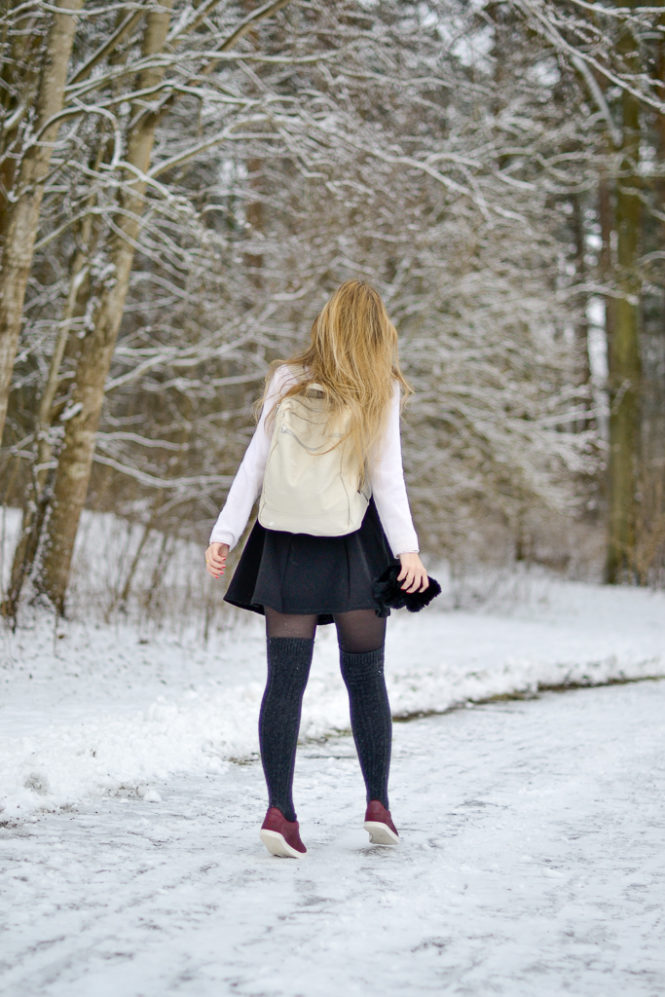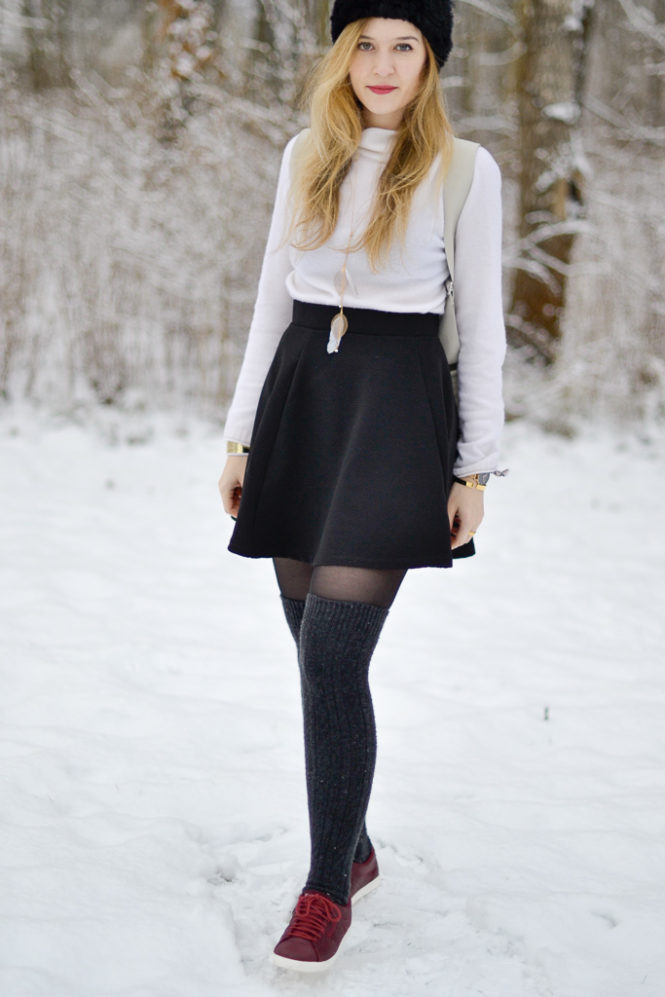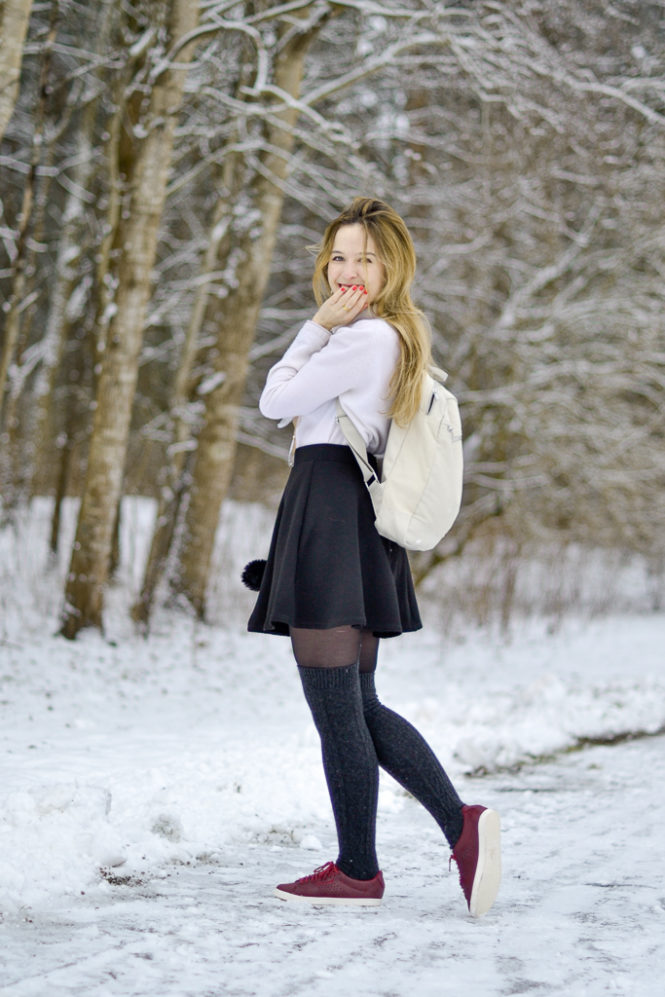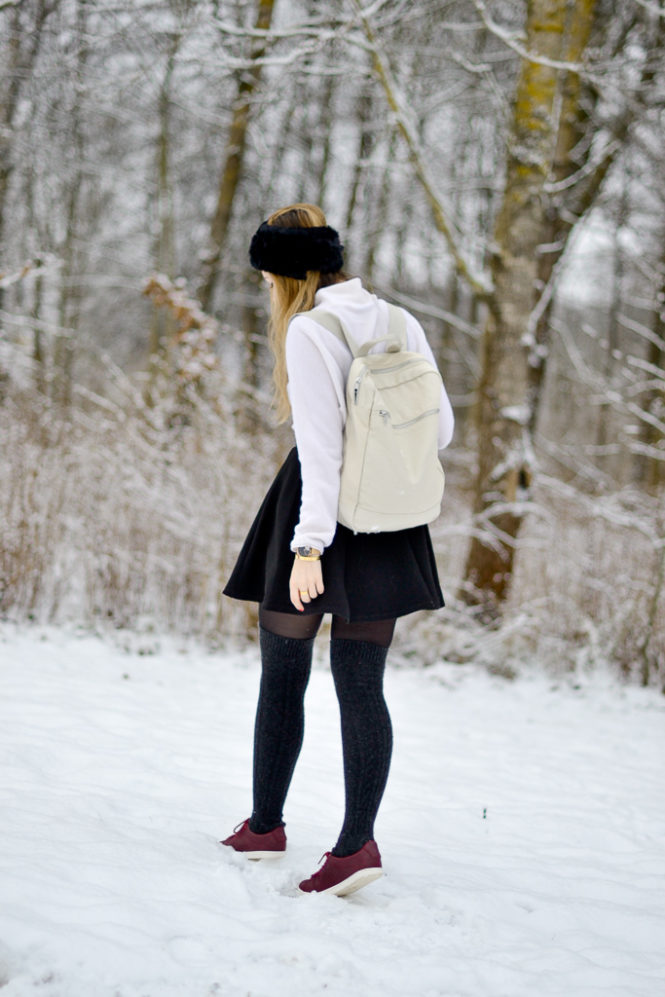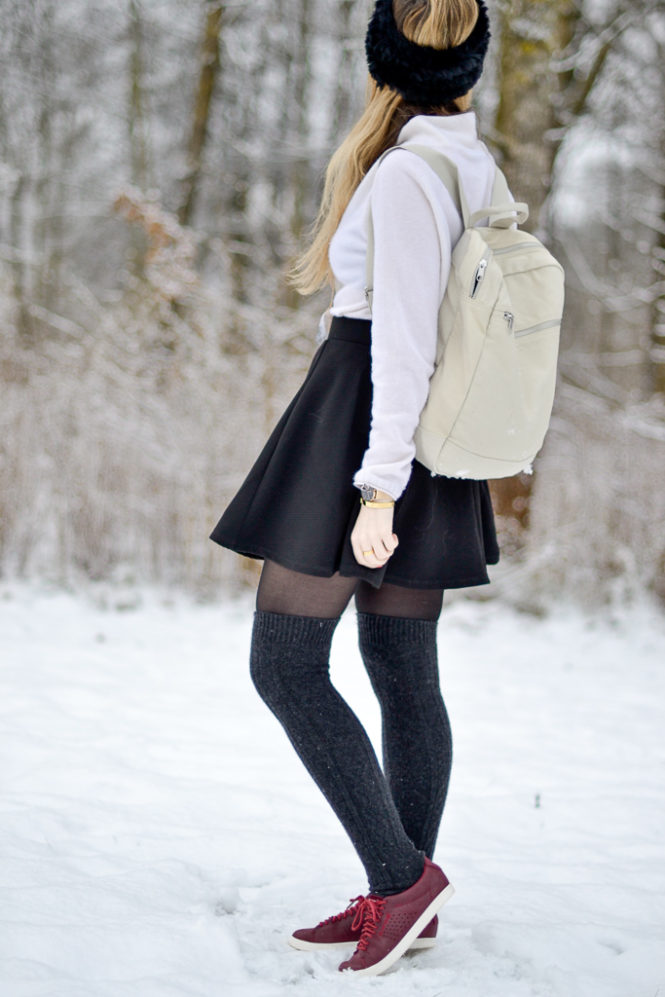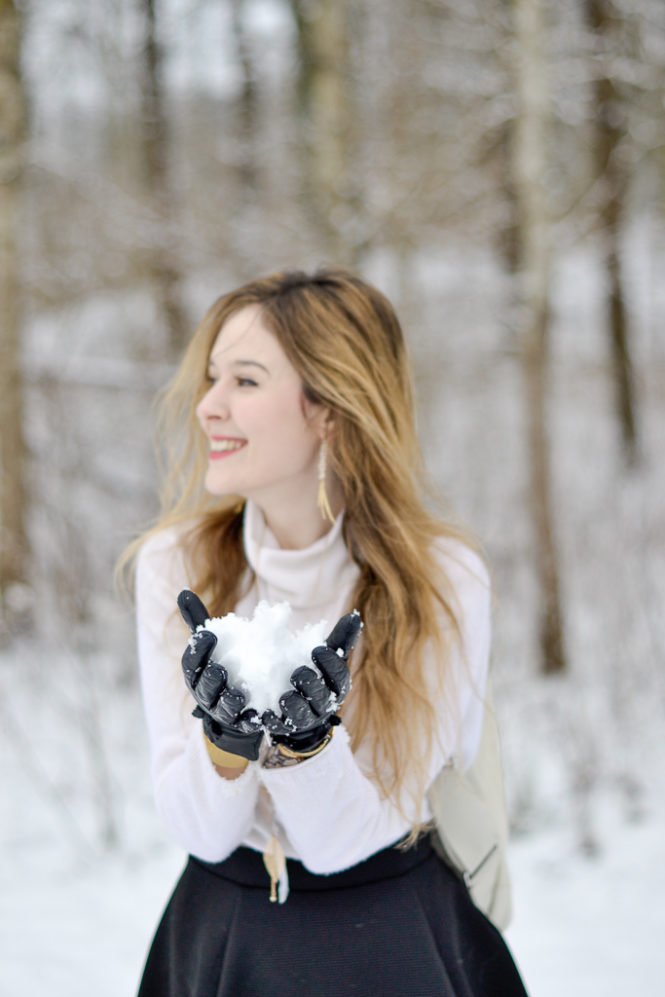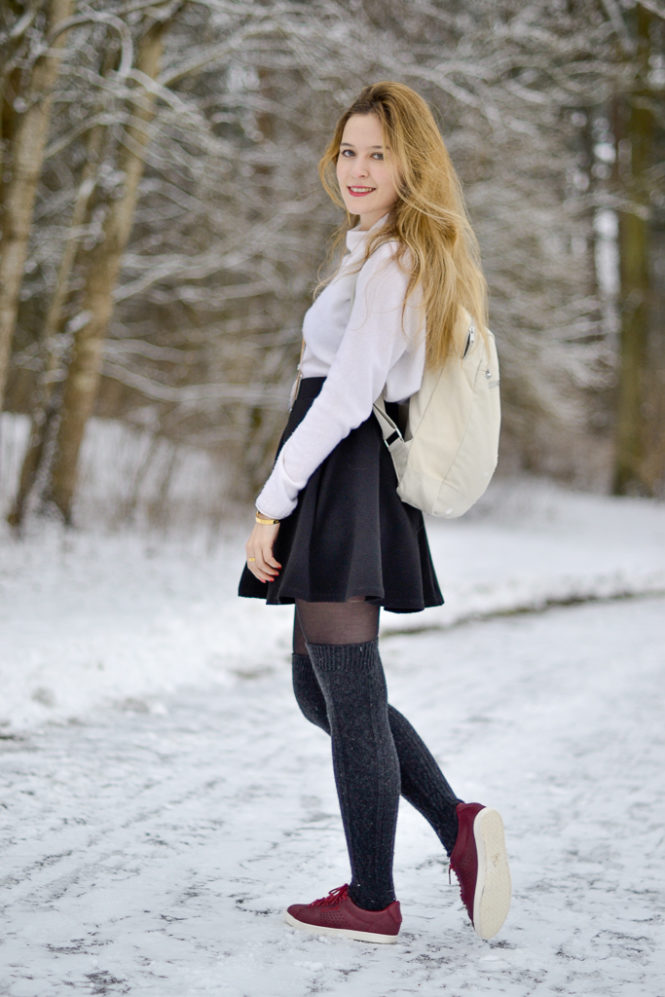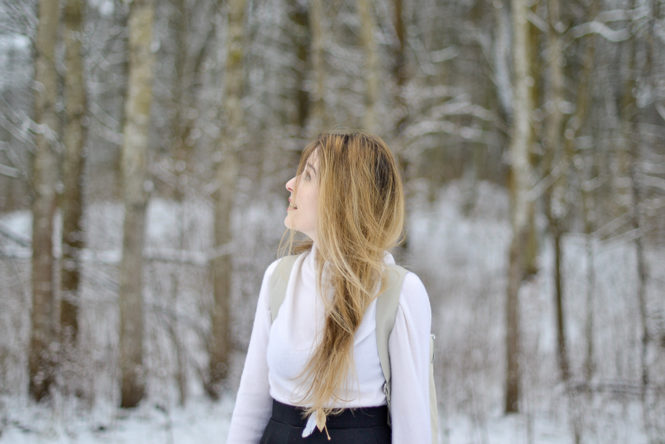 In this outfit I also wear some accessories of which I am really a fan … some are new (including a Christmas present from the darling hihi) and others rather old but timeless.
The first accessory is this faux fur headband. It's super soft, and warm ! My mom had offered it to me a few years ago at the Champs Elysees Christmas market and I love it. It reminds me of a good memory of a wonderful day in Paris with my parents. We had some mulled wine, enjoyed a walk in the beautiful market during a beautiful illuminated Christmas day. In short, it's balm for the heart just to rethink of it !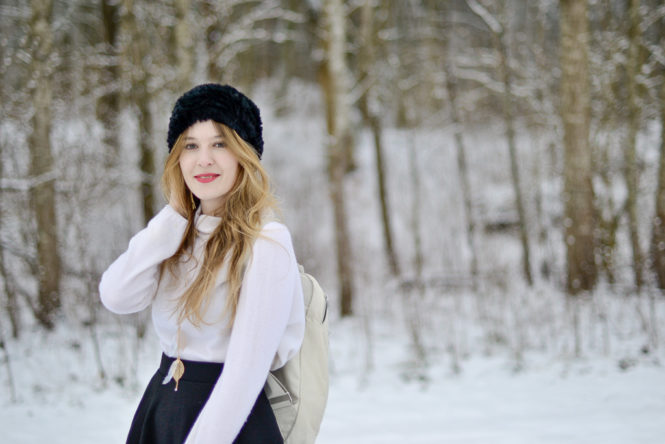 The second accessory is my backpack. My first backpack for years! And yes, I know, it's hard to believe but since the good old Eastpack during high school, I didn't really wear backpacks anymore. Or yeah, actually, while travelling to and within Australia! I'm saying bullshit. But let's say it's my first backpack that I wear in normal times (not while traveling) and that replaces my handbag as a fashion accessory. I started to love again backpacks that I find practical, aesthetic, and that relieve my back. I often have back pain because of my big handbags that I stuff at their max … so here I found the solution! And it's my darling who offered me this one for Christmas. He comes from Granit (Swedish brand). Do you like backpacks?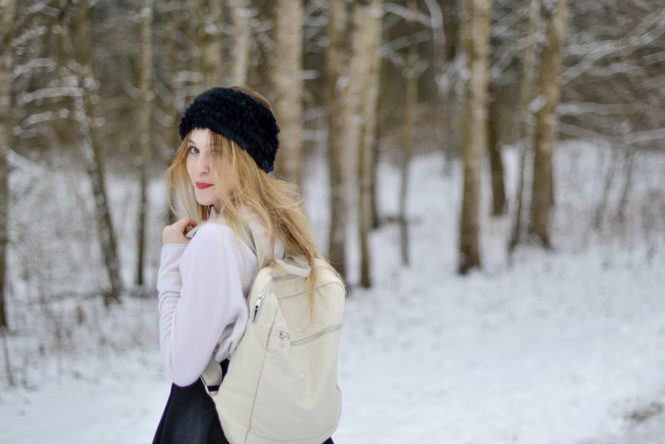 Third accessory: my feather necklace. Well, you already know my love for feathers! Hence my blog name … I love this necklace which is, again, a gift from my mom. (My little mother who knows me so well and who always knows how to please me)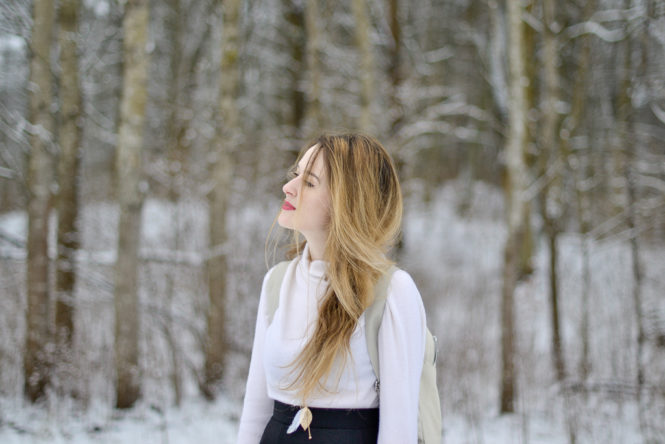 And finally, 4th "accessory" finally not really an accessory because well … quite essential : my burgundy sneakers. Recent arrivals in my collection, I confess that I love them and that I feel that a great love story begins between them and me. I love this model (Charline) from Le Coq Sportif that I also have in pastel pink, and that I wore all summer. These are my new best friends, but winter version. I am a FAN.
(PS: I just saw that they are in winter sales at 40 euros instead of 80! If you want them too it's time to crack ! This way!)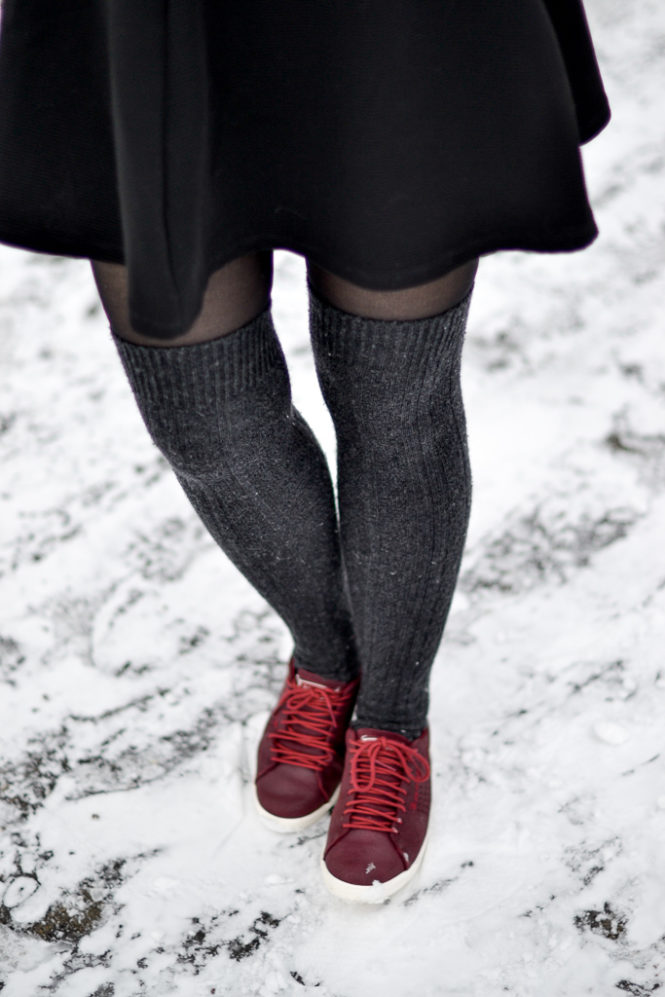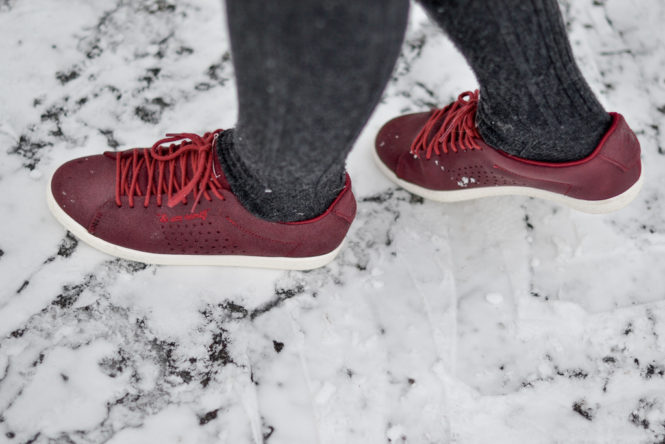 I really was like a child in all this snow (and darling too) and I hope it will fall again soon. The advantage of photos is to be able to immortalize moments like this forever, and I can not wait to take more !
Darling wears Zara jacket & under jacket / an Upfront hat (which I gave him for Christmas – so many gifts in here, haha)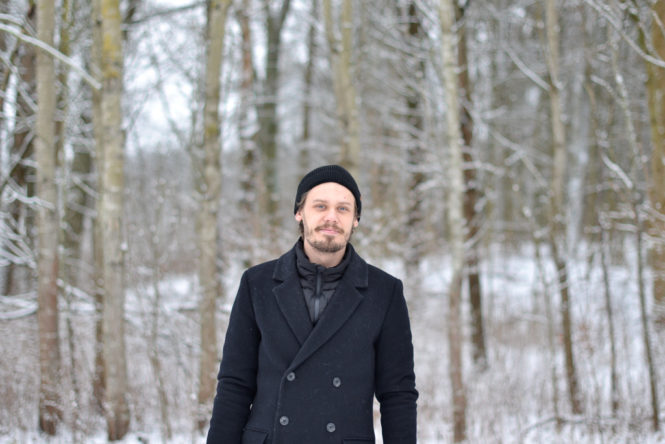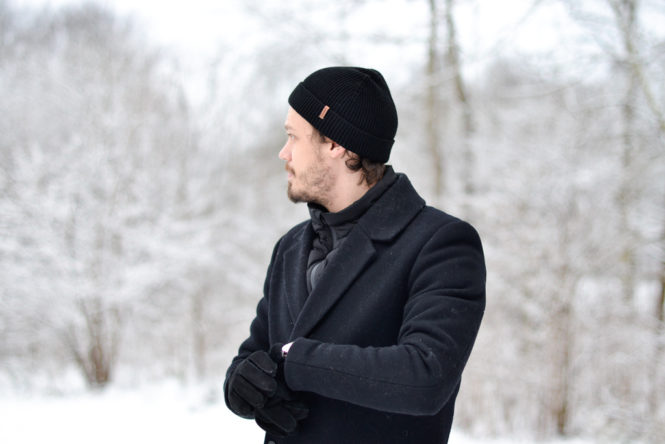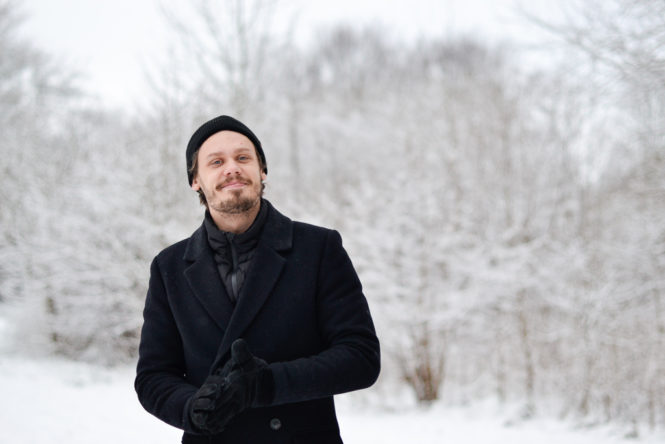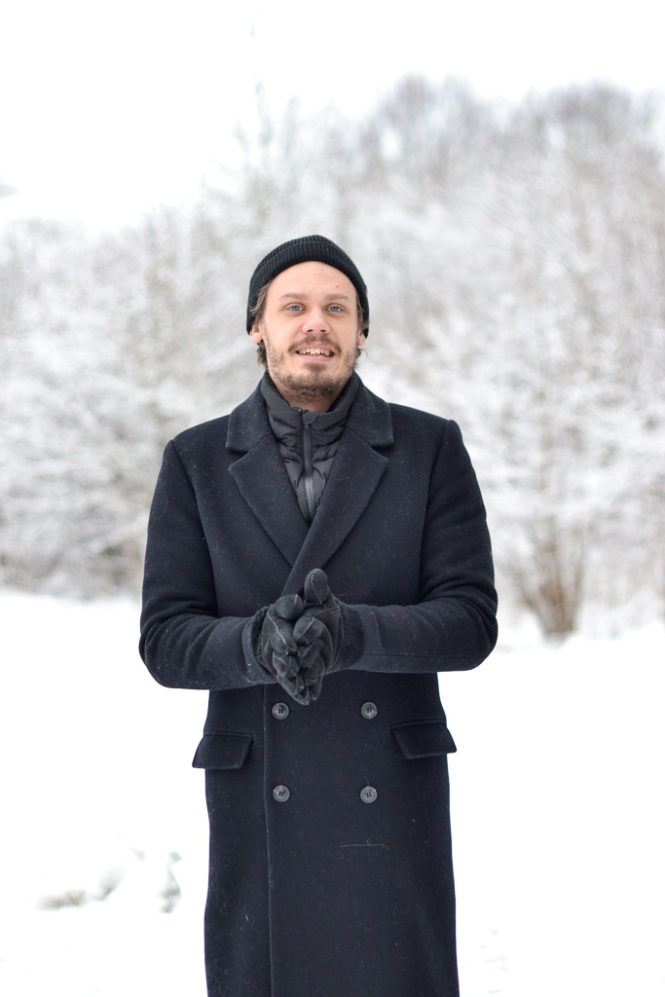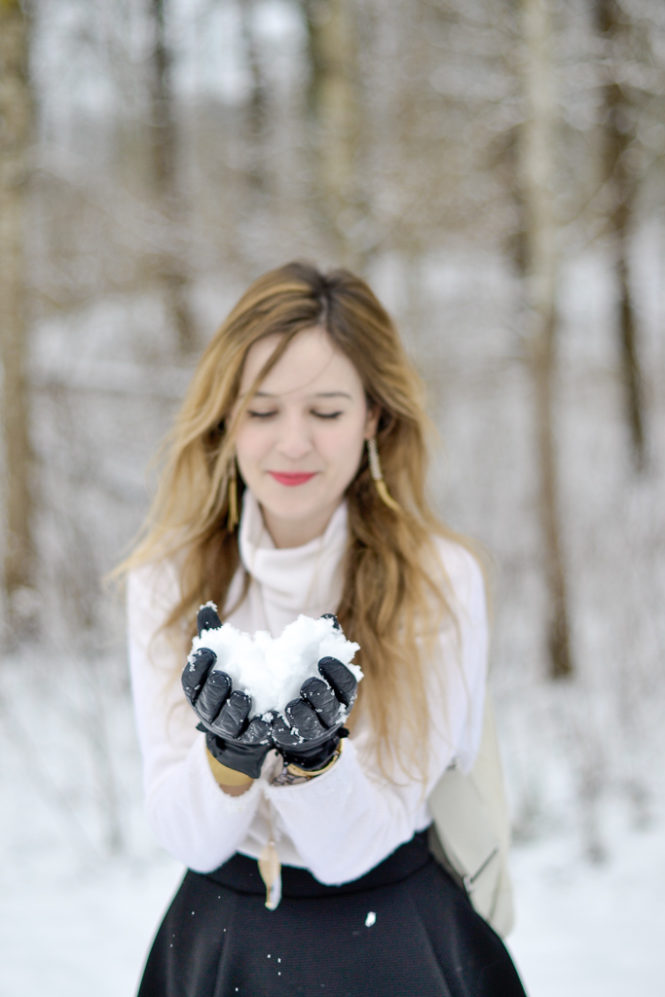 * Do you also like snow ? *
* Have you had snow this winter already ? *
Lot of kisses my little babes !
---
This post contains affiliate links from ShopStyle and RewardStyle
SaveSaveSaveSave
SaveSave
SaveSave