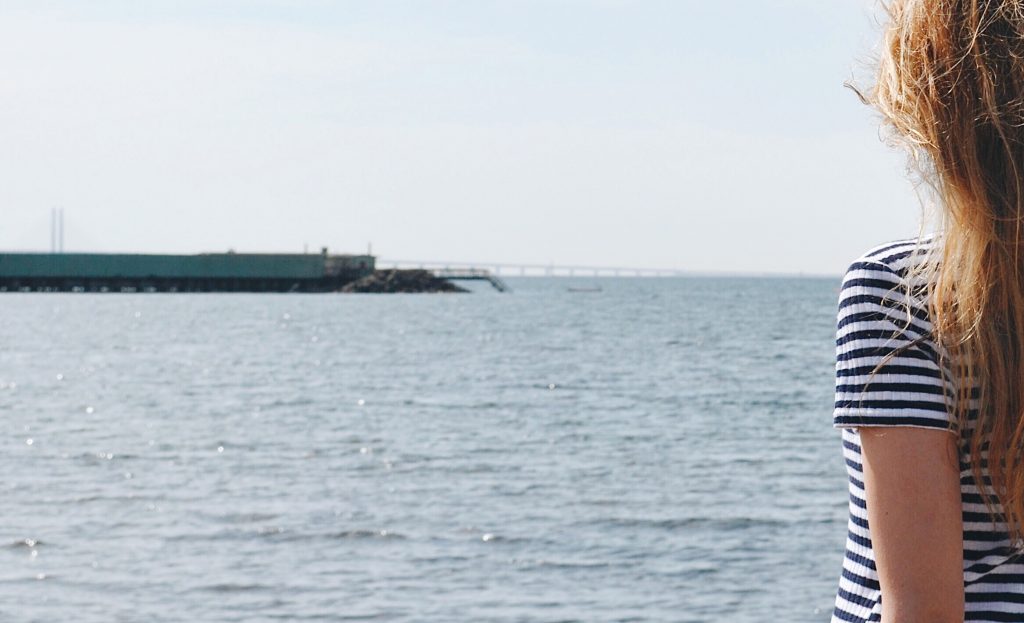 Hello my little babes ! I hope you had a good weekend. Today, it will be a very simple look. It's not really a fashion post. Because today I want to focus more on the context than on the clothes. Because today is a special day : it is the first Monday of my life as an entrepreneur, my first official week as a freelancer. As you may know, I made the – crazy – decision to leave my job in Marketing at the end of March to start my own business. I was telling you about it in this article. So it's been nearly 6 weeks since I left my employee routine and that ideas are blooming like crazy in my head. 6 weeks that everything is new : my lifestyle, my rhythm, new challenges, the fear of no longer having a regular salary but still a regular rent, the excitement, the prospecting, the happiness… 6 intense weeks, and relaxing at the same time. 6 very exciting weeks that just make me excited to know where all this will lead me. It took 6 weeks for my small free-lance company to be born. I told you about it last Thursday on Instagram and quickly as an intro of my last article here. I can tell you that we celebrated this great news with my boyfriend ! Since Thursday last week, the 11th of May, 2017, I am an entrepreneur. 2 months before my birthday (I am from July 11). A date that I will remember. A new page that opens. Plenty of new projects by the sea. Many of you have asked me what I was going to do exactly, here is a bit of explanation.
My new freelance life : many projects by the sea
I wanted to image this article using the sea. Sea is so vast. This leaves room for imagination and a multitude of possibilities to let your mind wander. A bit like the months that are ahead of me, it feels like. So many things in mind, so many ideas, so many projects. It's time to rock it !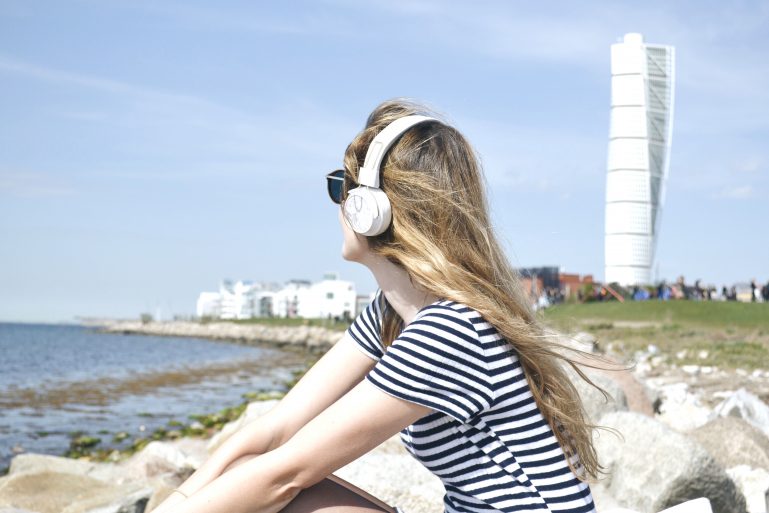 So, you may be wondering what I will do exactly? You know I like to share everything with you, so of course I will explain. First of all because I know that after this, I will receive a few words from you that will deeply boost me, but also because I always want to be the most transparent with you, and finally because I'm thinking that if some of you can get motivated or inspired from following my full experience of becoming an entrepreneur, then it's already a victory for me.
My small business will break down into two poles, both very related. Just to give you a bit of context, I did a business school in Paris and graduated in 2012 a Master 2 in Marketing. Since then, I have worked in Digital Marketing in various industries, first as an intern, then as a project manager, and finally as a consultant. Over the years, I have acquired skills that have allowed me to grab my courage in my hands and say : OK, now I want to become a freelance consultant.
My first activity will be marketing consulting, whether it is offline or online (although we all know that now almost everything is online – and this is my specialty as you will have understood). I will help companies to build their websites, optimize them, implement their online communication strategy (on social networks, on Google, at the emailing level, etc.), to work on their image, to expand their fans community, and so on. All of this to help them become known, loved, and generate more sales that make sense while retaining their customers. So my client can be a large company that already has a site and wants to boost its presence on social networks, as an individual who wants to get started and who does not even have a site yet. I take this opportunity to call for your help babes ! If you know anyone who might be interested in this type of service, do not hesitate to share my contact information here.
My second pole of activity will be to monetize this baby blog. I already spoke about this in several articles. About the passion that burns in me for blogging, but also about the crazy time it takes and the investment that this represents. I think I spend about 6 hours a day working on my blog and everything that is around it. I never feel like it's work, because I love it, I do it with so much pleasure. But it is true that, spending 6 hours a day doing something, even if it's something that we adore, does not pay the rent or the grocery if it's for free. Blogging is a passion but also a real work that should not be taken lightly. Apart from you my dear bloggers, who know exactly what I'm talking about, you have no idea of ​​the personal investment that a blog requires. I get up thinking about the blog, I spend my day working for the blog, I go to bed dreaming of the blog. This dear www.plumedaure.com has become my whole life, and I enjoy it every day. But I spend hours to shoot you the perfect picture. I spend so much time in stores to shop the best outfits, in the trends, colorful, happy, to make a nice shooting and a nice look post. I spend full afternoons writing here, first in French, and then in English. A real job, with its moments of joy, and its moments of stress (for example the big rush when you have to publish Monday morning and you still have not prepared anything on Sunday). A blog post, from photo shooting to proofreading, takes about 6 to 10 hours depending on the subject. This gives you a little idea of ​​the time spent on all this.
As I already detailed it in this article, I think it is normal to monetize some posts when blogging full time. As long as you stay authentic. And I think that's what makes the difference between the real bloggers who live from their blog (I think for example of those that inspire me most as Elles en Parlent, Mode and the City, or Kenza) and the others who just loose their credibility. For me, the purpose is definitely not to monetize ALL that I do on this blog, no no no. I keep a big place in my heart very for articles without monetary purpose, for example a psycho article where we talk about everything and nothing, a bit like today … I also keep a big place in my heart for collaborations with small brands without budget, which are often little gems that deserve to be discovered. Becoming a human wallet, no, it is not at all the goal. But I find it totally normal to get money against my work sometimes. I have never done it yet, but this will happen from time to time now. You will see it because under the article it will be mentioned that it has been sponsored. When that will be the case, I know you are aware of this because you are getting to know me, but I want to emphasize it just in case : this will not change my opinion. The brand with whom I will agree on a sponsored post will be a brand with whom I would have also worked without being sponsored, as I have always done so far. It's just that with time, this baby blog has grown, and it takes more and more time. So I believe it is normal, whether for me (to be able to pay my pasta and tomatoes at the supermarket :)) or for the brand (which gets a real benefit from the exposure provided by my work) that I sometimes get paid, because I really put all my heart and time into it. To go even further, I'll tell you a secret. Sponsorship means real transaction so it also means that there is a contract to be signed by both parties: the brand, and me. To make sure I never lose authenticity, I created my own contract (I spent days working on this) with a special clause saying that if I do not like the product (because it is much worse than I thought or if the brand makes false advertising), the partnership will be cancelled and I will not post anything on the product. The payment is of course also canceled. Somewhat like it is now : when I get a product for test, I only talk about it if I liked it. Or if I did not like it, I tell you. Here it will be the same, even if there is a contract between the brand and me, it will be cancelled if the product is not worth the discovery. All will be simply like since the beginning, true sharing, as you have always loved, and in accordance with my values. I thought that clarifying this on my contract was important, not to justify myself but more to prove to you that there will never be a lie here because of a paycheck. 
I'm just starting to put all this in place and it will come gradually. I have not yet earned money with this blog (voluntarily, because I received sponsored proposals but as I had no company I refused). I just sometimes include some affiliate links to my posts, like for example in my "Shop the Look" widgets or in this post (behind some links). Here, for example, it is the same. Affiliate links simply allow me to earn a tiny commission if you decide to buy something I present to you. But EVERYTHING I present to you, I bought it myself, and I really love it. It's just that if I can be rewarded a little bit by the brand for helping it to make you discover its great product, well, it's nice, and it's a little normal, isn't it ? Then it helps me pay for the pasta :).
Here you are babes, you know EVERYTHING. I hope this article clarified the two crazy projects in which I'm jumping with both feet. If you also want to start your own company or any other crazy project, I hope I can give you some motivation and strength. I really start this from scratch and will give all I have for it to work, and I think this is achievable for each one of us with a little bit of courage and taste for adventure. Do not hesitate to comment if you have any question! I would be happy to answer <3 As usual I have not been shy on transparency and hope that you like it. I think that what we have built within our small community is so strong, that trust is very very important to preserve. All this, I do it out of passion. Passion of exchange, of interaction. Passion to read your feedback, that inspires me. Passion to inspire you. Passion to enrich each other and passion of this small bubble of fresh air that all this represents. This passion will never leave me, and will always be my true motivation.
+++ I will leave you on some pictures by the sea. +++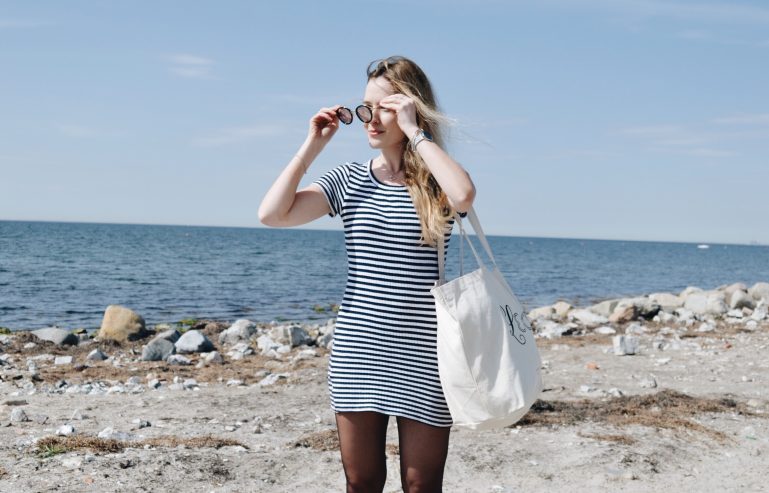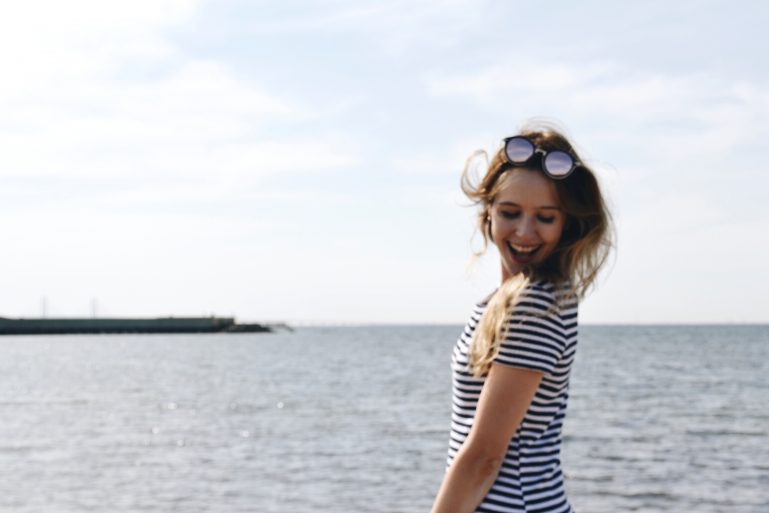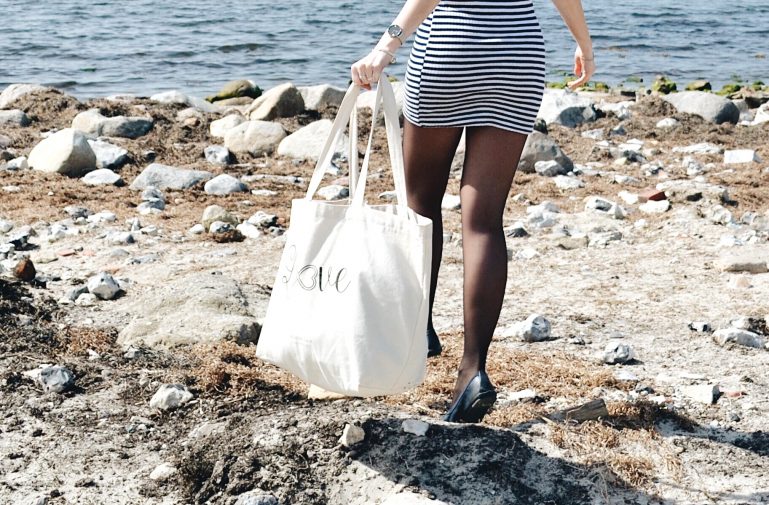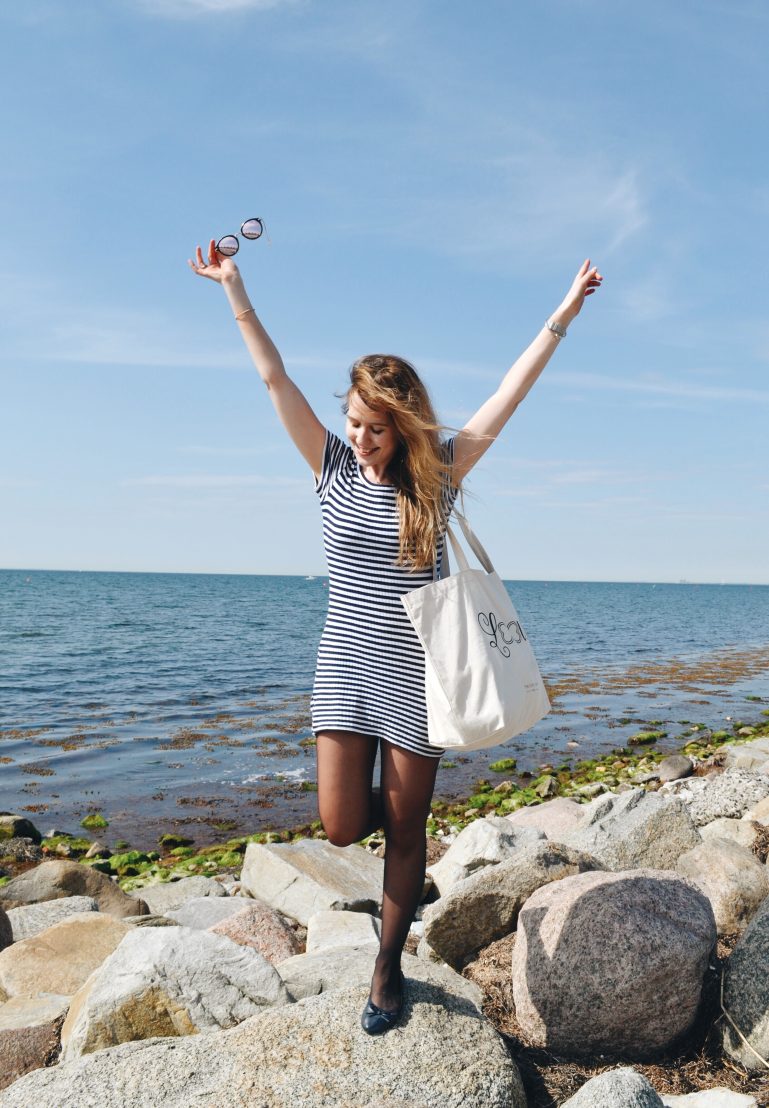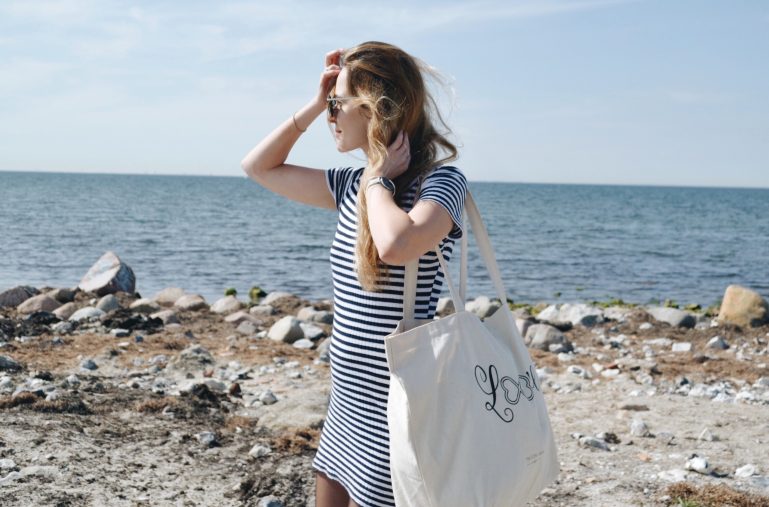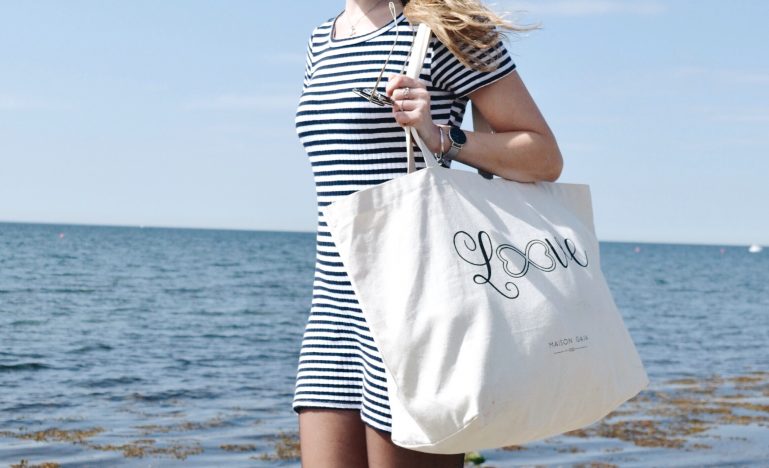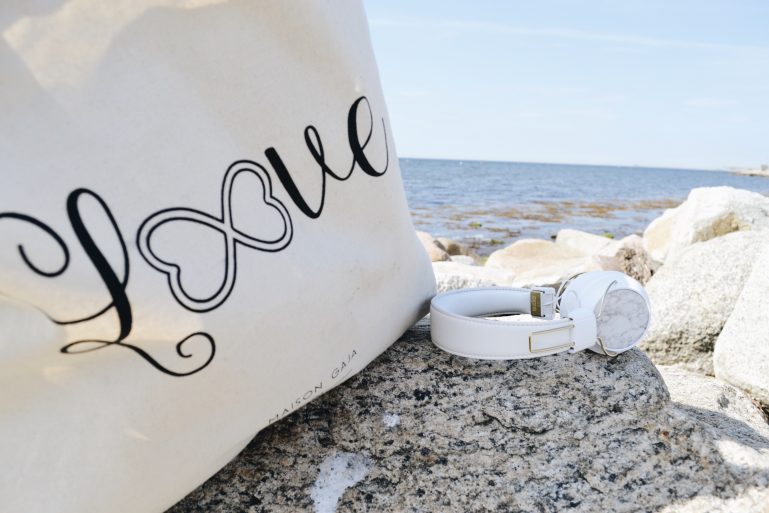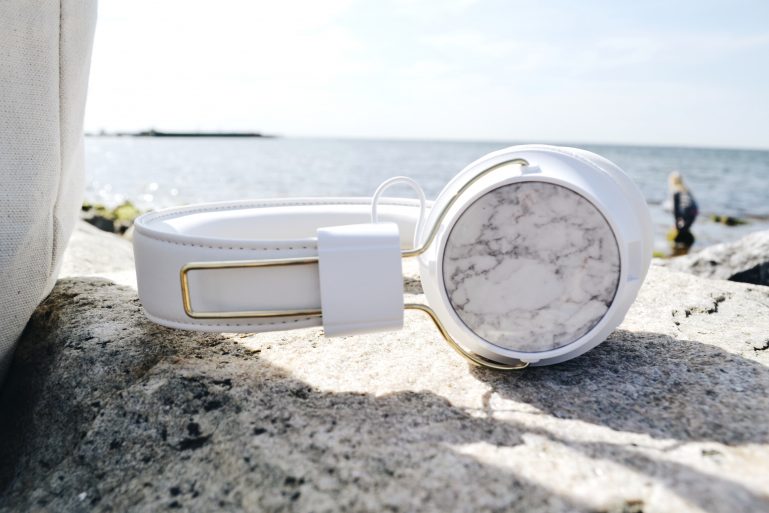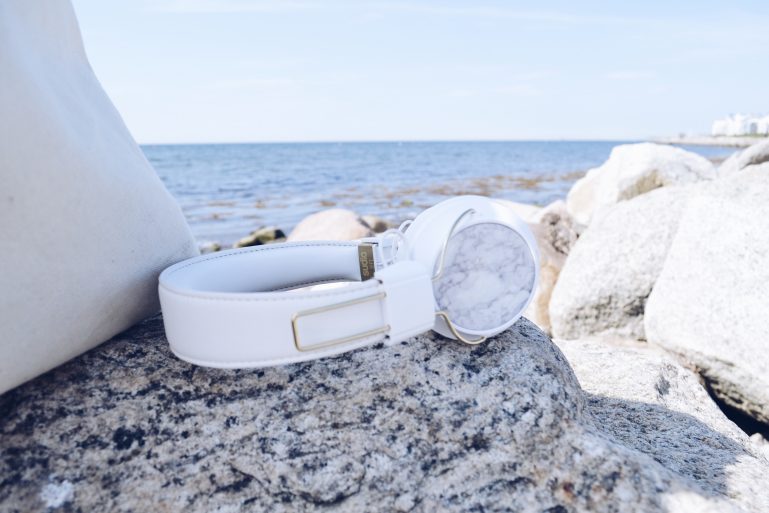 Credits : 
Dress from H&M
Bluetooth headsets from Sudio Sweden
Tote bag from Maison Gaja
Watch from Daniel Wellington
Ballerinas from Eram
Summer Rose sunglasses from Le Petit Lunetier (-20% with the code Plumedaure20)
*And never forget to follow your dreams, they know the way*