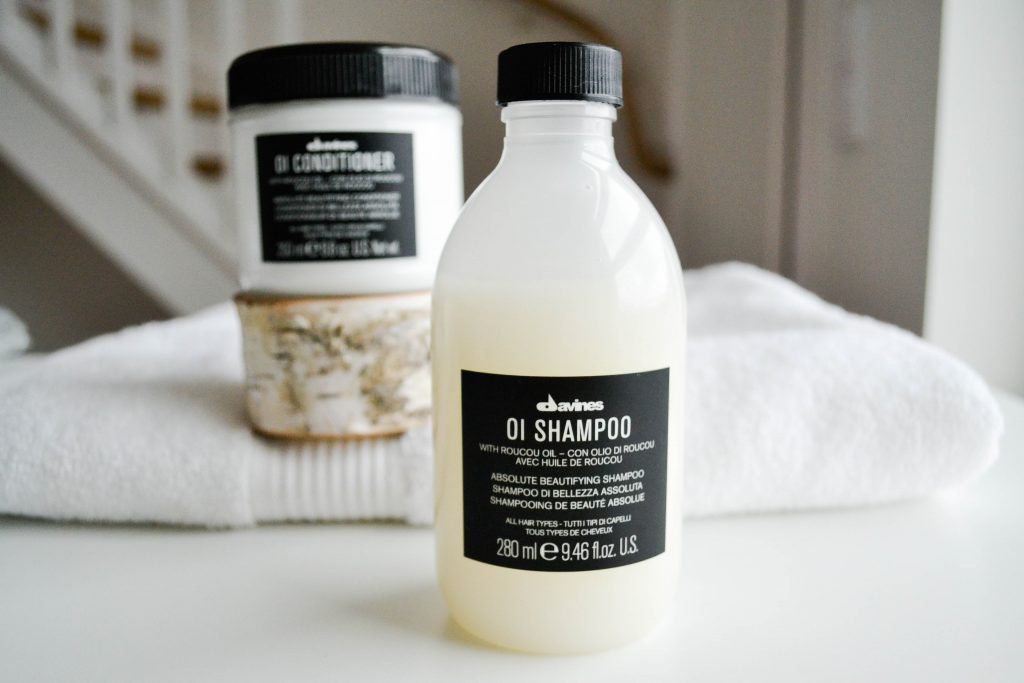 Heyyy my little babes ! I hope your week is going well ! So first of all, so sorry for the delay of this article. As you know I normally publish every Monday and Thursday mornings, and today … it's Friday. This is the first time it happens to me but I have a good excuse! Yesterday we celebrated the creation of my small free-lance company! Champaaaaagne! I am officially a small company with two business lines: on the one hand, I am a consultant in Marketing (online / offline) and will offer my services to different companies, and on the other hand, this baby blog is now a real part of my activity as well. What does this mean for the blog? That I will be able to offer you content of an even better quality, and that many beautiful projects are emerging. I can not wait to tell you more about all this, but I will dedicate a special post to it. Today, it's not the subject. Anyway, it's even too new for me to find the right words. And I confess to you one thing: I don't really know myself where all this is going to go. Total adventure! Fiew. A mixture of excitement, happiness, fear, endless energy, blooming ideas, impatience, challenge … everything blends into a cocktail of sensations. Wish me luck sweeties ! I need it. Haha. So, let's go back to our subject of the day. I always write beauty posts that are dedicated to a single range, a single brand, or even a single product. I love to let you discover many things, so that you can stay up to date with new stuff in terms of beauty, but also because when I have a crush for something, I love to tell you about it. Why reinventing the wheel as people say? If I discover a little gem, I will share it with you. Because everything that is great deserves to be known. Today, I thought for once to make a recap post, with my favorite products of the moment, all brands mixed. I test a lot of things, but these are a few favorites that stay and make up my beauty routine, the real one. I regularly change my beauty routine, as I discover new things, and continuously improve it (and also because I know that the skin gets used to the products with time and that they therefore do less effect). So, I wanted to share my beauty routine of the moment with you: my spring beauty routine. And the "crème de la crème" of the products I have tested in recent months.
Spring beauty routine : the "crème de la crème" of recently testes products

+++ For cleaning and moisturizing  +++
The hydra repair day cream from Brown Alchemist, Botanical Beauty
A cream on which I had an enormous crush. Already, the packaging appeals to my artist soul (as a daughter of a painter-sculptor (my mother)). Looks like a tube of paint! I just love it. Then the smell of this cream is fabulous, it smells so much like flowers. Camellia and Geranium, mmm … I'm a fan. It moisturizes perfectly, is not greasy and leaves the skin fresh. Buy it for 35 euros here.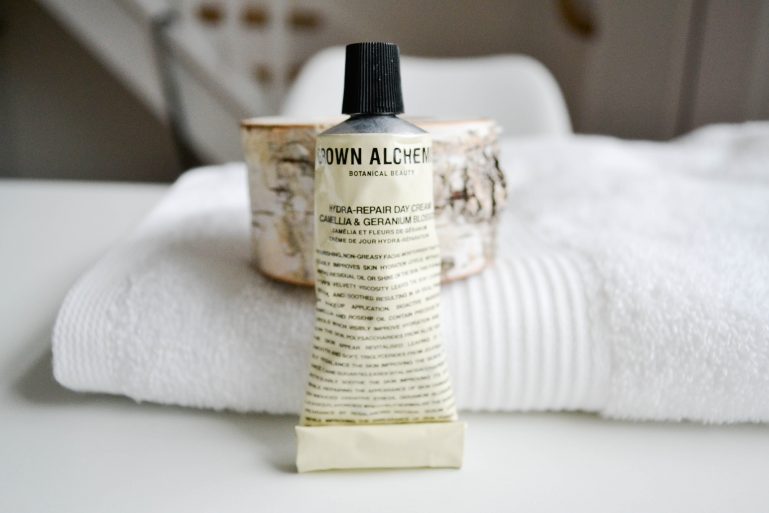 The overnight primer oil from GOSH
An innovative oil base that restores the skin at night. The night is especially beneficial to regenerate the skin anyway but this product contains natural oils that will strengthen this process, by de-stressing, calming, softening the skin to wake up all fresh and beautiful in the morning. In addition it is fragrance-free. I love it and I use it everyday in my evening routine. You can find it at GOSH resellers and on www.goshcopenhagen.dk.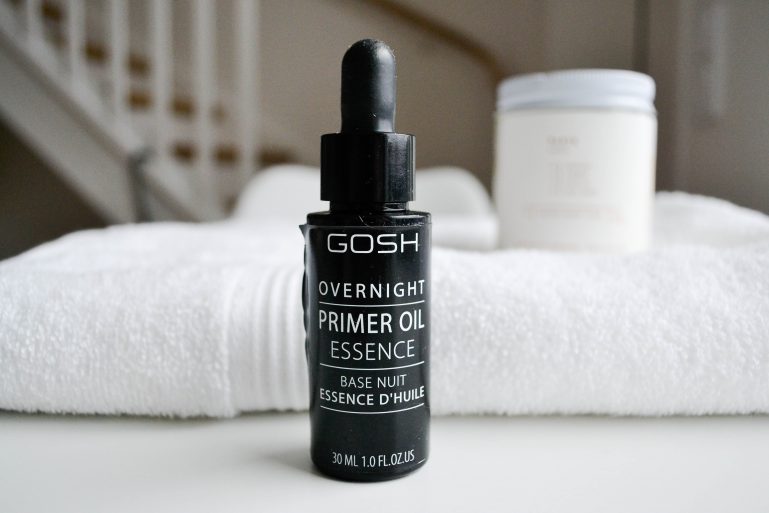 The Original Make Up Eraser
Also a big crush on this wipe. I spoke to you in a previous article about another makeup microfiber makeup remover, GLOV, but despite all its good sides it was a little small and got dirty quickly. This wipe is great because it is large, and can be washed as often as necessary. It lasts up to 1000 uses (thus almost 3 years of makeup removal !!!) and removes makeup super well without any product (even the waterproof one! You just need to rub a little more), thanks to its microfibres. The little extra: it exists in black, which makes it possible not to see too quickly that it is a bit dirty (from makeup like mascara, black pencils and so on). In short, super natural, super economic, super practical, I love it. I only use this now. You can buy it for 19,90 euros here.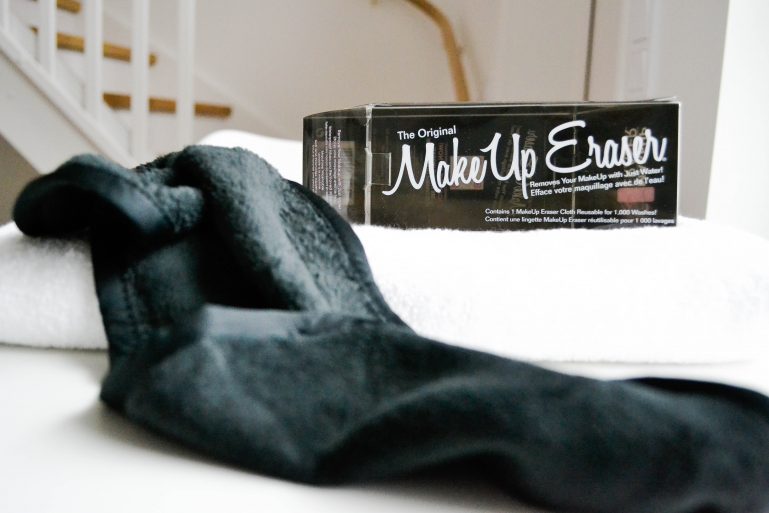 Baobab oil for intense moisturizing and for waterproof makeup
I recently discovered baobab oil that I did not know. I show you here the one I have, from Ooh! but any baobab oil will have the same properties and benefits. That was a revelation. It is deeply hydrating for the skin (I alternate sometimes with my GOSH oils in the evening) and also for the hair. A few drops of baobab oil over your hair all night, and the next day, after a shampoo, your hair is soft and moisturized like never before.
I had always heard about argan oil, olive oil, etc … for hair but why never baobab oil? For me, it's a real miracle! I don't even need to blowdry my hair to give it discipline anymore, they are so soft and hydrated that they dry out naturally with a nice movement. I recommend it to you 100%.
I also use it for my waterproof mascara, as a little help for the wipe I talked about before. Which says "waterproof" says water resistant. Nothing is better than oil to dissolve this type of makeup. A drop on the finger, I rub it on my eyes and I look like a small panda because all my mascara is dissolved. I can then use my wipe, and voilà! And at the same time I hydrated my eyelashes to keep them strong and long..
You can find baobab oil (100 ml – mine is 15 ml and I kept it for long) here.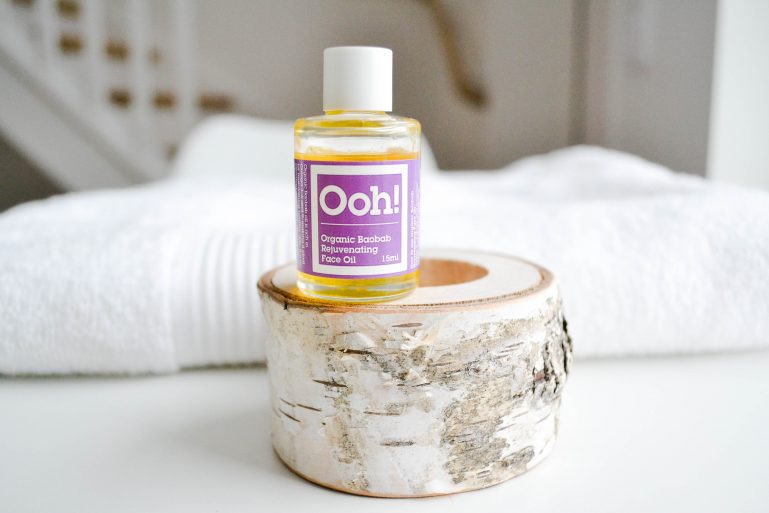 +++ For the foundation +++
The gradual tan spray from James Read
I have never been a big fan of self-tanning products, despite many tested, because of their odor. I find that a few hours after the application, it smells like rust, erk. I am not comfortable and I feel that people only smell that. I was waiting for the self-tanner that did not smell for years. I found it. I didn't believe in it anymore :). This small spray from James Read applies perfectly without any traces on the face, tans gradually according to your desires and doesn't smell. I love it ! As soon as I find myself a little pale, I spray some! A nice natural tan in a few hours. You can find the 200 ml spray (mine is a 30ml and I have already for 1 month) for 30 euros here. If you only use it for the face you have it for the whole year!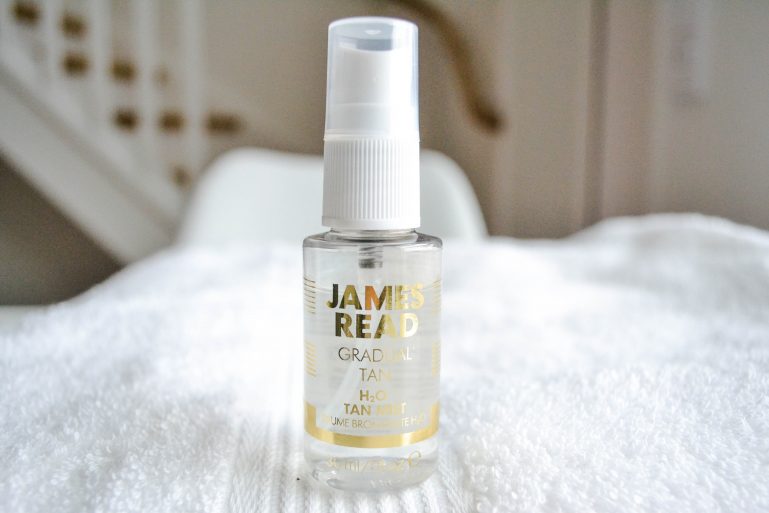 The self tanning tinted lotion from Vita Liberta
In the great self-tanning product series, big love on this one too. But this time rather for a reinforced effect and for the body. The advantage of this self-tanning lotion is that it is already tinted (but like SUPER tinted). The effect is therefore instantaneous. A bit like a foundation for body, except that when it has dried it does not stain. In 5 mn you are tanned! So great if you want a nice tan for wearing a pretty dress, or a beautiful t-shirt. This lotion does not smell too much either (a little bit more than the spray but REALLY discreet compared to what I've been able to test in the past, so the smell does not bother me) and it holds for a long time. about 1 week. What I advise you: put it at night before falling asleep for the product to dry. The next morning, take your shower and remove the excess. You will be naturally tanned for the whole week. Perfect ! Be careful not to put it in the day if you're going to sweat. On the first day, the first layer "rinses off" with water, to leave another layer that will hold all week. That's why I really advise you to leave it all night and shower in the morning for a clean and beautiful result!
Available in a mousse version (same results) for 25 euros here.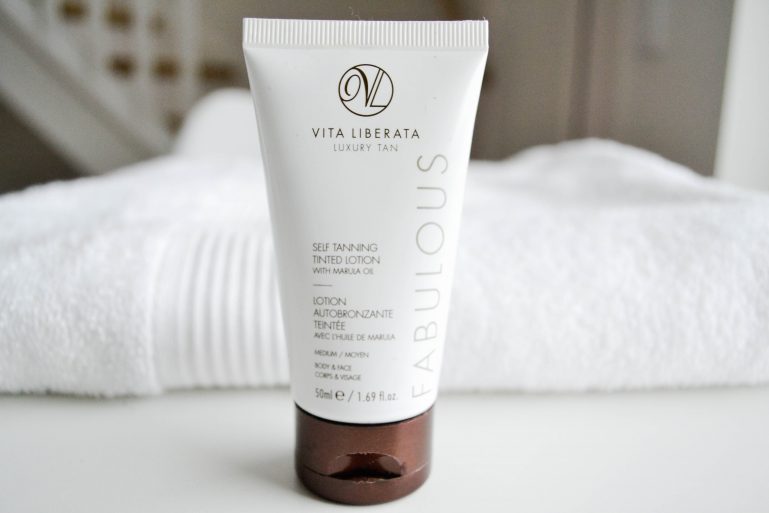 +++ For the face +++
Time Frame Future Resist foundation from Delilah Cosmetics
Here it's just a crazy thing for me to have changed my habit that has been going on for YEARS! I always, but ALWAYS used Clinique. First the powder, then the BB cream. And I always adored them (it's still the case). But I tested this foundation from Delilah, Italian brand that I did not know, and … crush. I left over my poor BB cream and only use this one now. Why ? Because I find it super fluid and natural, not too covering, but which nevertheless perfectly complements the complexion for a "no make up" effect. The complexion is luminous, unified, fresh and slightly shiny on the cheeks for a peachy effect. I just love it. If you have a skin without too many imperfections (so no need for strong coverage), I recommend it 100%.
In addition, it has an SPF 20 so it protects us from UV rays ! Buy it for 34 euros here.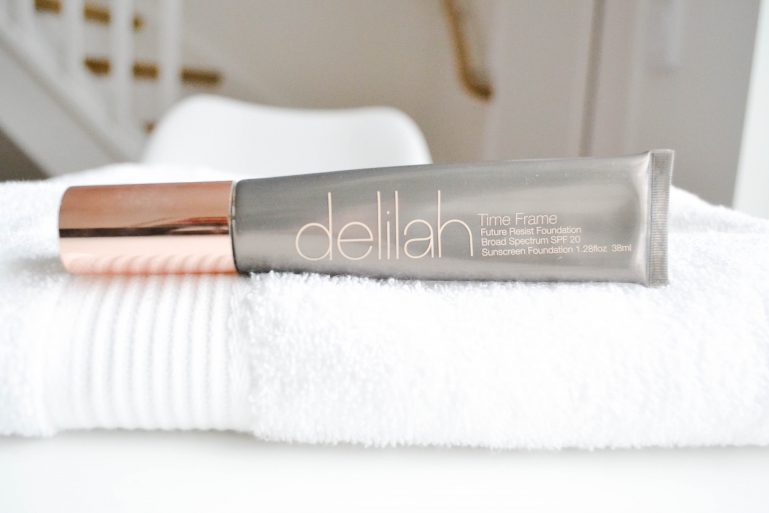 The Chubby Stick from Clinique
I have been using this product for months. I love it. It is a cheeks creamy Chubby Stick that comes in several colours. The cream texture is super nice and natural. And especially very practical to apply. In addition, it moisturises. In short, a product that I don't get tired of. Buy it for 24,95 euros here.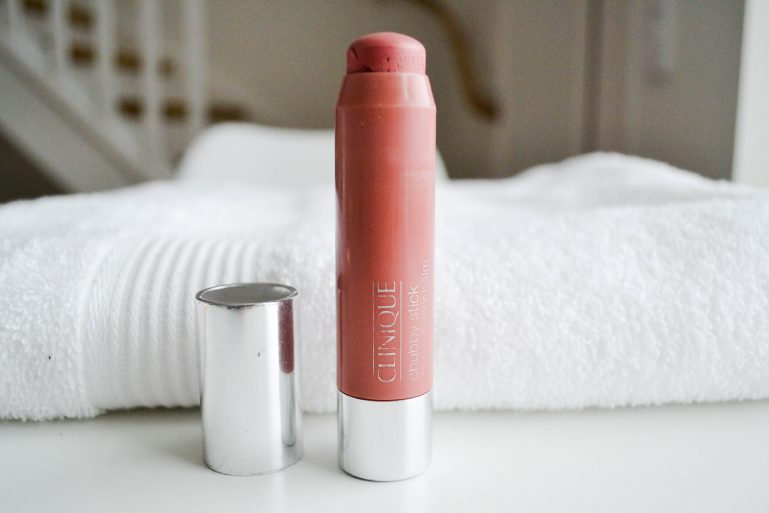 The Coco Shine hair mask from Hello Body
Hello Body is a brand that I like very much, both for its ultra-natural and vegan ingredients, as for its very girly positioning and its coconut odor to fall in love for. This mask is a marvel. I tested several Hello Body products but this one is by far my favorite. A pocket of oils and good things for the hair, which has to be kept in the fridge and applied from time to time on dry hair, 30 minutes before washing.
The hair drinks all these good things, and once washed, they are so SOFT and hydrated. I love this mask, it smells wonderfully good and the fresh effect coming out of the fridge is very pleasant to apply on the hair. Really a must have! It is suitable for several uses. Having very long hair I think I will use it about 4-5 times. But I think by having short hair you can hold twice as long. You can buy it here on Hello Body's website (get 15% off with the code PLUMEDAURE).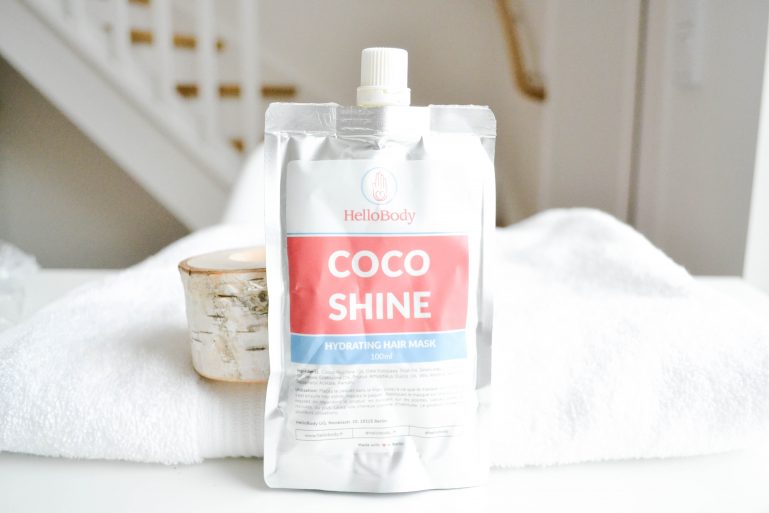 The OI Oil range from Davines – OI oil, shampoo and conditioner
This range … old as the world but what a wonder. I had only used the OI Oil so far (to apply after the shampoo on the lengths and every day on dry hair). I never got tired of it after years. Those products are expensive but unrivaled. I have even dedicated one article on the oil before : OI oil from Davines : best hair oil ever.
I have since tried the shampoo and conditioner from the same collection. OMG. Intense hydration. These products have a price girls, but if you have dry hair, here is your solution. This range of products based on roucou oil is gold for our hair, makes it supple, smooth, and shiny. Personally I used only the oil for years. Of course the effect is reinforced by using the panoply of products (shampoo + conditioner + oil).
Buy the oil for 33 euros here, the shampoo for 16 euros here, and the conditioner for 17 euros here.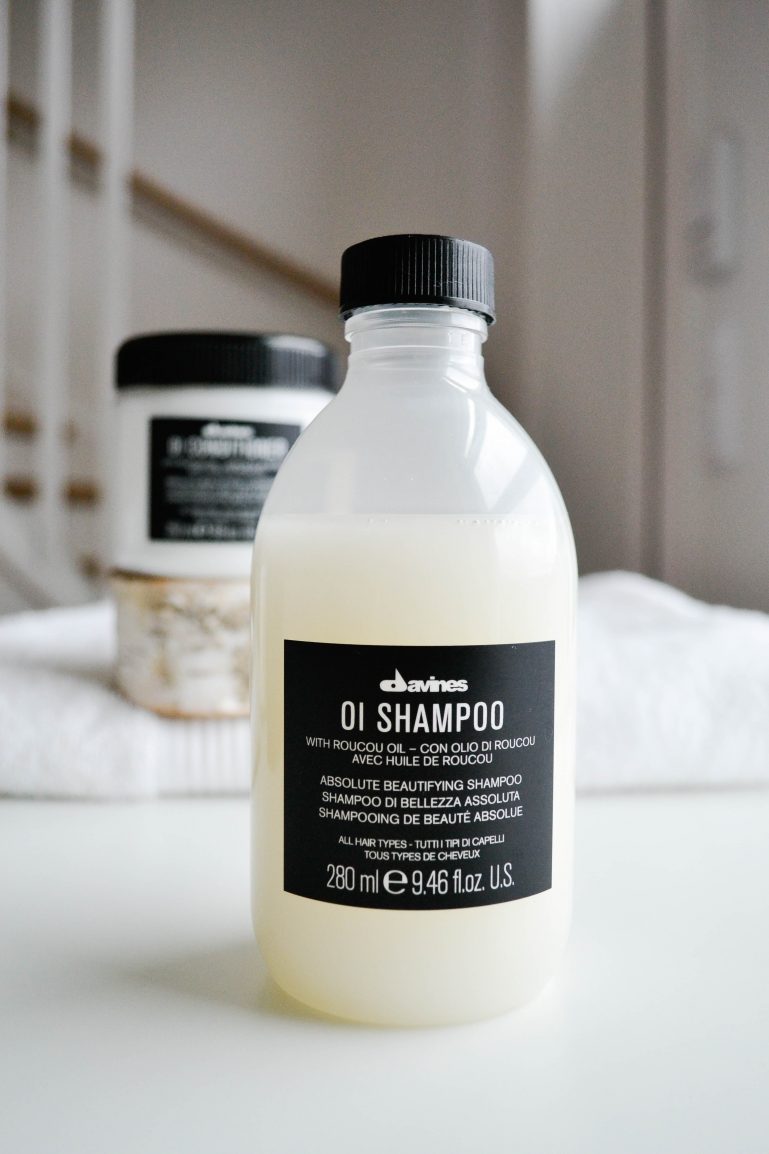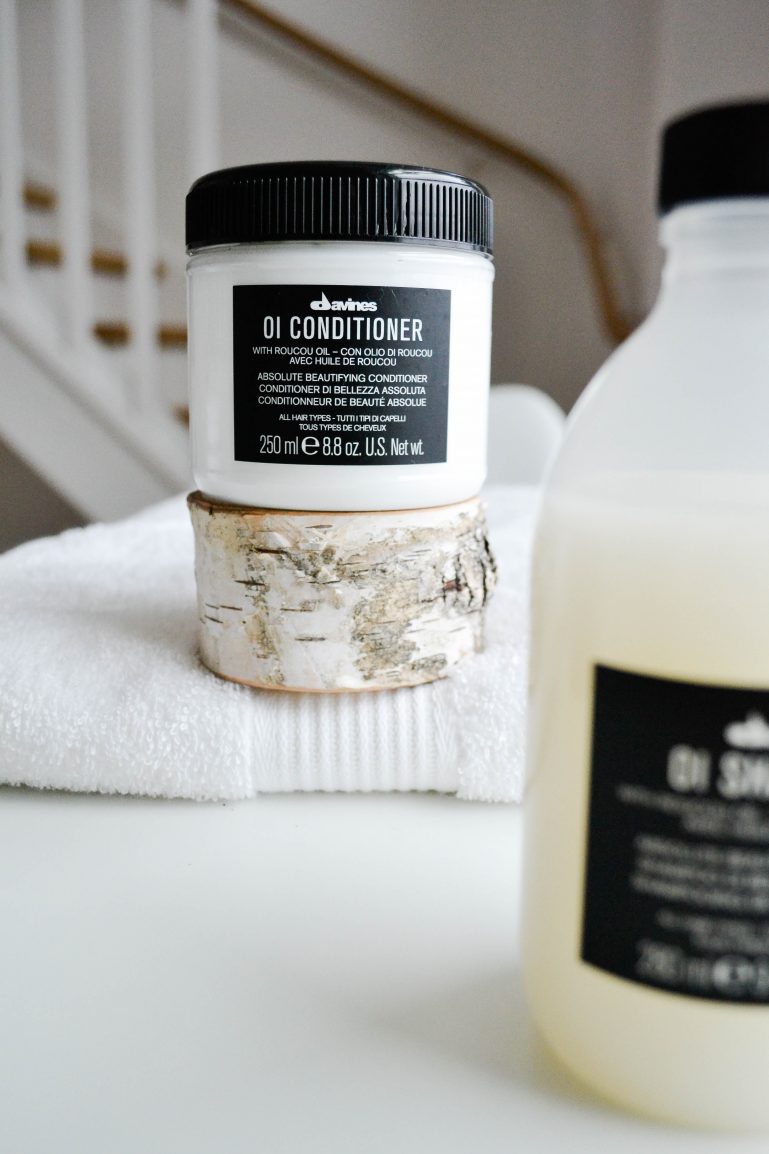 The CelluBlue cup and the Body Roller
With summer coming and the bikini, we know very well among girls that it is every year the same. Mission fitness and killing the cellulite. Isn't this true, haha ? Apart from maybe some lucky girls or super sporty throughout the year ones (bravo girls! Haha). You probably already know the CelluBlue cup which is great to massage the zone at home, 5 minutes per day. I talked about the CelluBlue cup to get rid of your cellulite in this previous post last year already. This year, in addition to the suction cup, I try their little novelty : the body roller massager. It is made up of medical silicone pimples that facilitate drainage, improve ciculation and limit water retention. It is super convenient to use and can be used anywhere you need it on the body. Personally I adopted it ! So much that some days I use only that (and no more the cup … yes yes, lazy girl… but it's better than nothing! Isn't it?).
Buy those products on www.cellublue.com or similar cups for 18 euros here (many colors availbles blue – pink – sparkles – transparent).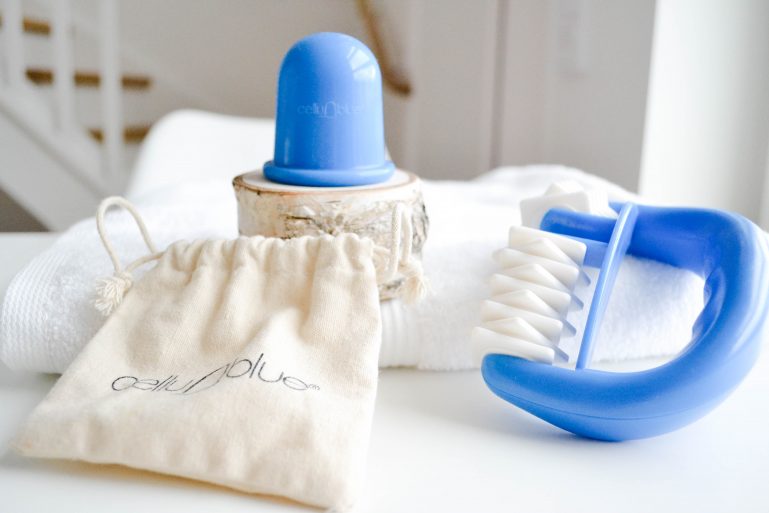 The fitness lotion from Indemne
To go with my anti-cellulite massages with the products mentioned above, I use this slimming lotion with its adorable packaging from the brand Indemne! I specially cracked on his funny name "Release the orange" (haha, a little derision when talking about cellulite, the sworn enemy of women, it's good! In French we call cellulite "orange skin" because it looks exactly like this. In English this lotion is called "Gimme smooth!") and for its effectiveness. Natural ingredients and an oily texture that helps the suction cup and body roller to slip well. Perfect. Buy it for 27 euros on Indemne's website.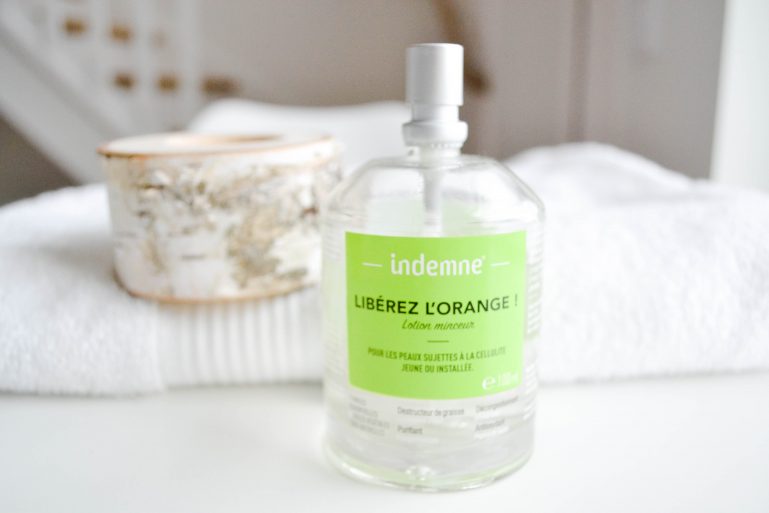 It's over my little feathers. My top products of the moment! I love others, of course, but let us say that these are the ones that have caught my attention and that I use daily this spring. I hope you have made discoveries, and do not hesitate to click on the various direct links to do your shopping. All these products are available online and I have facilitated your work by pointing you the product pages each time.
A lot of enormous love kisses! And enjoy your Friday! Tonight is the weekend, yeehaa!
* And you, what is your beauty routine of the moment ? *