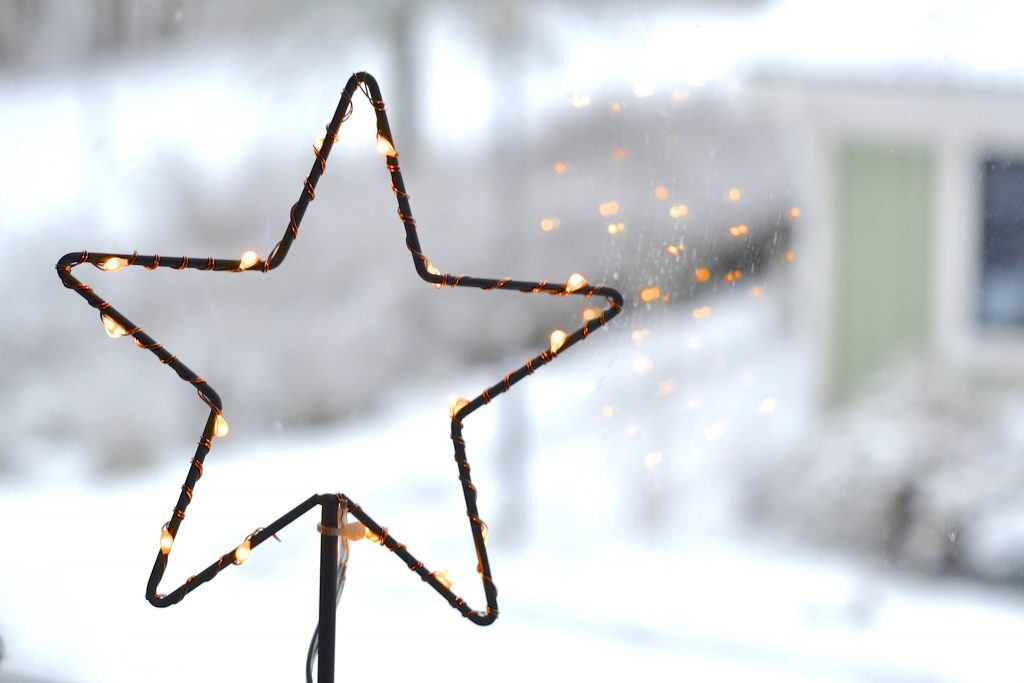 Hello everyone! As I know that more and more people are attracted by the Scandinavian culture, I wanted to talk to you a little more about Christmas in Sweden during these upcoming Christmas holidays. Concretely, we will talk about a typical Swedish Christmas: what do we eat, what are the traditions, etc.
How do you celebrate Christmas in Sweden ? 
Well, to start with, in order to say Merry Christmas, we say: God Jul. So with all my heart, God Jul to you all!
The food (the delicious
Julbord

) and the activities

A typical Swedish Christmas is celebrated the day before on December 24th. The custom is to eat with family / friends around a Julbord (Christmas buffet).

To prepare a Julbord as a real little Swede you will need:
Julskinka (Christmas ham which is roughly ham surrounded by mustard sauce that is cut into thick slices)
Kaviar on eggs (Kaviar is a very famous fish paste in Sweden that Swedes eat in the everyday life too, no need to wait for Christmas, actually. It's delicious in the morning on polar bread with eggs or cheese. For the little tip, you will find it in every IKEA!)
Herring with mustard (or other taste, more commonly called "sill" here. Also available at IKEA;))
Köttbullar: meatballs, another must-have for Christmas (and everyday life)
Aladdin chocolates: Here again, a must (here you can find them on Amazon). You have to buy them every year for Christmas and guess what is the chocolate that has been removed since last year and by which it was replaced? Suspense.
Cheese platter according to your preferences, my favorite here being the Prästost. Don't know how easy it is to find, but otherwise your favorite cheese will do the trick!
Lingonsylt: cranberry jam to be eaten in combination with meatballs and brown sauce
Mashed potatoes ("potatismos")
Julmust: a Christmas drink, visually similar to coke but with a taste of spices (here on Amazon).
Julol: Christmas beer. I'm sure you can find this anywhere, or almost.
Glögg: mulled wine
And of course some snaps (brandy)
As a dessert… Pepparkakor (Swedish gingerbread cookies). To learn how to make them yourself read my Swedish Christmas gingerbread cookies recipe here. The preparation and decoration of pepparkakor is a real tradition in Sweden (creative and delicious while being easy!). Preview below: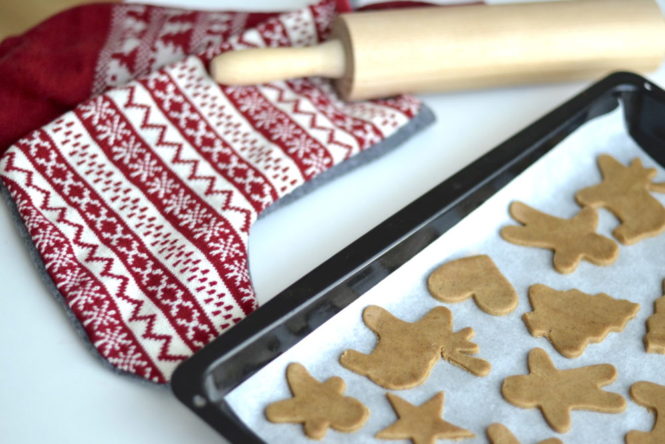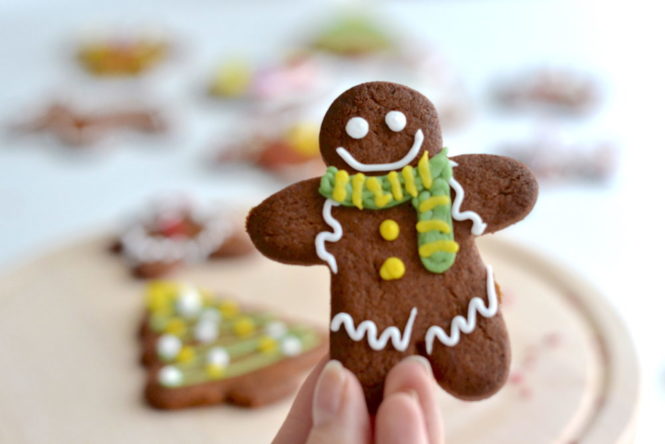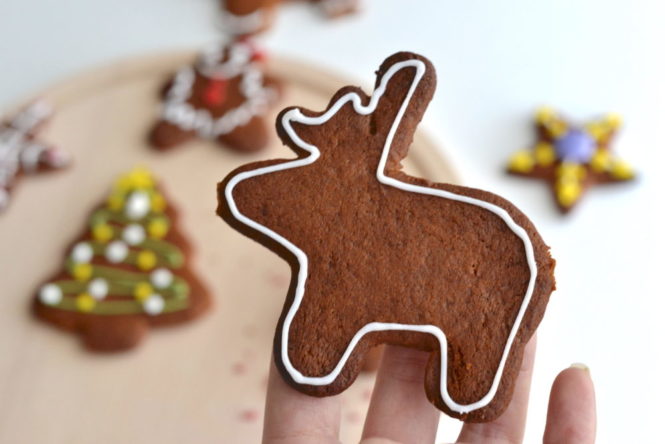 Often dinners with friends are organized before or after Christmas, and we play a very nice game: everyone brings a few gifts (ex: 2 gifts each , worth 10 euros) that we put in the center of a table and then we each roll dices. As soon as someone gets a 6, he or she can pick a gift. Then, we do this until there are no more presents on the table. Then we put a stopwatch for a set time (eg 10 minutes), and we do the same thing except that we take the gifts from the pile of others (a lot of agitation, you can not even imagine, haha!). The goal is to gather the most gifts until the alarm rings. Once the alarm has rung, the gifts you have gathered are yours and you can open them! Guaranteed thrills – because nobody wants to end up without any gift, haha!
Christmas atmosphere during 2 months
What is certain is that the Christmas celebrations in Sweden are so so cozy and magical. I don't know if it comes from the cold and therefore the need to warm up people's hearts, but Christmas in Sweden and all that goes with it – the decorations, the markets, the mulled wine, the cinnamon, the good food, the lights – start earlier here. From early/ mid-November, we bathe in a festive and bright atmosphere for nearly 2 months, I love it. All Swedes really embrace this period, "adventsljustackar" on the windows (kind of candles in pyramid-shapes announcing the 4 Advent Sundays – see photo below), beautiful fir trees, decorations, Christmas music …
And with the snow, it's so beautiful …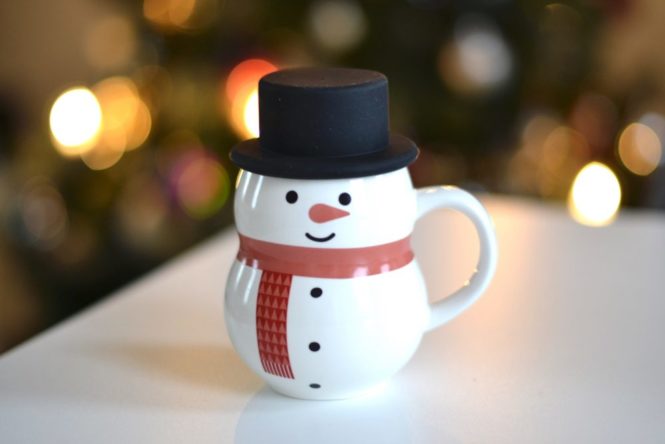 I have lived here as a French expat for more than 4 years and I must say that I am really in love with the Christmas atmosphere in Sweden. It's really cozy, pretty, delicious, magical… Even if you haven't planned to do as much as me – that is to say, expatriate – I can only advise you to come spend a little weekend here during Christmas periods. You won't be disappointed !
Or even why not organize your next themed Christmas dinner from home? You now have some basics on how Christmas is celebrated in Sweden! You can prepare a good Julbord for your next Swedish Christmas, and you even have a game idea! And do not forget to start early, haha <3
Thanks for reading me.
* All cultures combined, what is your favorite Christmas tradition ? *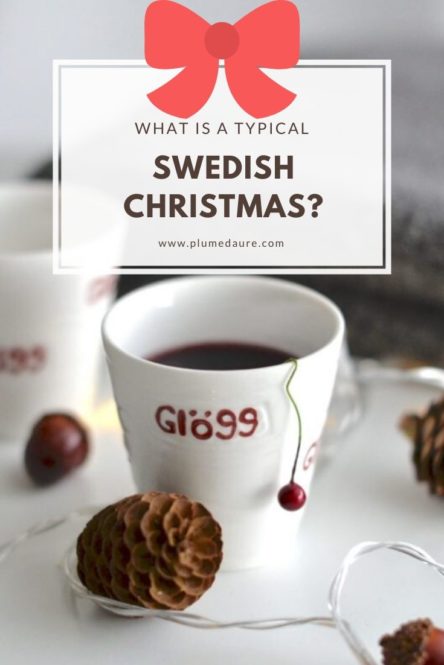 SaveSave
SaveSave
SaveSave