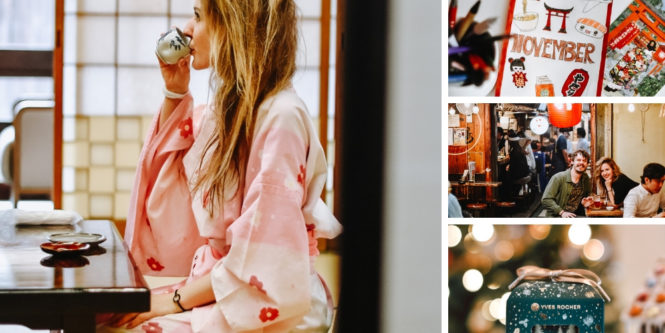 Hello, everyone! I'm happy to meet you today for edition n. 25 of the Instant Plume (aka the good things of the month). As every month for more than two years now, we will talk about the good things that happened in November! I'm going to share some favorites, tips, memories, and in general things that I think are worth sharing. Then, in the second part, we will share your Instant Plume posts of November. For 25 months, you have been using the little hashtag #instantplume on Instagram to share your little things. This makes me so happy! Thank you 1000 times for keeping this little concept alive with your good vibes. You are the best!
The Instant Plume of November (#instantplume n.25)
Psst… if you are reading this article and never used the hashtag #instantplume on Instagram, do not hesitate to join and insert the hashtag under your happy posts daily! <3
The little things of November
In November, we spent three crazy weeks in Japan!
What a trip! We got the impression of landing on another planet! We have been to Tokyo (see my article on what to see in Tokyo), Kyoto, Osaka, Kinosaki Onsen (a hot spring village) and Hiroshima. Our journey was rich in experiences and memories… Everything is different in Japan. The language, the size of the cities, the food, the culture… it's a unique country and I can only recommend you to go there at least once in your life!
I have so much to share with you about this trip! There are many more articles and photos to come. But if you're interested, you can already take a look at my Instagram account where I shared a lot of pictures. But also on the Japan trip category of this blog where I published my first guides (and will publish the next ones!).
As a bonus, here are some pictures of our trip (a small part because I took more than 1000, haha!).
---
Here is my little illustration of November
In October, I realized my very first illustration of the month (100% autumn atmosphere). I loved putting down my memories on paper by drawing, a good way to express how I felt about a month, to give it as an "identity". And drawing is real meditation. I just love it…
I liked it a lot and wanted to continue this month. The idea being to do this as a small tradition every month: draw my month, in the form of an illustration, to remember. Of course, this month it is "Japan 100%" since I spent the vast majority of November there. Do you like it?
---
Your #instantplume of November
Every month, when I'm writing this part of the Instant Plume article, I'm so excited to select (even if it's never very easy to pick which one I'll share) some of your pretty posts of the month. REALLY, a thousand thanks for bringing this little concept and this little hashtag to life. I'm really happy that you've always been enjoying it all this time and that you're participating in this. In my opinion, being able to spot little things every day is the key to happiness. By posting our #instantplume, we remember this each day the one another and I find this BEAUTIFUL! You are the BEST <3
---
---
Thanks again! I wish you a sweet December, a very nice Christmas and New Year! I'll meet you at the beginning of January for a December Instant Plume <3 LOVE.