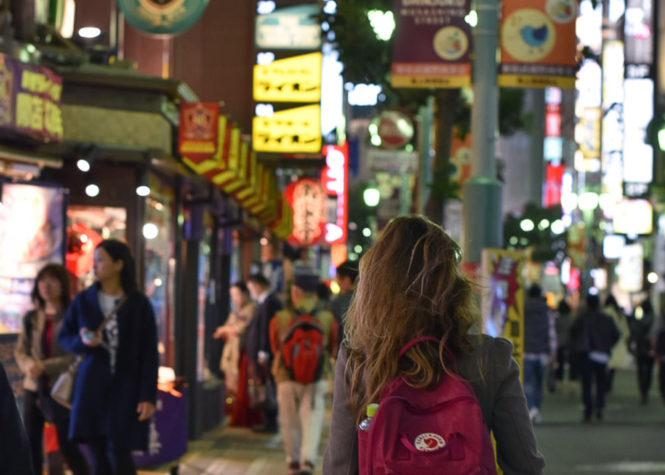 As you know, we have just spent (in November 2019) 3 crazy weeks in Japan with my companion Simon. What a wonderful trip! I have so much to share about our experience … Tokyo was our first destination in Japan, we stayed there for 4 days in the beginning and then 5 days in the end. But if you count the days of jet lag + souvenir shopping days, etc., we could say that we had about 4 or 5 full days to visit the city and its different neighborhoods. Here are my tips on what to see in Tokyo in 4-5 days, and my Tokyo city guide in general whatever the time you spend there.
What to see in Tokyo in 4-5 days? Tokyo city guide.
Linked article : Preparing your trip to Japan : the checklist!
Tokyo is a vibrant city! With its 47 million inhabitants (phew … yes this number gives you sweat… do you realize that it is almost the population of a great country of Europe in one city!), the city never sleeps. As soon as you arrive, you will realize that everything is different: how everything looks, the language, the neon lights everywhere, the endless skyscrapers, metro stations the size of a shopping center, the ramen stands, the machines everywhere and for everything … it's just INCREDIBLE! And to top it off, Tokyo gives the impression of being NOT ONE city but SEVERAL cities in one as each of its neighborhoods are different.
Here are the main areas that I advise you to see in Tokyo in 4-5 days, as well as some places not to miss. And I will not only talk about the "classic" tourist areas but also some hidden gems that I was lucky enough to discover thanks to a Japanese friend who was able to recommend them to me.
Shinjuku
Shinjuku is simply a hot spot in Tokyo, and I can only start this Tokyo city guide with this area. Bright and colorful neons, skyscrapers all higher than the others, bars, restaurants, shops, shopping malls, karaoke rooms, arcades … there is something for everyone. More than 2 million people use Shinjuku station every day… crazy.
In addition to perfectly embodying the image of Tokyoite frenziness, Shinjuku also offers a typical little corner filled with izakaya (small Japanese restaurants): Omoide yokocho. This popular place is known for its narrow streets where you can enjoy yakitori (skewers) and drink a good beer in a very local atmosphere! Do not miss it!
Shibuya
Shibuya, by its vertiginous and hyperdynamic looks, is similar to Shinjuku but is more "trendy". More shopping possibilities, more bars, more clubs, in short … a profusion of everything. And it is also in Shibuya that is the famous Shibuya Crossing, one of the busiest crossroads in the world.
But what is striking is that despite the many hundreds of people crossing this crossroads at the same time, it remains fluid, as always in Japan. A kind of "organized chaos".
As you can see in these photos, we visited this area in the rain … it was impressive! And perfect for beautiful shots under hundreds of umbrellas.
If you like sushi, a place not to miss: GenkiSushi, in the Shibuya district. You order your sushi on an iPad, they arrive after a few minutes on a treadmill. It's delicious, and it is SO CHEAP! 1 euro per plate (typical plate being a pair of sushi, 6 california, etc.)… a madness. The perfect way to feast. Attention, 45mn maximum in the restaurant. It's for eating, and that's all. But you must test!
A fun/nerdy place in Shibuya that I recommend: the VR park. An entire floor of augmented reality, it's great! The entrance costs about 30 euros and you can have fun at will for 110 minutes.
Akihabara
Akihabara is the "geek" district of Tokyo. It has a lot of stores and stands of electronic products and a lot of manga shops, figurines, and nerdy shops of all kinds (arcades, themed cafes, etc.).
For example, we have been in a cat coffee shop, Mocha Café. It is very common with pet cafes in Japan, there is something for everyone: dogs, owls, otters, rabbits, piglets, etc. All that is "kawaii" (cute) is welcome to Japan! We enjoyed this experience, the cats were super cute and looked happy with lots of space, places to rest and tourists who cuddle them all day. Also, the possibility for visitors to buy them cat treats during the visit.
There are also "Maid cafes" where you are served by Japanese waitresses in manga outfits and where all the dishes look like bears, pandas, etc. Cute! We did not try the maid cafes, maybe next time!
Harajuku
Harajuku is the fashion district of Tokyo. As soon as you walk out of the subway station, you will see very cool looks, some more eccentric than the others. People dress with colorful clothes, with teddies and accessories… it's nice. And even pretty (for most of them)!
The shopping street par excellence is Takeshita Street. Full of small shops, cafes, rainbow candies, it is a must see. I bought two beautiful oversize sweaters there that I love!
Another experience we enjoyed in Harajuku: the Galaxy Store building. We stumbled upon it while looking for a toilet but we ended up having a great time! They give you a Samsung Galaxy at the entrance, and you can walk among various attractions in the building with your mobile. Photo printing, augmented reality experiences, games, it's nice and free!
Asakusa
Asakusa is perhaps the most traditional district of the city, which has preserved the atmosphere of "old Tokyo". You can admire the magnificent Senso-Ji Temple, and all along the passage leading to it, artisans, and small local restaurants. Many people are also dressed in kimonos, it's very pretty!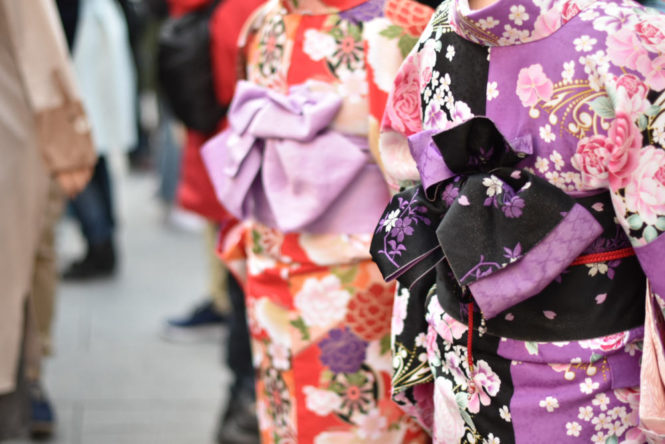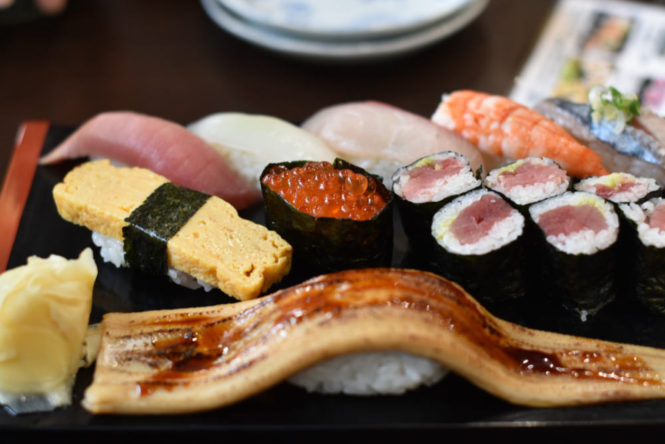 Tokyo city guide for some less touristic little gems
Ebisu Yokocho
Ebisu Yokocho looks like the Golden Gai area, which we talked about at first, but in less touristy. We spent our last evening in Japan there, and it was a perfect ending for this trip. Typical Japanese atmosphere, good food, beers, really a place to see if you like to eat well!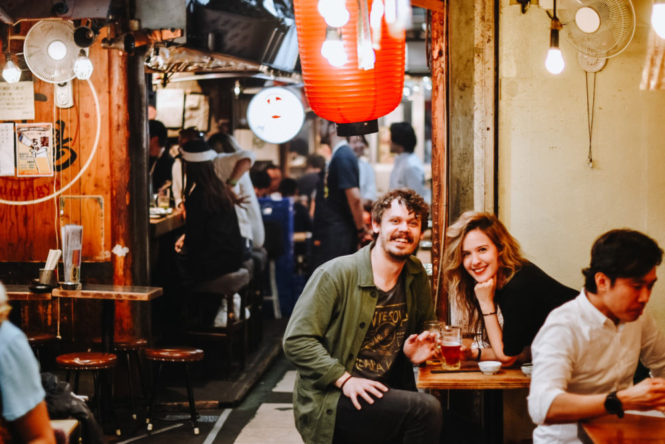 Shimo-Kitazawa
Shimo-Kitazawa is a hipster neighborhood, with lots of second-hand shops, cool bars, cafes, and restaurants. We enjoyed spending a few hours strolling through its narrow streets and through the shops to buy some lovely souvenirs.
Omotesandō
A street with department stores but with superb architecture. Really special buildings. This is what to see in Tokyo if you like architecture! Plus, a lot of shopping possibilities (not just big brands).
Shibamata
What a lucky thing for us for having booked our hotel in this area. A real gem, a bit outside certainly (but not that much, near Tokyo Skytree and Asakusa, for example) … but so quiet, so pretty. Like a small village in Tokyo, a moment of pause in the neon lights, activity, to breathe, walk around the small local food market, and relax. I can only advise you to check this place for half a day.
Touristic but do not miss it: the TeamLab Borderless exhibition
It is necessary to go there to understand but this sensory and interactive exhibition is superb. You enter a large dark area, where light and colors become Art. You can interact with it, feel it, change the course of things, draw and send your art on the walls. It's just great! I advise you to go there rather during the week and not the weekend, however. We went on a Friday afternoon and it was very crowded! Too bad because we have not been able to enjoy it 100% … I think a Monday, Tuesday or Thursday for example would be much better.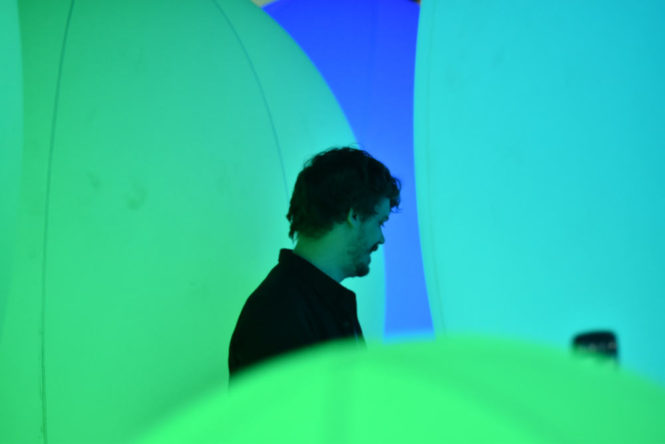 ---
Here were my tips on what to see in Tokyo in 4-5 days (or more, if you want to take your time). If you have less time, all you need to do is pick what is most appealing to you in these different activities! I hope this has given you some ideas anyway.
If you are planning a trip to Japan do not forget to check out my article : Preparing your trip to Japan : the checklist!
Thanks for reading me!