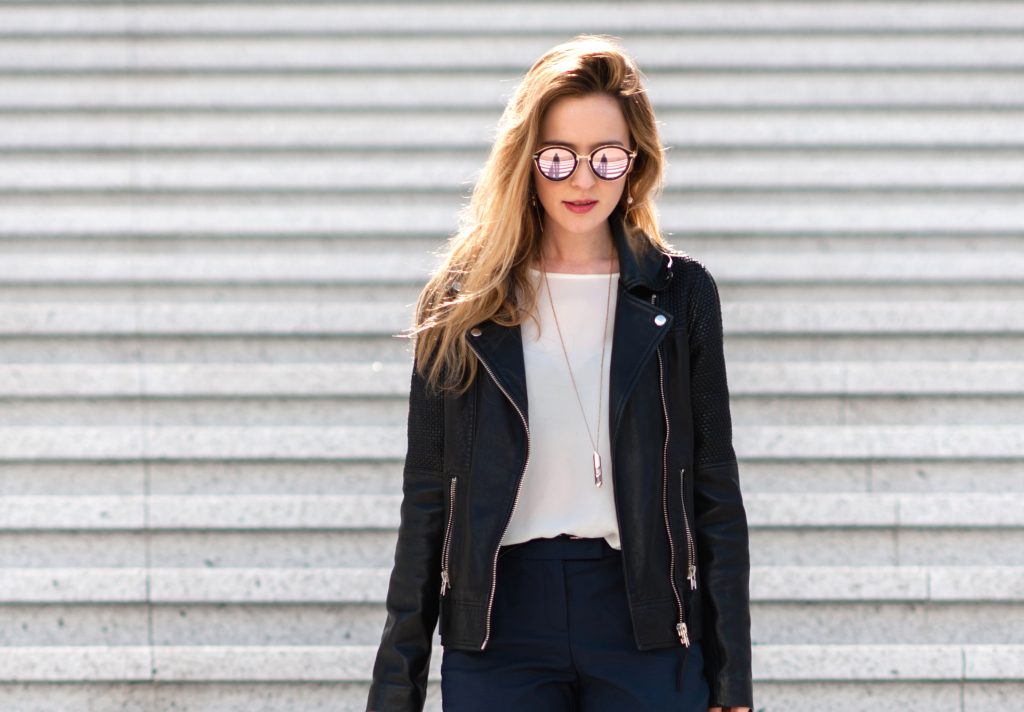 Hello sweeties ! I hope your week is going good ! I am very happy to present this look today, because it is my first shooting done by a real photographer. Usually, it's my lovely boyfriend (that I thank so much, by the way, for all his support and love) who takes the pictures of my looks. But I wanted to experience the work of a real professional, and wow … I really want to thank Philippe from the studio called "Bain de Lumière" for this series of vibrant and joyful cliches! What a talent! He managed to capture no less than 150 shots, all just perfect, in less than 30 minutes. It even made the selection for this post very hard, haha. I hope the photos will please you as much as me, babes. The theme of the day? A day and night convertible outfit. Do you have this as well : sometimes, you know from the morning that you will go to a fancy evening out, without necessarily wanting to spend all day super dressed up or being lazy going back home in between to change clothes? I'm sure so! So here are my tips to turn your casual look into an evening classy one, with some key accessories that you can have in your bag.
Day and night convertible outfit, what are the tricks ?
I took advantage of my week in Paris to shoot this look on the steps of the "Grande Arche" in la Defense, such a pretty place. The grandeur of the monuments in Paris amazes me. It's so massive! I always feel a real strength emaning from these buildings, it absorbs me.
Most of the clothes I wear in this outfit come from the pretty brand Breal. I fell in love with their collection Ceremony, powdered and feminine.

The foundation of a day and night convertible outfit? Simple classy clothes that can easily be accessorised. Here for example, I wear cigarette pants. Same for the top: a pretty simple white blouse, that I stuff into my cigarette pants.
Here are the basics. Then, since this is the day version, I add a leather perfecto that contrasts the "classic look" and adds a rock touch to the outfit. And my good old pair of boots, SO comfortable that I wear all the time. As the pants are quite short, I wear pantyhose underneath (unfortunately we are not yet in summer!). To finish, you'll find my crush bag from Maison Gaja that I also wear all the time!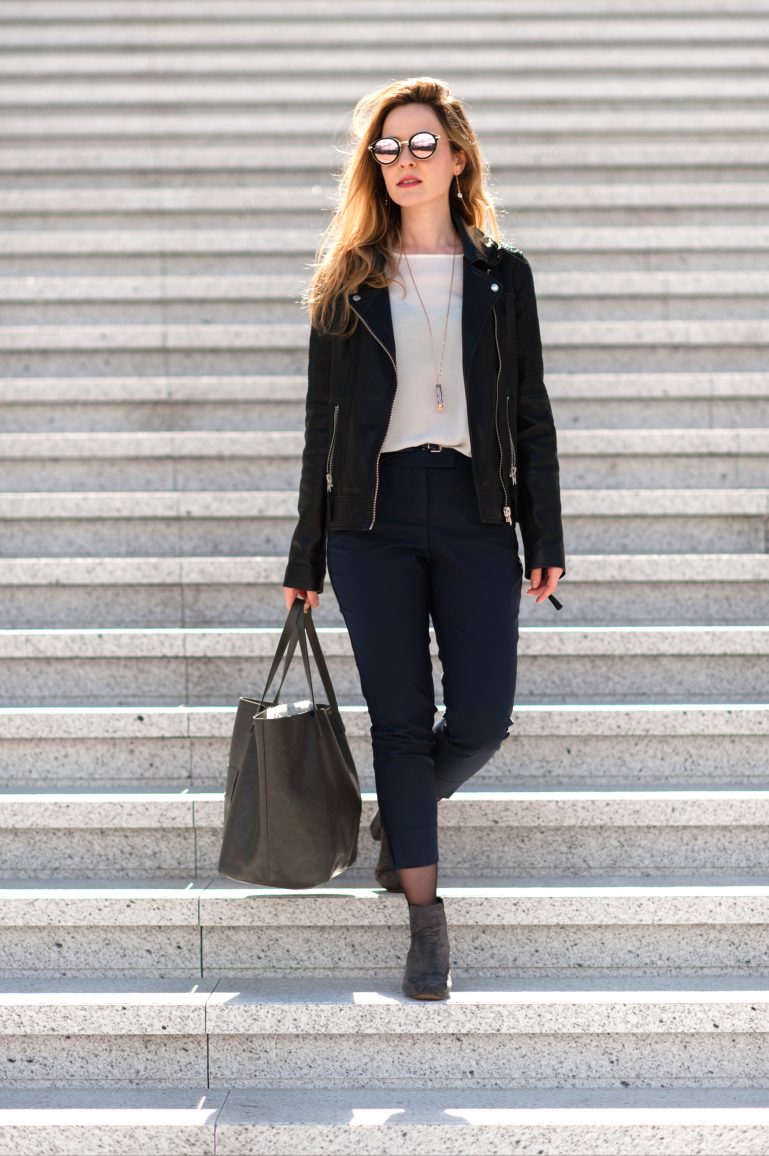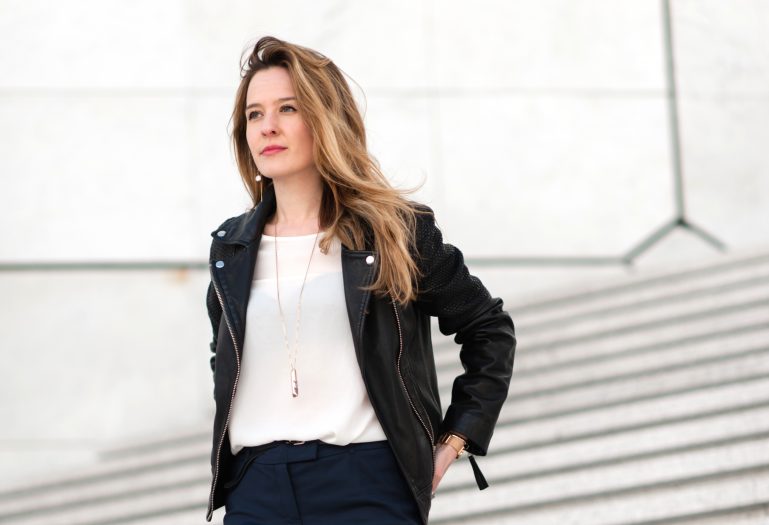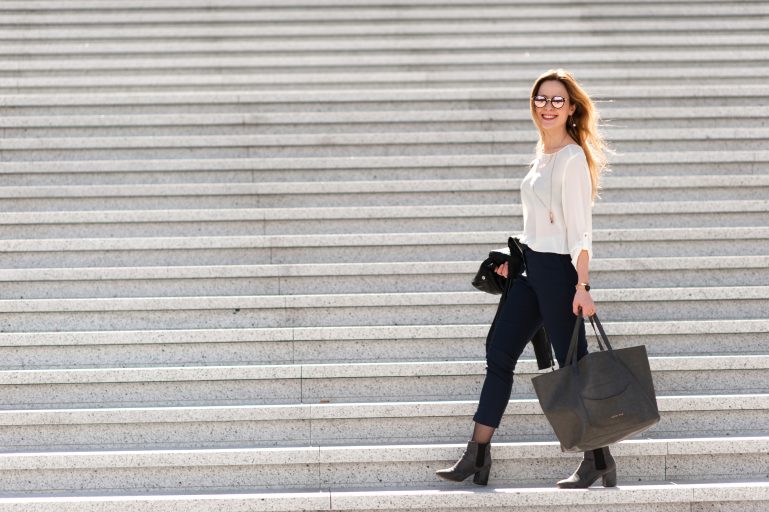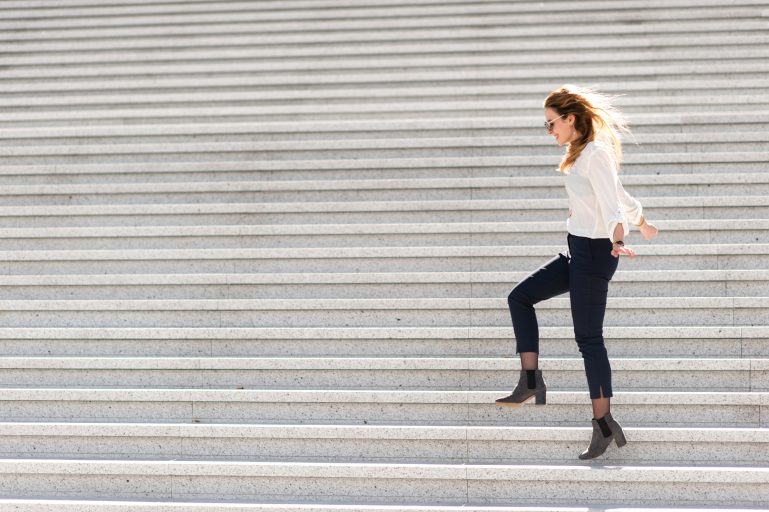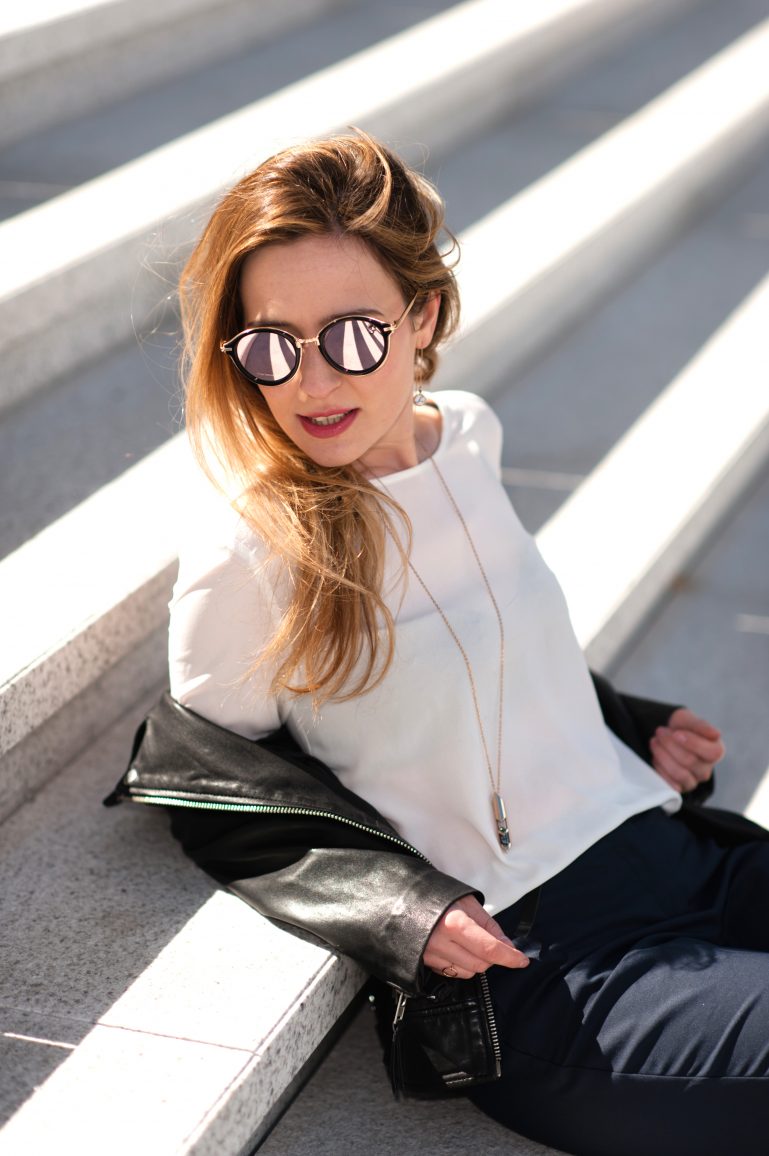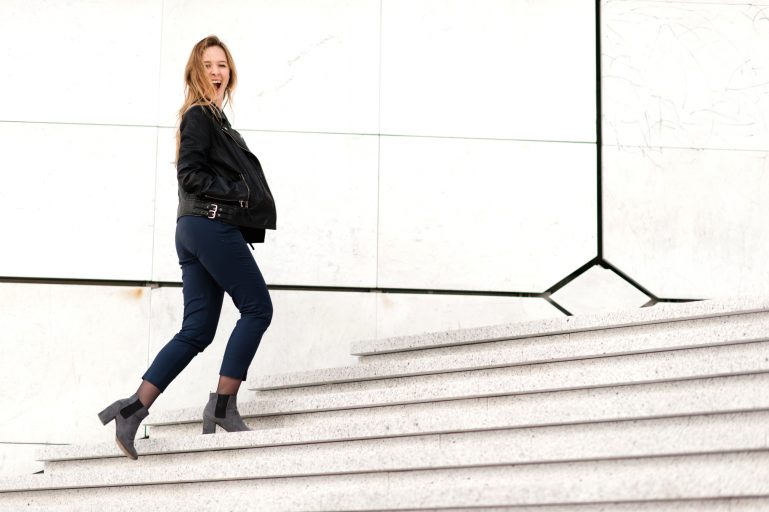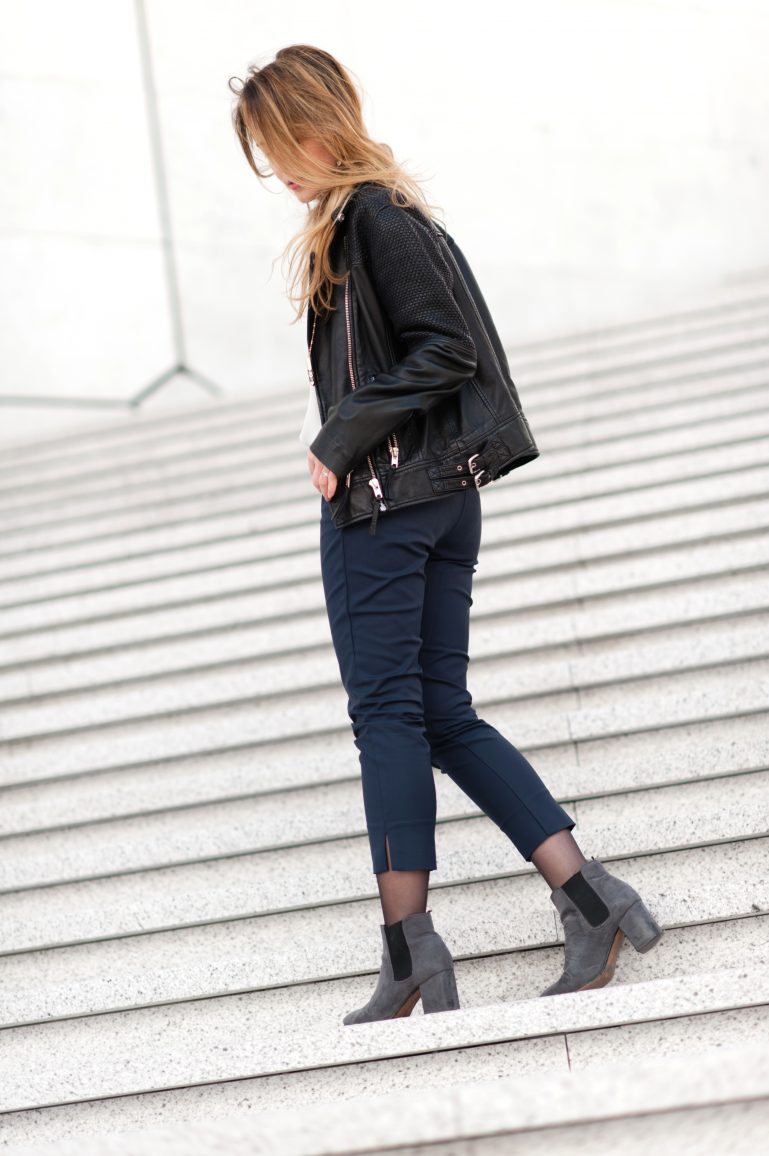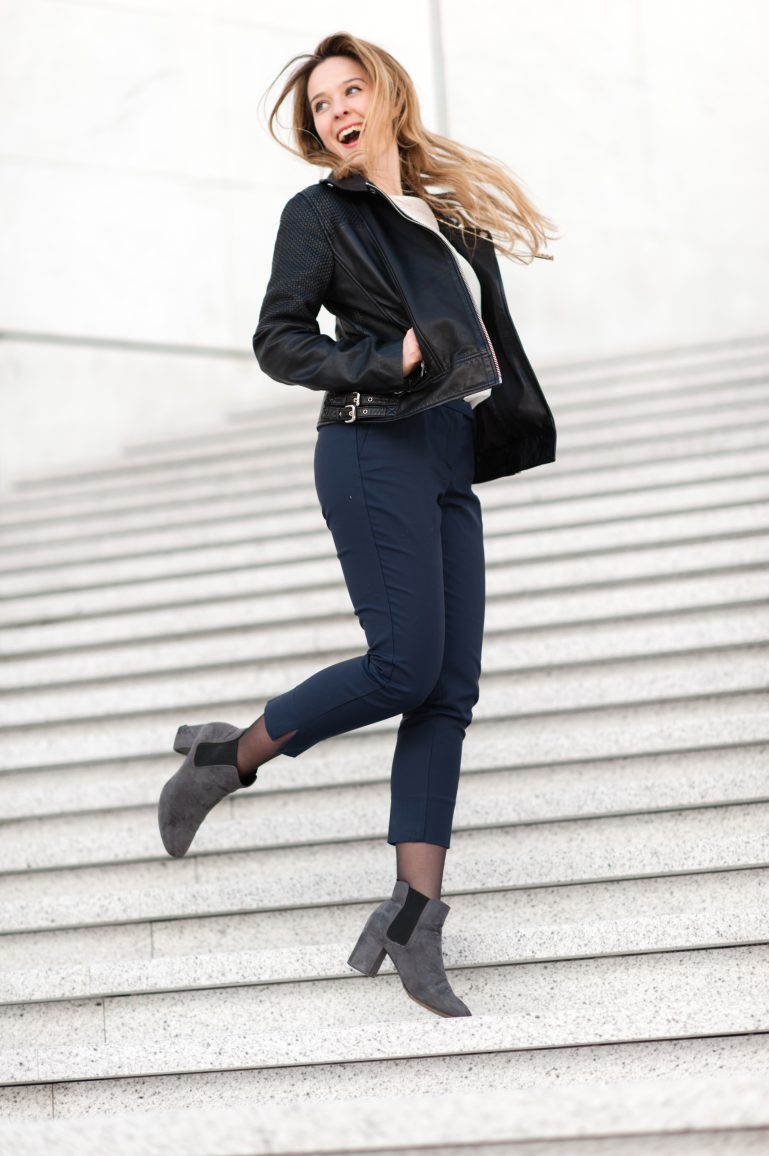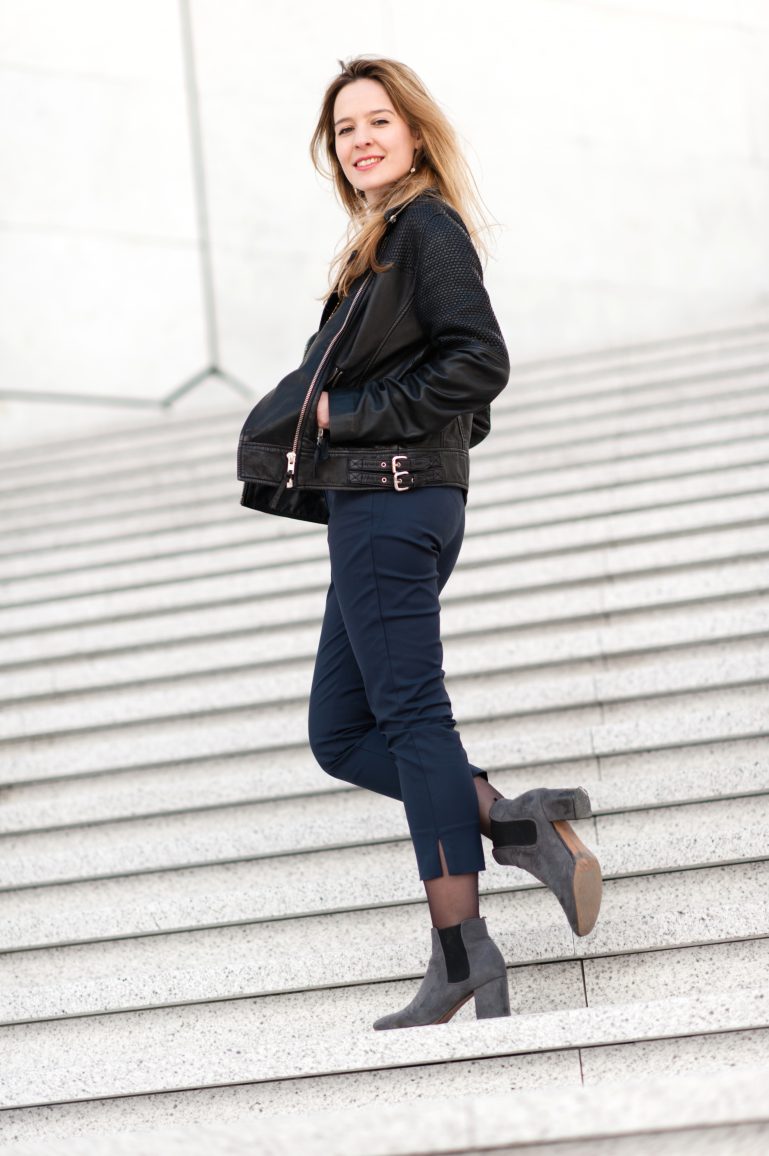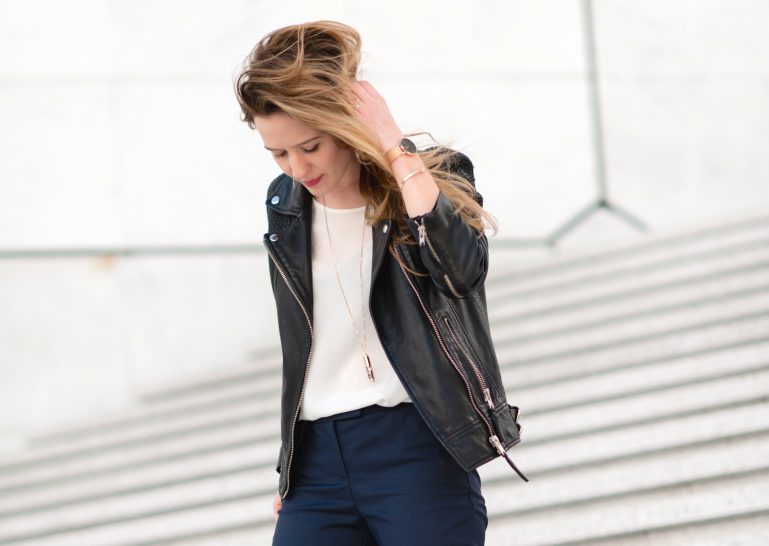 To switch from day look to evening look … super simple! I simply had two accessories in my bag that could easily change everything, that I kept with me all day. Not much logistics, right?
As the basics of the look are already classy (the cigarette pants and the blouse), it was enough to simply exchange my boots against a pair of pink powdered heels, and my bag against a pretty clutch. And, voilà ! Ready for the evening!  In this case, the inauguration of the Daniel Wellington store in Paris. If you want check it out, while in Paris, it is located at the 5 rue des Rosiers (metro Saint Paul). <3 A nice shop in a charming area.
The heels and the clutch also come straight from the Ceremony collection from Bréal (the same as the cigarette pants). I love them ! When it comes to the necklace, it comes from the brand Ereen Smith, a Swedish designer that I adore. Its necklaces are super original and fully customizable: you can indeed choose the color of the necklace (rose gold / silver / gold or even a mix) then the color of the crystals inside according to your tastes. Here I chose a rose gold necklace with black crystals. Isn't it beautiful?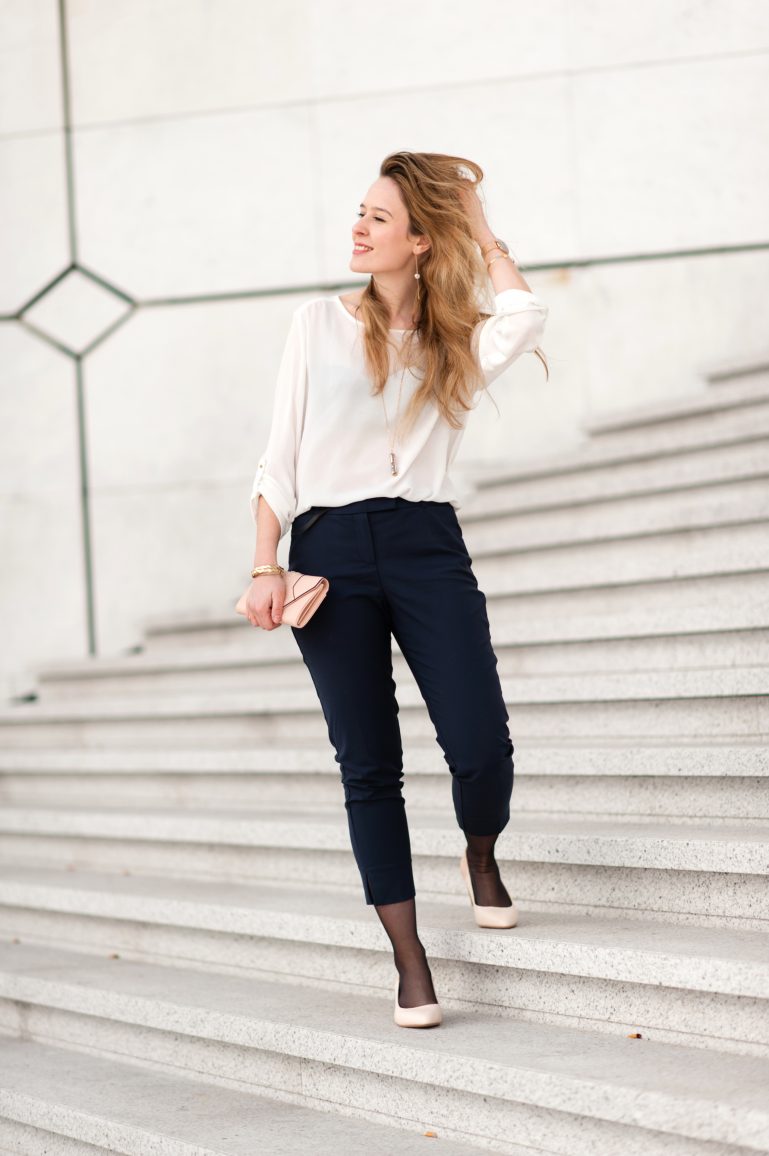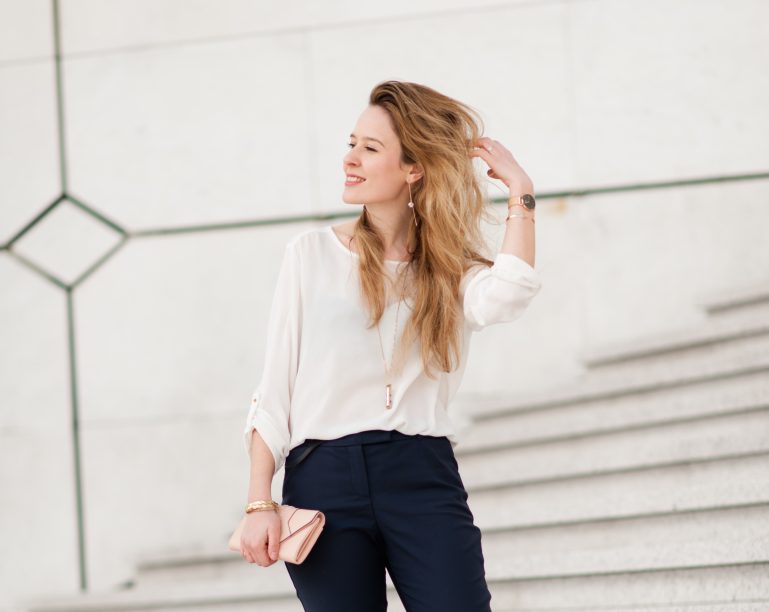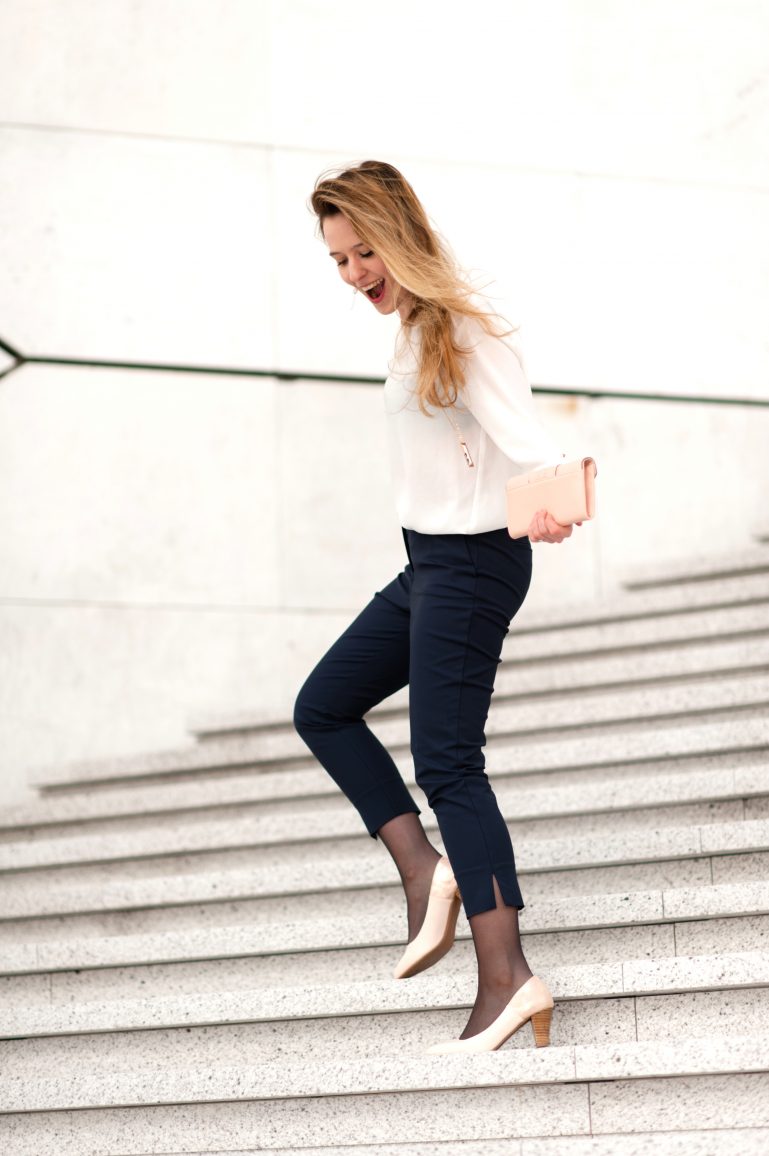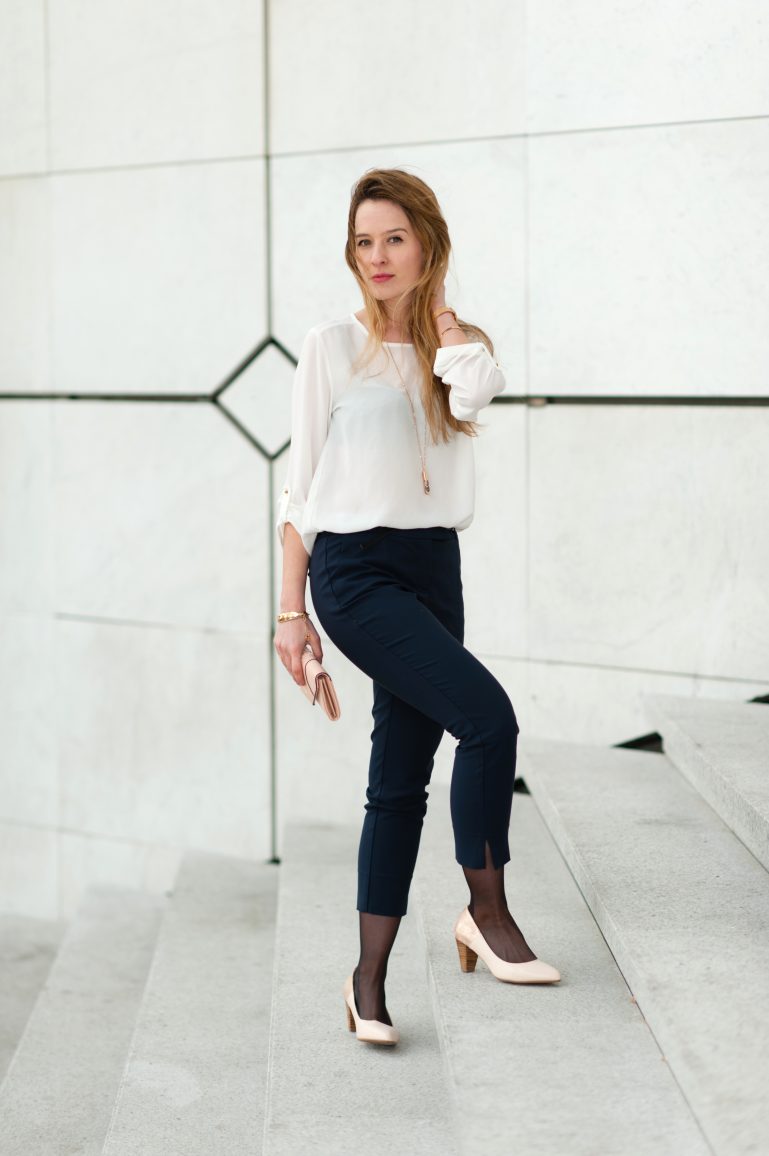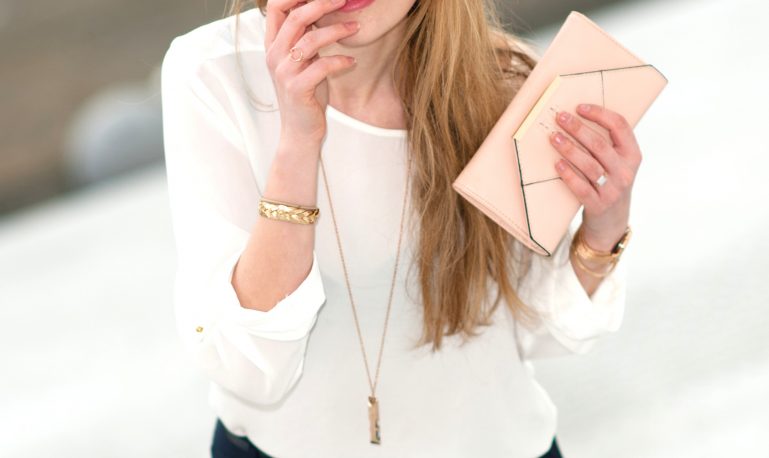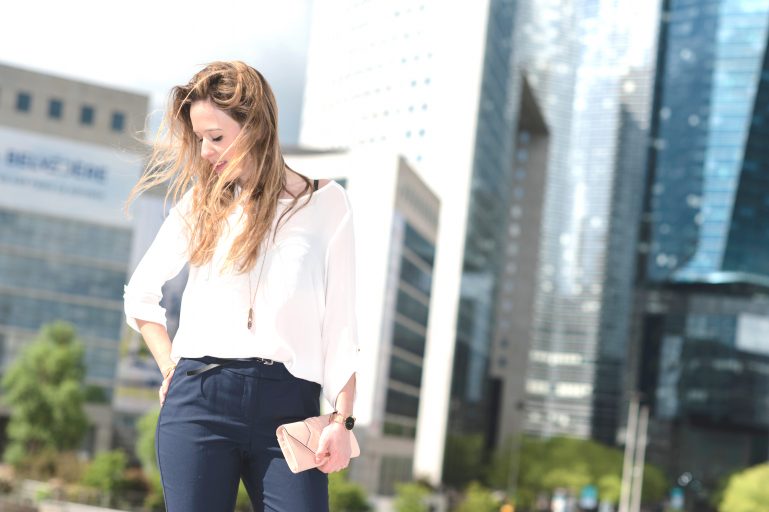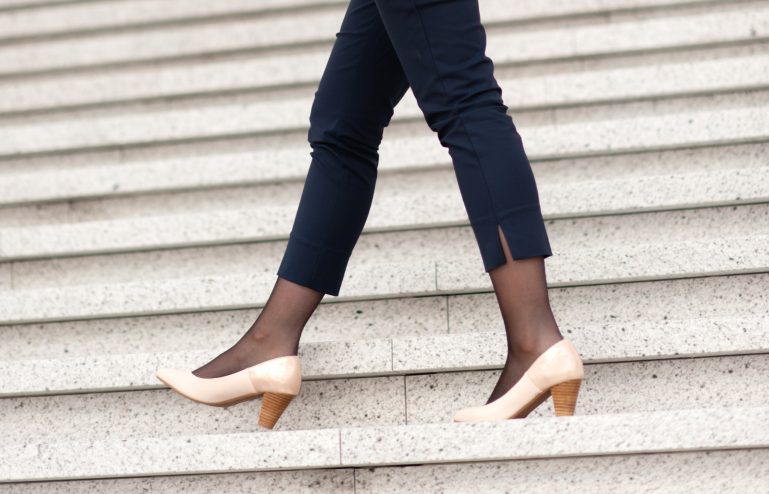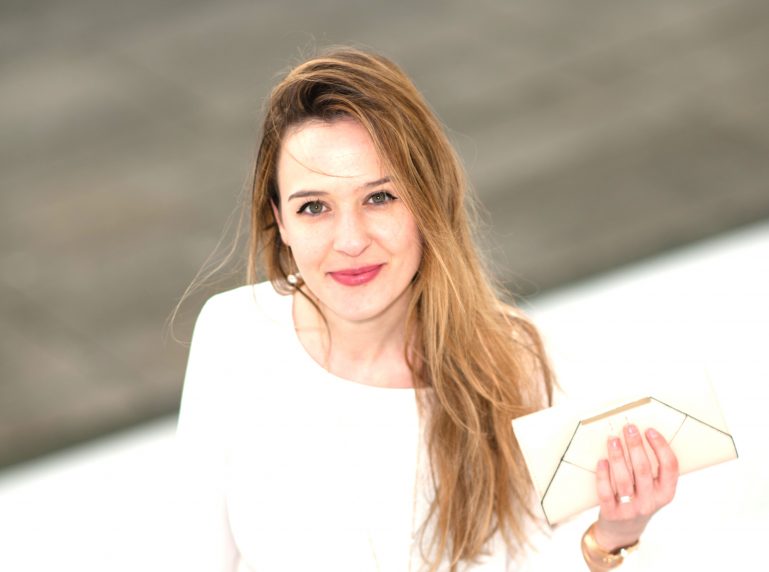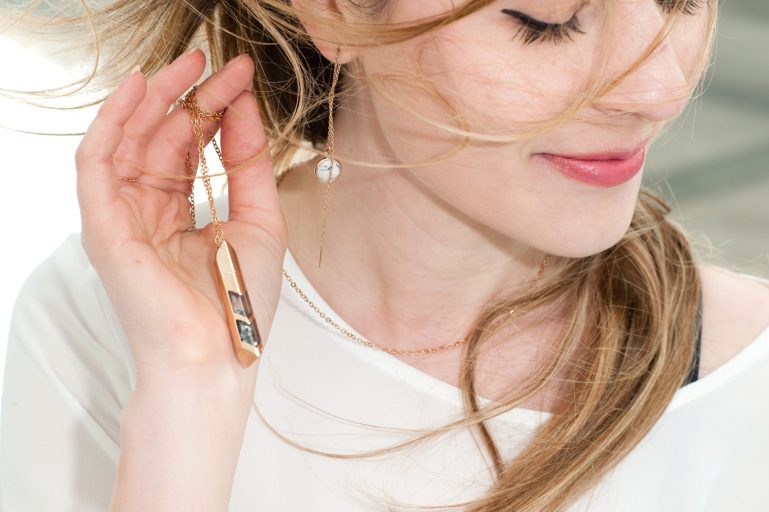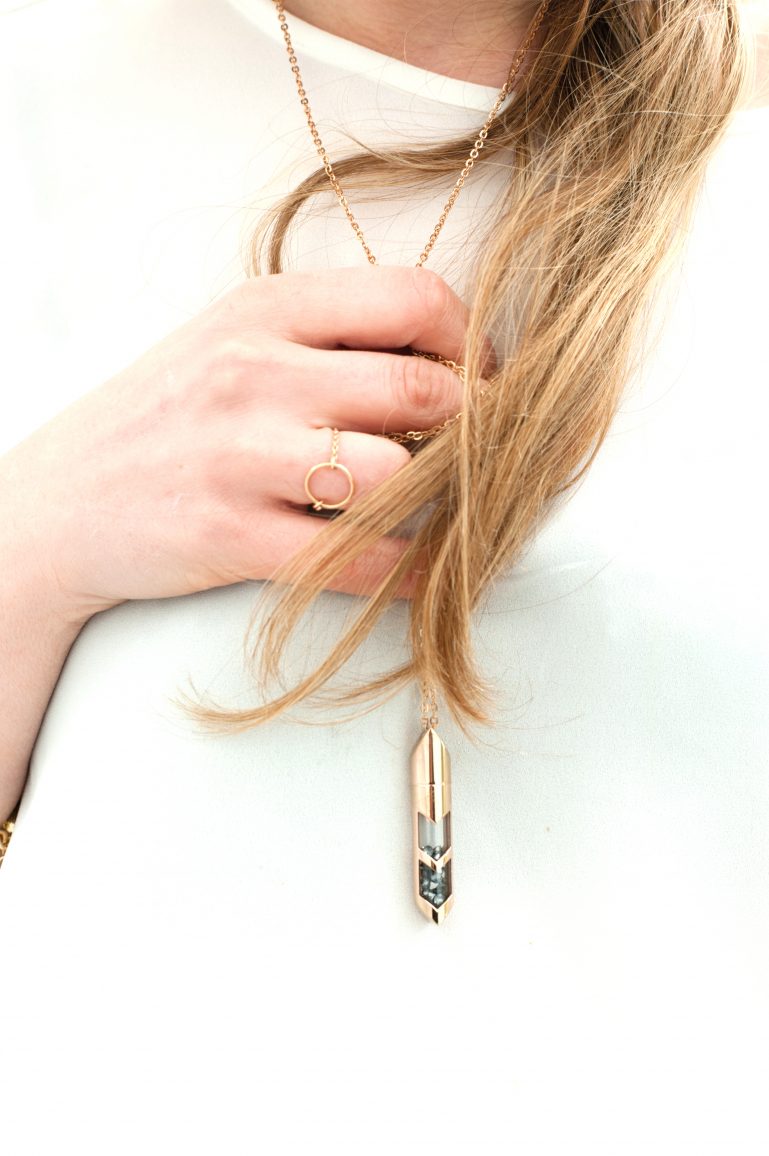 Before you leave this page, I want to give you a great hairdresser tip! Because you're so cute, and you deserve it. I know you're not always in Paris, but I also know that Paris is a city it's common to go for a weekend or holidays, and that it could be fun for you to get an experience of Parisian hairdresser (especially if it's cheaper for you). So…
I have been highlighting my hair for years, and I ALWAYS go to the same place. Being a natural dark blonde, I like to give light to my hair and I can tell you: I never found a better hairdresser than mine! Even being an expatriate in Sweden, I always return to the same one! I schedule my appointments with them when I know that I will return to Paris. I tried it out there in Sweden but: 1) it was expensive, 2) it was TOO blond, and 3) it damaged my hair. Not comparable.
My favorite hairdresser : Camille Albane in la Défense. You can book here. 7 years of highlights, and never any damaged hair, never any disappointment. Always a superb result, for example here (I've just redone my roots last week). Also, a very attentive, talented and friendly staff (and massage chairs ! :D).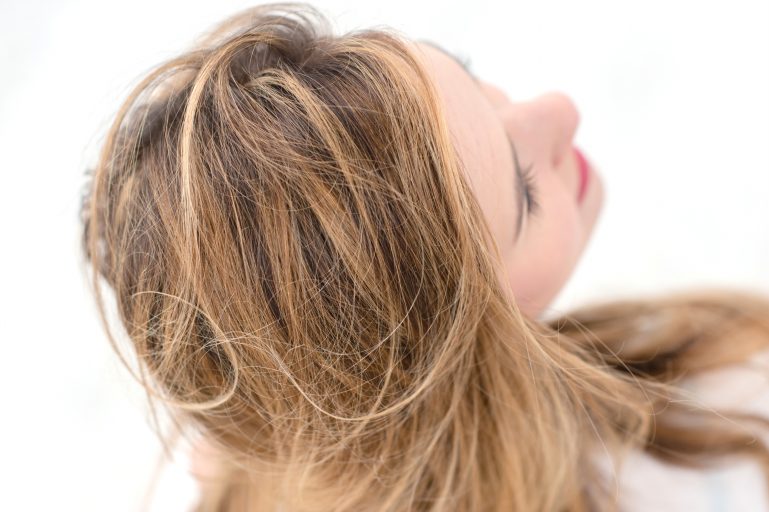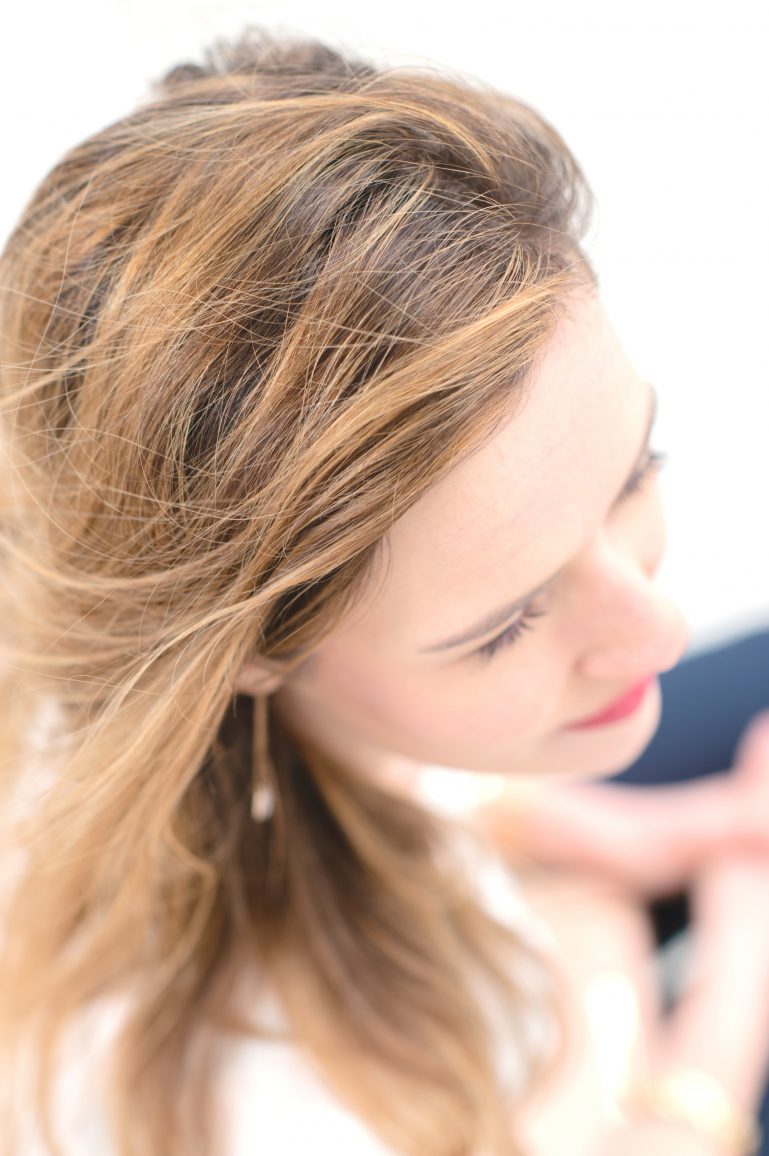 +++ So, here's the plan for you! Go to Camille Albane in la Défense, whenever you want (without time limit or conditions), and present my blog or my instagram @plumedaure. You will get 30% discount on everything ! Yes, yes, it's not a joke, on everything: cuts, color, highlights, and this every time you go. Don't hesitate to ask for Grégory or Cindy when you arrive (my hair stylists) +++
So, I hope this article AND this good plan will have pleased you super babes ! I send you a lot of kisses and wish you a sweet week!
* Crush on your Ceremony collection, pretty brand Bréal*
Credits : 
Shooting photo from Bain de Lumière
Cigarette pants, powdered heels, powdered pink clutch from Bréal, Ceremony collection
Sunglasses from lepetitlunetier.com, "Summer Rose" model (get -20% on all your orders with the coupon code Plumedaure20)
Perfecto from Minimum Fashion
White blouse from Primark
Grey boots from H&M
Bag from Maison Gaja
Necklace from Ereen Smith
White stone ring from Aparanjän Paris
SaveSave