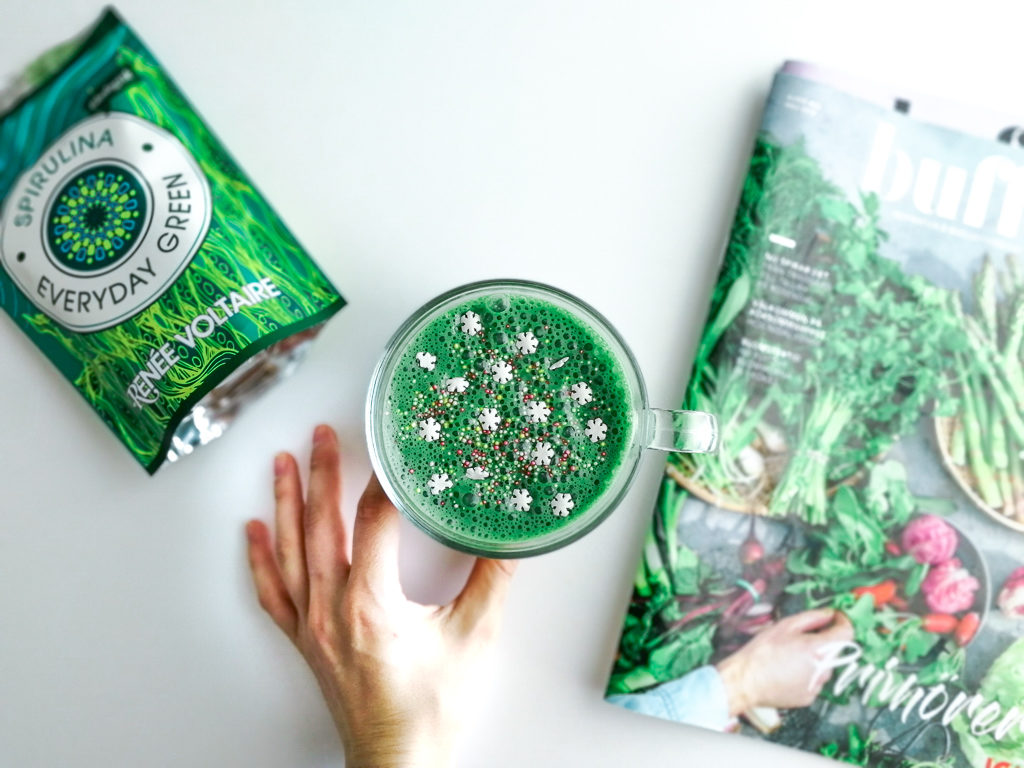 Have you ever heard of Unicorn latte ? Whaaat … milk from UNICORNS … but …? Don't worry, you haven't missed anything, unicorns still don't exist. But Unicorn lattes do! It's a new trendy beverage that comes from the US, and is – in addition to being mega-pretty-mega-instagrammable – super healthy and easy to make with your blender. How to make Unicorn latte ? I ventured there, I succeeded, I loved it, (veni – vedi – vici), and I tell you all about it ! How to make unicorn latte: the recipe!
How to make Unicorn latte ?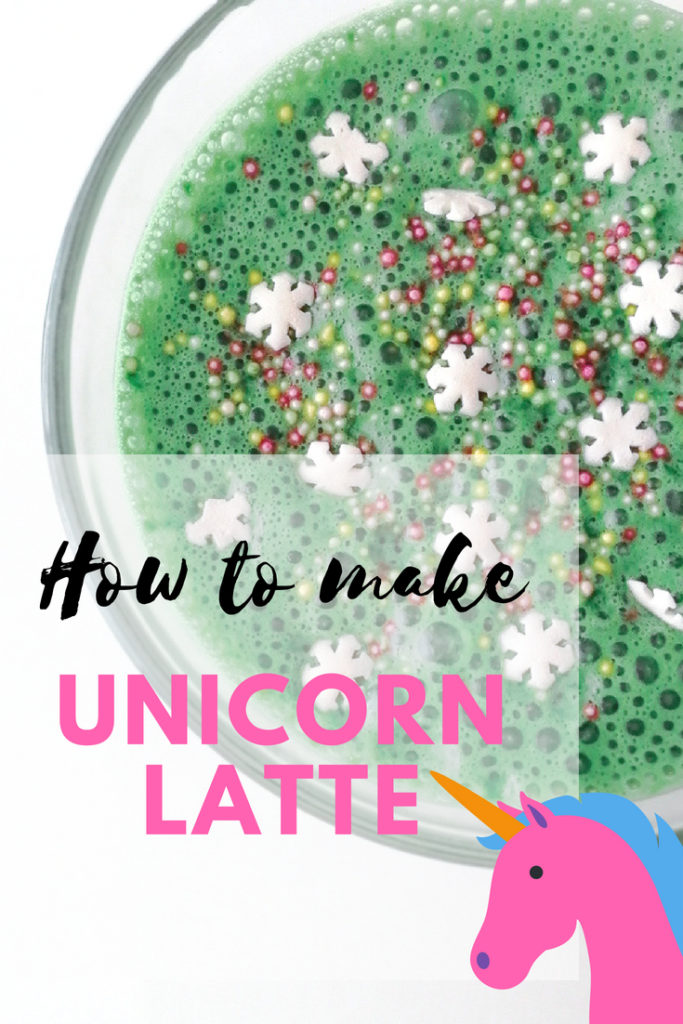 To make this pretty blue / green and a bit magical Unicorn latte, you'll need :
Quantities for a cup (to be multiplied accordingly):
3/4 cup of milk (this can also be soy milk, almond, etc…!)
1 tsp lemon juice
1 teaspoon spirulina powder + another tsp maple syrup (or honey / agave syrup, for example)
10 g fresh ginger
Half a teaspoon vanilla flavor
AND :  
pretty little toppings for decoration (here I used edible multicolored beads and sugar flakes)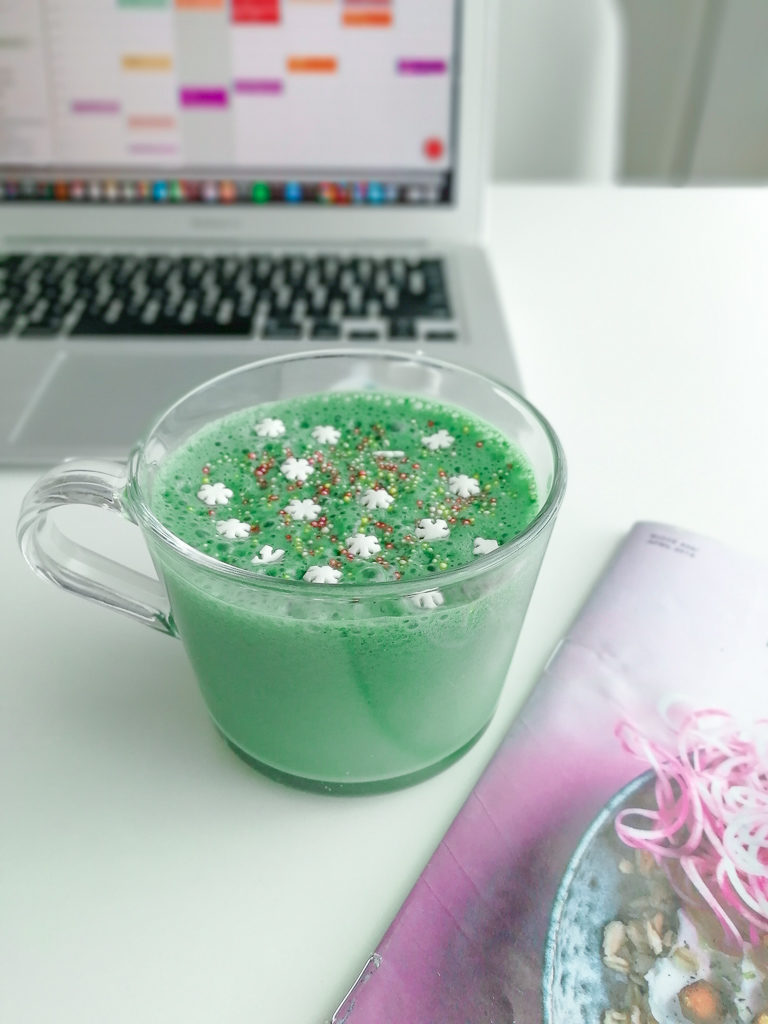 Unicorn latte : the recipe
Add all your ingredients in a blender, until the mixture is homogeneous and a little thick. If you want to drink your Unicorn latte hot, do not hesitate to heat your milk before pouring it in the blender. But it is delicious cold too!
Fill your cup and decorate with your toppings.
Here you are, a real unicorn who knows how to make unicorn latte 🙂 ! And an unicorn in good health because with the spirulina, ginger and lemon mix, you can only do you good. If you want to learn more, don't hesitate to read my dedicated posts about this if you missed them, the benefits of lemon and the super food that spirulina is.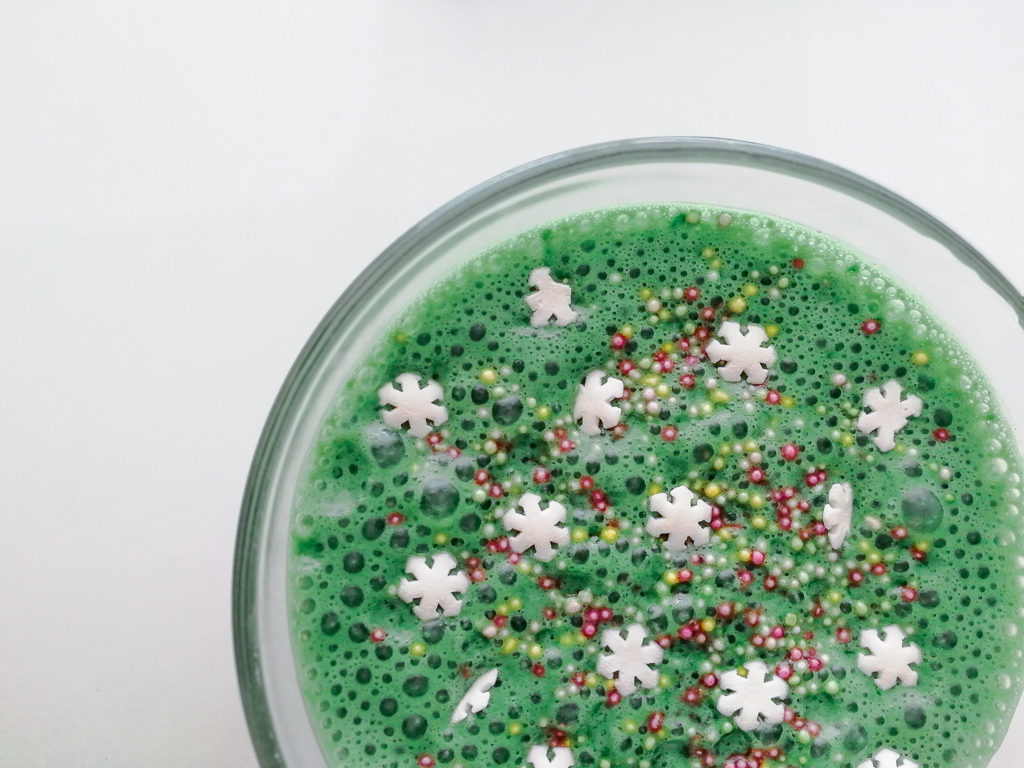 I take this opportunity to tell you about this beautiful blender from Senya, that I really love! It has just replaced my old blender I had for years and it is without regrets : I love its rounded & feminine design and especially I love the different modes it offers.
Indeed, it is a heating blender, which means that it allows me to make both cold preparations (cold soups, juices, smoothies, etc.) but also hot preparations. This is going to be perfect for this winter, because I'll be able to cook my vegetables in it with a steam basket (provided), and then mix into soups. And then for the summer, it even makes cocktails, with its crushed ice feature ! And to continue on the list of qualities, it also has a self-cleaning function. A little dishwashing liquid, water, press a button and presto, a blender all clean and ready to serve again. In short, it is perfect!
Love it too ? You can find it online on different marketplaces such as Amazon (international), Darty, Fnac, Boulanger or Cdiscount (if you're in France) and looking for "blender Senya". Or in France, in Darty or Fnac stores. It exists in many vitamin colors (the red for example is so cool!) or more sober ones, like mine (beige).
* So, ready to turn you into a unicorn? *
---
This post is in partnership with Senya 
SaveSave
SaveSave
SaveSave