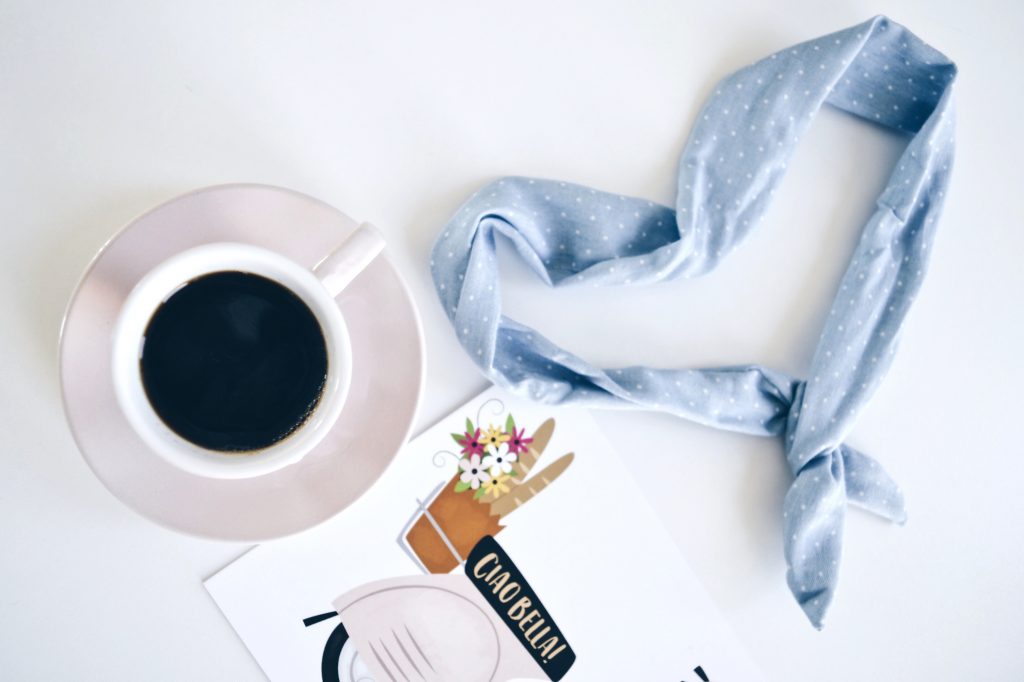 Hello babes ! I hope your short week went well? I say short week because today is the Ascension and it is a bank holiday , woo hoo ! Who among you take Friday off ? Anyway, a nice day off, or even better a long sunny weekend is just around the corner. We like! Maybe some of you have even planned a little trip for this long weekend? Trips, that's what we'll talk about today… As you know I am a globe trotter (well yes ! After all I am at the moment expat in Sweden AND am here thanks to the fact that I've met my sweet Swedish boyfriend in Australia!). All that is about travelling, I like. I am also a lover of monthly boxes of all kinds: beauty boxes, food boxes, organic boxes, coffee or tea boxes… j'adore! I like this concept of receiving surprises in my mailbox every month in a category that I chose and that I like. Not you ? So here is my latest discovery in monthly boxes, which combines the concept of box to travel. Unfortunatly it's available only in France for now, but I still wanted to share this with everyone who reads this blog ! It's just nice to discover new things, isn't it? It's called : Our Curious Travelers. Are you ready to discover it together ? 
How I travelled from home to Sicily thanks to this cute travel box
Our Curious Travelers is therefore a monthly box where you receive goodies from a destination of the world each month. It can be small decorative objects, jewelry, beauty, food, in short, little surprises! Cosy. Same for the destination, we never know what it will be. Suspense suspense.
This month I was surprised to receive a nice box from Italy! Here is another country that I carry in my heart. I studied there one year, in the north, in Torino. And I have an imperishable memory of it. Thanks to this travel box, I discovered a region I did not know yet. Sicily, the South, the heat, the lemon, the beach, and so on.
I really enjoyed opening this little box. The Sicily feeling was there : from the box wrapped in paper with olives on it, to the small lemon wallet, going through all the little things that the box contained.
+++ CIAO BELLA ! +++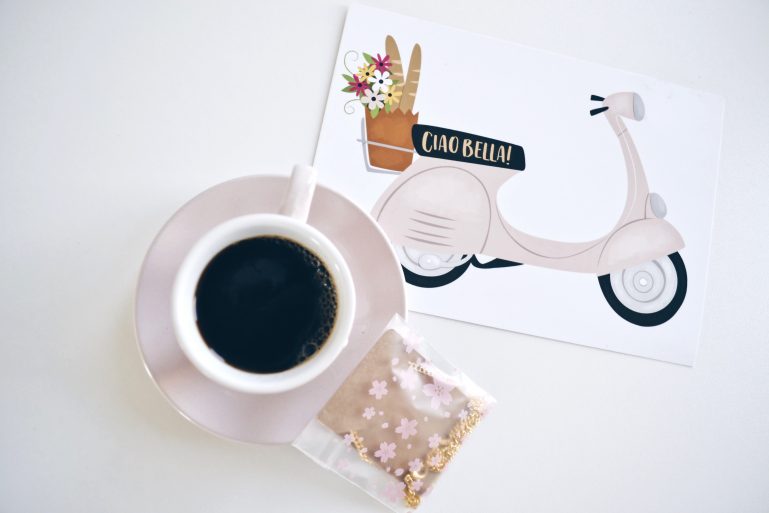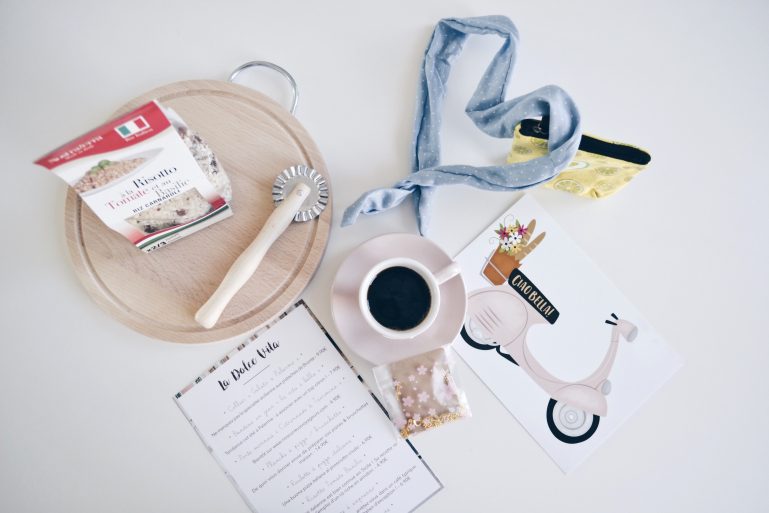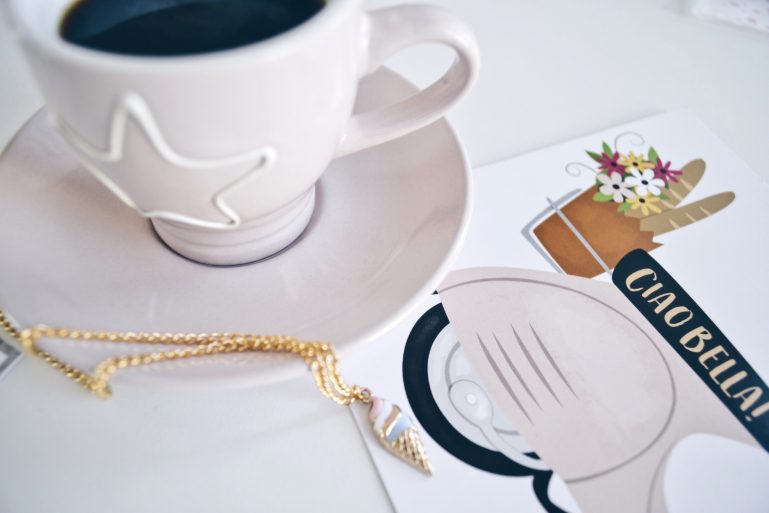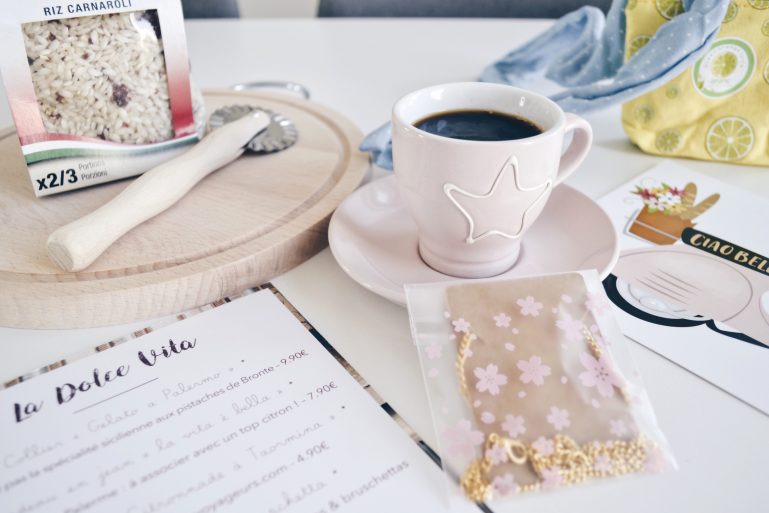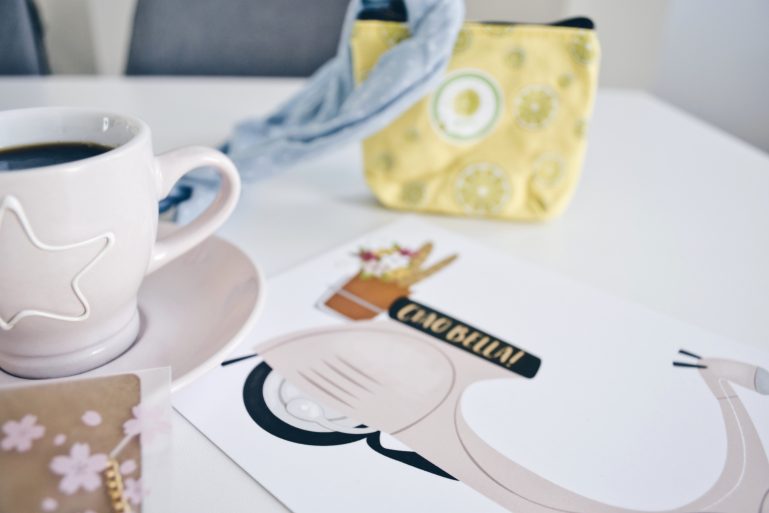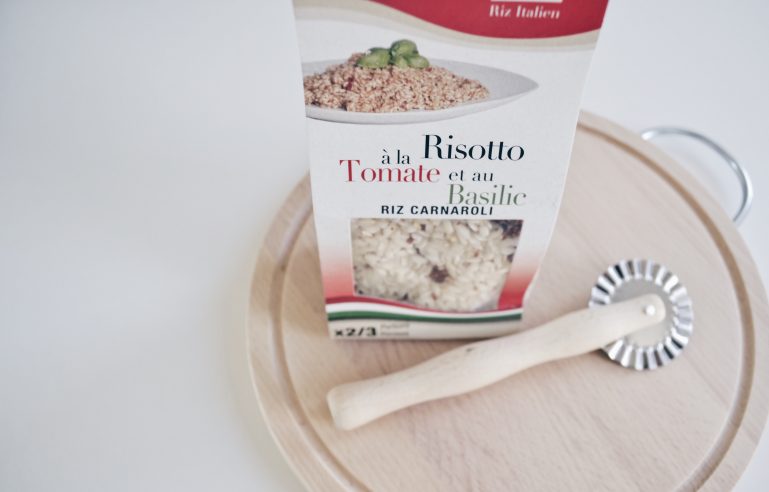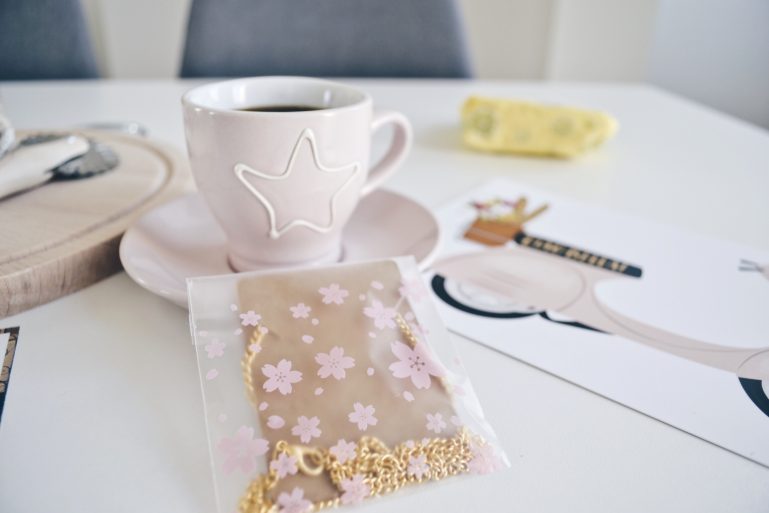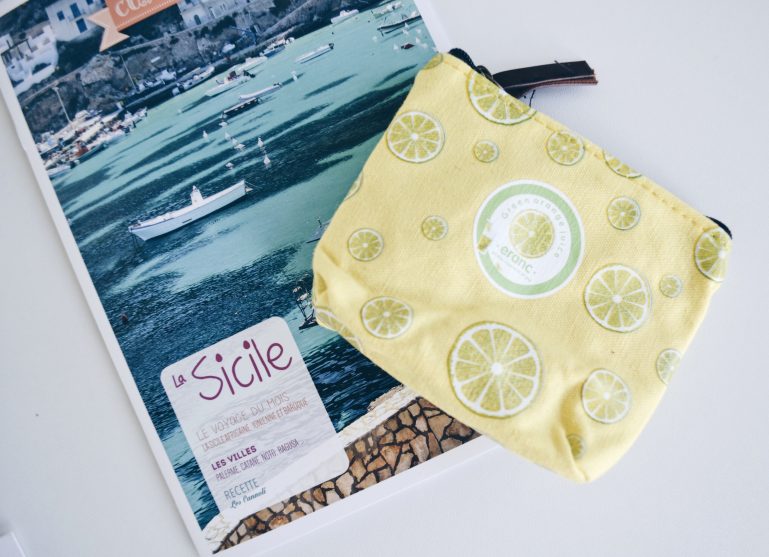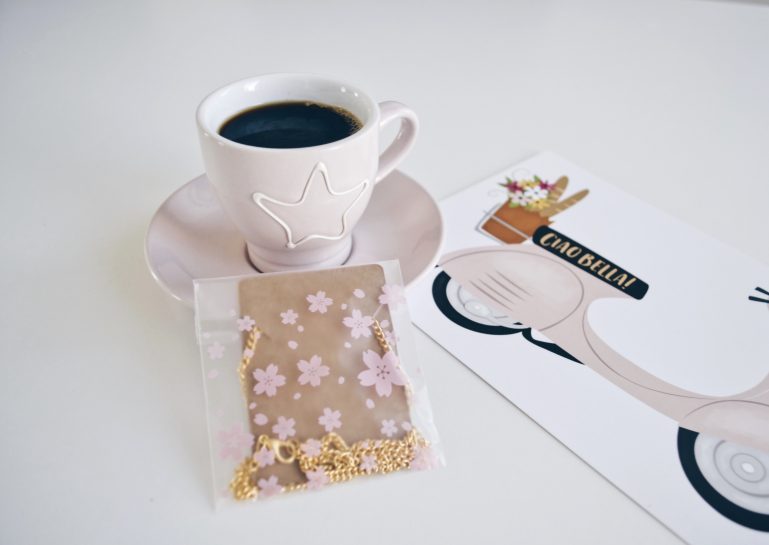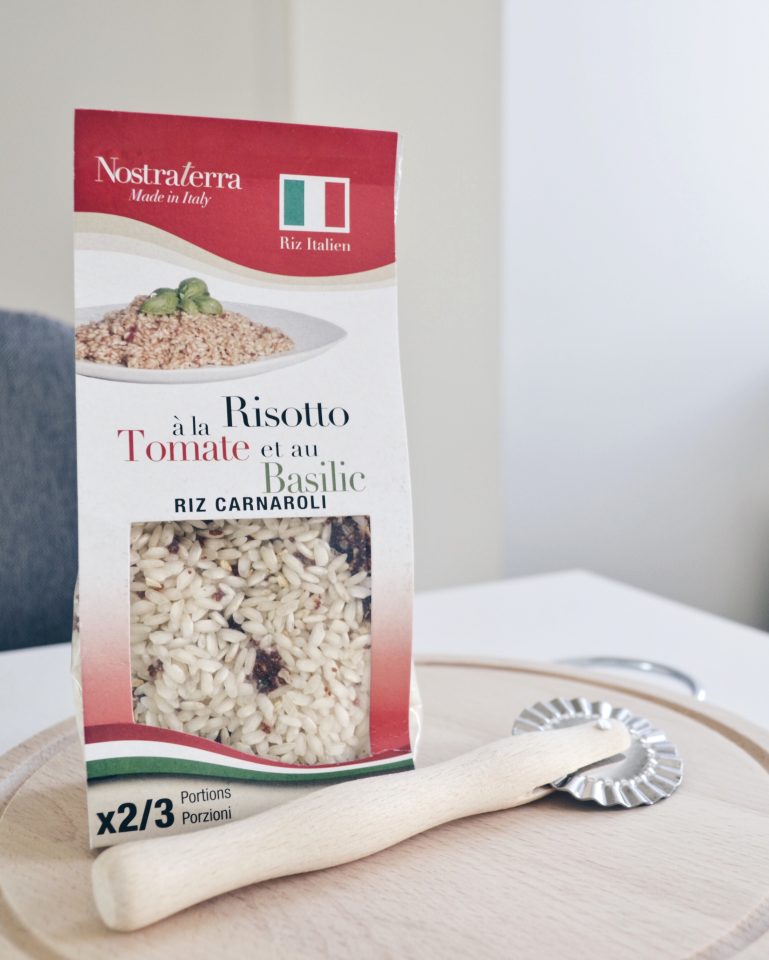 This box was really fun ! All it contains is so cute and nice! I love the little pizza/ bruschettas cutting board, super cute to present antipasti. The pizza cutter is also super nice with its wooden handle, I already had one but not so pretty! The little necklace and the wallet are a little childish thought! But it's true that they're cute and summery. Personally I will certainly give them away because I think it is for young – very young – girls, but they fit the theme. The little espresso mug I'm a fan of ! Too cute and girly ! Too bad there was only one because I would have loved to have at least one pair. The headband is very pretty and romantic for the summer, you will surely see it soon in one of my looks. As for the risotto … yum … we enjoyed ourselves. Here is a picture of this cooked delight: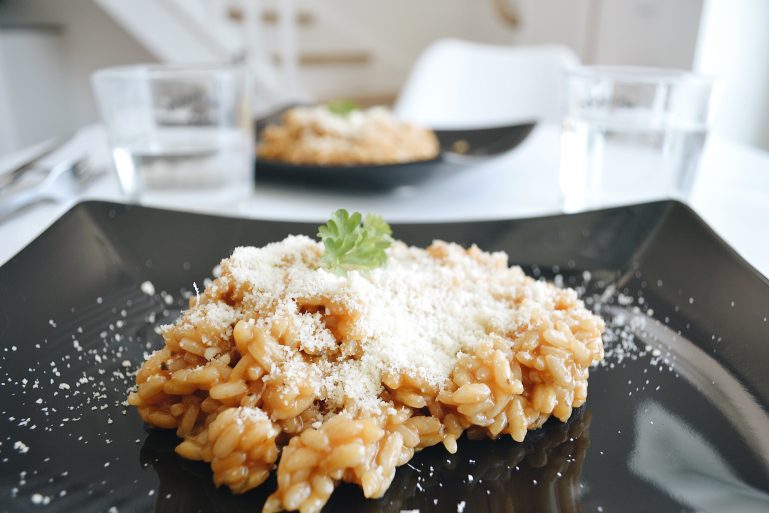 In short, I found myself in Sicily for the day! So I would say mission accomplished Our Curious Travelers! To learn more about this box, go to their website here (in French though!). 
I wish you a nice holiday, a nice long weekend for those who take Friday off and A LOT of courage for those who work tomorrow and / or this weekend! Lot of Italian kisses <3
* Ciao bellissima ! *