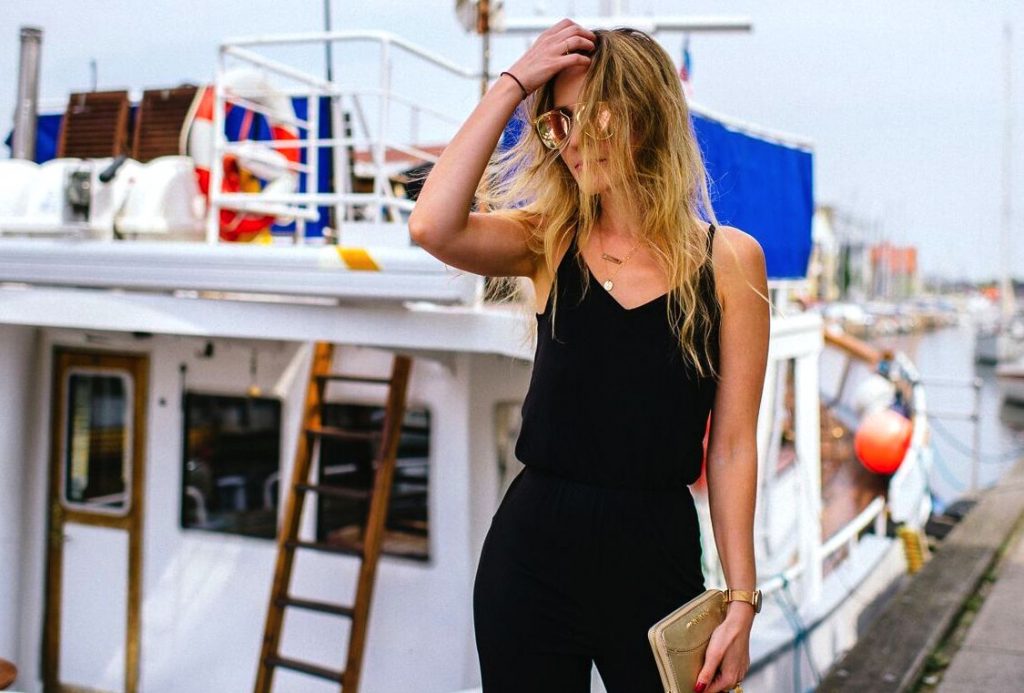 Hello my pretty babes ! I hope you had a good weekend ? Mine was very nice and sunny. I had the opportunity to meet two people who love the same things as I do, in Malmö: a super nice blogger and a photographer. I am super happy to start making my small network locally, it gives me the impression of being finally settled for real. It was time to create a real little life here. It is true that with my previous situation, which was living in Malmö, in Sweden, and working in Copenhagen, in Denmark, didn't help for that. I was so exhausted from the 3 hours of transport per day + from my full-time job in Marketing that I got home in the evening with no desire to make much effort to integrate into my city of residence. No time to take Swedish classes, no time to try to meet people, just the need to enjoy quality time with my boyfriend and my cat, whom I saw so little, and being in my apartment in which I also spent little time. And above all a need for rest. Now , since I went freelance 2 months ago, I have much more time for myself and I have the opportunity to enjoy my city. I learn Swedish, I meet people, in short, I finally build my little life here. My little life in Malmö. Well, of course, no question to leave the magnificent Copenhagen aside! This city I love is nearby and I go back very often to get lost in its colorful streets. And it is in the old port of Copenhagen that we shot this look with the photographer Nataly Dauer last week. When I tell you that I take the time to meet nice people … here is one! Nataly Dauer is an adorable woman in addition to being a very talented photographer. We had a great time together, full of good vibes and laughs. And all this in the very nice area of Christianshavn.
Black elegant jumpsuit in the old port of Copenhagen, Christianshavn
Going to shoot in Christianshavn was a – very good – idea of Nataly. I love this place in Copenhagen, it's so pretty! All these boats, all this charm, these colors, I'm a fan. For the occasion I wear one of my new favorite pieces of my dressing at the moment : this magnificent jumpsuit from Ivy Revel. Ivy Revel is a bit of my fav brand I have to say. This is not at all the first time I present you looks where I wear something from this brand. I find it just unique in terms of cuts, quality and in terms of price. I have several clothes from Ivy Revel: two sweaters, this jumpsuit, a jacket + a dress, and all are just of an exemplary quality and fall perfectly on the silhouette. For 30 euros on average, it is really a brand that I recommend 100%. In addition I have a small particular weakness for these collections because it is the brand of Kenza Zouiten, a Swedish blogger that I love and who inspires me day after day. Obviously, this adds a little thing.
And because everything that is good is worth being shared, use the PLUME20 code on www.ivyrevel.com to get 20% off all your orders!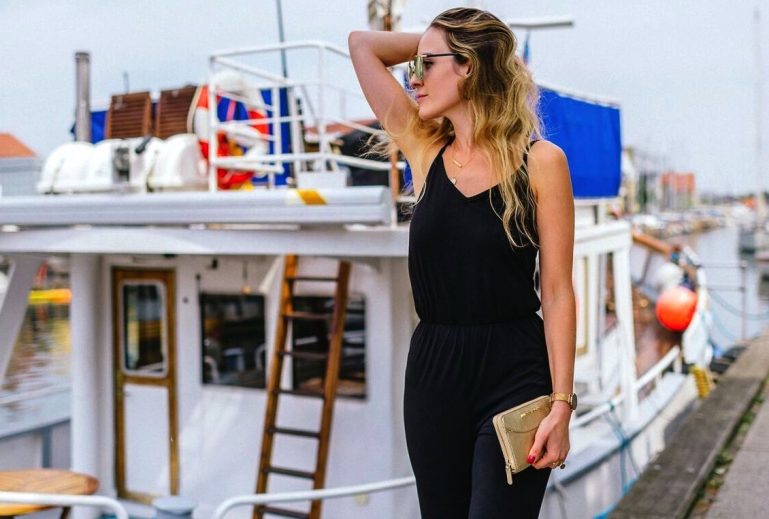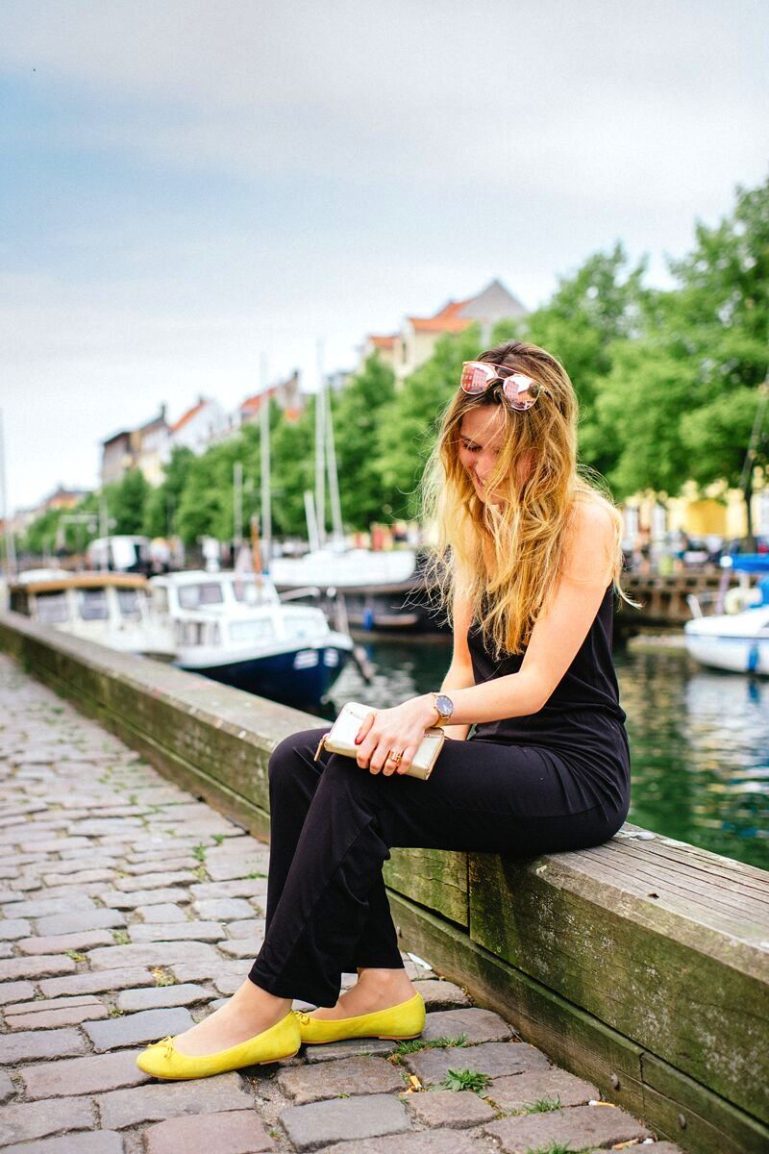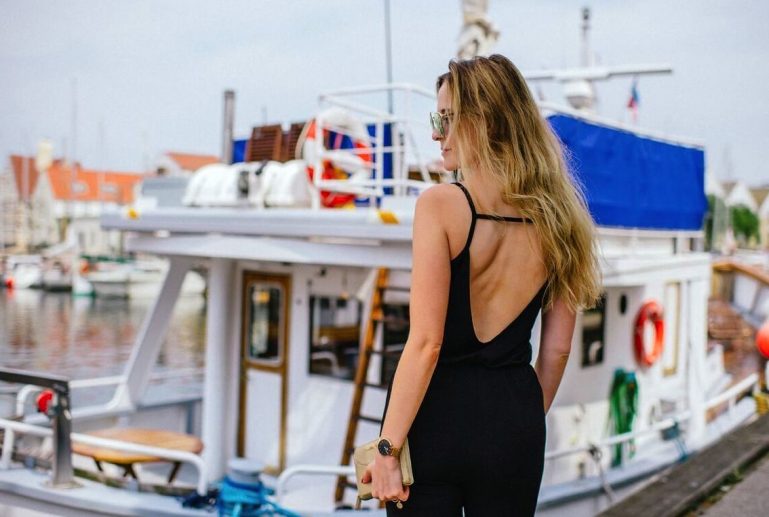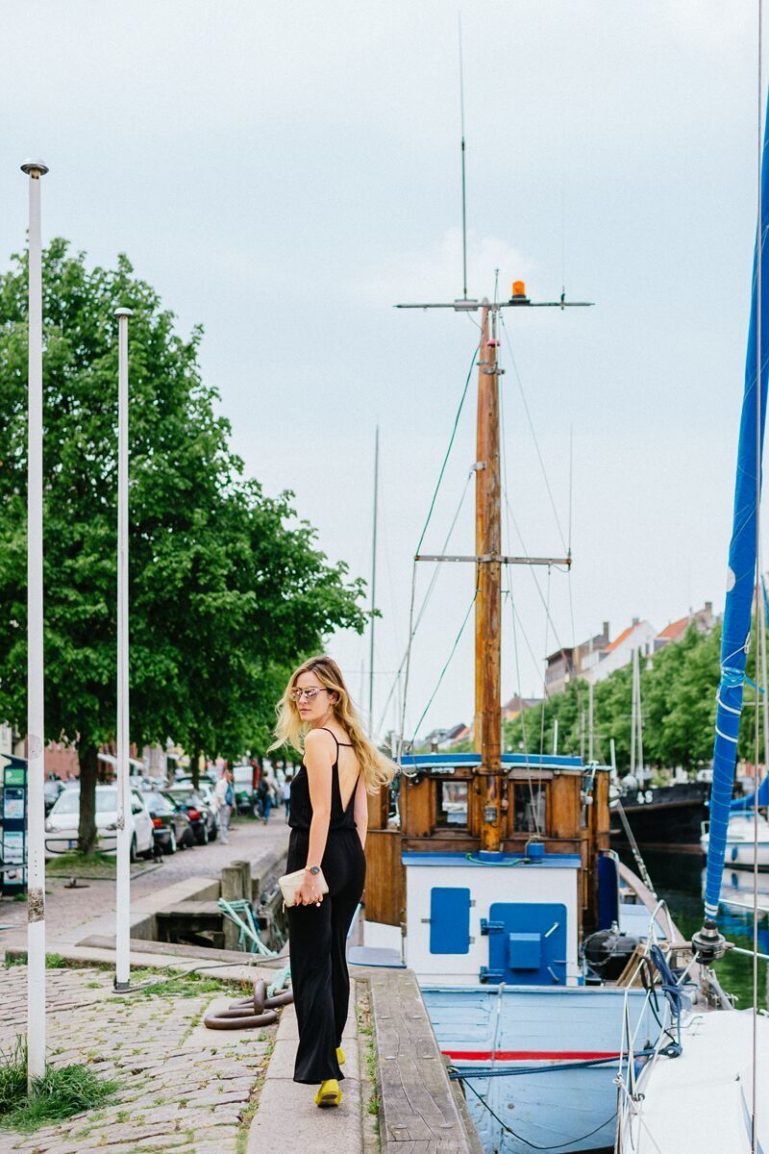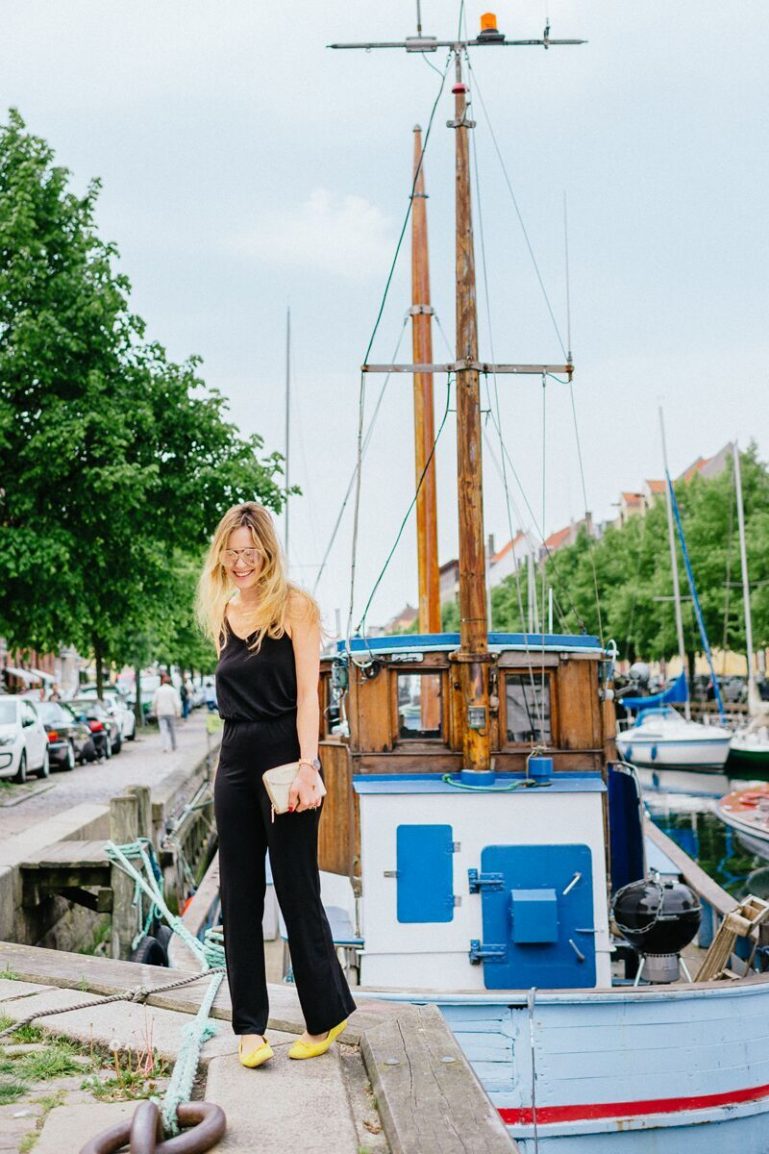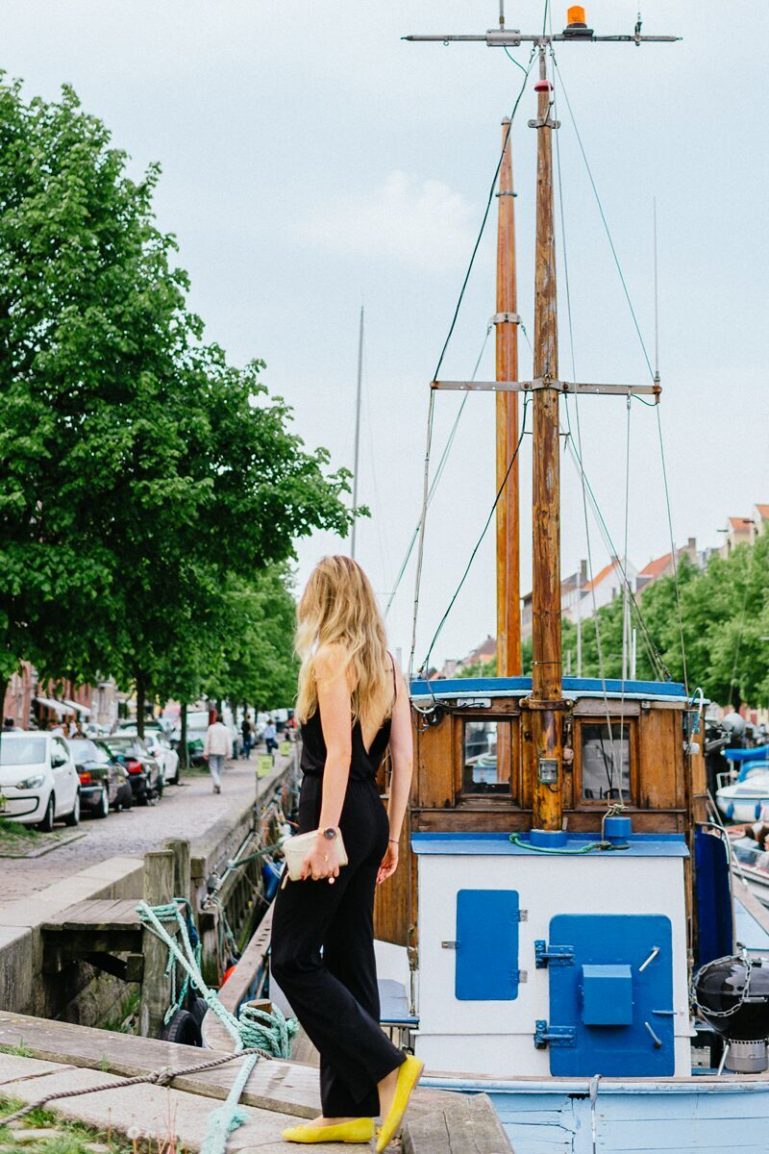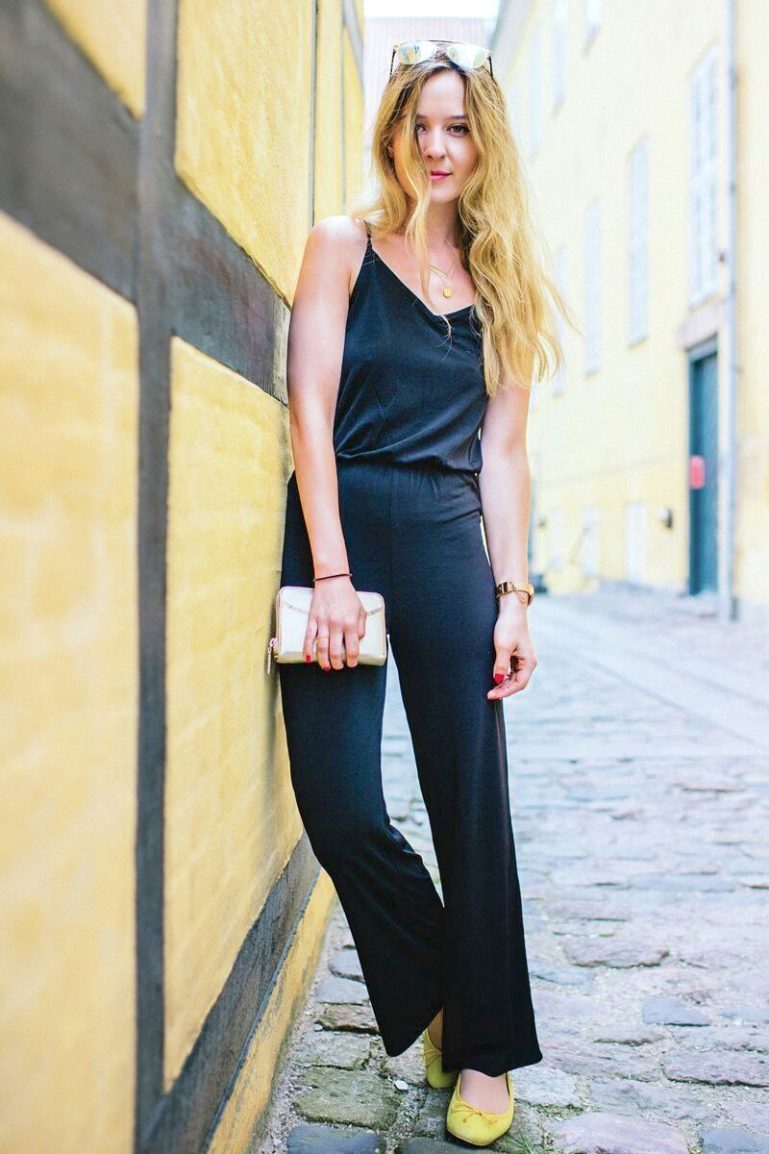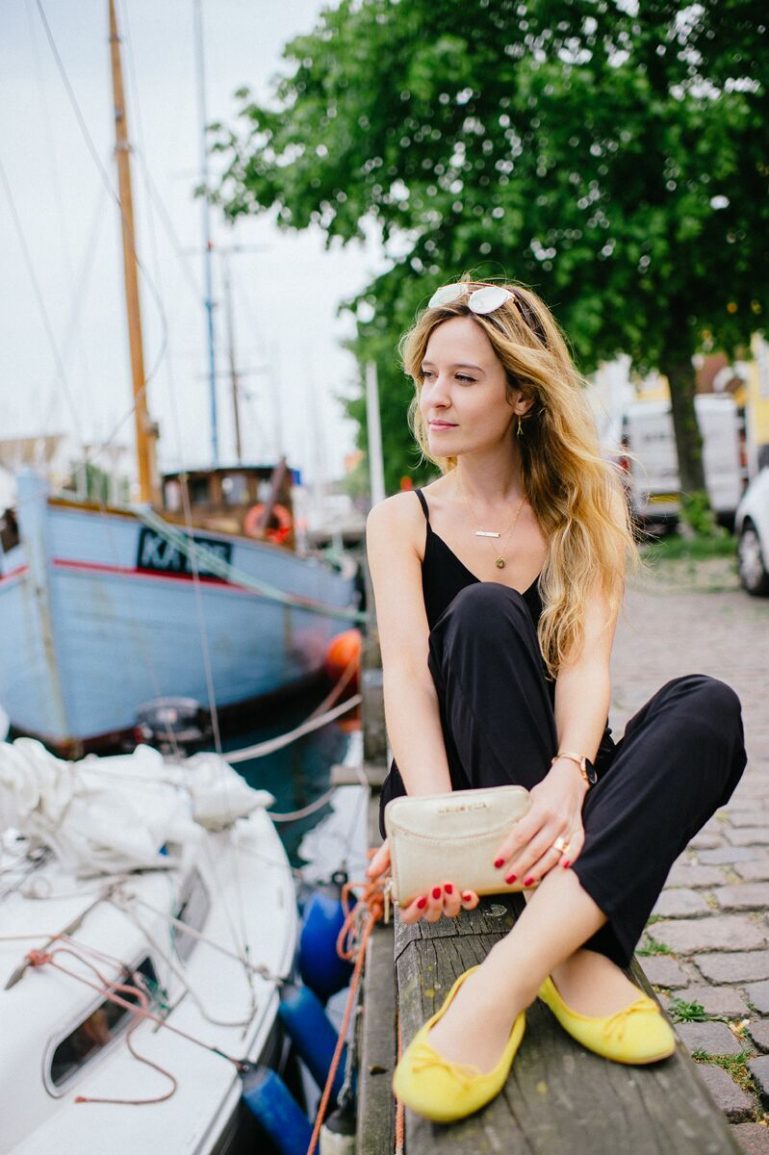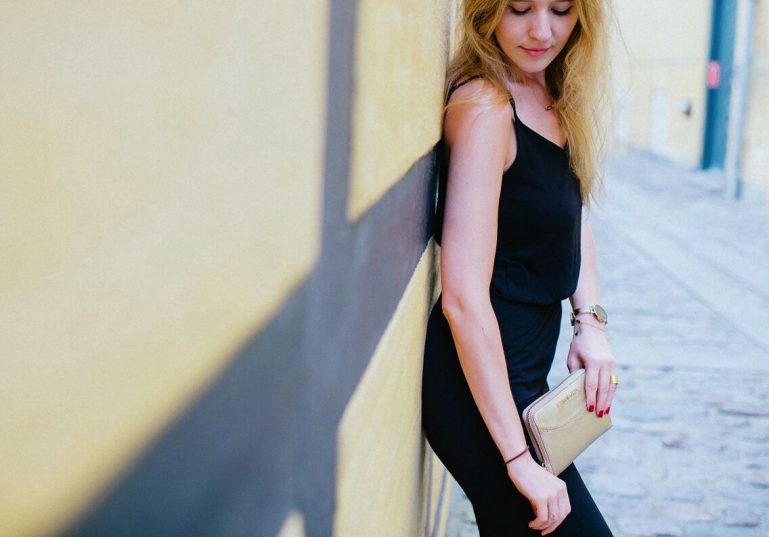 At the deets level I am excited to present you some things that I love these days, (like usual)! I like blogging so much especially for having the opportunity to discover those little gems. For example, should we talk about these ballerinas? I am totally in love with this Swedish brand that I just discovered, Flattered. These are just the prettiest ballerinas I've ever had and in addition super comfortable, FINALLY! Me who can never wear ballerinas because they all hurt my feet. I wore these all day and no pain (of course after wearing them a bit at home anyway to "get used to them" as my feet are at a desperate level of sensitivity). I love their color, their details! I wear them all the time! And the bonus? Here also it's the brand of a blogger that inspires me: Isabella Löwengrip. These Swedish bloggers, what businesswomen! A real daily inspiration.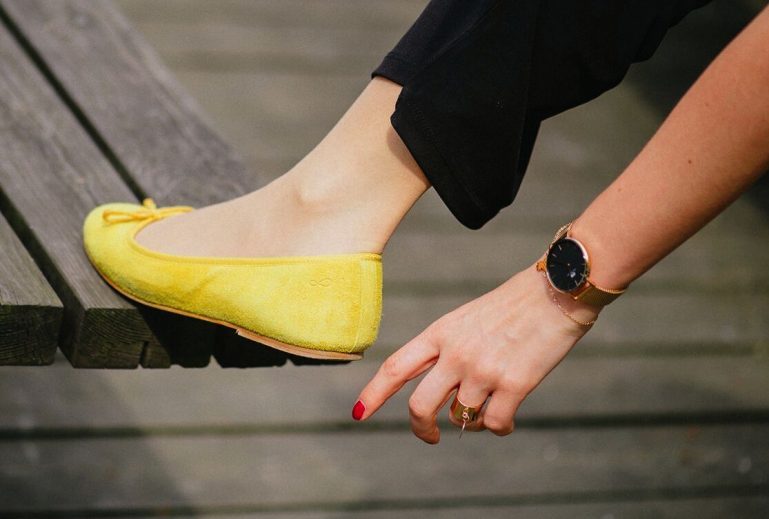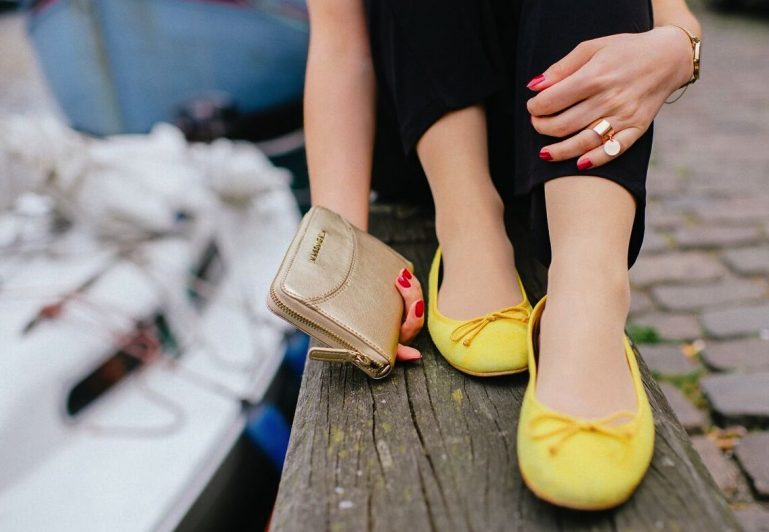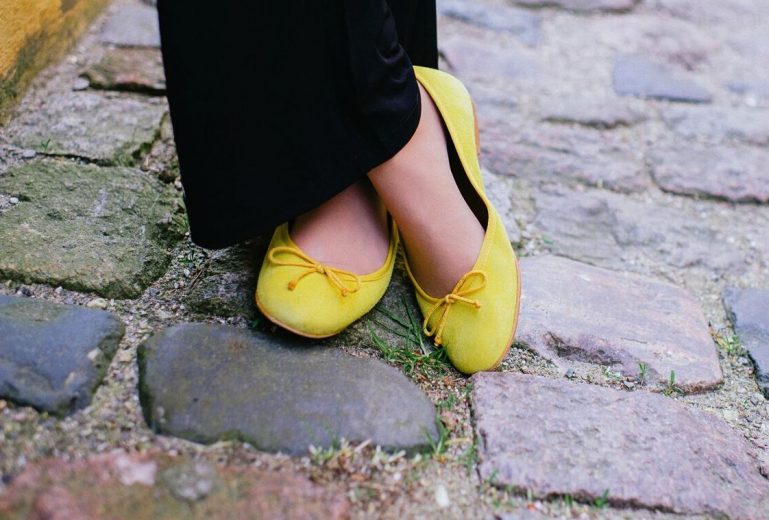 Another nice discovery is the brand Boho Stones who sent me these beautiful personalized necklaces. I find these necklaces super nice, and they have a bit of a totem value for me. I wear them a lot. I chose a necklace "Plumedaure" to engrave forever in memory this beautiful adventure that is this blog and another necklace "A" for Aurélie. Aren't they so beautiful? Here too I have a coupon code for you: PLUMEDAURE for 10% discount on www.bohostones.etsy.com.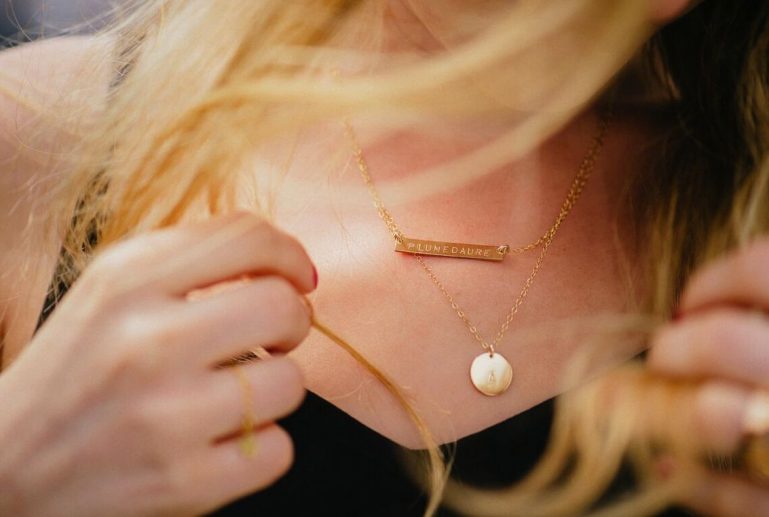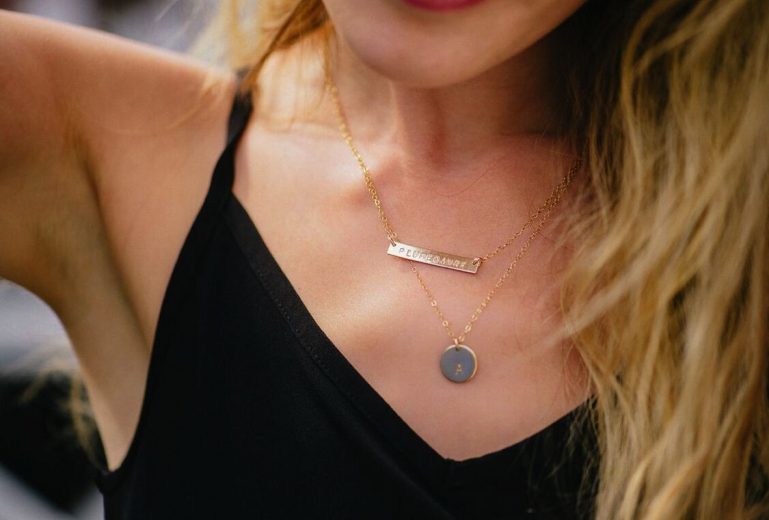 For the rest of the details, I wear my glasses Le Petit Lunetier which I also adore and that everyone is loving at this moment on Social Medias and blogs. But it's totally understandable! Such UV protection quality for such mini prices, how can you resist? This time it is no longer the Summer Rose but the Max B Gold I present to you. They are just super beautiful and cost 44 euros on www.lepetitlunetier.com. With a small -20% with the code Plumedaure20.
Without forgetting my pretty Champagne pochette from Maison Gaja which is a brand that I don't even present anymore! As for the watch, do not change a winning team. Daniel Wellington one day … Daniel Wellington always with the Classic Petite Rose Gold.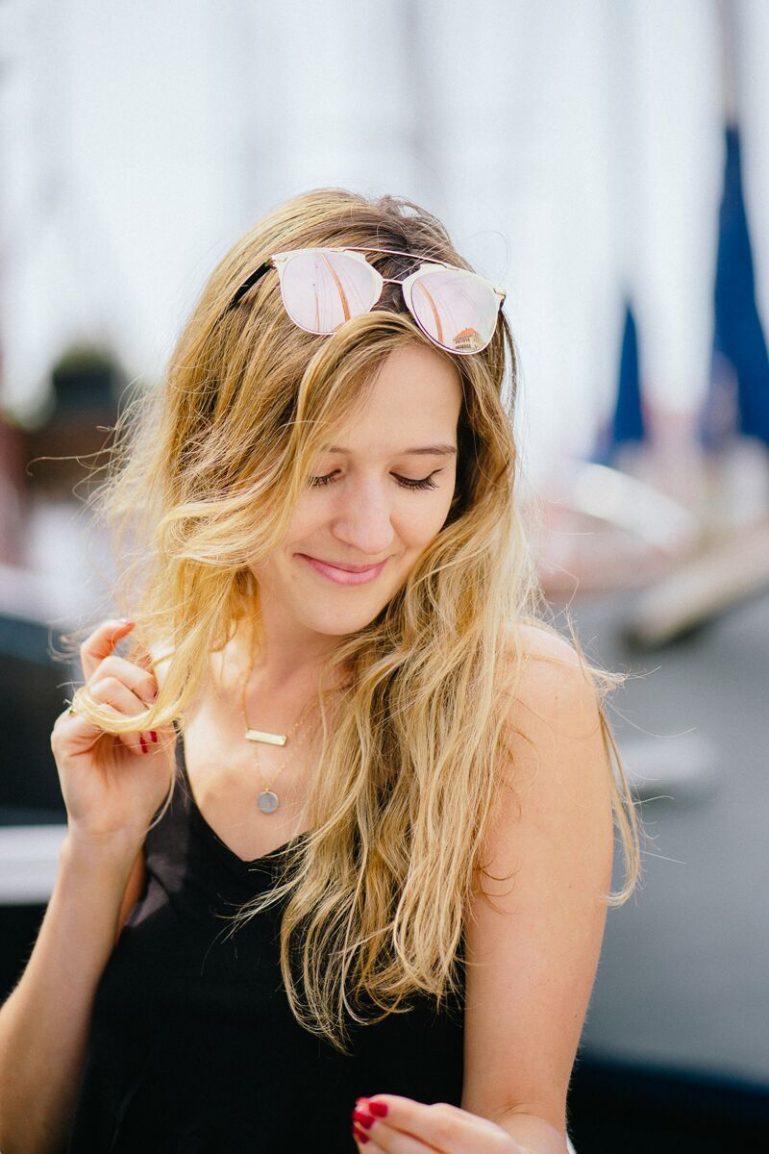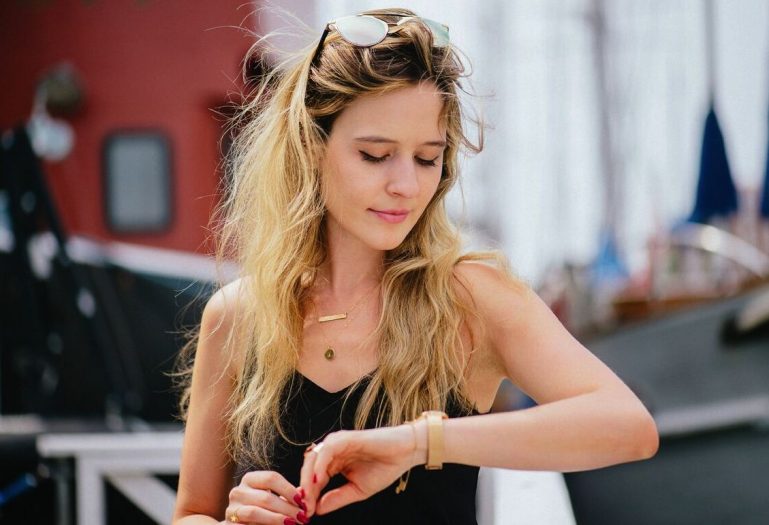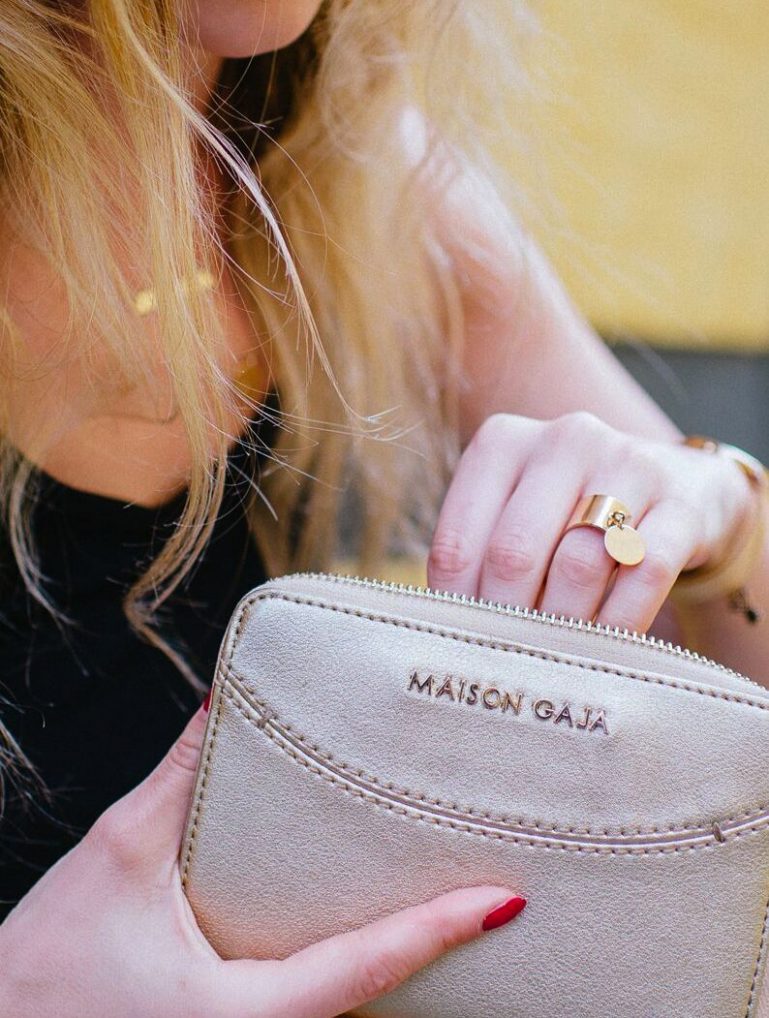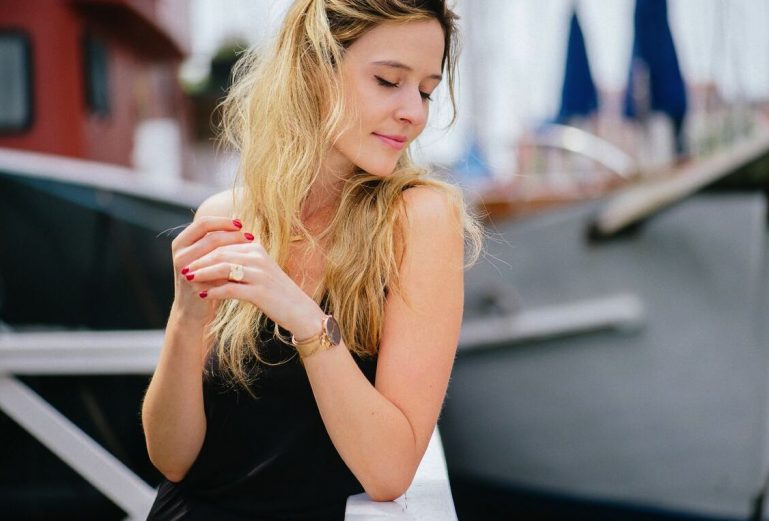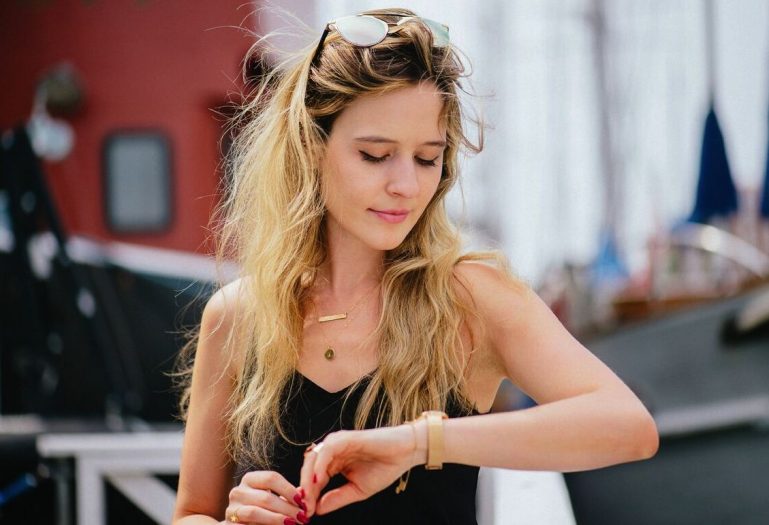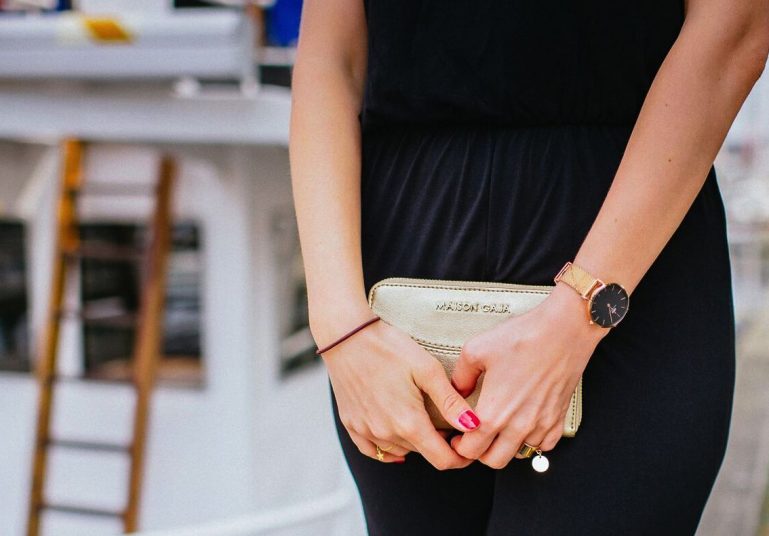 Here you go my sweets, it's all for today! I thank Nataly Dauer infinitely for these beautiful photos. And I send you a lot of kisses and send you all my good vibes to start well this week! Lots of love, Plume d'Auré.

As usual find my selection for this look, exact or similar, and at affordable prices. According to me the jumpsuit is a must have this summer, so stylish. Enjoy shopping !
Credits : 
Photoshooting done by Nataly Dauer
Jumpsuit from Ivy Revel (-20% on all your orders with the code PLUME20)
Sunglasses Max B Gold from Le Petit Lunetier (-20% on all your orders with the code Plumedaure20)
Personnalized necklaces from Boho Stones (-10% on all your orders with the code PLUMEDAURE)
Ballerinas from Flattered 
Champagne pochette from Maison Gaja
Classic Petite Rose Gold watch from Daniel Wellington
Ring from Aparanjän Paris