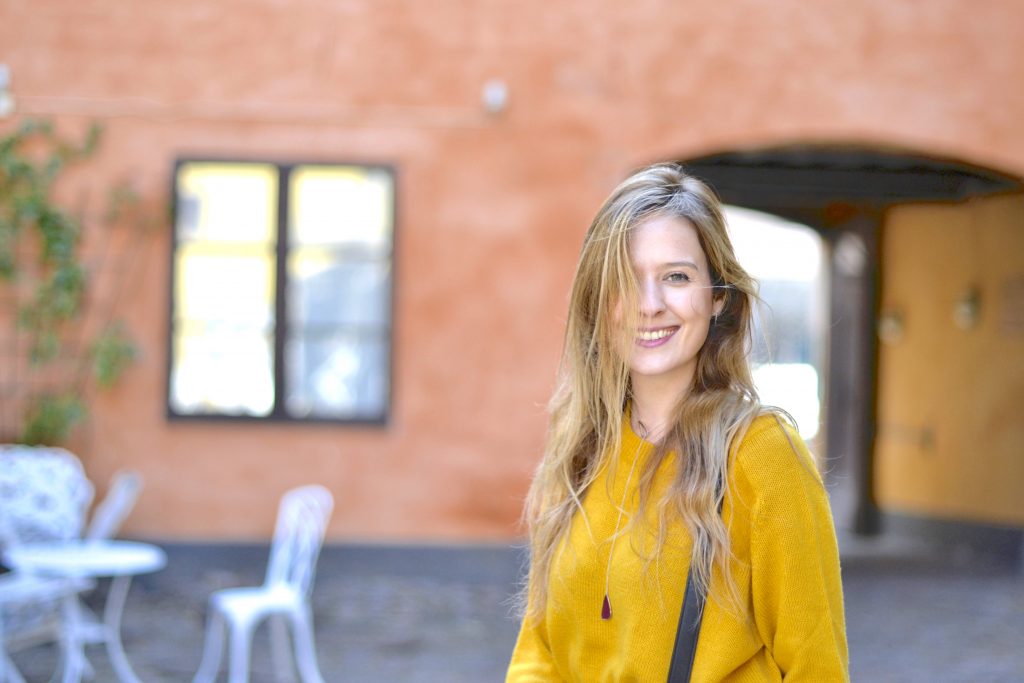 Hey my sweet babes! I hope that you've had a amazing weekend and that today has been a sweet start to the week! I have personally RESTED a lot this weekend ! Much needed after a big week full of emotions, challenges and changes. And especially before resuming this week just as full and exciting! What am I talking about ? I will give you a little more detail in my next Freelance Life Post (quarter 2). But basically, things are moving! Opportunities rise and make me give the best of myself … and some opportunities are actually becoming new work projects. A lot of new stuff, a lot of stress (positive, also negative because it's really challenging!), a lot of excitement … in short a lot of emotions! But it's awesome! That's what I wanted and I'm FULL IN! So… I say thank you and I do my best. Haha. But yeah … this weekend it was rest and walks out to enjoy the beautiful sunny Malmö. And you know what? We had a drink in a place with super cute yellow facades … which, matching so good with my yellow mustard sweater, "forced me" to shoot a look :D. Ready for an invasion of yellow mustard = happiness? Let's go! And I also present you my latest favorites!
After the green fir, so in love with yellow mustard …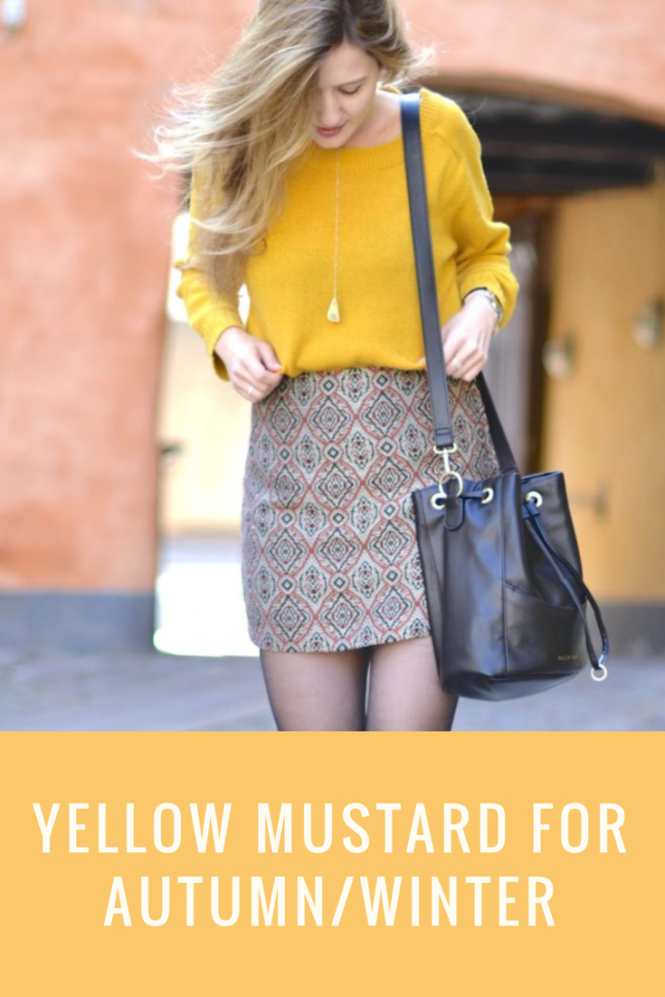 Well, I pretend this look was random but not really. With my darling we had planned to shoot this weekend. Needless to hide it :D. However, I would not have thought of a place so well matched with my outfit ! I am really in love with yellow, this color makes me smile, I find that it spreads good waves. I never knew what to answer to the question "what is your favorite color?" because I always thought it made no sense, because it simply depends. Red for a juicy watermelon, green for a field, blue for a sky … you have grasped the idea. But still, when I see my instagram feed, the things I like etc., I would say that yellow is a color that I always like! That makes me happy and it is perhaps my favorite color. As for yellow mustard, I find it perfect for autumn outfits!
Anyways. A great place all yellow for a look that I LOVE. My orange-patterned skirt and my yellow mustard sweater come from H & M, from last year's collection. I am for wardrobes that go through the years! After all who has the means to change every year the entirety of his wardrobe? I want to show you looks that everyone can reproduce without having to spend too much. The idea here is to give ideas, to inspire. You do not need the exact same items but maybe something similar that you may even already have in your closet!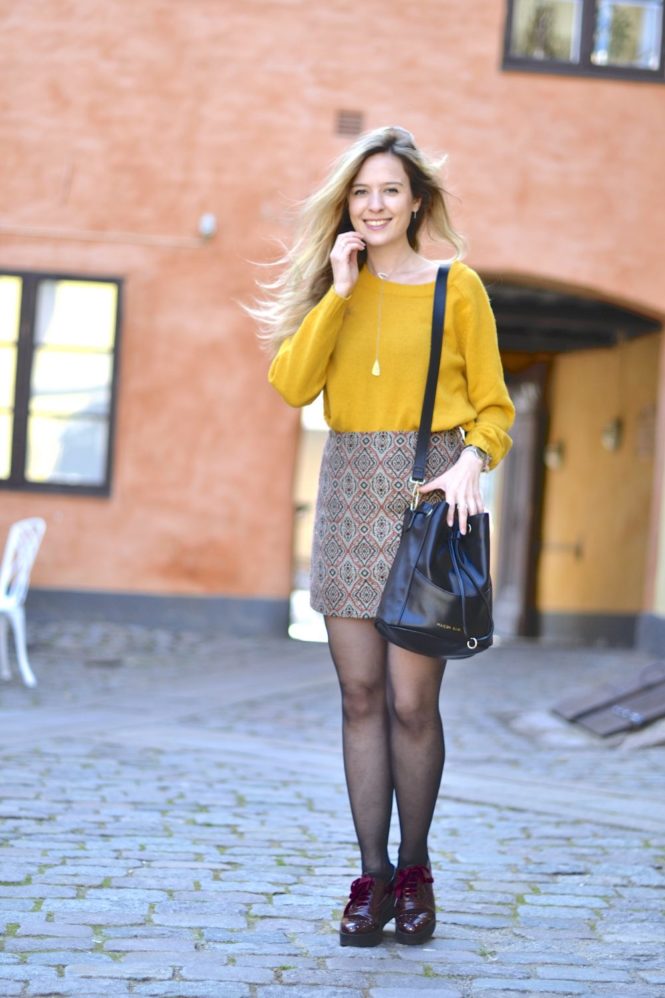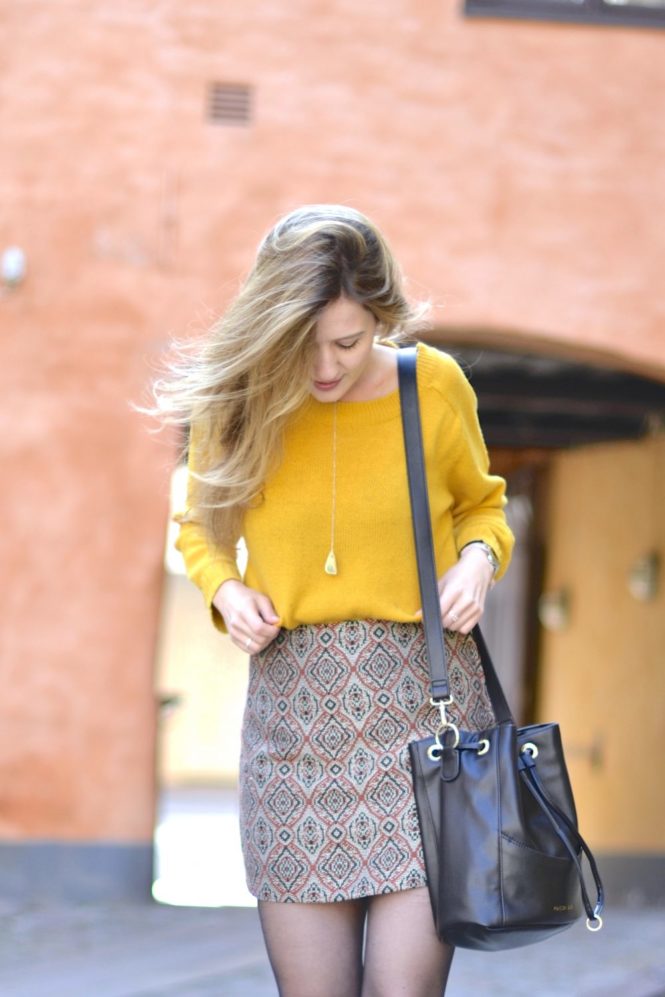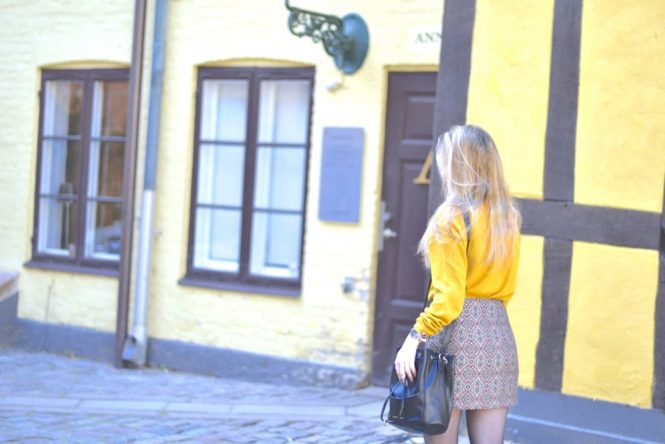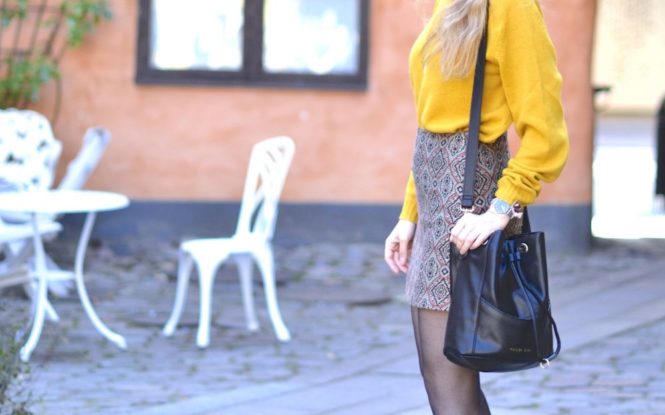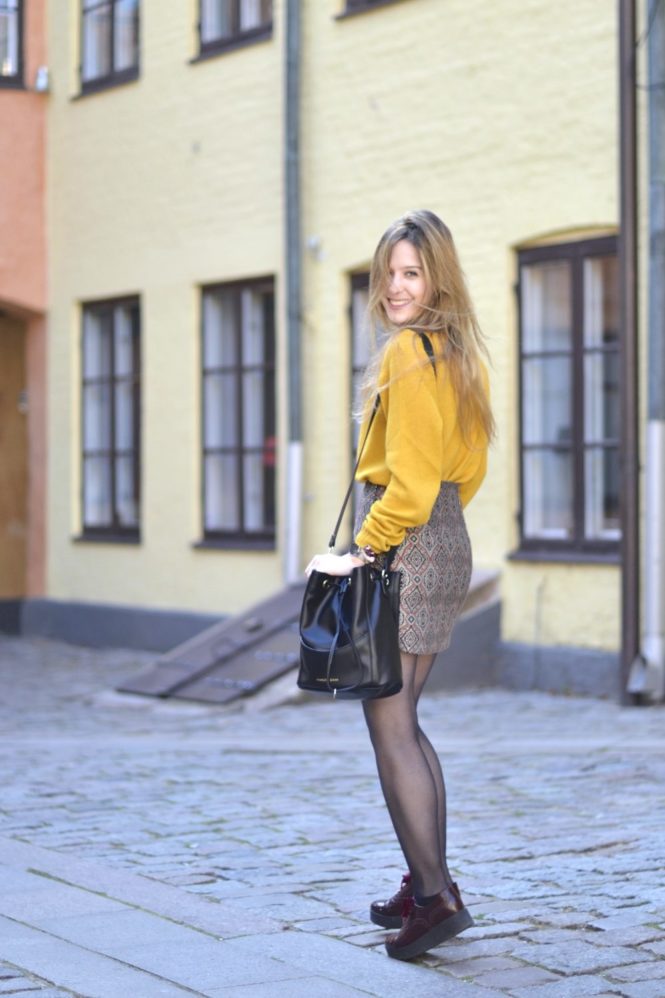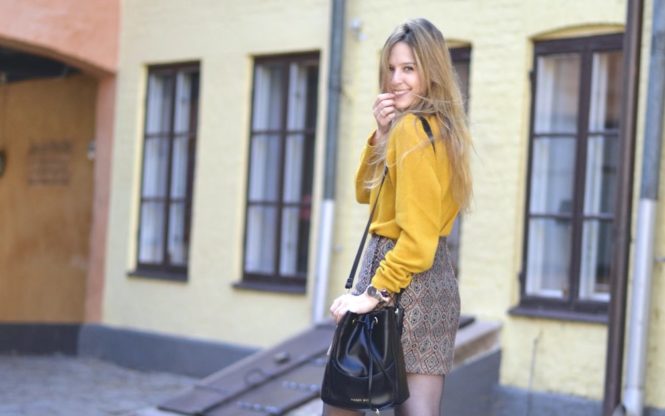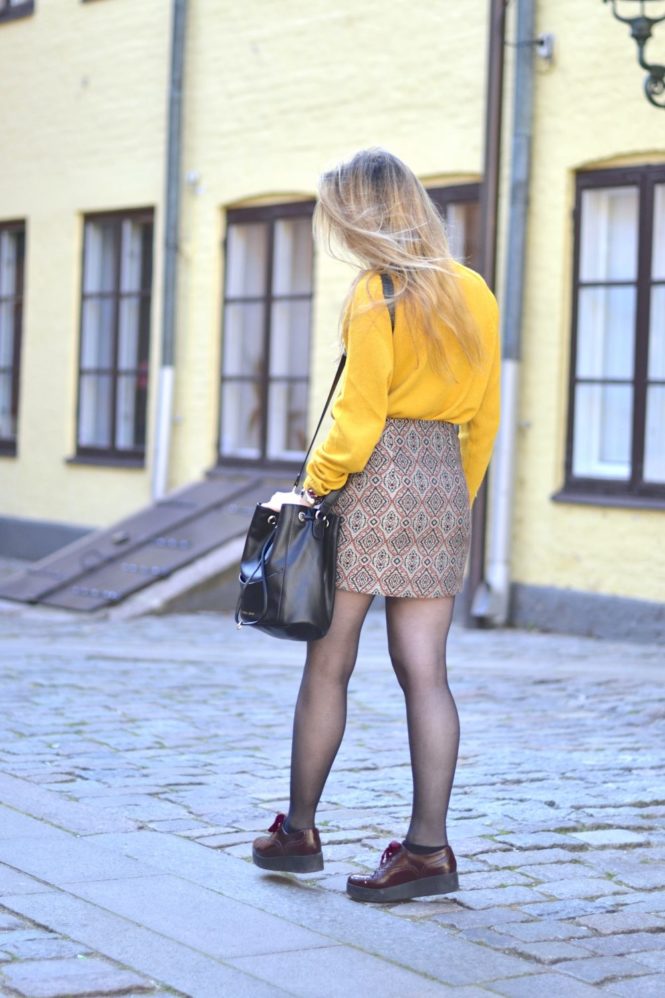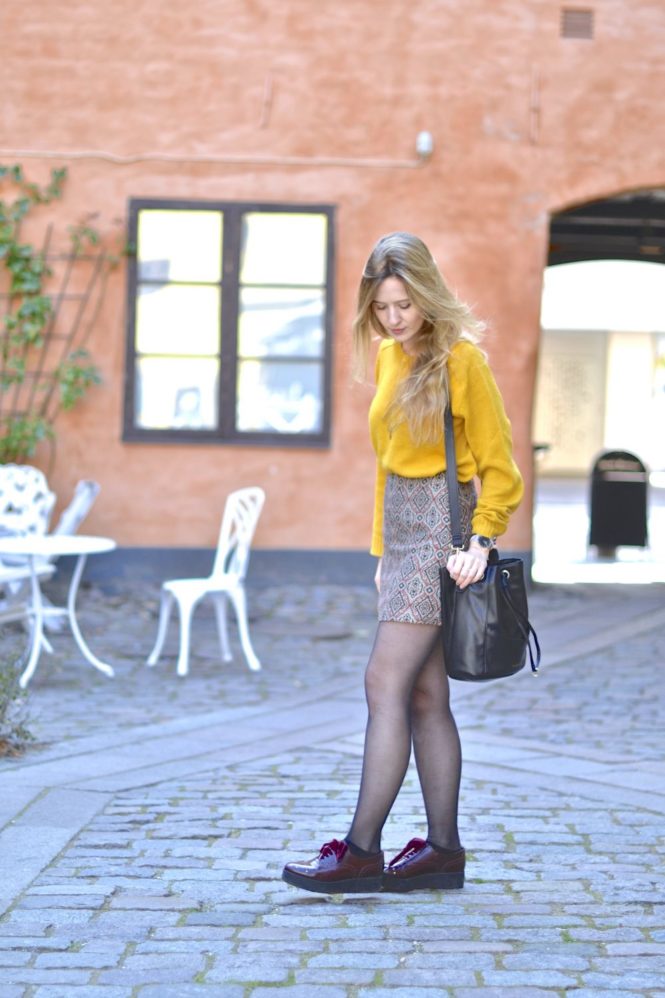 The bag and accessories are new. I am totally in love with my new bucket bag from Maison Gaja, this vegan brand that I like so much. I told you about it here a year ago when I discovered this little jewel. I can only recommend this brand ! Beautiful bags, quality and beautiful values, what else ? In addition until mid-October all their e-shop is on sale for -50%, it's time to go take a look!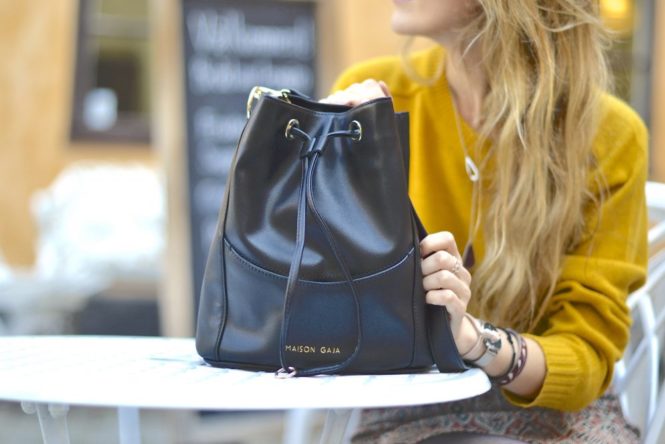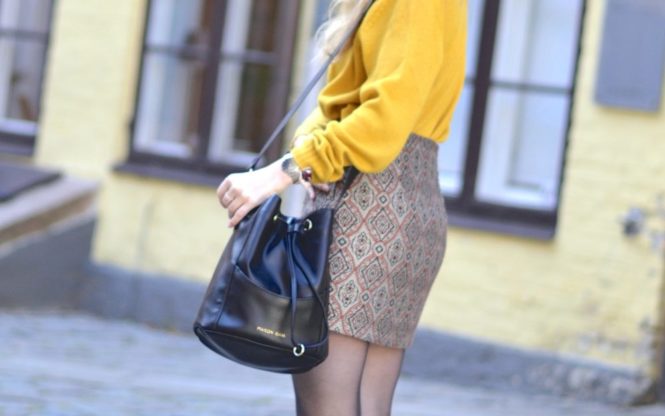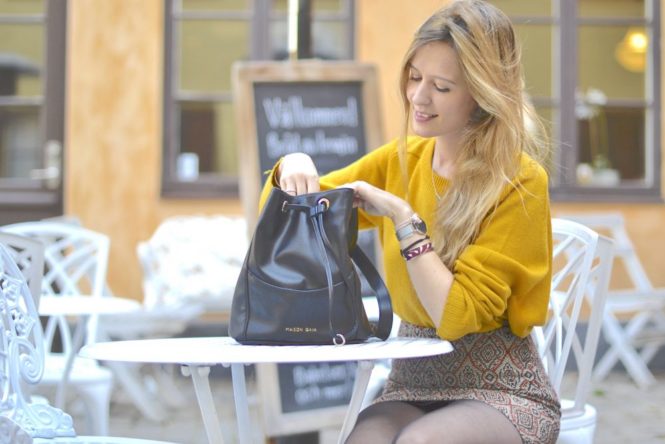 As for the jewelry, they are from the new Agatha Paris collection. I love their colors, their originality but especially the inspiration of the shapes from the art of the painter Calder (there is also the collection Matisse). Art and jewels that mix, being myself a daughter of a mother painter-sculptor, I say yes! I just love it ! Bravo for the idea, Agatha Paris <3. Aren't they so beautiful, frankly?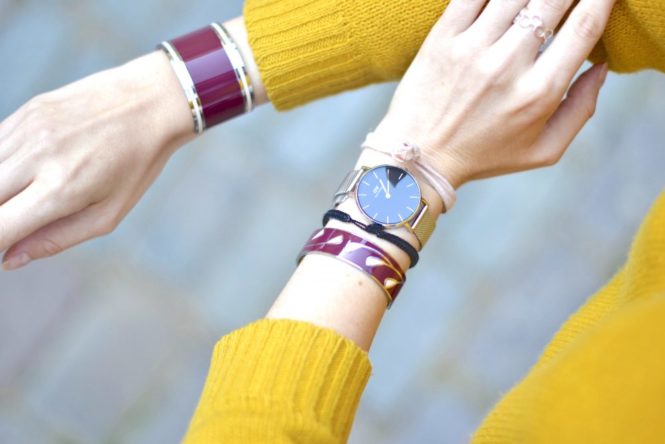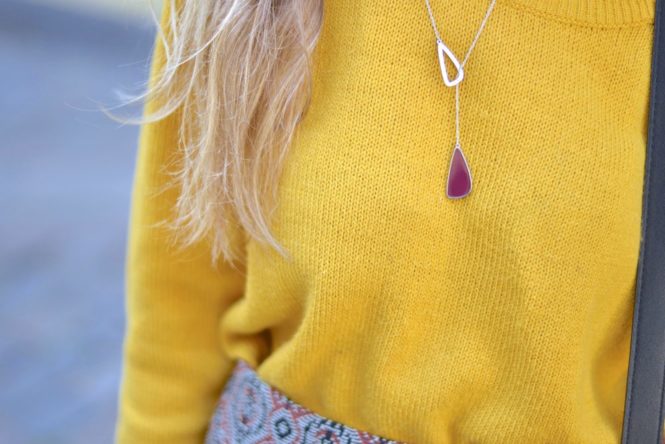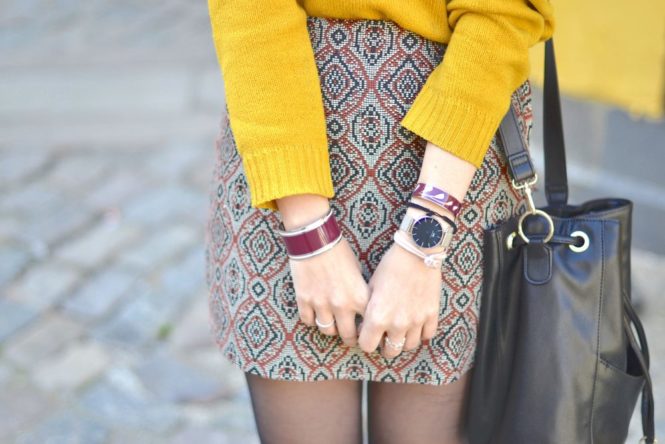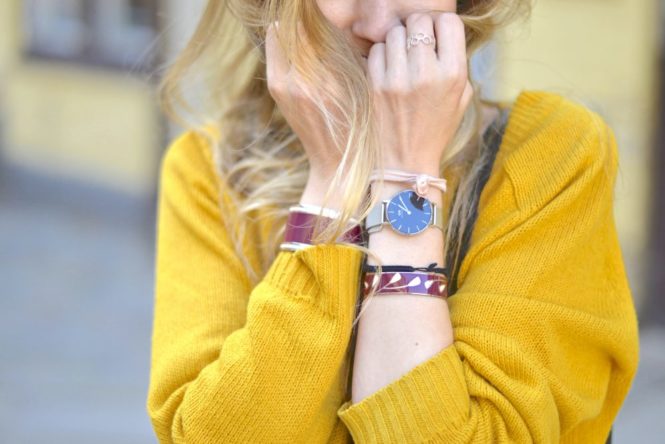 My derbies are still the ones from Galeries Lafayettes shopped last month in Paris, which I already presented you in this look. I adore them and wear them so much !

Here is a nice selection for you to reproduce a similar look if you liked it (contains derbies, yellow mustard sweaters and skirts!)
Voilà babes <3 ! As always I hope that this little look could inspire you or give you some ideas in some way <3 I wish you a wonderful week! 
* Let's embrace this beautiful month of October that starts <3 *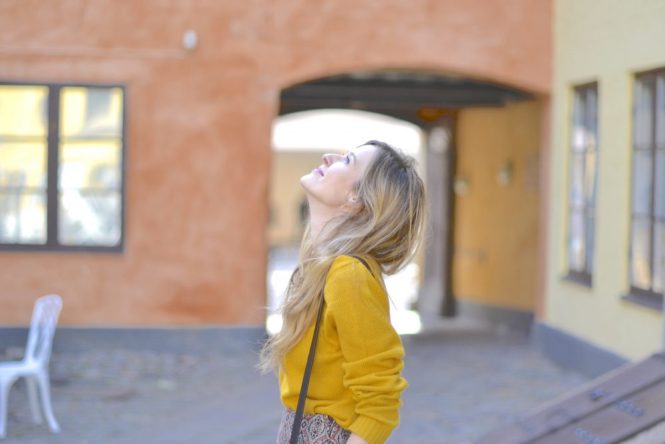 Credits : 
This post contains ShopStyle affiliate links