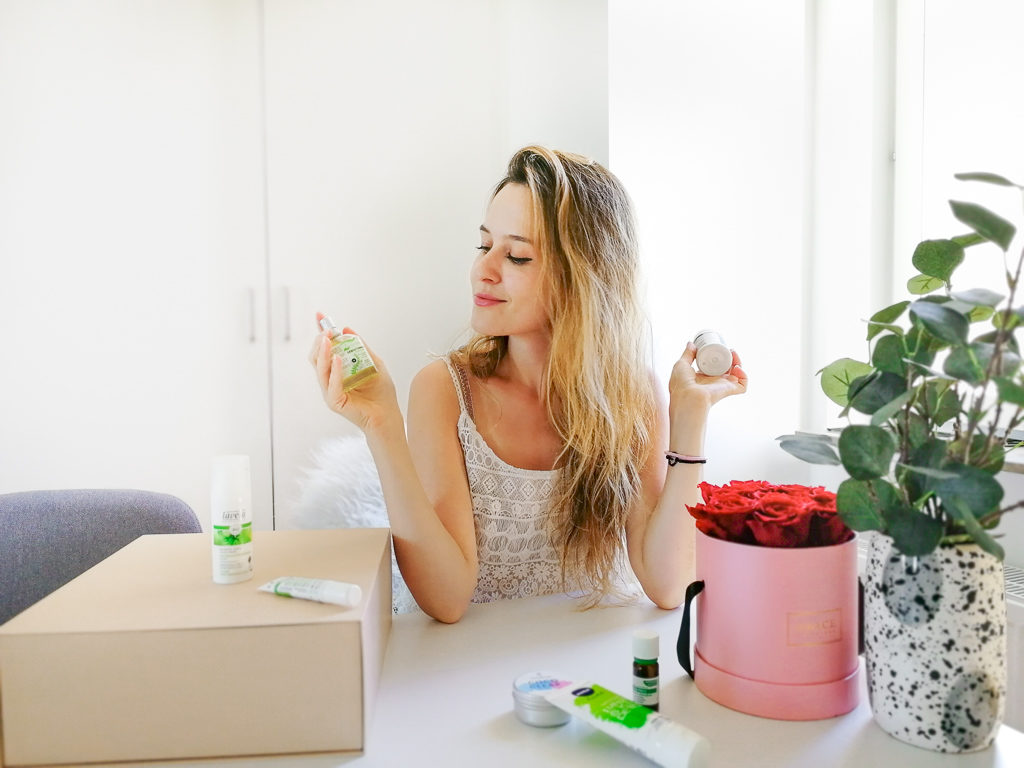 Hello everyone! Welcome to my progressive article and review on having acne after stopping the pill. On February 18, 2018 I stopped my birth control pill. Not for the first time, but for the second time, 5 years later, because the first time was actually really bad. But hey, after about 15 years of taking synthetic hormones it was more than time to stop, and let my body work by itself. So I decided to tell you about it openly, to share with you my impressions, my advice so that those of you who like me, decided to stop and have acne OR are afraid to get acne, can find some support. Acne after stopping the pill : my experience.
Having acne after stopping the pill : my personal experience
Why I was afraid to quit
Because I was afraid of the famous duo "acne after stopping the pill". And then … because 5 years ago I had already tried to stop it, and it did not go well. Especially in terms of acne. Stopping the pill and acne, yes, unfortunately it often goes together, and I did not escape this. The last time, it appeared after only a few weeks and after 3 months, I ended up taking my pill again. This time, taking it back is no longer an option for me. And this time, it happened a little differently: in fact, the first 6 months went "OK". I had more oily skin, more pimples, a much rougher skin texture than before, etc. But nothing too bad before 6/7 months where unfortunately, it got worse. At 9 1/2 months. my skin is at worst. I was so sad! But finally, thanks to a good routine, and probably thanks to time, I got rid of it!
Complementary post : my routine against hormonal acne
My evolution month after month
Between 1 and 4 months after stopping the pill : a more irregular skin texture, a pimple from time to time but nothing catastrophic. A lot of anxiety however, permanent "afraid that it gets worse" feeling.
After 5 months: the situation has not changed much except that I have the impression of having more oily skin filled with blackheads, microcysts. I'm going to make a confession: I'm more anxious than sad. The state of my current skin is OK. But I'm afraid that EVERY dark spot, EVERY little shit under the skin becomes a big acne spot. It's stupid huh? We will see the evolution. But if it stays like that, I accept! Fingers crossed. Do it for me too HIHI!
After 7 months: I spent the summer better than I thought. I had a OK skin , far from perfect but no disaster say. Big bad pimples at the time of ovulation especially, before the rules also sometimes, but nothing catastrophic all along the cycle. Always a grainy skin, but hey, that, I made a reason for it. My smooth skin before: it's over. At least for now. On the other hand there in cycle post summer I am in FULL BIG PUSH on the right cheek. My worst since the beginning, big red pimples that are inflamed and leave traces without makeup my right cheek is really not great. I am a little depressed I admit. So, a post sun effect, just a bad cycle or the beginning of the disaster? (Indeed I read everywhere testimonials of girls for whom it "begins" after 7 or even 8 months …) I do not know, to see. But I pray that this is not the 3rd option … appointment later to talk about it again!
After 9 1/2 months: it gets worse … but really. I really have acne now. I suspect the stress of being there for something. I have every 2/3 days an inflamed red button that hurts and leaves a red trace. I have a lot of black spots and irregularities. I have little red pimples everywhere (cheeks, forehead, nose, between the eyes). Cleansed my skin is really blah … I'm starting to get really bad because of that. And the worst part is that I get into a bad vicious circle, which is acne that makes me stress, stress that gives me even more acne, and so on. etc. I just booked an appointment at an Acupuncturist failing to see a dermato for months (because here in Sweden the waiting lists are super long). I hope it can help me manage my stress and acne as well. I'll let you know.
After 12/15 months: MIRACLE! I had heard that it took about one month per year of pill for acne to start calming down/to disappear. And I would like to tell you : do not give up ! My acne ended up going away by itself, I'm not kidding. From month to month I had less and less pimples, after my 9 months peak (the 9th month was the worst!). 18 pimples for cycle 9, then 15 for cycle 10, then 13 for cycle 11, 12 for cycle 12, 8 for cycle 13, 6 for cycle 14, 4 for cycle 15. Currently, I'm already halfway my cycle and I had only ONE PIMPLE! So great. Well, I still have red marks, some small hollow scars, but they do fade slowly… And I'm going to write an article on how to reduce mild acne marks and scars very soon on the blog. IN ANY CASE, EVEN IF IT HAS REALLY SUC*** FOR A YEAR, IT'S OVER. And one day it will be for you too so I am the living proof of it: do not give up and try to not be too sad about your acne, it's temporary !
How to avoid an acne breakout when going off the pill ?
Well, I applied a lot of advice that I found during my research online, and here is the result. I can only advise you to do the same! It didn't help me to clear my skin completely, but it's worth trying for you! Plus, it might have helped me a bit!
All my tips to avoid a post-pill acne breakout : 
Start taking Zinc supplements ASAP when stopping the pill and during the first 3 months (at least). Zinc is an essential component needed in thousands of chemical reactions of our skin. It can only help you fight imperfections. I started Zinc (12mg a day) 1 week before going off the pill and I still take some everyday. I do not know when I'm going to stop it but I think I'll continue to take one every two days, then one day out of three, and so on. Until weaning. Thereafter, I will do zinc treatments once or twice a year because it is really a trace element which is essential for our body, and for our skin.
DO NOT EAT LOW-FAT! Here is a big big mistake I made 5 years ago. The skin is made up of cells (yes, logic) and the cells are made of cholesterol, which is super important for our body to work well. And cholesterol, we produce of course but also, we eat. Where do we find it? In the fat. And so, eating low fat is not at all a good idea for your acne. So of course I do not tell you to eat cheese and ice cream like a crazy person everyday ! But do not deprive yourself of a little bit fat everyday. Your skin will thank you! On the other hand, I prefer sources of fat that do not come from dairy products based on cow's milk, known to worsen inflammation of acne. Goat's milk, yes. And vegetable fat (oils, avocado, etc.) as well as from fatty fish (salmon, tuna, etc.).
Eat well. Do you know the 30/70 rule? On your plate, you need 30% protein, and 70% starch and vegetables. Eat vegetables / fresh fruit with each meal, they are excellent for your transit, and for your skin. Grated carrots, tomatoes, salad, green vegetables, soups, smoothies, go for it! And this with each meal.
Don't go too crazy with foods that stimulate insulin and containing gluten. White bread, white flour, pasta, rice, sugar, etc. This can make the inflammation worse.
Use adapted products. When you stop the pill, at least that was the case for me, your skin can become a little fatter (even a lot!). So, you have to change your beauty routine. In the morning, use a mild cleansing solution, then a non-comedogenic moisturizer. In the evening, cleanse your skin gently again and use a night cream. Don't hesitate to apply a targeted product against imperfections in small quantities on your pimples. But don't overdose it ! It will dry out your skin and make it produce more sebum, so more pimples! I share with you my complete beauty routine against hormonal acne in this post if you are interested.
And SLEEP WELL! Sleeping well is also essential for a beautiful skin.
Calm down! Stress stimulates the production of sebum and therefore favors pimples. So relax. And above all, try not to focus too much on your skin.
And what about the rest ?
Yes, because after all, it's not all about the pimples. Stopping the pill can cause many other discomforts such as pain (cramps, headaches), spottings, mood changes, nausea, weight loss or gain, etc.
Here is what I realized in my case :
it takes a little time for cycles to become regular again. I did not escape the rule. But it's normal, it takes up to 1 year so do not panic. To follow the regularity of my cycles I use the free application Clue, which is just great and that I really recommend!

I have a lot of nausea, cramps, and headaches … phew, not funny. But it's like that. Especially around ovulation, I do not really feel great. Almost sick. So I hope this comes from the need of hormones to be balanced again and that it will pass.
I didn't see any big changes in my mood. I'm not more upset than before, nor sadder or anything. That's a good point ! Just maybe a little tired when I have everything I mentioned on the above point, even exhausted. But not sad for all that! #keepsmiling
* Good luck for stopping your pill, if it is planned on your side too! Feel free to share your experiences / ask me your questions. I would like this article to become a place of exchange that I will update regularly with new products / tips *
Take care xx
SaveSave
SaveSave
SaveSave
SaveSave