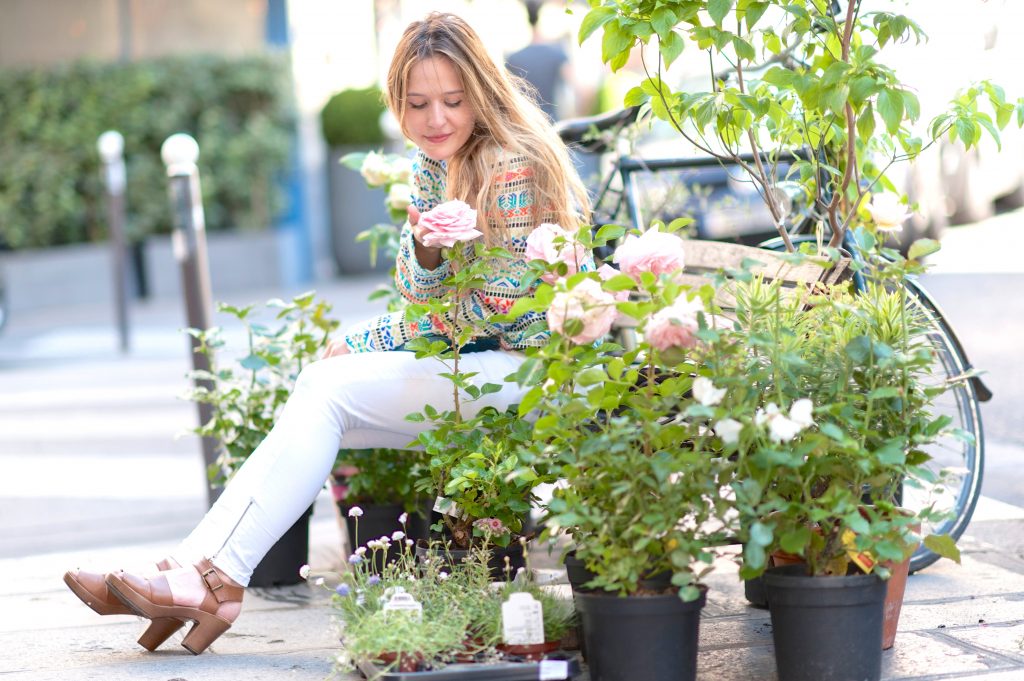 Hey my little feathers ! I hope you are doing well ! Today I am happy to present you this new look full of colors that I shot in Paris Odéon (Place de l'Odéon), shot during my Parisian week recently. I'm so fond of looks in Paris … all the little streets are so pretty. And those street signs, so much cachet! I am also very proud to present my second shooting with the photographer of the Studio Bain de Lumière that I love (click here to read the previous one)! This photographer is really good to capture the moment, and do beautiful shots. It is always a pleasure to work with him! Today I also present a piece of my dressing that I adore at the moment, this ultra colored jacket from Little Marcel. I'm a fan of it! As for the place, this is one of my favorite neighborhoods (there are so many!) of the French capital: Odéon. Lots of good little bars, restaurants, adorable alleys, just beautiful Paris …
Colourful blazer in Paris Odéon
I'm just in love with this jacket shopped on Little Marcel. When I saw the new Spring / Summer 2017 collection, with all these colors and boho chic style, I was forced to get something ! It's happy, it's colorful, it's full of good vibes = all I love.
So I opted for two colorful and strong pieces that go great together: a colorful blazer jacket and a bohemian shoulder bag. For the rest, I went for a total white look to soften the whole outfit, because there are already quite enough colors with the jacket + the bag. As for the shoes, I wear a pair of Swedish clogs (yes I keep my new roots even in Paris), which mix just perdectly with all summer outfits. I just love them !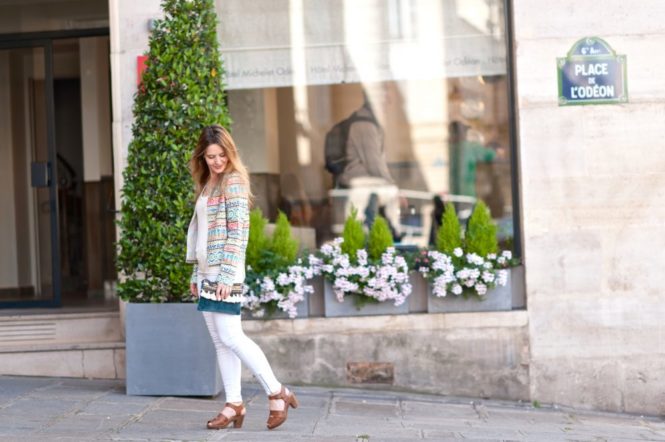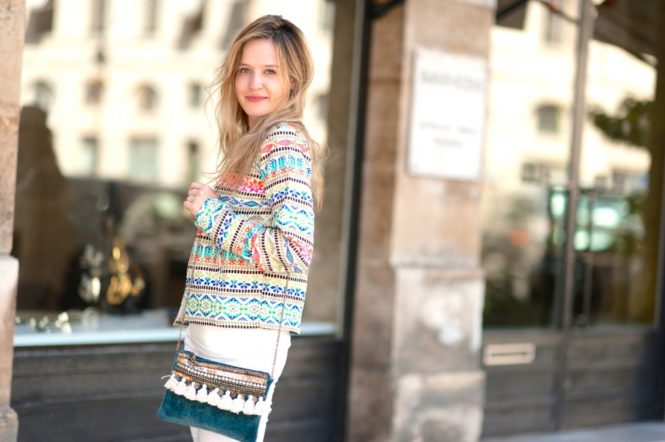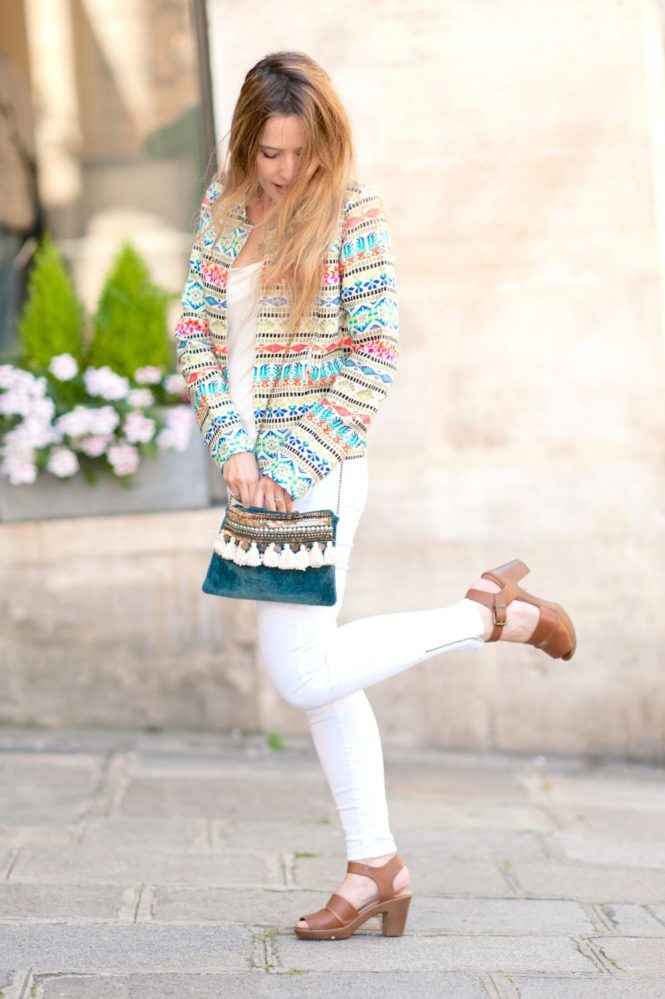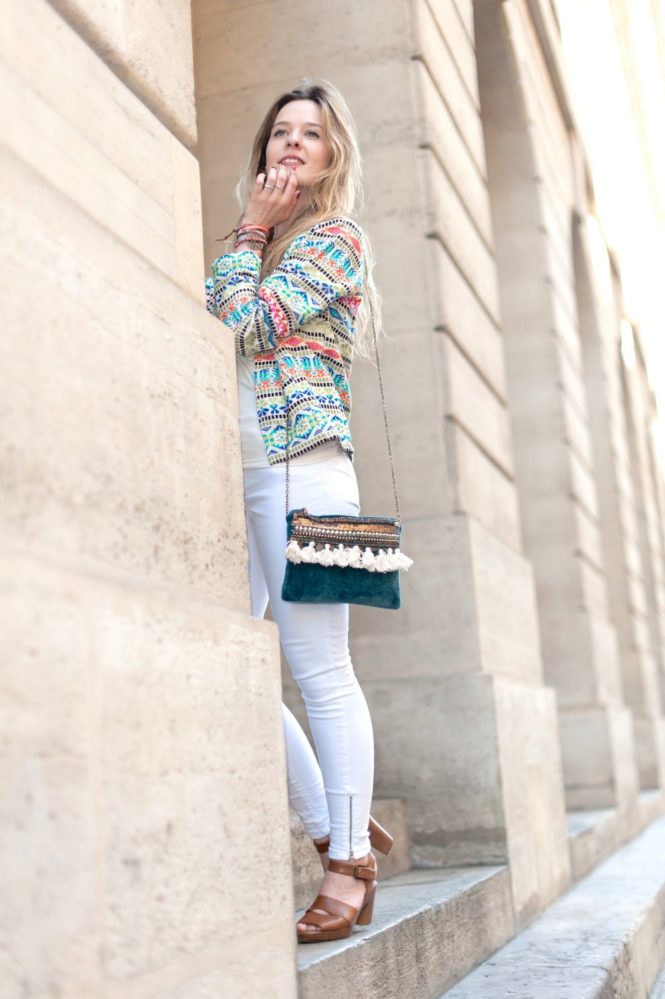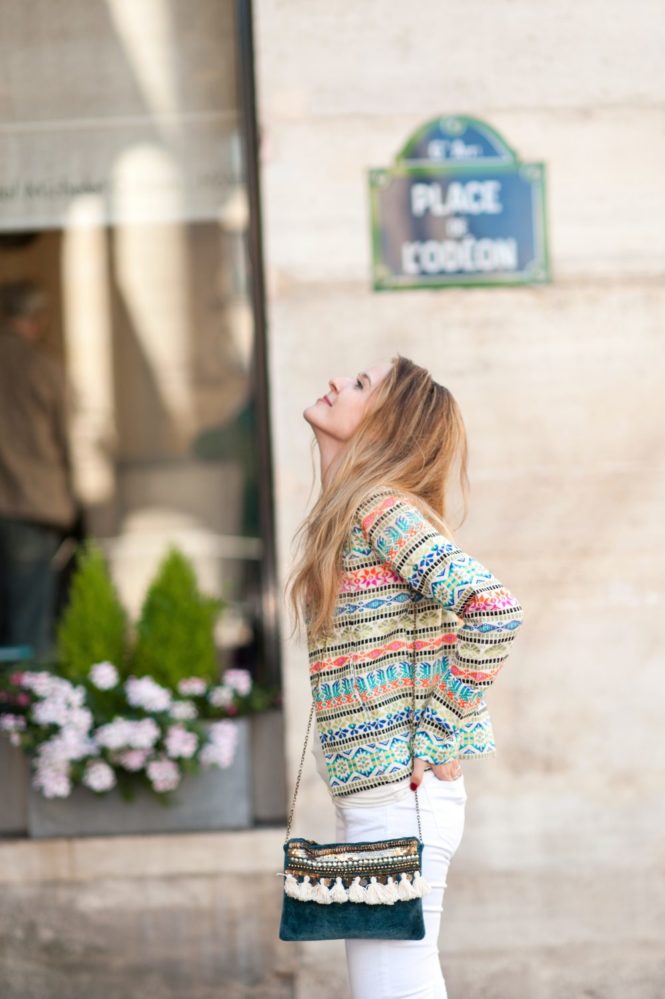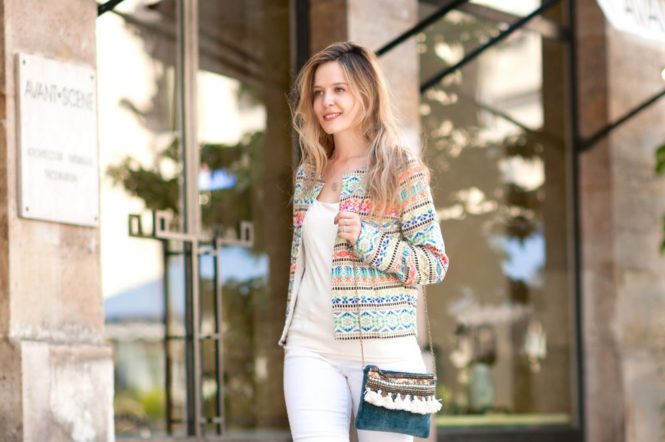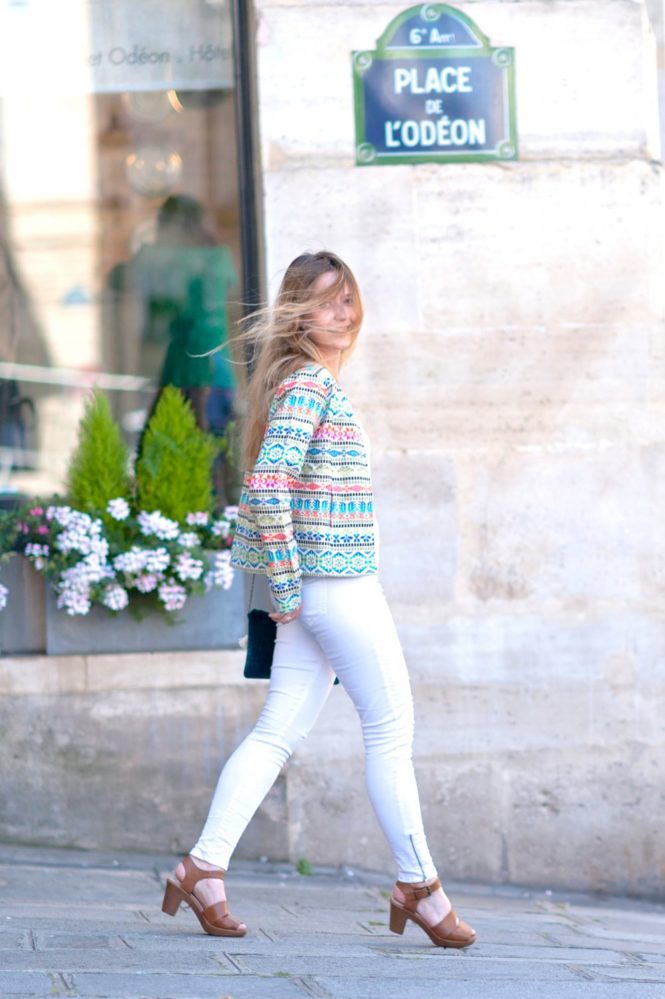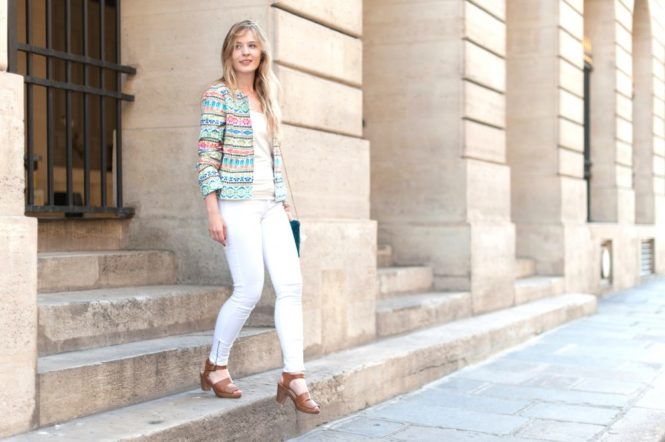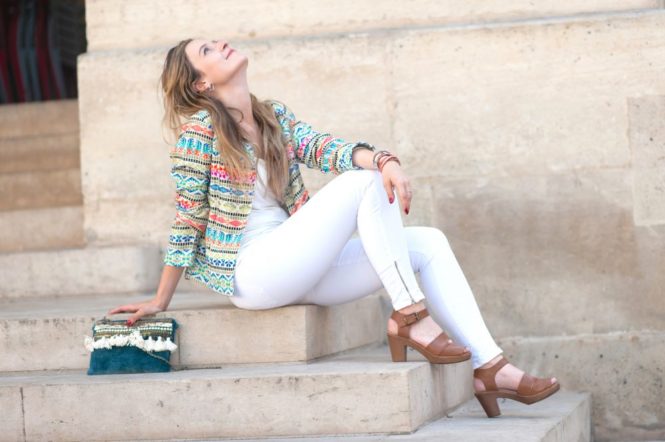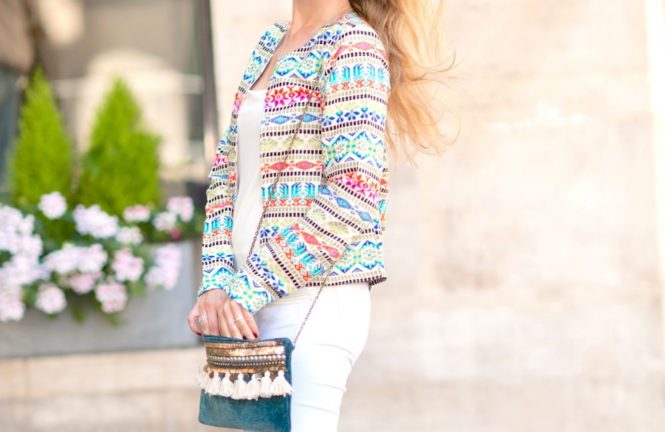 My jacket is  available on Little Marcel, here. And the bag here. 
***
As I know that tastes differ according to people, here is also a selection of similar jackets found on the net. Like that, if you have a favorite on the style but want another colori, you have a choice:
And here is a selection of Swedish clogs : 
And of boheme bags :
ENJOY ! 
(I remind you that you can always find ALL my shopping selections on Shop My Closet , I update it every week!)
---
In any case it was a real pleasure to shoot this look! The weather was perfect, and this place in Paris Odéon is so beautiful! I even could borrow the pretty floral bench of a store present on this place for some flowery pictures in the heart of Paris.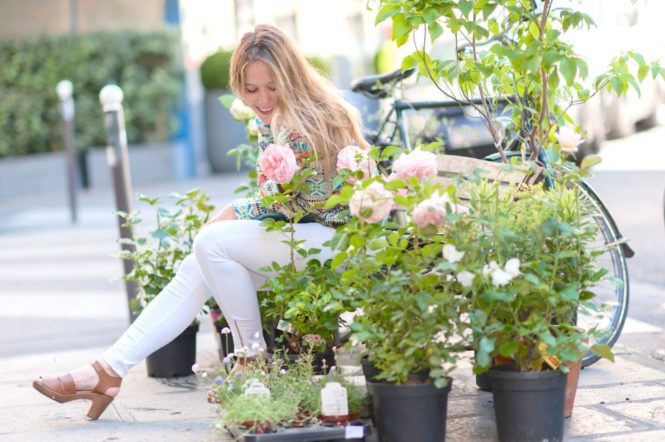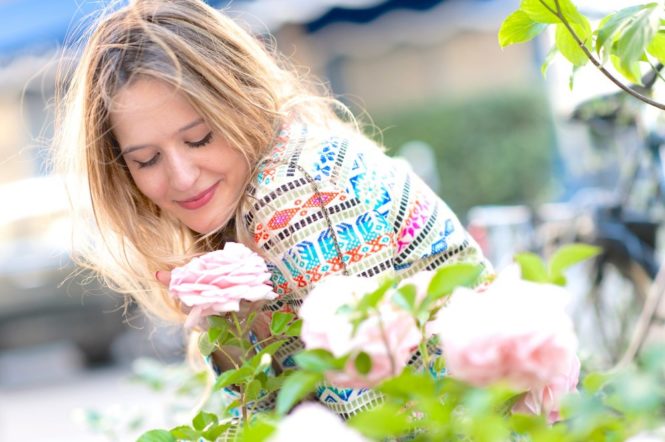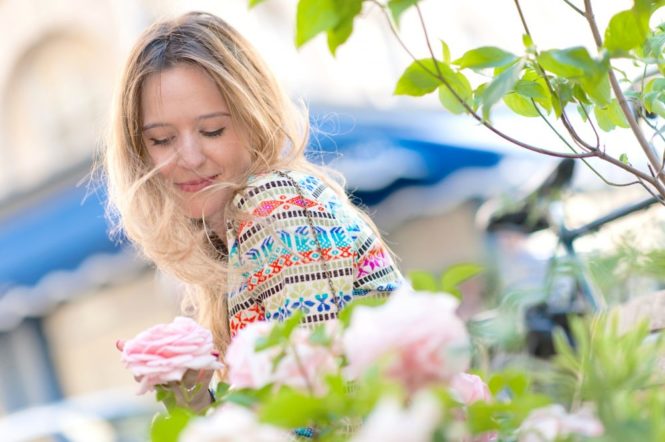 And we will finish this article with a zoom on some small details in particular. Here is my pretty bag more closely but also some jewelry I love: this beautiful necklace with the world map from By Biehl (strong symbolic of travel and freedom for me), and my new bracelet from Wrap Vintage which is a brand that I have often presented to you who makes beautiful stone wraps. So here is the new summer collection and this beautiful pink bracelet blends perfectly with my look.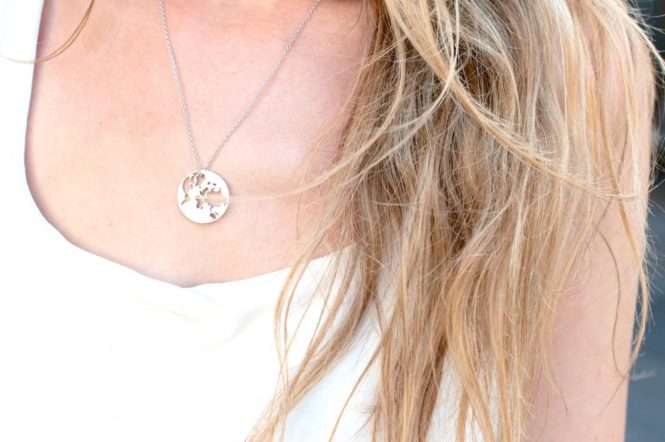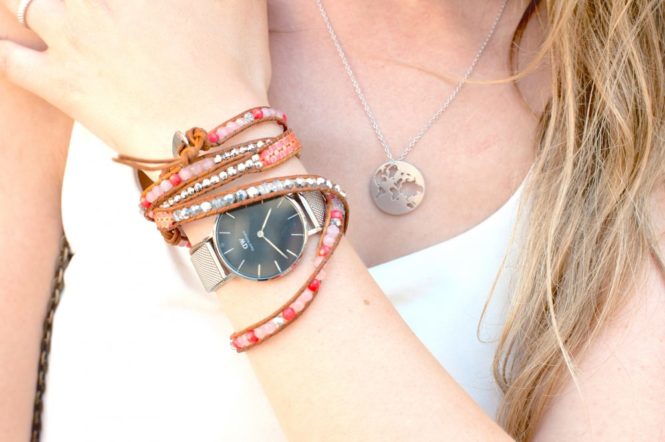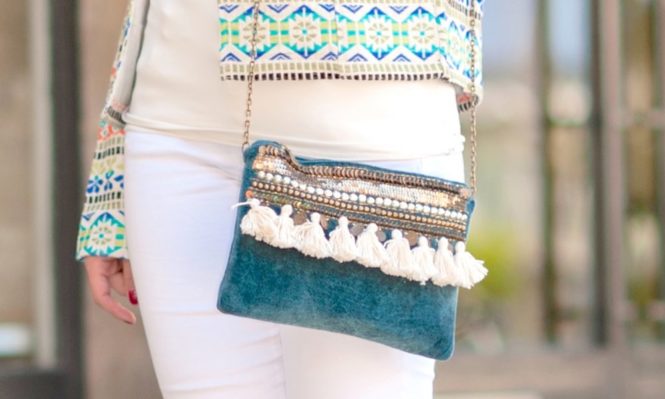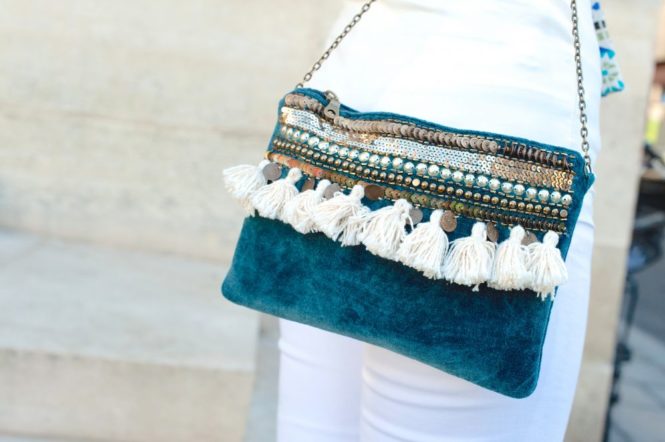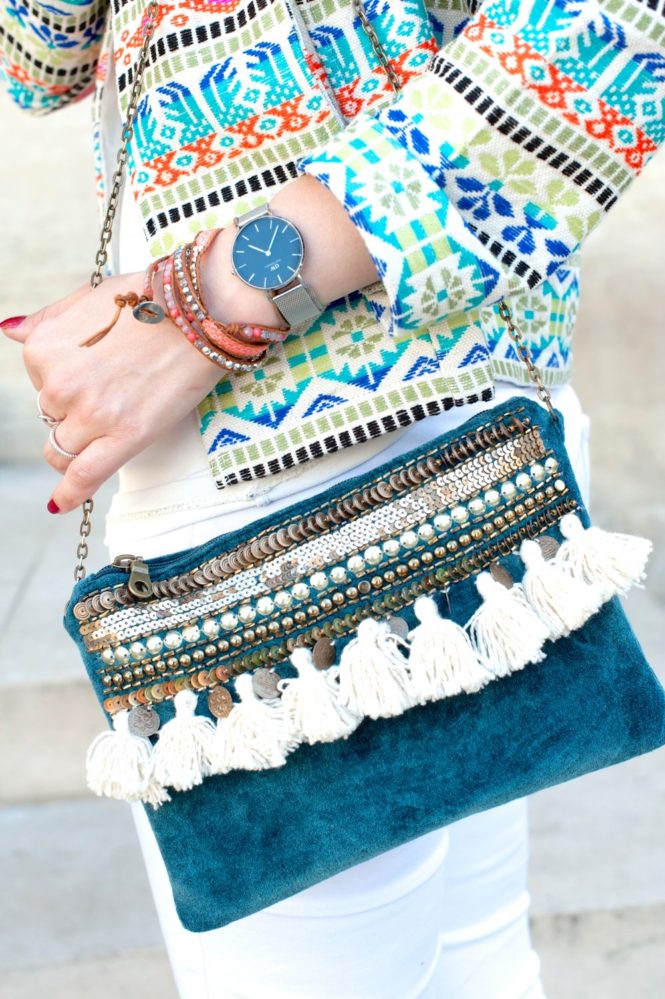 And here are my cats! I hope this colorful look will have pleased you! As well as the pieces presented and the selections. I wish you a nice rest of the week ! Let's meet again this weekend on the blog for an article about the pretty Midsummer celebration in Sweden <3. You've probably heard about it on my social networks if you follow me.
Here is a small recap of my social networks by the way, do not hesitate to add me on each of them because I'm active on ALL :)! Hihi.
To follow me on Facebook, click here. On snapchat, it's @plumedaure. On Pinterest, it's here. On Instagram, this way. And finally on Twitter, click here. 
* Have the most beautiful rest of the week ! Colourful kisses*
Credits : 
Photos by Bain de Lumière
This post contains affiliate links from RewardStyle