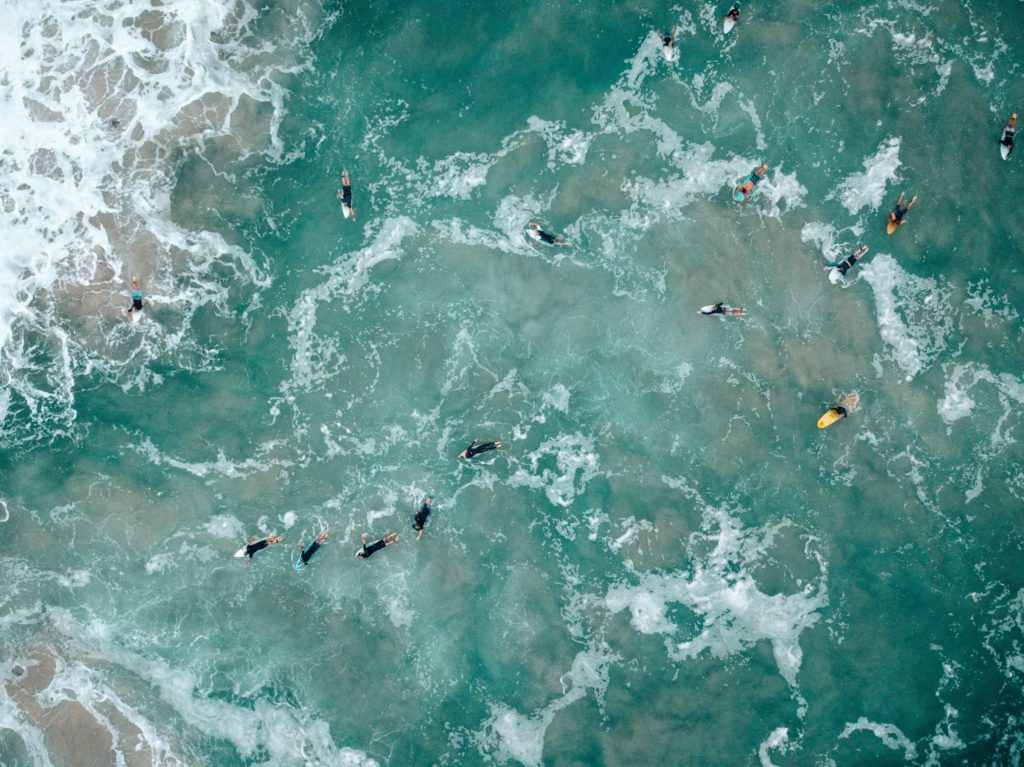 Arrival Australia : well arrived in Perth, 4 days ago! Our Australian adventure starts… WOW! It feels weird, to be down under. And we are so fucking jetlaged!
arrival australia : Step by step guide
1st impression : The city of Perth is large, sunny and booming : many projects still under construction, it's a city that continues to grow!
The trip went well, the company Qatar Airways is perfect, very present board staff in the aisles, tasty meal trays, screens with a wide selection of movies, music and games! No complaints!
In the second flight from Doha to Paris, we had the opportunity to lie down over 3 seats, as the plane was filled only up to 10% … Better than first class! Great for a flight that was over (French hours) midnight to noon, because we were able to sleep our normal night!
Upon arrival, little bad surprise. We almost got a fine because we had half a ham sandwich in our bag. It is forbidden to bring foreign products such as meat or fish in Australia … and Australians do not joke with the law. To quote the customs, after we said that we were sorry and that we just didn't know : "to be sorry is not enough, meat is high risk. .. you can't bring meat to Australia. Next time you will pay 340 dollars fine ".
First things we've realized and some advices : 
Do not mess with the laws.
For alcohol, forbidden to drink in public places. There are always little tricks to make a traditional pre-drinking in a park, but you should be careful !
Don't cross-over before the traffic lights are green : otherwise you can get a fine 😀 hehe.
Enough scaring you ! So much positive too in here …
The climate is great, it's around 30 degrees every day, the beach is beautiful, the water is clear and the sand is fine. People are very chill, open-minded, we meet lots of people in our hostel – we already have a nice group of friends!
The hostels in Australia : 
Around 25-35$AUS / night for a shared-dorm, depending on how many people are in it (from 4 to 12)
Best place to meet people and have fun!
Best place to learn how to become very chill and not get angry at : people waking you up turning on the lights at 2am, people making noise, having sex in the dorms…
Are everywhere, you have douzains in every city. Just go to hostelworld.com the day before and book it easy. Or even knock on their door in the street.
Definitely something you should try out when travelling down under !
What to you when you arrive in Australia : 
Get an Australian mobile number
Go to a bank to get a bank account (read more on how to create easily a bank account at Westpac, even before leaving your home country)
Go to the tax office to create a TFN (tax file number) – Mandatory number to be able to work in Australia. This is a number you give to any employer that will allow you to pay taxes in Australia (up to 30% of salary).
Get a share-house if you stay long in a city to pay less for accommodation. Best site for that : Gumtree. We are currently in a hostel where we pay 203$AUS a week, which is really expensive. So we would prefer to live in a shared-house.
Start looking for a job (you can use Gumtree too). On Gumtree you find everything : job ads, appartements ads, things to buy, travel partners, cars/vans. It's perfect!
Ok ! We will apply all this now… See you soon !
Photo credits : Josh Withers
SaveSave