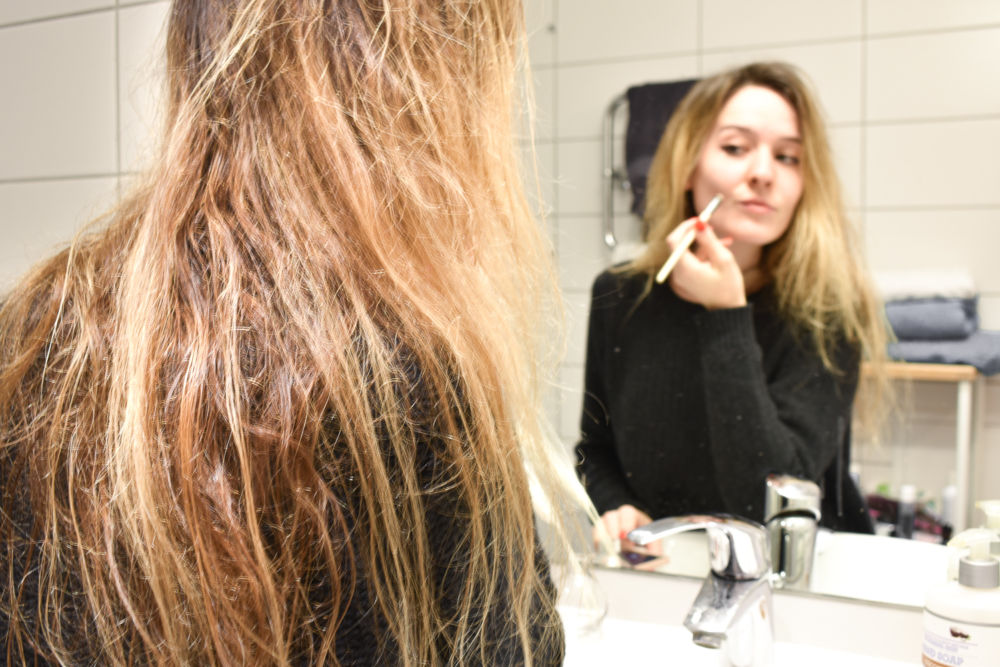 Hello babes! I have been wanting to write this article for a while! To discuss with you about the tornado of changes that has occured in my beauty routine in the recent months … after stopping the pill. Grr. Haha, it sounds a little apocalyptic said like that. But it is true though! Since I stopped taking my birth control pill in February 2018 (and I invite you to go read this article if the topic interests you), my skin has changed a lot. It was therefore necessary to "tame" my new skin type with a brand new beauty routine composed of adapted products. I learned a lot, and tried LOTS of products. In this article I will present the different products that I have now adopted and which I am not ready to change from. My beauty routine against hormonal acne.
My beauty routine against hormonal acne (after stopping the pill)
The first thing to do when you have a imperfections-prone skin? Identify your skin type and use adapted products! It's SO important. First of all, a skin which has blemishes is not necessarily oily – which is my case. I have rather dry/mixed skin but with imperfections that come from the hormonal imbalance caused by stopping my birth control pill. For a long time I tried to "dry" my skin with masks, scrubs etc. but it only made it worse!
So you have to know your skin type, and treat it gently.
So, here are some rules:
Do not overdry/overwash your skin! The first bad reflex that we often adopt when we have imperfections is to clean our skin too much. Well this behavior is wrong. The more you scrub, dry, wash your skin, the more it feels threatened and the more it will produce sebum to protect itself. So it's a vicious circle. Even oily skin must be treated gently.
Moisturize well! It is believed that a imperfections-prone skin already has enough oil, and that there is no need to moisturise it! Well, wrong again. Acne-prone skin – whether oily or dry – also has a GREAT need for moisture. Because, the less you hydrate it, the more it produces sebum to hydrate itself. So to regulate seborrhea,moisturize your skin with appropriate and non-comedogenic skin care.
My acne-prone skin beauty routine and the products I use
Small intro : For MONTHS I had only one thing in mind: switching to 100% organic for all my beauty products. In fact, as soon as I stopped the pill, I convinced myself that I would have acne. Because that's what happened during my previous stop attempt, 5 years ago. So – and I'm not kidding – I threw ALL my products and I went to 100% organic, convinced that it was better for my skin. And better for the planet as well. So … quite aligned with my personal evolution, becoming more and more eco-responsible over the years.
But I confess that with the rapid evolution of my skin to a more advanced acne in the recent months, I've had a doubt. These organic products do not seem to work for me at all. And if, ultimately, I needed patented molecules from pharmaceutical companies to help my skin? So I will not lie to you, after 6 months of full organic, I went back to good old classics like Avène, La Roche Posay, etc. Because ultimately, I prefer to return to what I used BEFORE I stopped the pill just to be sure I'm comparing what is comparable. Changing routines too often, I don't know anymore what effect comes from what …
Below I will talk about the two options for each gesture of my routine. Organic, and non organic. It's up to you to choose what you prefer!
In the morning
I start by clearing my skin of excess sebum and impurities from the night by cleansing it with a soft cleanser. I advise you to avoid soap, too aggressive for the skin. Right now, I'm using Avene Cleanance Gel. Before, I used the Lavera brand and its organic cleansing gel.
Then I apply an antibacterial cream (a drop on a cotton swab) on my pimples only, to calm inflammation. Before: I used tea tree oil, which is a marvel for the skin and for many things (I let you click on the link and read this article dedicated to this oil that I wrote several months ago). Now: I use some gel containing benzoyl peroxide (over-the-counter) concentrated at 5%, a little stronger and a little more "serious" (more for "real" acne!) than essential oil. I use it in the morning, ONLY if I got new pimples during the night and only on those!
Then, I moisturize my skin with a suitable day skin care. Before, Lavera's anti-blemish treatment, which contains zinc and salicylic acid to reduce blemishes. Now: Cleanance Expert from Avène, against imperfections.
But before the day cream, I always apply two other products after cleaning my face, and this morning and evening.
1) I spray La Roche Posay thermal water all over my face and let my skin absorb everything. This thermal water is fabulous to soothe the skin, and make it hydrated. In addition, it contains plenty of minerals that are good for the skin.
2) I apply organic aloe vera gel all over my face. This first layer of hydration before the day (or night) cream is very good for my skin.
---
Then it's makeup time, today, still 100% natural and organic.
To hide imperfections, I use the Hynt concealer. A sublime discovery and a mega covering effect that masks pimples, redness and everything that is colored really. I highly recommend it. I apply it with an air brush, and spread it a little with my finger. You need a very small amount of product, it's great!
On top, to unify and matify the complexion, I use a mineral powder from Lily Lolo. Mineral powder is a novelty for me, but has become a must because it is the only solution for a non-comedogenic guarantee. Indeed any other compact consistency, fluid, liquid, creamy, contains organic substances in the composition. And that says "organic" says conducive to the proliferation of bacteria including the one that causes acne. To use mineral is to be sure not to make your skin worse. This powder is just great, clean composition, organic, non-comedogenic. It is fine, natural and unifies the complexion. It has very very few ingredients, all minerals. Several layers can be applied to adjust the coverage level desired. I use it with a Kabuki brush from the same brand, specially designed to crush the pigments in the powder and melt them naturally with our skin to give a smooth rendering. Here again, I can only advise you this powder. In addition, it treats imperfections! It contains zinc which is excellent for pimples.
Then I make up my eyes. A little eyeliner, a little mascara, and here it is. For the lips, a little balm/lipstick and that's all. As for eyes makeup, I use the brand Avril, organic, clean and affordable, I love this brand. For lip balms, I really like the EOS brand.
And voilà, then, I'm ready to start my day! If I shine a little early in the afternoon, I reapply a little mineral powder to matify my complexion.
  In the evening
In the evening, it is important to clean your skin well after the day, so that it regenerates properly during the night. So, before going to bed, I clean my face with the same gel as in the morning.
Then, I do a very soft daily exfoliation. I understood this a little late, but the secret of a skin without pimples is a skin that is free from its dead skin and impurities. For the exfoliation I alternate: every other day I use the brand Clearasil. The other day, I use rhassoul clay from the brand Loelle, natural and organic. Rhassoul is top for acne prone skin, and has absorbing and very remineralizing properties. In both cases, I do not exfoliate too much. I apply a little bit of product, make circular movements for 1 minute max and I rinse.
Then, I apply 2 drops of pure salicylic acid. I recommend 100% the one from The Ordinary, a real wonder in my case. In fact, since I started gently exfoliating my skin every day and using this salicylic acid, I have no more pimples. That's what was the solution in my case!
Then, after my duo thermal water + aloe vera gel, I use my night moisturizer.
Right now, a simple cream: Hydréane from La Roche Posay, which I used for years before I stopped the pill. Before going back to this cream, I used jojoba oil. Which is recognized as a good solution against acne because its composition is closer to human sebum, which is supposed to help balance the skin. For me, it didn't really work ! But maybe you can try ? All skins are different and it does wonders for many people.
Finally, I apply a healing cream for acne marks. Before, I used lavender essential oil. Now, I'm using Avene Cicalfate. And then just like the morning, I apply a touch of antibacterial on the pimples(benzoyl peroxide – but beware, use only IF pimples and only ON them).
---
Here you go my dears ! That's a lot of info but I know I'm not the only woman in the world who suffers from hormonal acne so I'm happy to share this with you, hoping it can help you.
Here we only talked about the EXTERNAL aspect (makeup, skincare, etc). But there is also in my opinion a big INTERNAL aspect to take into account in this fight (that is to say : is hormonal balance). I talk about this in my post about acupuncture against hormonal acne, if you're interested.
I hope these tips will have been useful! Don't hesitate to give your opinion / ask me your questions in the comments. I would be happy to share with you on this subject!
* Others among you who have/had about hormonal acne? *