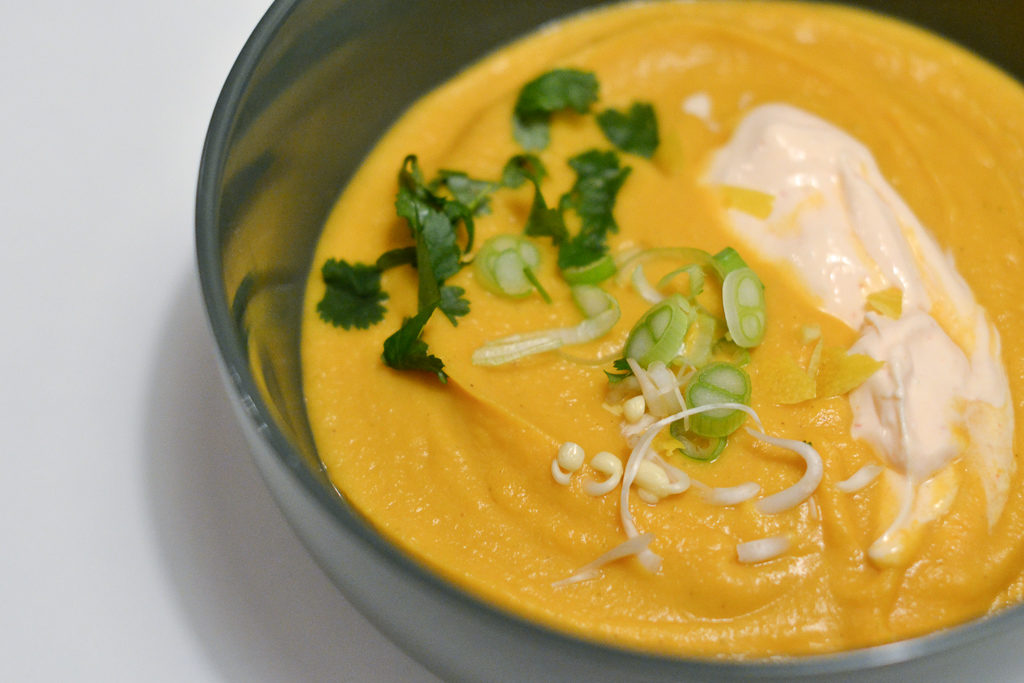 Hello my little foodies ! Today, I want to share with you a delicious recipe that has been tested and approved for 2 years at home: a butternut soup with delicious Asian flavors. In this year 2020, I really want to make a lot of homemade cooking at home, fresh products, and reduce everything ready-made. It's such a pleasure to cook things yourself, and to know what you have on your plate. It's healthier, it has better taste … and also, I find that cooking is a real meditation. I found inspiration for this recipe on Pinterest, on the blog of Fuss Free Flavours.  And my darling and I, we LOVED IT ! But I'll give you a little secret about me about cooking : I'm UNABLE to follow a recipe. I always like to add my little thing, to adapt it to my tastes … so, the recipe that I propose to you today is a different version than the one I found online and given how delicious it was I had to share it with you! So, do you wanna taste this yummy butternut soup ? 
Butternut soup with delicious Asian flavours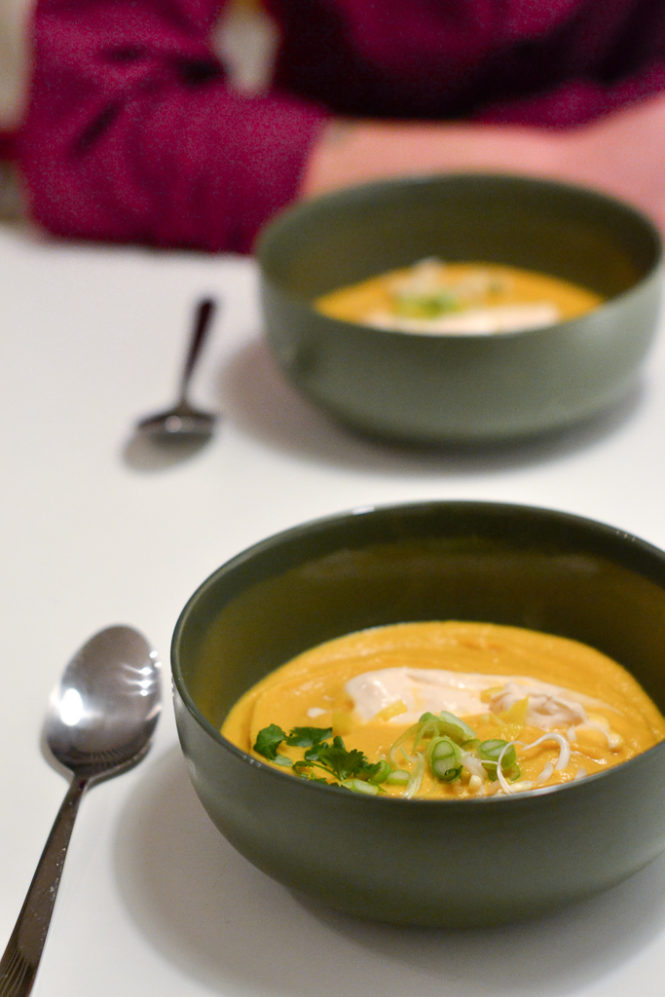 To make this butternut soup recipe (for 4 people) you will need:
1 medium sized butternut squash
1 medium onion
2 cloves of garlic
4 tablespoons of crème fraîche
2 spring onions
a big table spoon of tahini (sesame paste)
1 lemon (juice and zest)
1,5 vegetable broth cube (750ml broth)
a little sriracha (Asian chilli sauce)
some coriander leaves
some soy sprouts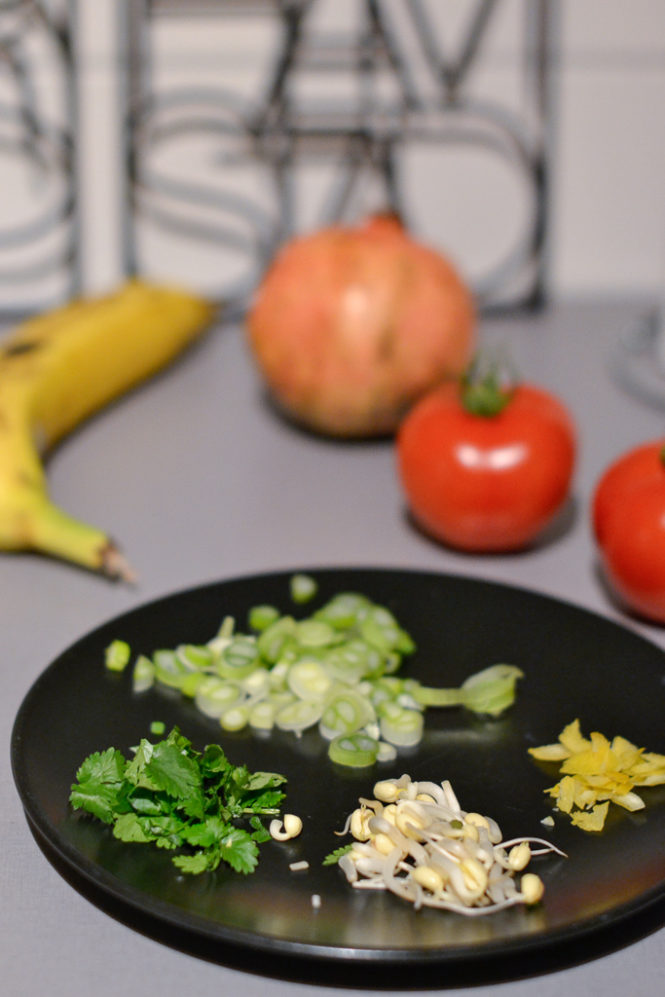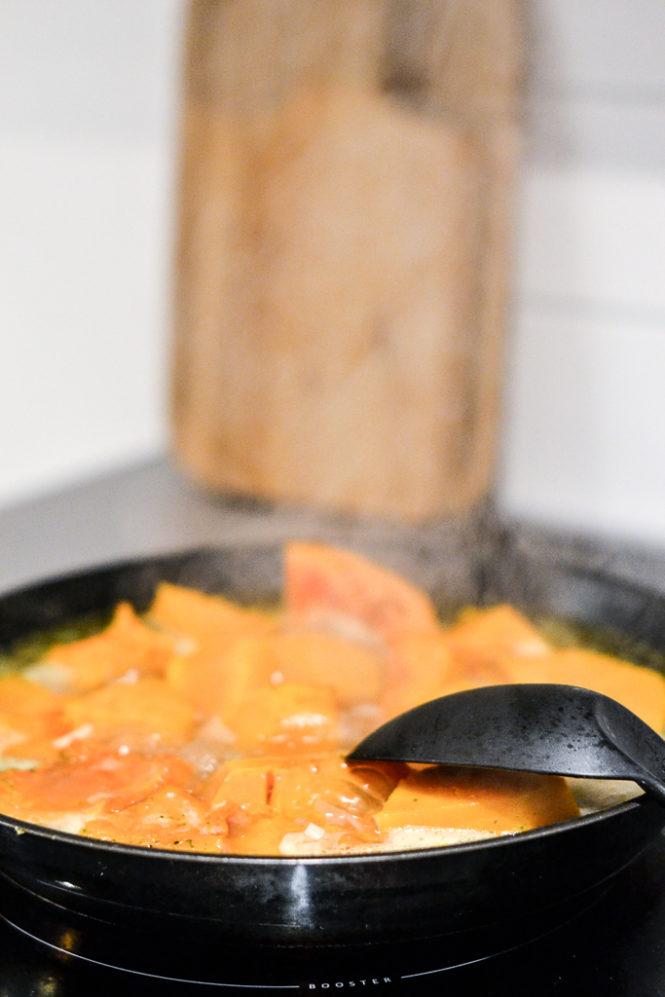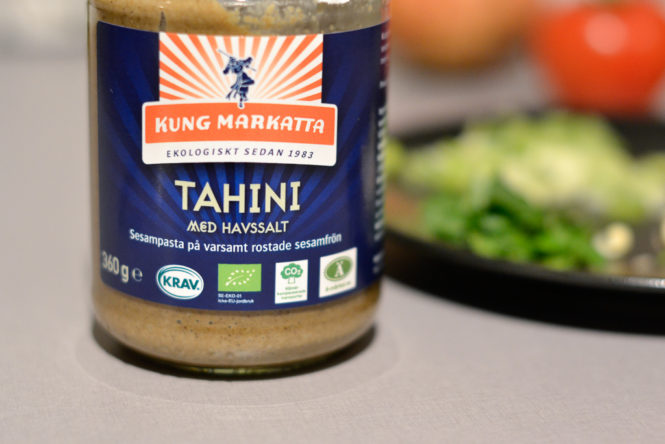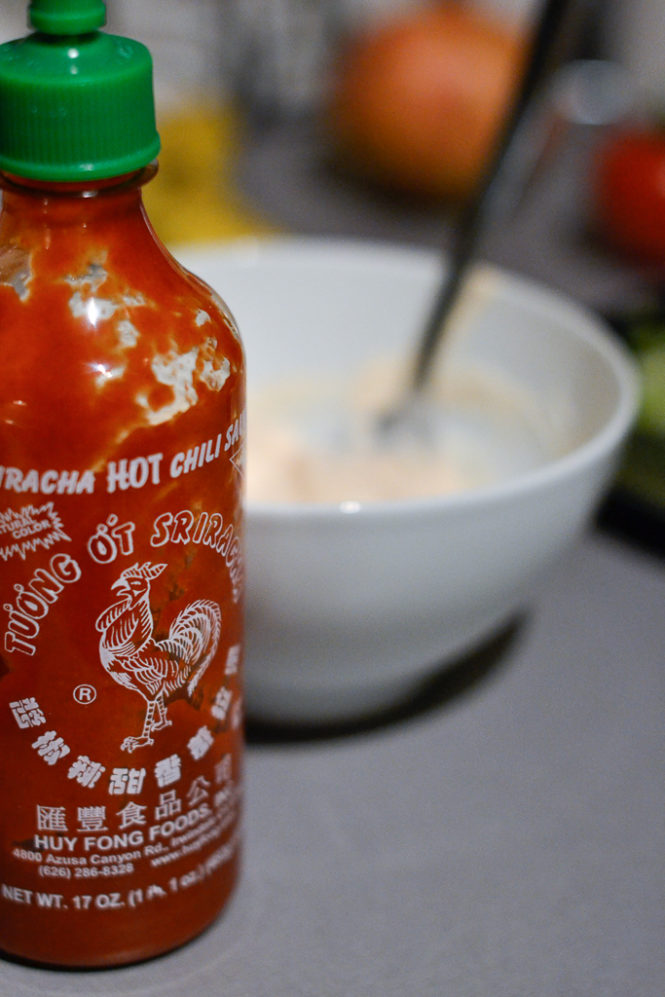 How to make the butternut soup :
Cut the butternut into two halves without peeling it (be careful here babes, it's really very hard as a vegetable so do not cut yourself!). No, but sincerely, I was surprised by the hardness of the thing, haha!
Bake in the oven on baking paper for 30 minutes (preheated to 180 degrees)
Meanwhile, cut your onion and garlic cloves into small pieces that you will fry in a pan with a drizzle of olive oil until it turns a bit brownish
Once the butternut is cooked, let it cool a little to avoid burning yourself and remove the skin. Then cut the flesh into small pieces and add to the pan off the heat
Add the 750 ml broth and put back on medium heat for 10 minutes while adding the juice of a lemon and the table spoon of tahini
Meanwhile mix your crème fraîche with the sriracha in a bowl (add sriracha according to your desire, knowing that it will spice your soup a little)
Also meanwhile, prepare your vegetables: remove some lemon zest, cut your spring onions into thin slices, cut a few soy sprouts into small pieces, and finely mince the coriander
Once the 10 minutes are finished, blend the content of your pan in a blender
Serve immediately when it is hot and add a table spoon of Sriracha cream per bowl, as well as some vegetables (lemon zest, coriander, soy sprouts, and spring onions)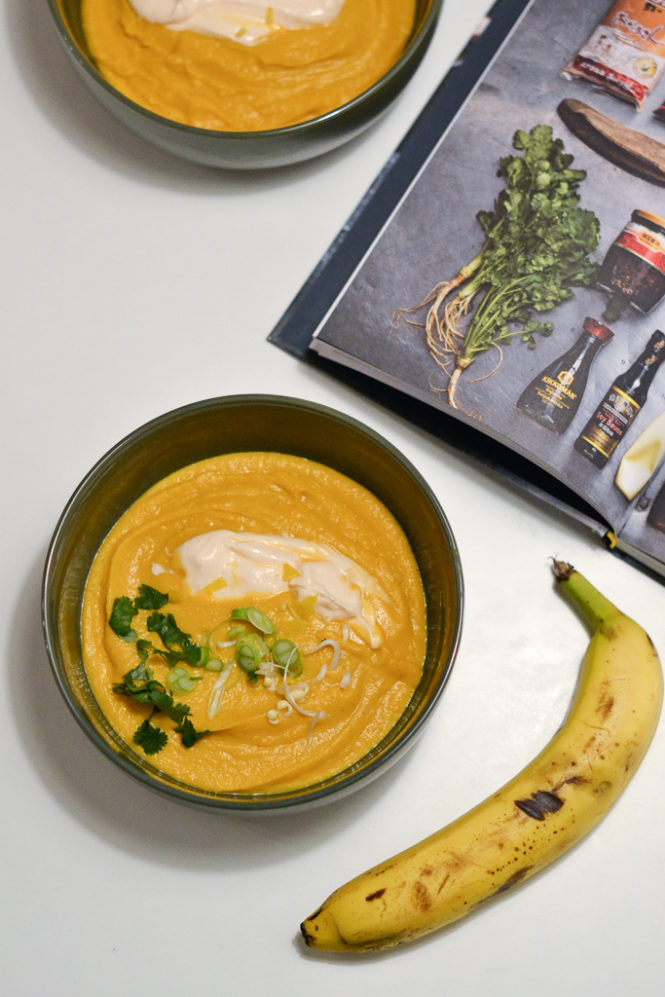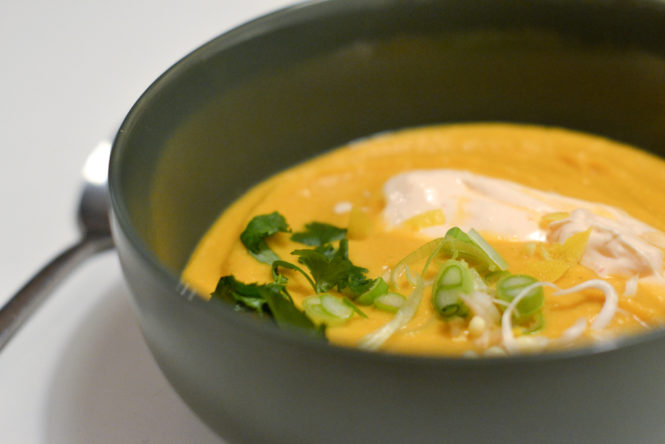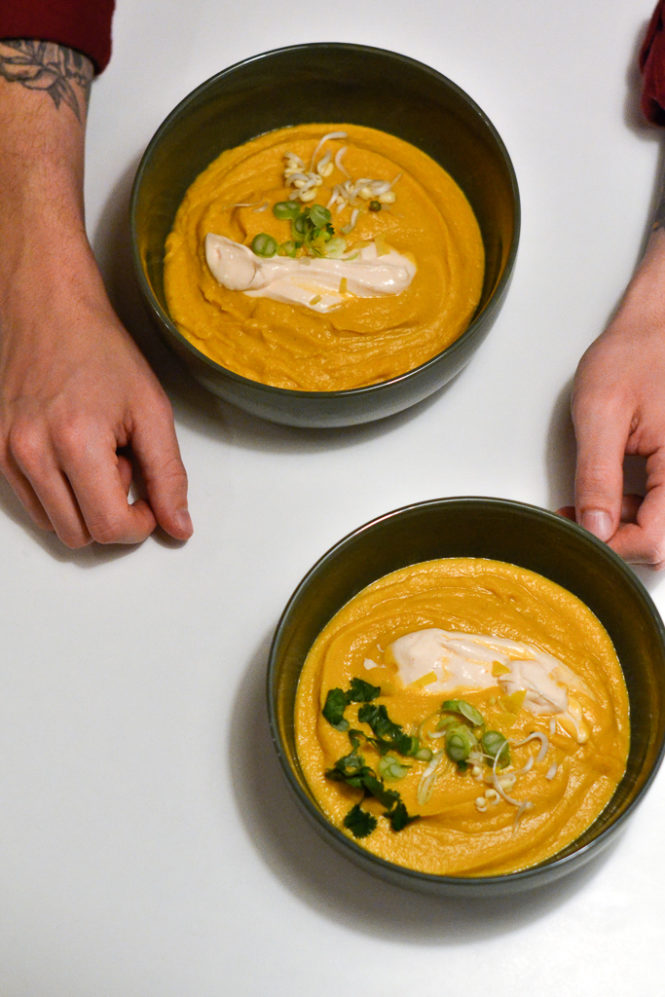 I really hope you will have the opportunity to test this delicious butternut soup recipe for the winter! It warms you up, it's filling while remaining healthy and light, it is original thanks to its Asian flavours … yum! In addition, its ingredients have great properties for the body, butternut being an antioxidant full of carotenoids, lemon full of vitamins, and sesame being remineralizing.
A small variant, add grilled halloumi cheese before serving, it's excellent. If you do not know this ingredient I advise you to test. The consistency is really special, and, personally, I love it!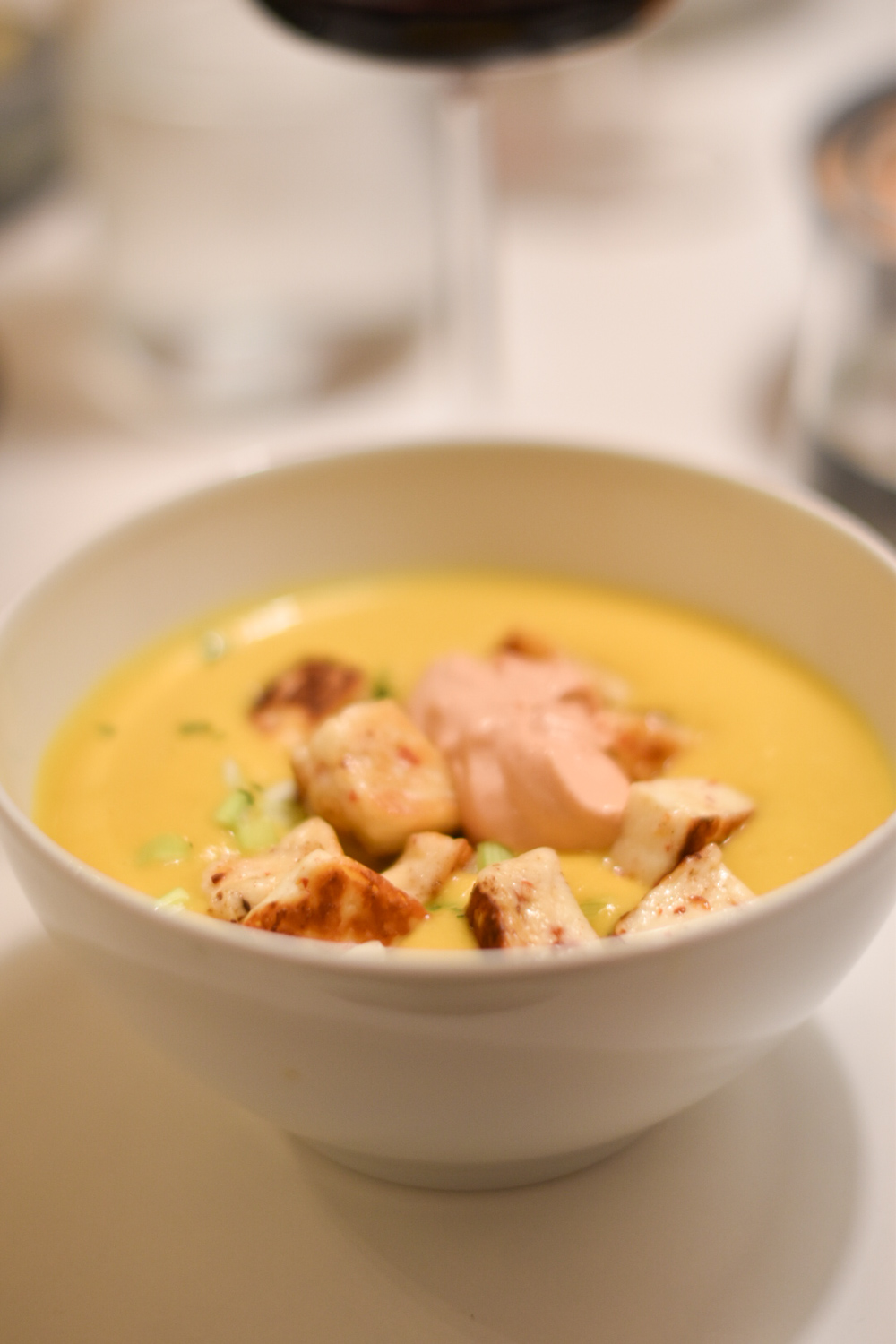 You'll tell me if you liked this butternut soup! Hope you'll enjoy it!
---
Did you like this butternut soup recipe? Feel free to leave me a comment to make this blog more interactive and pin this content on Pinterest!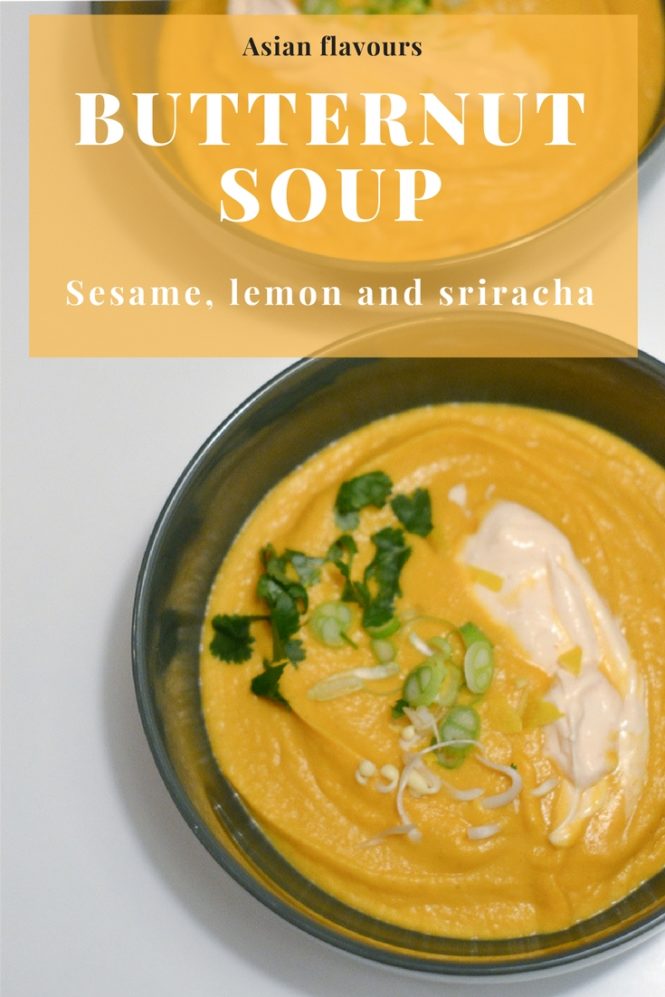 SaveSave
SaveSave