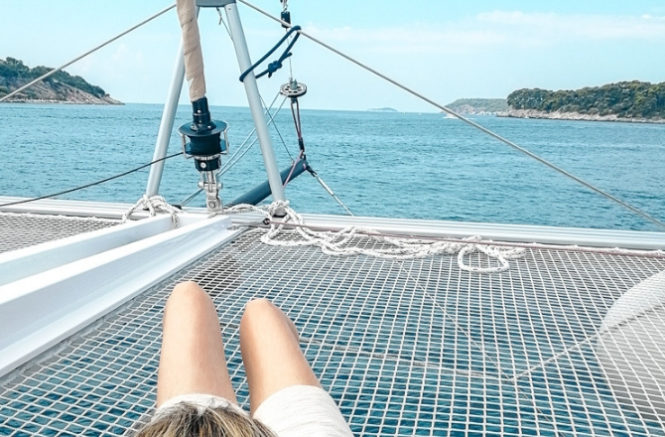 Hello, my little feathers! Today I want to share with you one of the best parts of my summer: our adventurous experience of living on a catamaran in Croatia for 4 days with Huck Finn Croatia. We chose this agency for their values and for what they propose in their trips: a lot of adventure, beautiful scenery, experiencing the life on a boat, great local food; but mostly because they promised us not to go to the tourist places of Croatia, but rather make us discover local and authentic places. And they kept their promises! Let's talk about it in this article, because sincerely, if you want to visit Croatia and bring back unforgettable memories I can only advise you to go on the same trip or similar.
Living on a catamaran in Croatia for 4 days
We boarded our catamaran in Dubrovnik, by the base of Huck Finn Croatia in Komolac. Dubrovnik, I'll talk about it later in a dedicated article, it's beautiful but MY GOD it is touristy (at least in high season). We spent only one day there and could not wait to get on our catamaran to see more typical things.
Only arrived in Komolac, already, we could breathe. Just outside Dubrovnik,  you can already feel a much more family and local atmosphere.
Well, first of all, I let you watch this video that will give you a good idea of our trip on a catamaran in Croatia. Images are always more powerful than words!
Day 1: We boarded our beautiful catamaran in Croatia. What a pleasure to discover this beautiful boat, and our super comfortable cabin (with private bathroom and storage space, please!). But also all the sports equipment available and our group for these 4 days! We already knew that those 4 days were going to be amazing! After some safety instructions, we headed for Kolocep Island, the smallest uninhabited island of the Elaphiti Islands. After a nice swim and some snorkeling, we had a great lunch (fresh fish and delicious veggies) and went for a hike to see some spectacular cliffs. It was great! Then in the afternoon, after another splash and some paddling, kayaking, we headed to Sipan Island where we once again enjoyed a delicious dinner. Then, a nice night of sleep. So exhausting with all this adventure – but in a great and healthy way!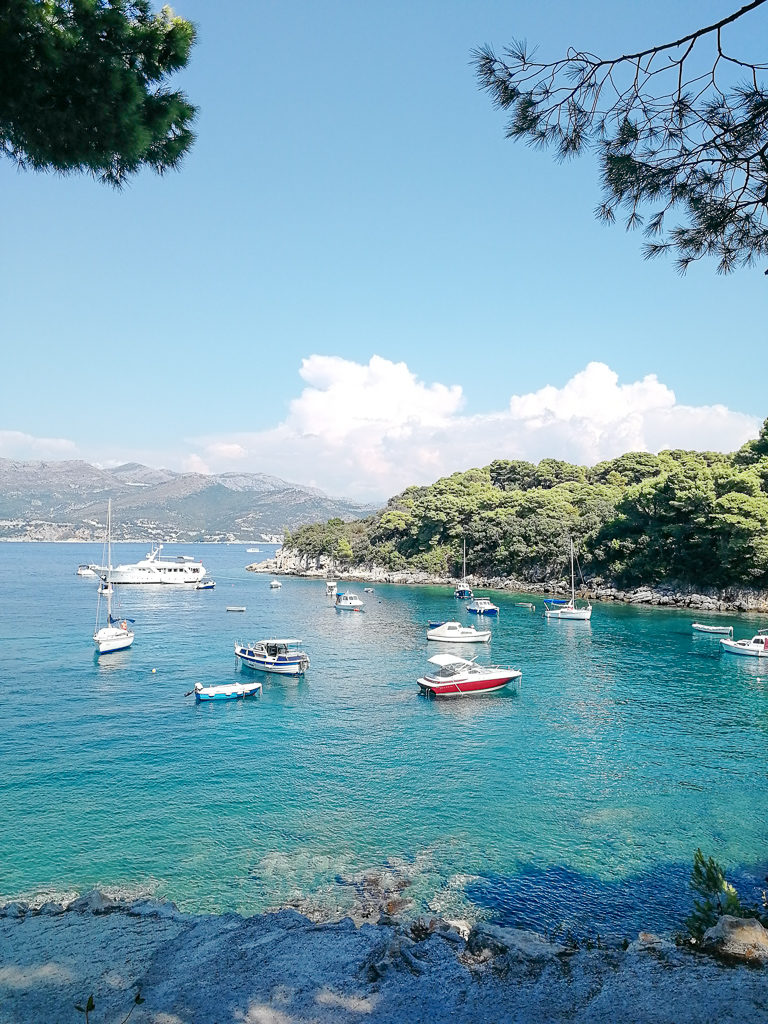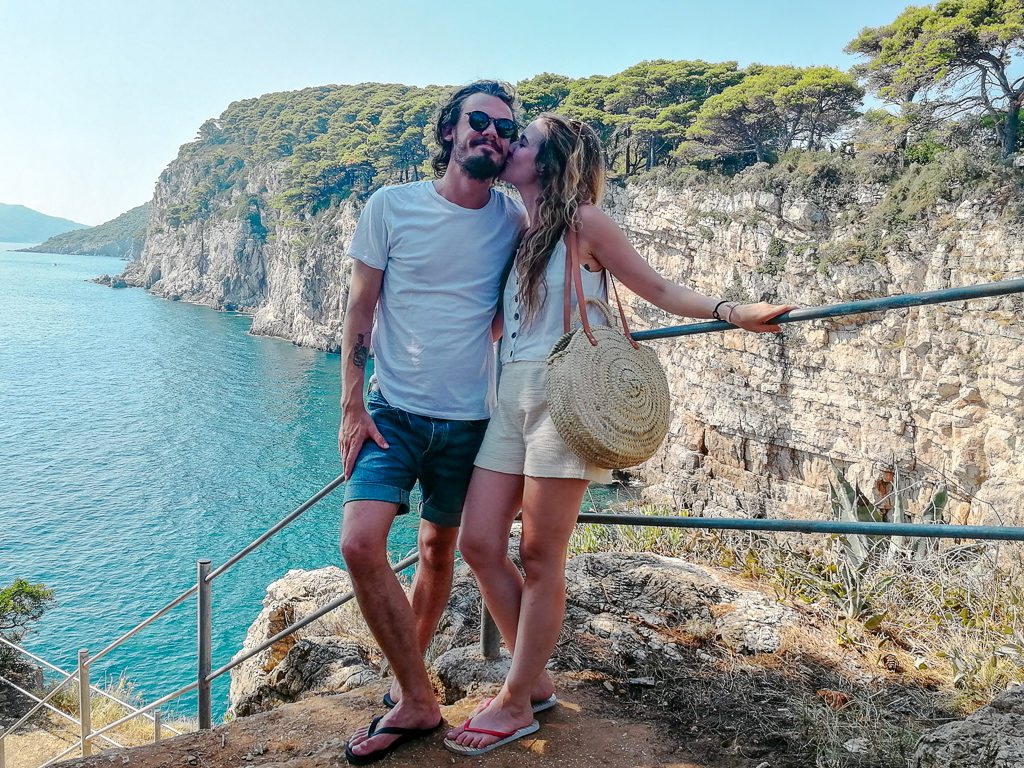 Day 2: We started the day with a nice breakfast on the catamaran: fresh fruit, muesli, bread, cheese, and charcuterie, yum yum. The best way to get ready for our adventure day! Then, after a swim, we headed for the Peljesac peninsula, and the small town of Ston, known for its local wineries and narrow streets. It was so authentic! We visited all this by bike, and it was great! Once again we had a great meal, and we bought some good wine from local producers… #happiness. We liked this place so much that we stayed there for the whole day, and had dinner there at night too: a seafood risotto, such a delish! We were really starting to get used to our life in a catamaran in Croatia!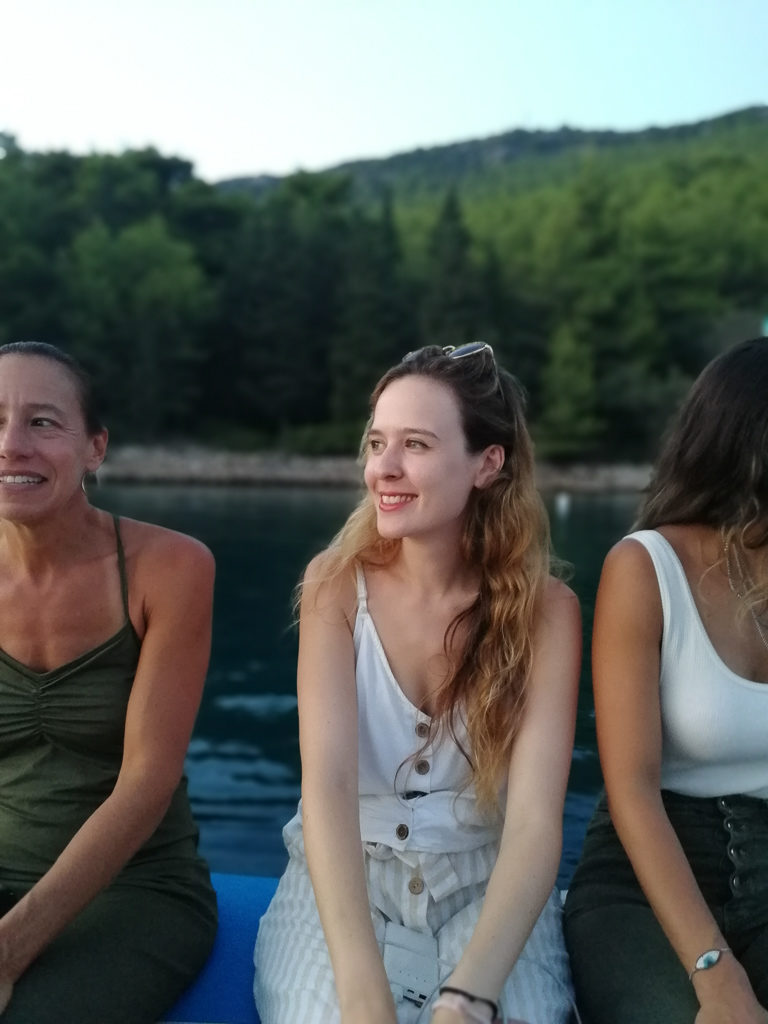 Day 3: After a healthy breakfast and a swim, we were on our way to Miljet Island and its national park. A beautiful place with two saltwater lakes and a lush forest. We visited all this by electric bike: but WOW so cool! I had never tried electric bikes before and it's great. You feel very powerful when going up the hills, haha (but do not fool yourself it's the engine pushing you!). I want to buy one! In the evening, we went for dinner in a village that could not be more typical – so much so that I forgot the name of it – where we drank at a local, friend of our captain, and ate a delicious Cevapi (typical Croatian meat dish). We feasted, we even had a party, and we enjoyed our time for our – unfortunately – last night!
Day 4: A little KO because of our festive evening, we returned gently to Dubrovnik, with some fresh swims along the way. We also went to an underwater cave where we had been on day 2 or 3. A sublime place where you have to swim a few meters underwater to reach a beautiful water cave where you can breathe and stay for a while. On day 2 or 3 we even had some beers there! Dreamy, right? Those little moments of happiness you'll never forget.
---
It was truly a wonderful trip we will remember forever. We are really happy to have chosen Huck Finn Croatia which has just amazed us and exceeded our expectations! We loved it so much that we asked them for you, and know that the code ADVENTURE gets you a discount when you book online!
* Have you ever been to Croatia? *