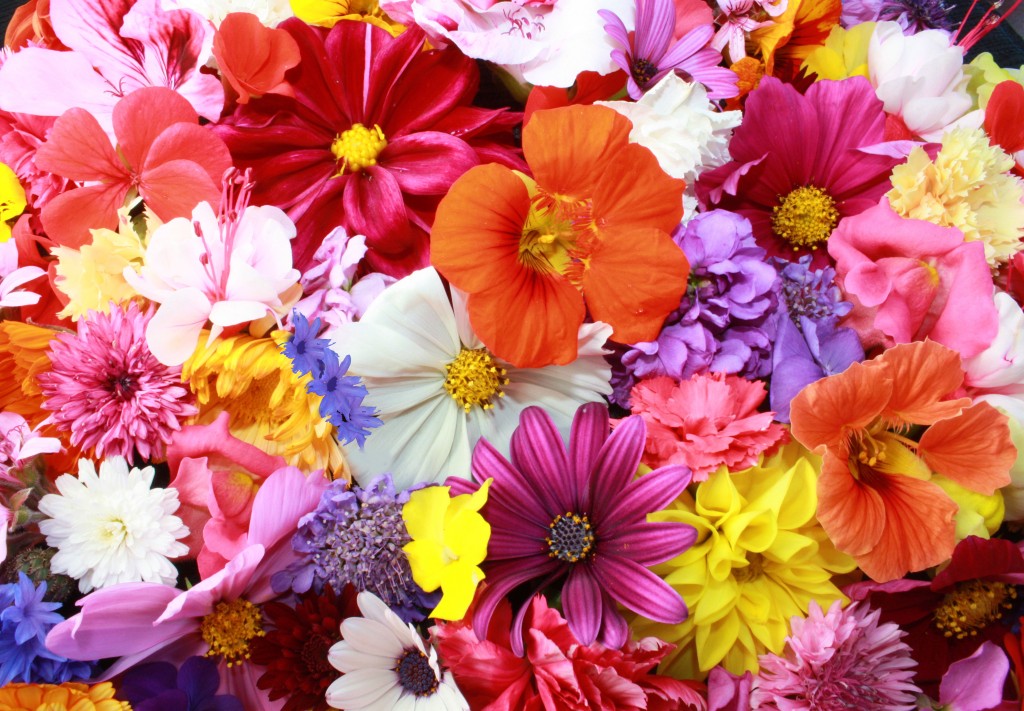 Hi girls ! Guys, I'm not sure this article is made for you… Sorry in advance ! Today I wanna share with you a very nice Do It Yourself (or DIY) article and teach you how to create your own home made flower crown.  It's rather easy, creative, it smells so good and the result is just gorgeous. And it's perfect to celebrate the spring coming!
This is the one I've created : do you like it?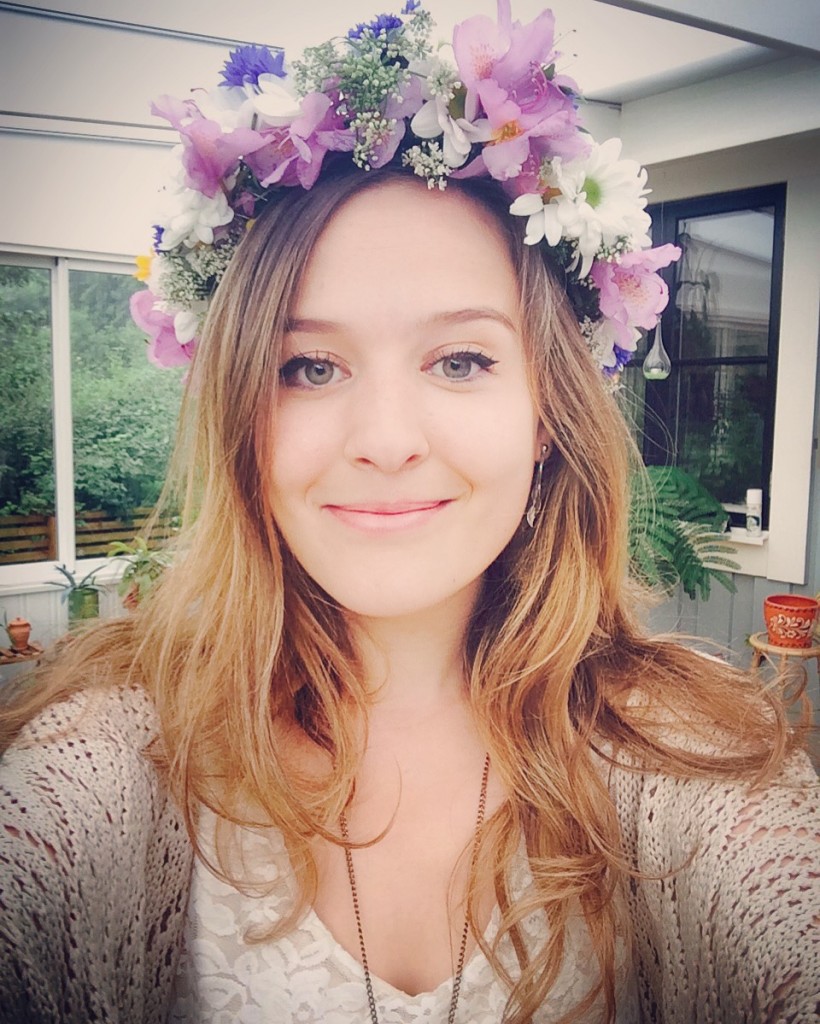 HOME MADE FLOWER CROWN : THE GUIDE STEP BY STEP
So, let's go … let's create the most beautiful and natural flower crown ever! Only negative point : it's very ephemeral 🙁 . Of course as it's real flowers, you'll wear it one day and then, it will be over. But that's also what makes it so special, isn't it ? And if you have a creative sense and you love making beautiful things, it's so worth it! And you will have beautiful photos ! 😉
WHAT YOU NEED TO BUY / GET BEFORE YOU START YOUR FLOWER CROWN
– Wire
– Green tape (optional)
– Metal scissors
– Flowers, a lot of flowers : here I advise you to buy/ (or pick-up, if you're lucky enough to live close by the nature as I did when I created mine) two kind of flowers :
Flowers with a long stalk (to create the basis of the crown) : these ones don't have to be crazy beautiful, because that's the stalk that is important. I'd say you need around 10-15 flowers with long stalks.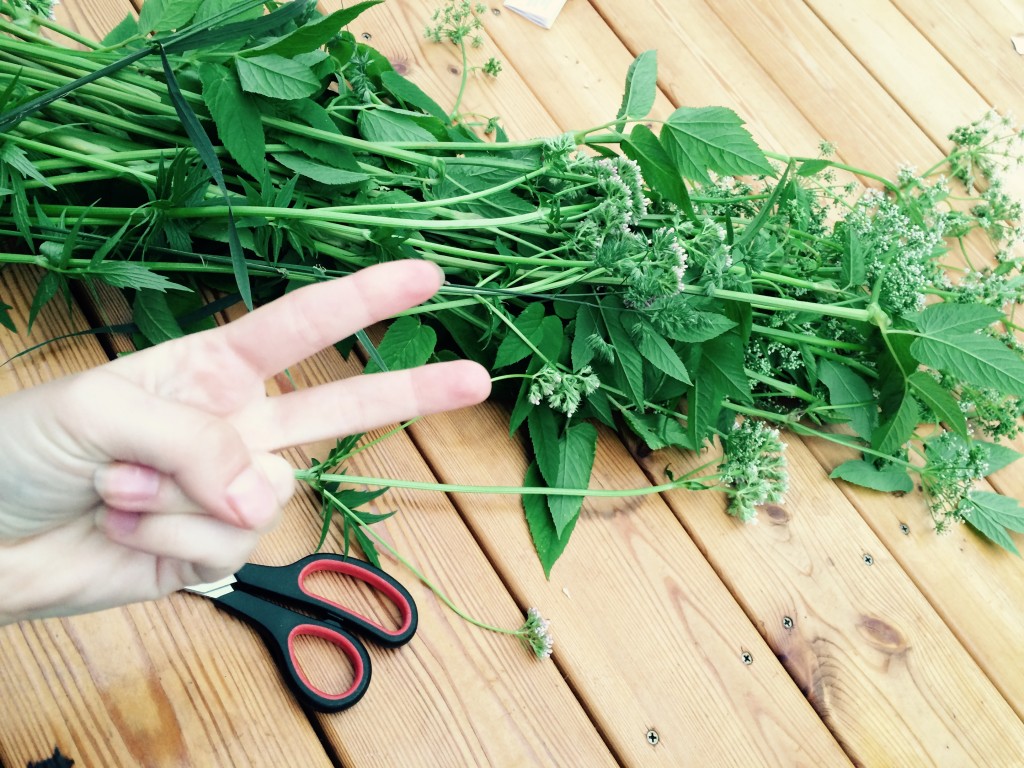 Bigger flowers that look very beautiful and fresh :
 these ones will be the ones that you will see the most on the crown. Here the number depends on how big and furnished you want your crown to look. In mine, I used approximately 
25-30 flowers.
 You can choose the colors and the kind of flowers you want. I used 
daisies
, 
pink
 and 
blue
 flowers.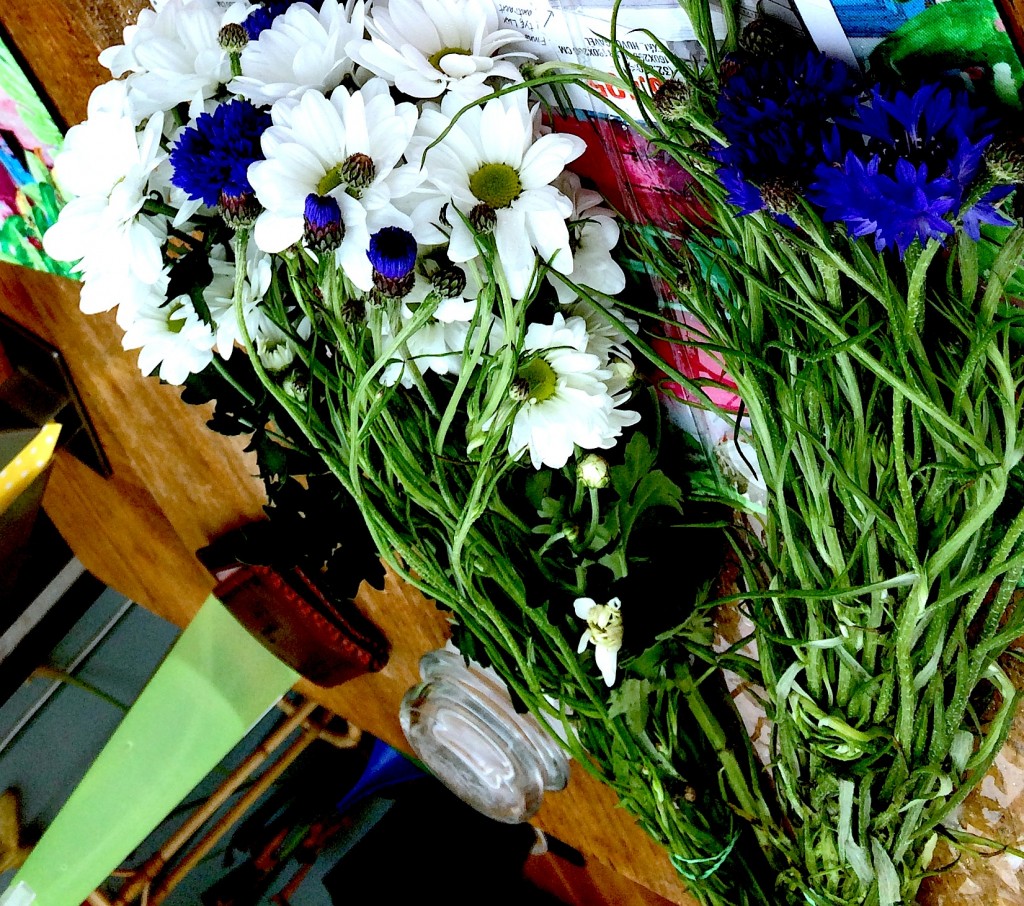 STEP 1 : CLEAN YOUR FLOWERS STALKS (10 MN)
Start by cleaning the long flower stalks we'll use for the base. You should keep the flowers at the end, but maybe you can remove some leaves along the stalks so your basis won't look messy.
STEP 2 : CREATE THE BASIS (30 MN)
Here it's as you want. Either you create a basis only with flower stalks, or you use some wire to help it. 
If you use wire : create a wire circle taking your head dimensions. It needs to rest on top of your head (not too loose so it doesn't fall off, not too tight so the flowers won't be crushed). Then use the flower stalks around it, and tape them together (or use a bit of wire to fix them together). If you use wire make sure you fold the extremities inside the basis so it won't hurt your head.
I you don't use wire (what I did) : just create a flower stalks circle, using many stalks and using tape or wire to fix them together.
You should end with this kind of result. A lot of stalks tight together as a circle, and some flowers at the end. For now it looks a bit messy but it will look way more beautiful as soon as you will start adding the flowers.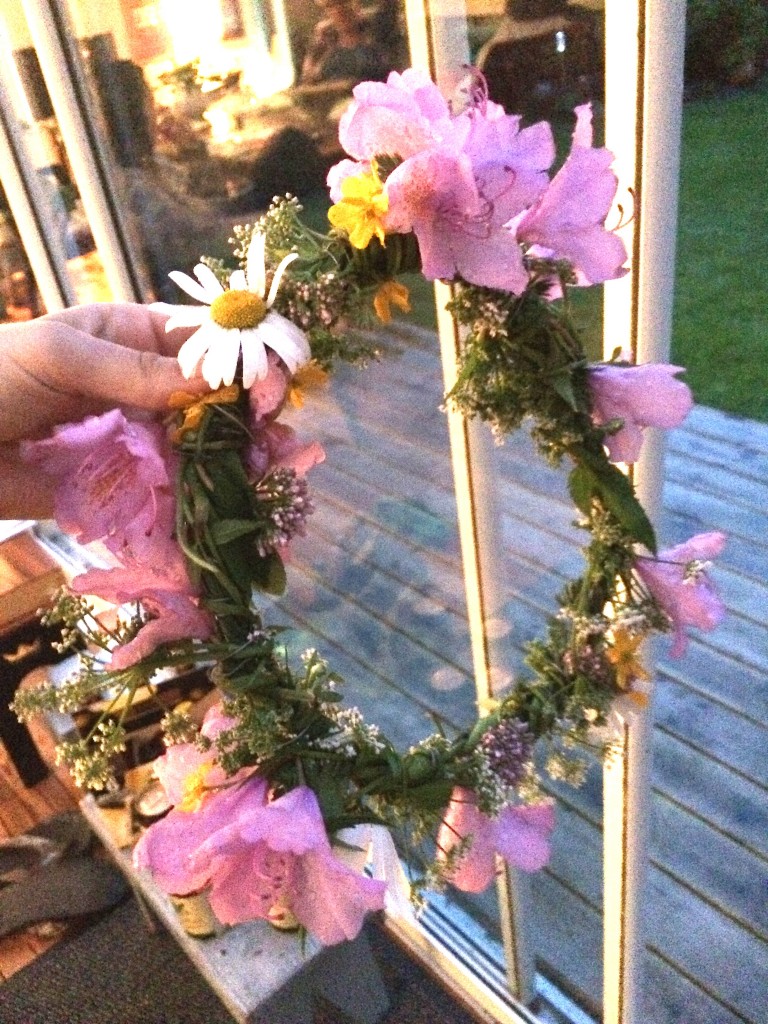 STEP 3 : PREPARE YOUR FLOWERS (15 MN)
Now it's time to prepare your beautiful, bigger flowers. Cut the stalk around 5 cm from the flower. Make sure you do this with a lot of caution so you don't damage your beautiful flower. Do this for all your flowers, and keep them for later.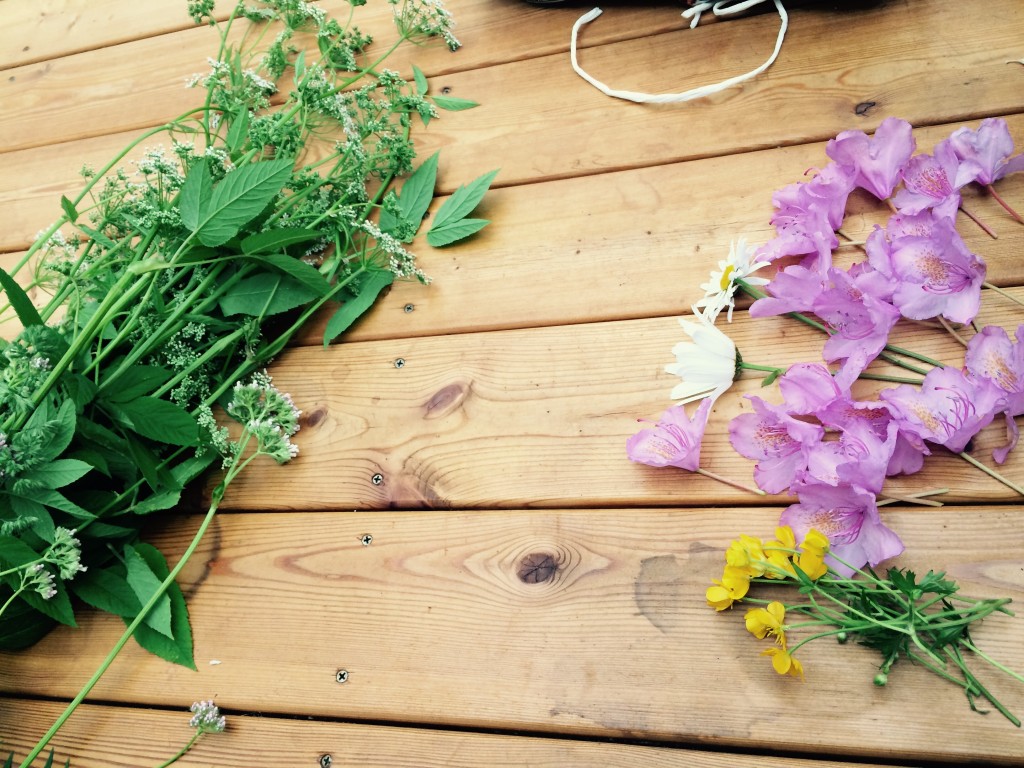 STEP 4 : ADD YOUR FLOWERS INTO THE BASIS. (30 MN)
You just need to insert the 5cm short stalk of each flower in the basis, making sure that it's stuck Inside. If you feel that it needs some help so it doesn't fall, use some tape or some wire. Here again, you use wire, make sure you fold the extremities Inside the basis so it won't hurt your head.
Do this for each flower until your crown looks beautiful and finished. And here you go!!!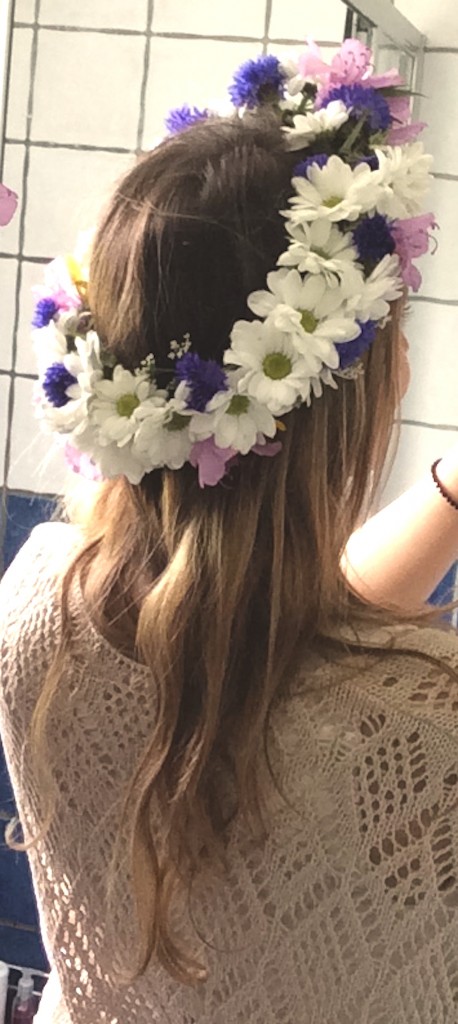 If you wear it now, just enjoy !
If you need to keep it for later (for example for an event tonight or the day after), spray it with water and put it carefully in a plastic bag, and in the fridge, somewhere alone where nothing will damage it. You can keep it in the fridge for maximum 12h. So make sure to create it not too long before you want to use it 🙂
Personnaly, I made it in two steps : the ay before in the evening (Steps 1 and 2) and in the morning on the D-Day (Steps 3 and 4) for an event in the afternoon. The stalks are less fragile.
I hope you make a beautiful crown ! And you spend a lovely moment that will make you proud of your creative talents 😉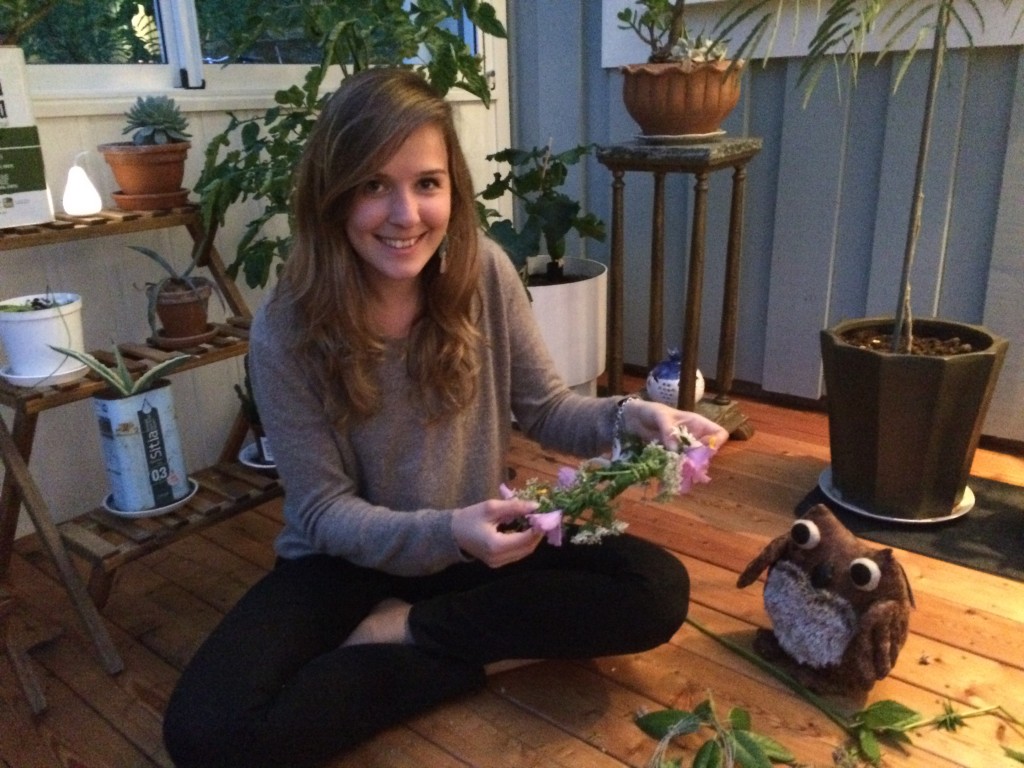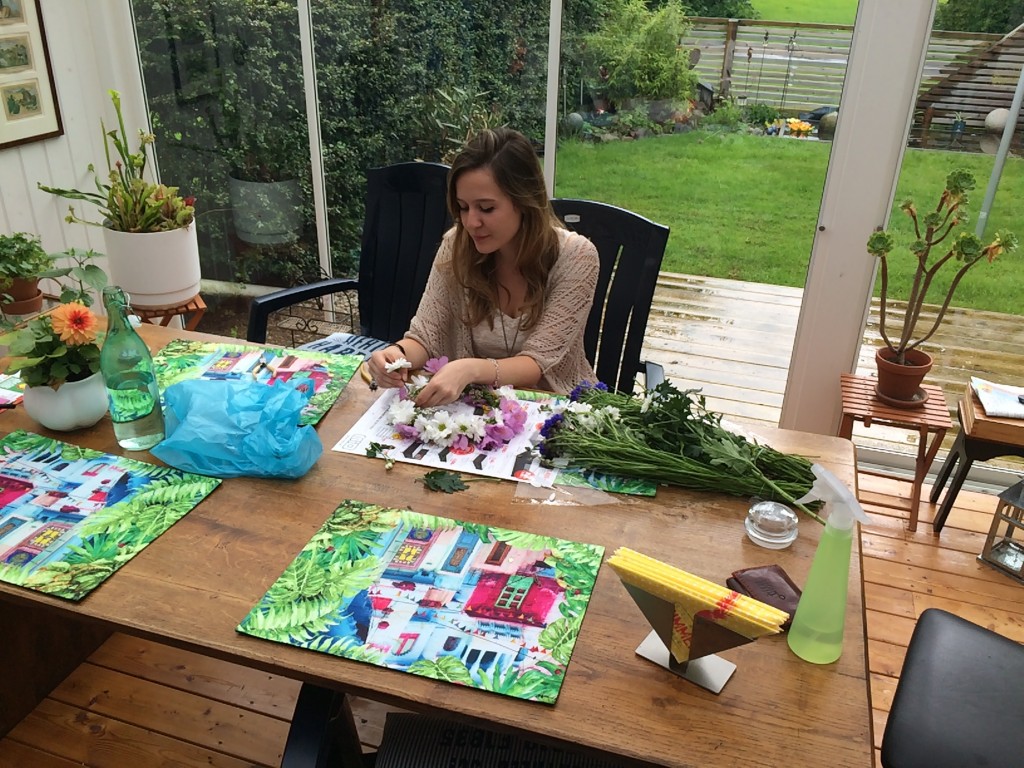 If you create one please send me your picture in the comments below or on the left of the title. Or by email (you can find it in contact). I can post them on my blog if you want 🙂 or just be happy to see what you've done!
Lots of love, Aurélie