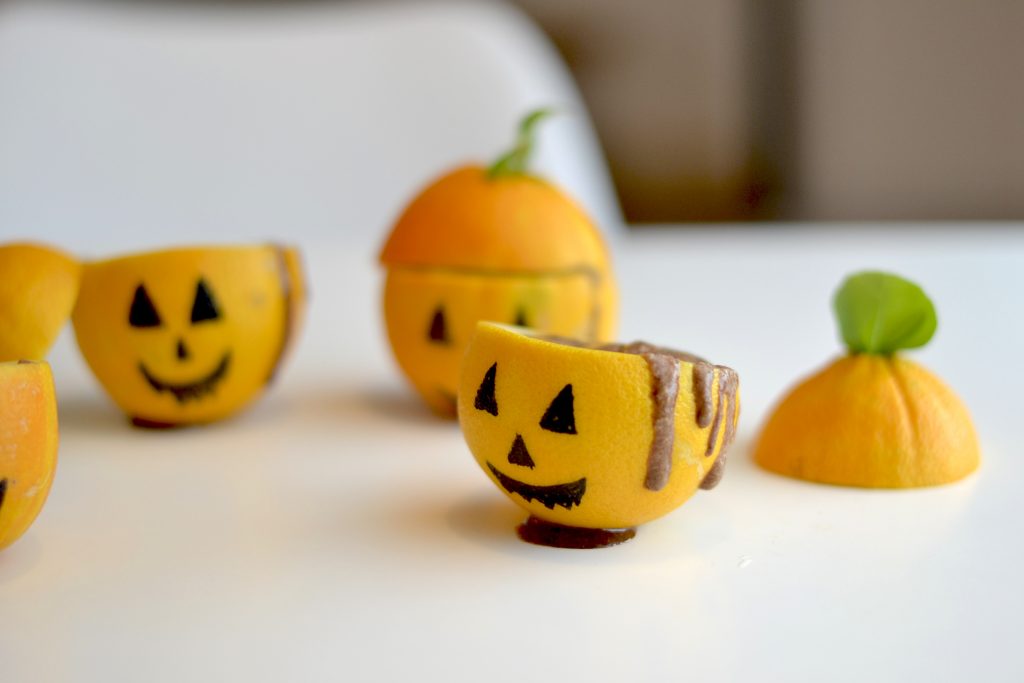 Hey babes ! Today I want to share with you a simple, quick, delicious and above all fun recipe for both children and adults : the Halloween chocolate mousse. With just a little time, a good chocolate mousse and a touch of creativity you'll be able to make these little Halloween pumpkins filled with yummy stuff while enjoying a nice DIY moment. Here is the recipe and the DIY tutorial.
The Halloween chocolate mousse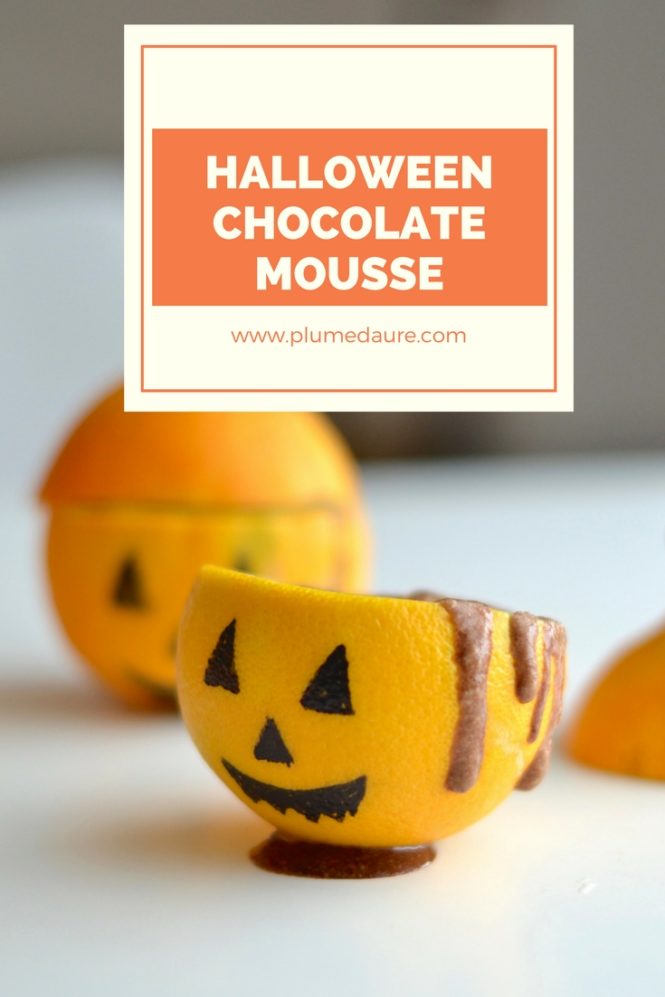 To make the little pumpkins
Stuff you'll need / ingredients for 6 people
6 oranges
A few mint leaves
An indelible black marker
How to make it
Nothing's easier ! For 6 people, buy 6 beautiful oranges, well round and with thick skin. Indeed oranges with a thin skin will not do the trick because they will not make good pumpkins – containers for our chocolate mousse ! So pay attention to buying good oranges to play the role of pumpkins! 😀
Then you have to empty the oranges from their pulp. For this use a small spoon and empty the pulp carefully. Empty the pulp from inside the orange and from the small hat. (You can then keep the pulp and use it in a juice centrifuge to enjoy a good vitamin juice, which by the way is super good to strengthen the body's self-defenses in this autumnal period. And no waste please!)
Once the oranges are emptied, it's almost ready. All you have to do is to make a small cross with a knife on the hats to slip two leaves of mint in each one of them.
Then, draw some eyes and mouth on each little pumpkin! #socute
All you have to do now is fill them with chocolate mousse !
Recipe for the chocolate mousse
Well, here in reality you can choose whether you make it yourself or not ! If you do not really have the time or the urge to cook, you can also buy ready-made chocolate mousse and pour it into the pumpkins. It will still make its little effect for halloween: D!
Personally, I wanted to do it myself and if this also tempts you, here is my recipe:
Ingredients for 6 people
6 eggs
200 g of dark chocolate
Salt
How to make it
Break the chocolate into pieces in a saucepan and add six tablespoons of water
Melt the mix over low heat while stirring until you obtain a smooth and homogeneous paste, then reserve in a salad bowl
Separate the egg whites from the egg yolks, then incorporate the yolks one by one into the chocolate, mixing well between each yolk
Beat the whites with a pinch of salt until you get fluffly, high peaks. Then mix very delicately with the chocolate preparation by lifting the mass not to break the whites
Refrigerate at least 3 hours
(Only then you can fill pumpkins with the yummy chocolate mousse :)!
I hope this simple recipe / DIY will please you! I think it's all cute and original for Halloween. Enough to please your guests, your darling, your children and/or yourself, hihi.
* Happy Halloween ! *