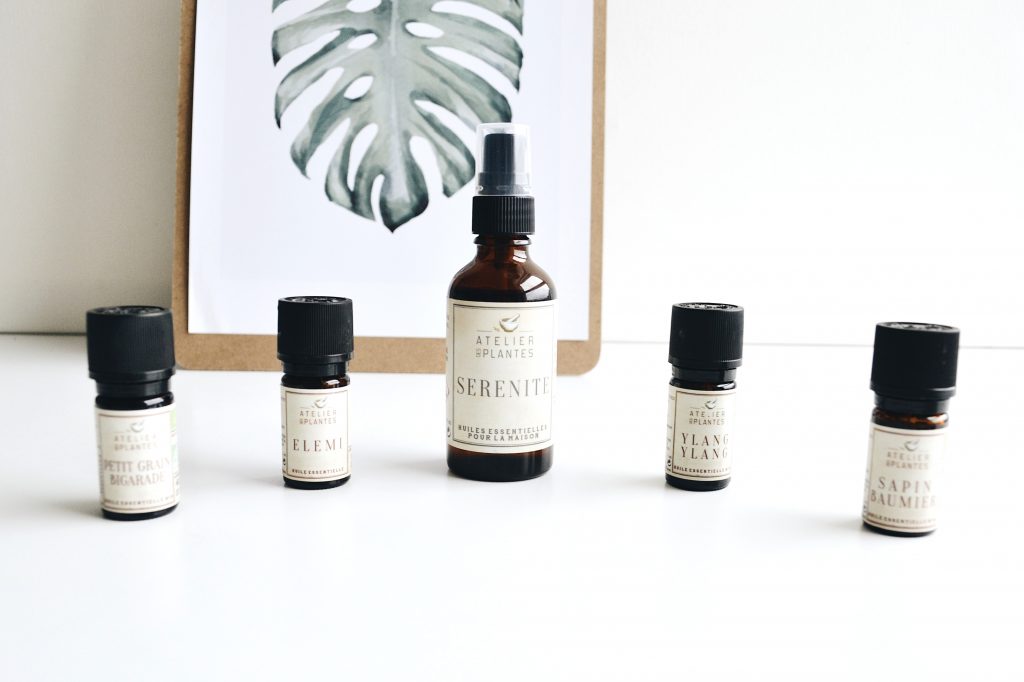 Hello my sweeties ! How is your week? Today, I want to dedicate a full post on organic essential oils. I had already done it here when I told you about my miracle product, the tea tree essential oil. Let's say that since, I have dug a little in the subject an I really begin to love all this world of natural medicine and essential oils. It's crazy how many there are, and all the sicknesses that essential oils can cure ! And, a few weeks ago, totally by chance, I discovered a spray made of essential oils coming from the French brand Atelier des Plantes thanks to a monthly box I receive, and I loved it! I loved it so much that I put myself in direct contact with them to dive much deeper into the experience! You can't really order this brand's products from outside France, but I thought it was worth focusing on the actual essential oils that I've tried that can be found in any country, at pharmacies or healthy shops. So, ready to dive into the essential oils experience? 
Fight anxiety and stress with essential oils
Stress, the sickness of our century
Today we will concentrate on this sickness every body knows about : stress. I chose this area for two reasons. First of all, even though I am not a particularly stressed out person, we ALL have moments of stress in our lives – and even I have sometimes, especially now with all the changes in my life due to my new freelance activity. Secondly, I am sure that this will speak to a broader audience as we, as I said, ALL get stressed at some point. Too much work, too much financial pressure, too much transports, never enough time … we all have something that stresses us at one time or another.
How to use soft and natural solutions to calm stress
So personally when I am stressed out, I'd never take any medication! It's chemical and there are so many other softer solutions to relieve one's mind. Sometimes you just need to listen to meditation music, go running, enjoy the purring of your cat or cuddle with your boyfriend for a bit. But it is true that sometimes this is not enough … and in this case, I find that essential oils can be a solution. Here is a selection of oils you can use to calm your stress.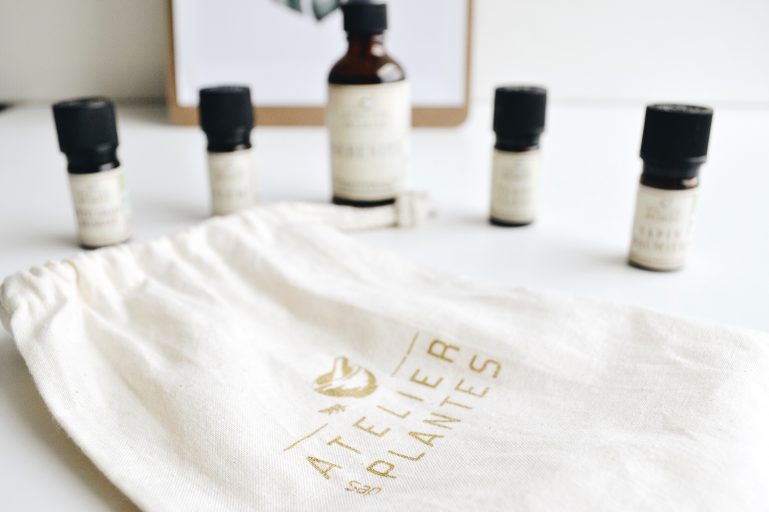 My serenity kit: a selection of essential oils to fight stress
I let myself be guided by Atelier des Plantes and we chose the serenity kit, for about 30 euros and 5 products. A bit like my secret solution if I have particularly stressful periods. It contains : a serenity spray (composed of several essential oils), and four different essential oils: Ylang Ylang, Small Grain of Bigarade, Elemi and Balsam Fir. Yes, I know, these names are not familiar! For me either before, haha. Shall we detail a bit ? 
The serenity spray
Indications of this spray
This is to be sprayed in the ambient air for a relaxing effect, for example during a meditation session or during a warm bath. It helps to calm the mental noise and to take some height on different situations of life. It is composed of essential oils from Cinammon and Patchouli (especially adapted for lower energy centers) and Incense, Elemi and Sytrax (upper energy centers) for a better body and mind balance.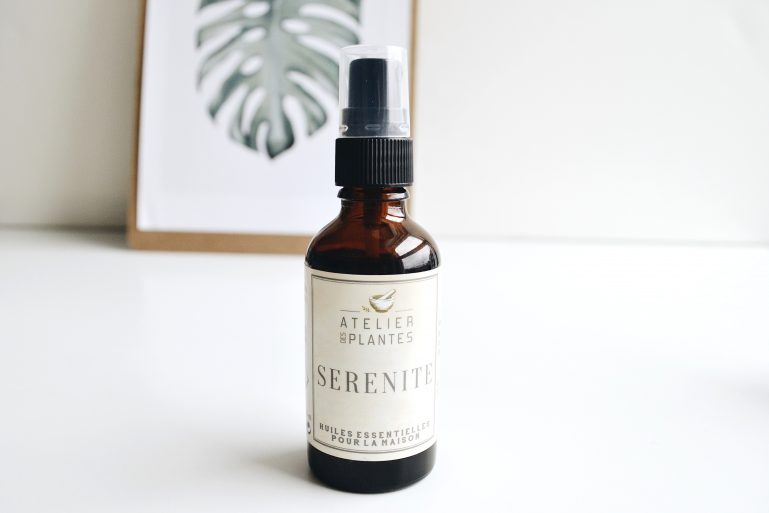 To be used properly!
Well, I know all this body and mind stuff sounds almost crazy. But personally, I believe in the power of essential oils on our vital emotions and functions. And I think they can be really beneficial if used wisely. When I say wisely I mean carefully! Don't forget to read the leaflet and to learn how to use every essential oil before using it! Every essential oil has real medicinal properties, natural BUT concentrated, and you can also overdose them if they are misused and this can be toxic for the body.
For example: when you read that your essential oil should be used with 2 drops diluted in vegetal oil, do it! It's not for nothing that it should be diluted. This means that it can not be used pure because it's too strong otherwise. Same for the oils to ingest, be careful and read well the notice. If no notice just go on the internet and you will find everything you need to know about the essential oil in question. Same, do not always use the same essential oil continuously. This remains a remedy to a problem, it is not a beauty routine!
One last point: essential oils can be dangerous if misused for your little pets. Be careful not to expose them to essential oils as this can be toxic for them. E.g.: if you spray essential oils in a place where your cat sleeps, he may over-breath them. For my part, I always use this spray in the bathroom with the door closed so my little Leia does not come in. Or I spray a little bit on a paper that I breathe in for a few minutes.
One thing I particularly want to emphasize is to use common sense when it comes to essential oils. Some will say to you: it's super natural, soft, I use it ALL the time. When others will tell you: it's toxic and hyper dangerous, it's proven blablabla. No, neither one nor the other. It's like everything! Essential oils are a true miracle of nature to cure our body and mind problem when properly used. You would never take a pill without knowing what it is and without knowing how much to take? Essential oils are the same. Go ahead, but know what you are doing and how you use them. And with Google today, it's not very complicated !
Elemi essential oil
The second product that composes my serenity kit is Elemi essential oil. This oil is recognized as major for the psycho-emotional balance as well as for a good body posture (to fight against a vaulted back, shoulders forward). Here it is advisable to deposit a very small drop on each wrist (after allergic test) and to feel the relaxing effects in the spine. Personally I do not use it pure, and mix it in organic vegetable oils. At this moment I'm using a hazelnut oil, which "neutralizes" a little the "strong" effect of the essential oil.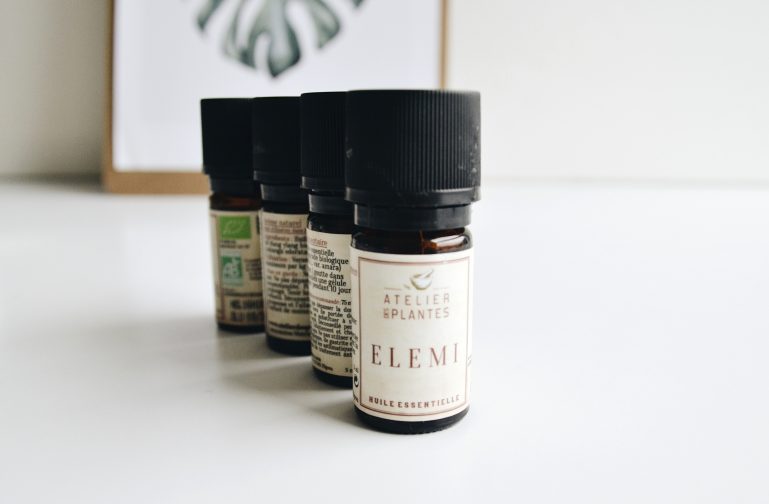 Small Grain of Bigarade essential oil
An oil that helps to calm anxiety and sorrows. So cute. It helps to regain calm and sleep, and calms also the sensations of "knot in the belly". Do you sometimes have this feeling of a"roller coaster", like you are good then depressed all at once without really knowing why? This oil helps to regain balance. To use it it is enough to dilute 2 small drops in a teaspoon of vegetable oil (ex oil of hazelnut as indicated above) then to gently massage your belly with this mixture.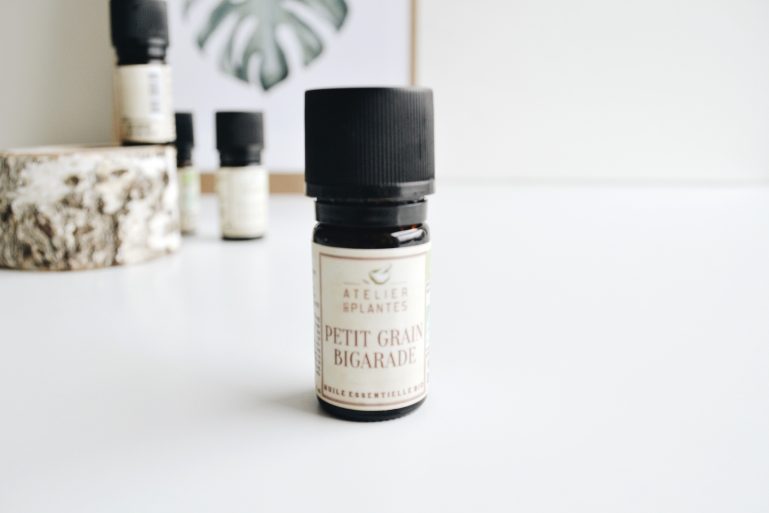 Balsam fir essential oil
This oil is just cozy because it smells so good! Its fragrance is soft and reassuring and perfect for blues moments during the cold winter months. So maybe not ideal in this month of May, but I will be glad to have it in October – November when the sun will start to get shy. After all as I told you, this kit is to be kept as a medical kit, all year long in case of stress. The idea is not to use everything in 2 weeks. So I almost can't wait for it to get cold so that I use this oil with the smell of fir with a hot tea, well wrapped under a plaid. If I read its properties, it is said on Atelier des Plantes that this essential oil is a great ally in case of cooling and to fight against the feeling of insecurity. Aww I think it's too cute! Don't you think?
To use it it is enough to breathe it. Either via a diffuser of essential oils but again I don't advise it if you have pets. The best, in my opinion, is on a napkin mixed with a little vegetable oil that you breathe for a few minutes.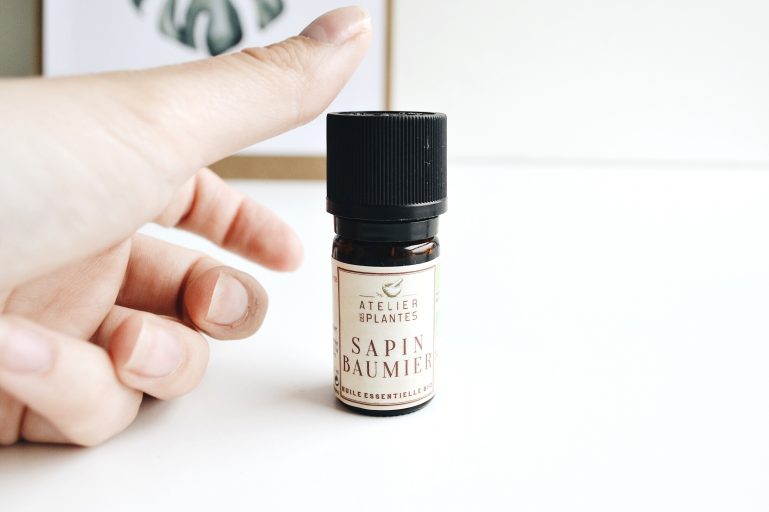 Ylang Ylang essential oil
Ahhhh … Ylang Ylang, just its image reminds you of balance don't you think ? In any case this essential oil has balancing properties for the nervous system, helping us calm down in tensed moments. It is also known for its … aphrodisiac effects, haha. For example, it can be used in cooking in a chocolate cake (we're speaking of ONE DROP, eh!), for aphrodisiac and relaxing effects. To try out with your darling, maybe? 🙂 I can assure you that not only the essential oil will calm your stress but especially your special dessert that will follow the meal. Haha. Because, let's be honest, hugging is still one of the best anti-stress in the world!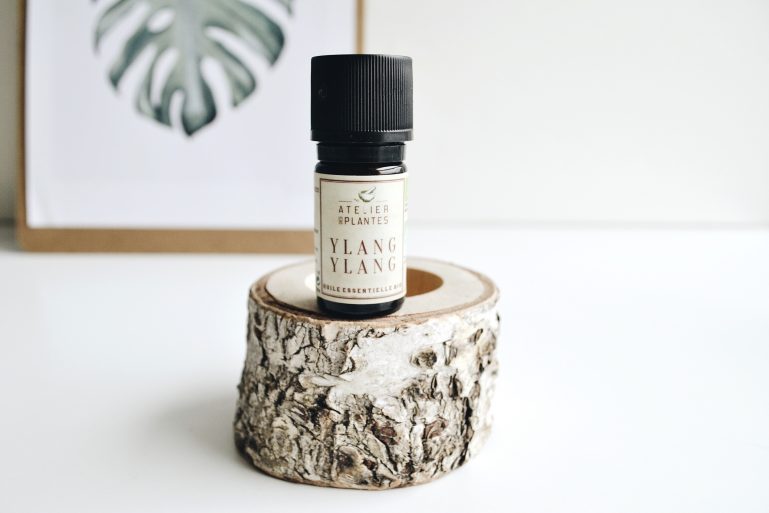 And we're wrapping up now babes. This article on essential oils is complete! I hope you enjoyed it and that made you want to know more about this world too. Do not hesitate to ask me any question you might have and I'll make sure I answer it via the comments.
Do not hesitate also to give me your opinion on all this ! And also tell me about yourself: do you use essential oils? If yes, which ones and for what purpose?
*** Hope to learn more about your habits !***