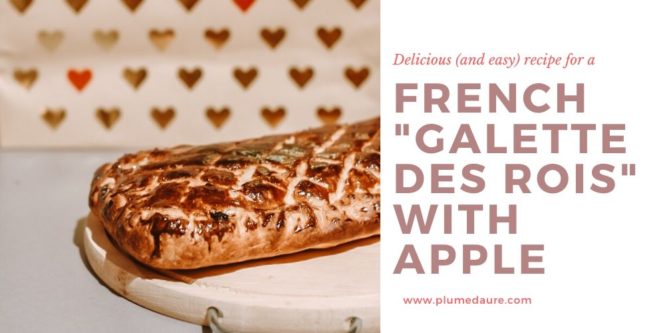 Hello, sweet readers! Today I want to share with you an easy recipe for a French galette des with apple and cinnamon, which, I'm pretty sure, will delight your taste buds and those of your family or friends! And so easy to make. The recipe is straightforward, with simple healthy ingredients and very little added sugar. Once you taste it, the crispy/flaky puff pastry contrasts with the fondant of warm apples, and with aromas of vanilla and cinnamon, yum! Let's go: I deliver my recipe for French galette des rois below. This is what we typically eat in France for the epiphany, but you can also bake it just as a dessert all year round!
Easy recipe for a French galette des rois with apple (45 mn)
The ingredients (for a 4 people galette des rois as in the photos)
250g puff pastry
3 apples
20g sugar
vanilla. It can be vanilla flavor, vanilla sugar or a vanilla stick
ground cinnamon
1 egg yolk
And that's all! As you can see, a minimal amount of ingredients and very little sugar, which will give it a slightly sweet taste but also a little sour one because of the apples. Yum!
The preparation of the French galette des rois with apple and cinnamon
Divide the puff pastry in 2
Spread into a circle about 5 mm thick and about 11-12 cm in diameter (if you make a circle. I bought ready-made puff pastry, and it was a rectangle, so I just made two rectangles)
Keep cool on baking paper
For the mashed apples :
In a saucepan, add the peeled apples, without the trunks/seeds, and in pieces with the sugar as well as a teaspoon of water and the vanilla (a stick, or a teaspoon of aroma or a teaspoon of vanilla sugar)
Cook over low heat for about 20 minutes (add water if necessary during cooking)
---
Preheat the oven to 200 degrees celsius
Spread the compote on one of the discs, making sure to leave 2 cm at the edges
Spread egg yolk on the edges (and place the "fève" if you want to. *Read more below about this tradition).
Apply the second disc on top then weld the edges with your thumb
Make a small hole in the center of the galette
Brush with egg yolk and draw with the tip of the knife (here, I made a grid)
Put in the oven for 5 minutes then raise the oven to 210 degrees and leave to cook for 15 to 20 minutes
* The "fève" is a little porcelain figurine that we traditionally add into our French galettes des rois. The one who finds it becomes the King/Queen (we also have a paper crown with it usually). We have a few traditions when it comes to how to distribute the slices. Typically, the youngest person in the house goes under the table with eyes closed, while someone cuts the galette. Then, every time the "cutting person" has a slice, the young person under the table assigns it to one member of the family. PS: be careful to chew carefully, so you don't break a tooth!)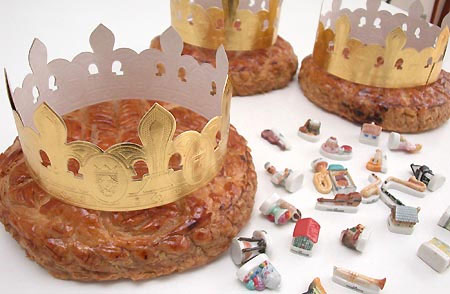 Enjoy your meal! Do not hesitate to tell me what you thought of it if you make this recipe! See you soon!