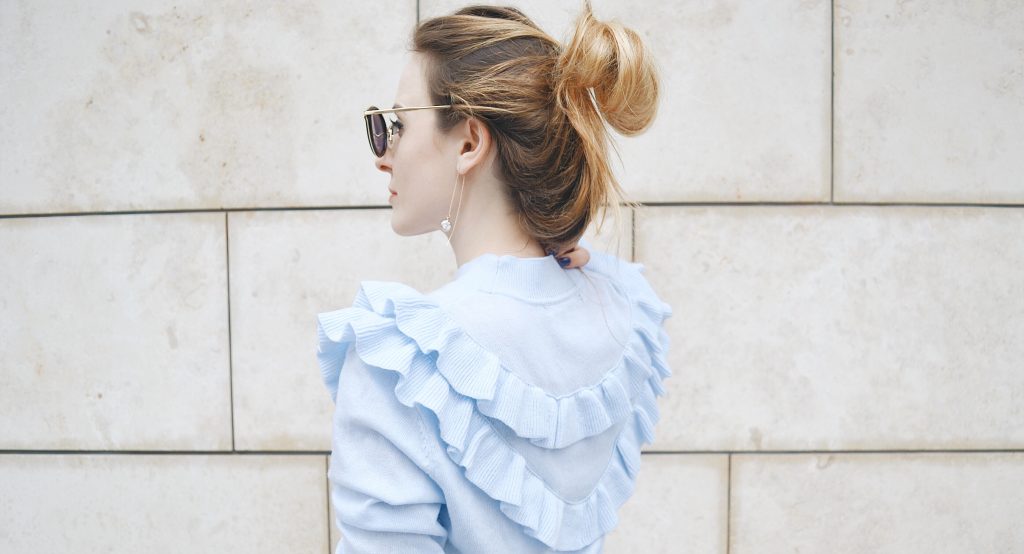 Hello sweeties ! Did you have a good Easter break? What better than not to work more than two consecutive days, eh? I really hope you have enjoyed it doing what you wanted : spending good times with your family, eating delicious chocolate, resting, seing friends, partying, travelling, or whatever. For us, it was a very good Easter weekend here in Malmö, with my darling. We cooked good food, continued to furnish our little home sweet home, and ate good chocolates :). We also participated with some friends in an egg hunt in the city : 100 eggs were hidden throughout the city, with clues to follow from the Facebook page of the event. Very interactive and original, we had a great day ! We were exhausted in the evening for having walked/ran so much though, haha. And unfortunately we couldn't find any egg 🙁 Too bad because the prizes were great (one night at the hotel, brunch, dinner…). Oh well ! Was fun anyway ! In the middle of all this, I also had time to shoot this look with ruffle top that I love so much. Big crush !
Ruffle top and Easter break (Happy Easter lovelies!)
Do you know the exact origin of the Easter celebrations? We all have a vague idea, but to explain it clearly is not always simple, is it? So here's some religious history, or not. The origin varies according to the people and their beliefs. I am not very religious myself, but today, whether religious or not, we must admit that this celebration has become so democratized (a bit like Christmas) that it has become a popular tradition.
In the Catholic religion, Easter celebrates the resurrection of the Christ, 3 days after his crucifixion. This day is preceded by Lent (period of fasting of 40 days) and therefore ends it. Why do I speak about Lent? Because that explains why the eggs! Throughout Lent, Catholics have always been banned from eating eggs or any other food, but the chickens did not stop laying them. So, at the time of the Easter feasts, they devoured all the accumulated stock. And this tradition of eggs has remained!
In the pagan tradition, Easter is rather the symbol of the rebirth, the return of the beautiful days, the sun and spring, after long winter months. A bit like midsommar in Sweden.
Today, Easter has become a bit of a tradition for the pleasure to offer, to taste and to find chocolate eggs. A joy for our little mouths and an opportunity to spend a good time with the people we love.
+++ Here you go, now you know everything 🙂 ! +++
As I was telling you, I took the opportunity of a long weekend to shoot my look with my lovely ruffle top. This absolute crush comes from Gina Tricot and I'm just in love with it!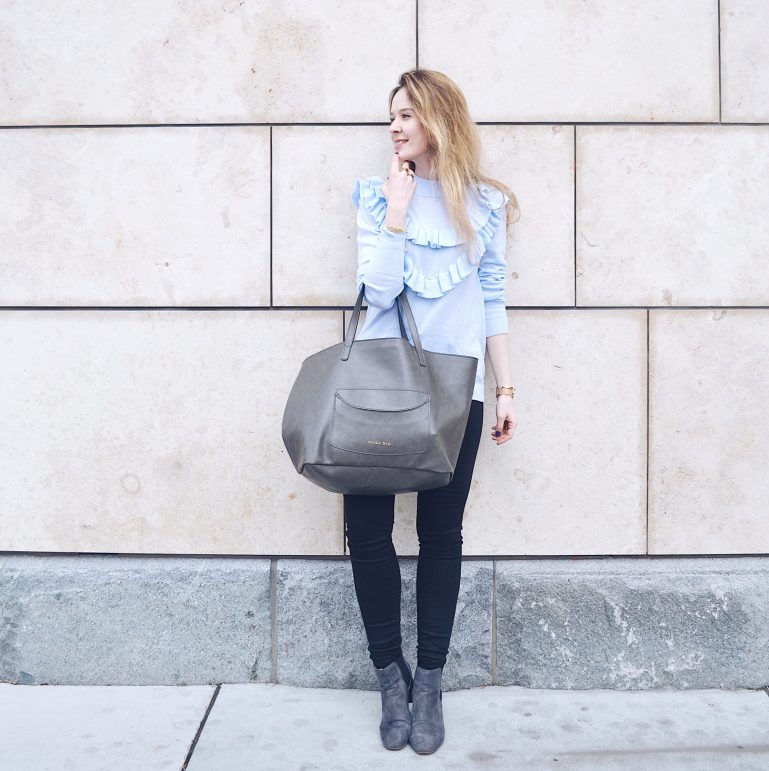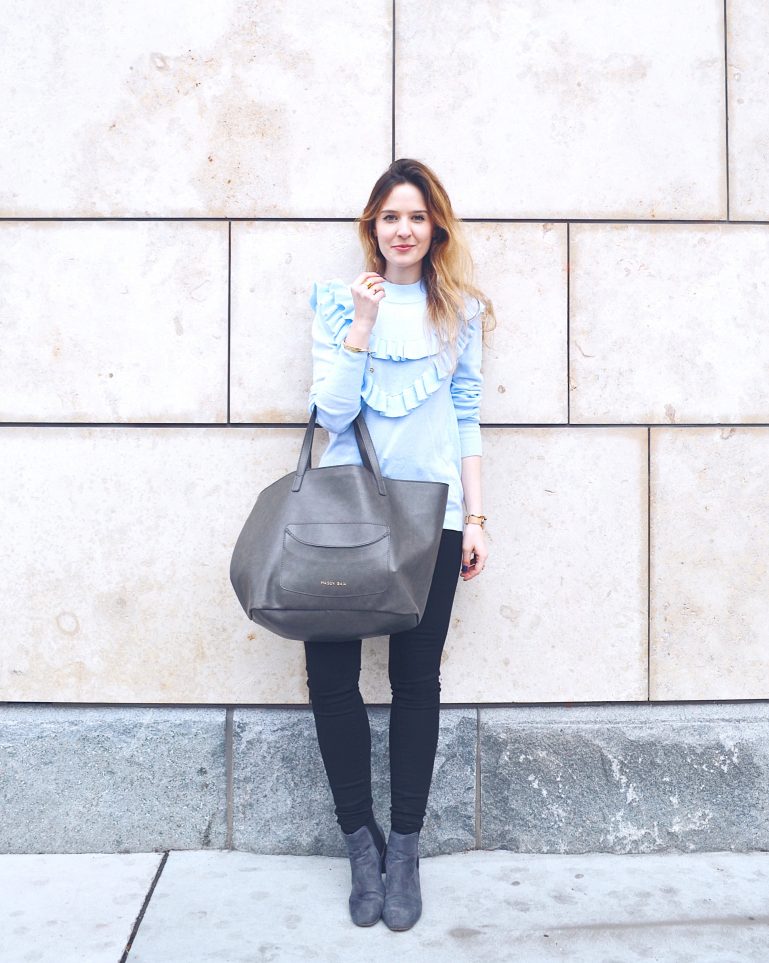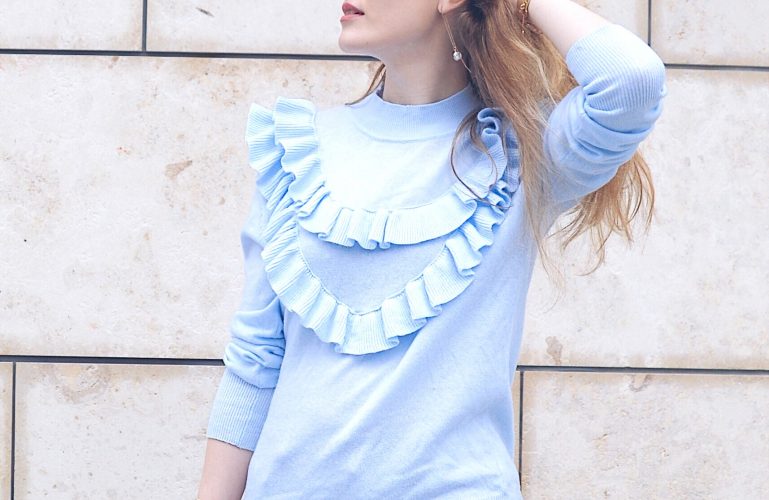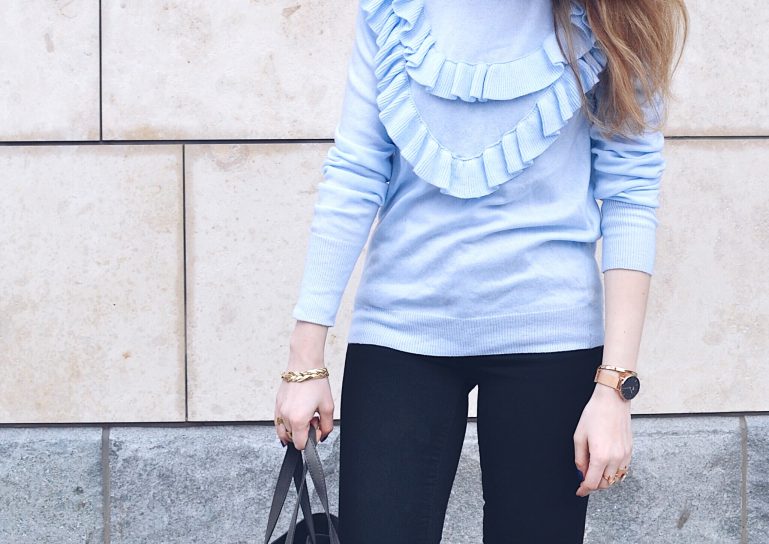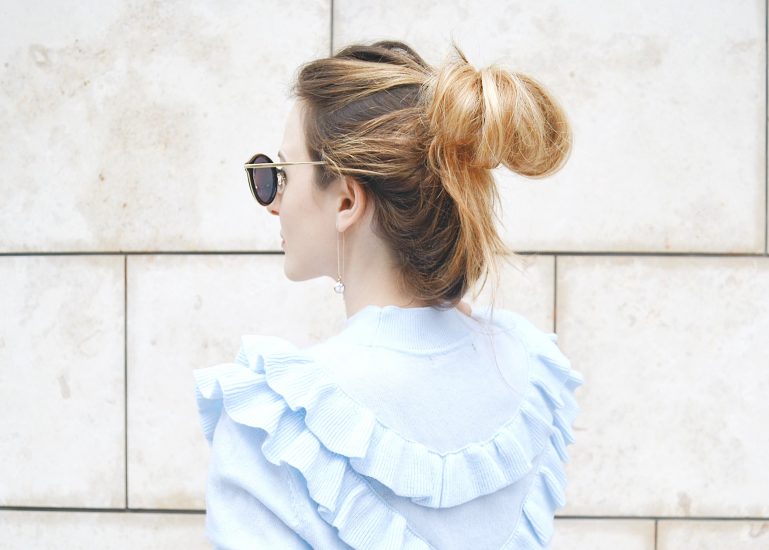 Super beautiful items, available online (ASOS) and between 15  and 60 euros max (except a pair of glasses). Most cost around 25 euros … I let you look!
I also wear my new Minimum jeans that are little gems ! A super stretch material, very slim fit, and which does not loose its color (the material is patented by the brand for this). Black jeans that remains black and for a long time … rather cool no?
Other favorites of the moment : these sunglasses from Le Petit Lunetier! They are so cool, super good quality and cost only 39.90 euros! I just love them ! In addition, their site has a super original feature: it is possible to "try" the sunglasses in augmented reality, thanks to your webcam! So you know if they're going to fit you or not. Good stuff. If you want to take a look at their site, keep in mind the coupon code Plumedaure20 which gives you 20% discount on all your purchases! Happy Easter!
Ps : the model I'm wearing are the Summer Rose.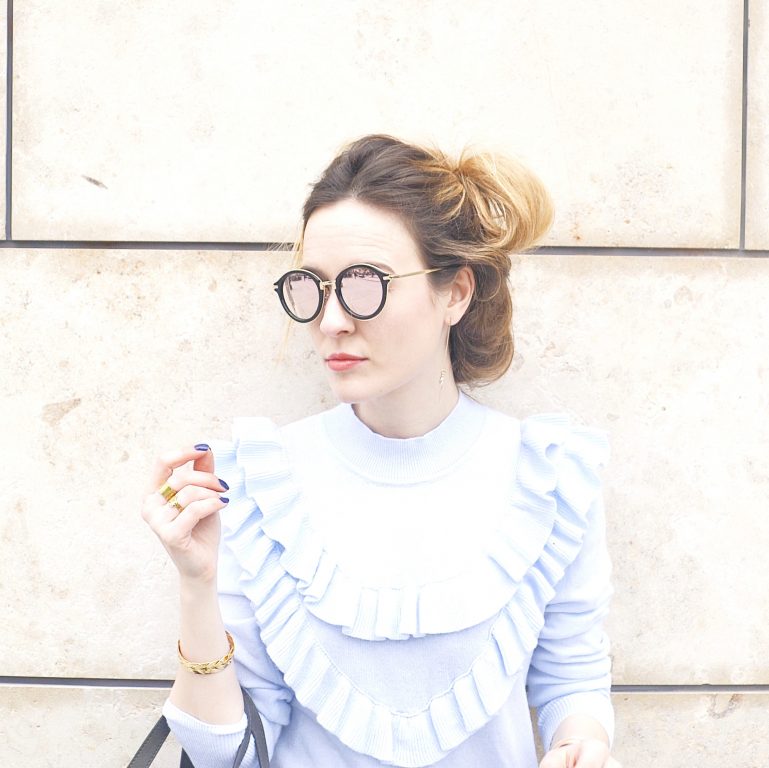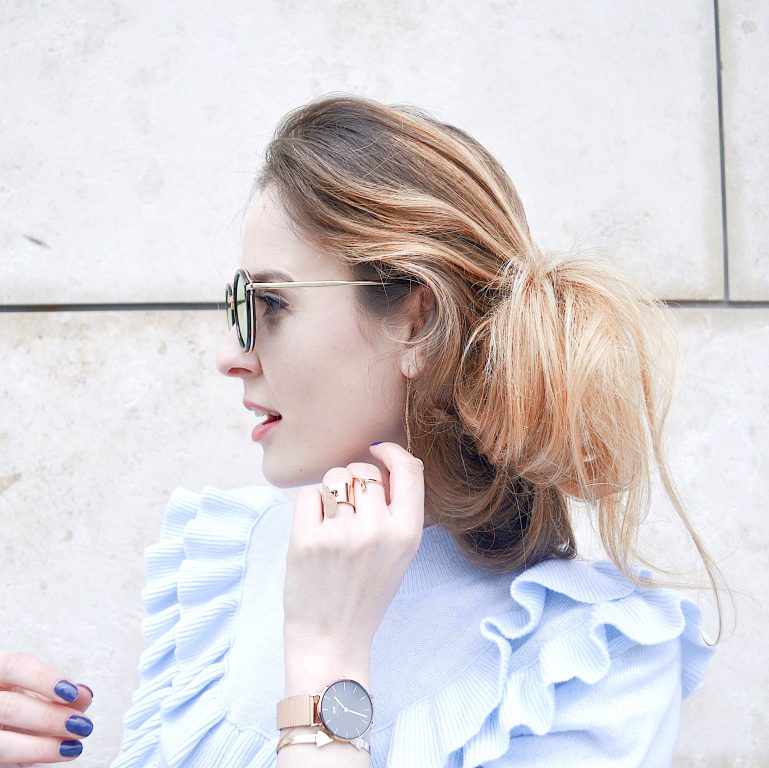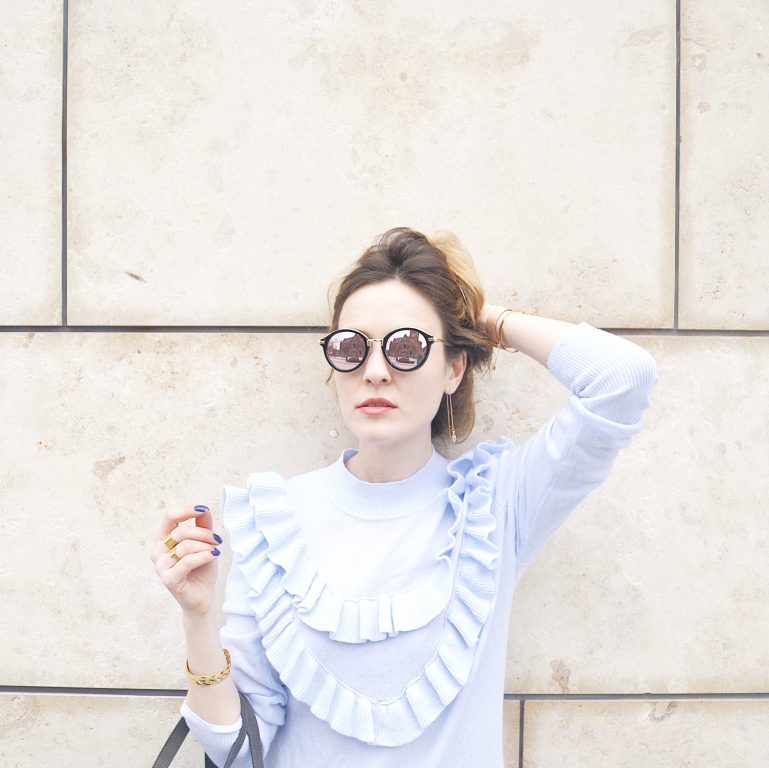 +++ And those details <3 Should we talk about them ? +++
Only brands I love! Let's start with the beautiful Daniel Wellington watch, the Classique Petite Melrose, from the new collection … WOW! Isn't it ? I took it in rose gold and I wear it all the time!
Then, the braided bracelet comes from the jewelry box Emma and Chloé. A great French box where you get a jewel from a different creator every month for 22 euros, a great concept. Original and beautiful. This month's item from the designer Coralie de Seynes is one of my favorite since I registered to this box. You can find it on Emma and Chloé's website and, because I love you, here is another coupon code: 10 euros discount with the code plumedaure.
Other details : pineapple bracelet from Voguette Paris, and for the rings: La Jungle, Neejolie, and Aparanjän Paris.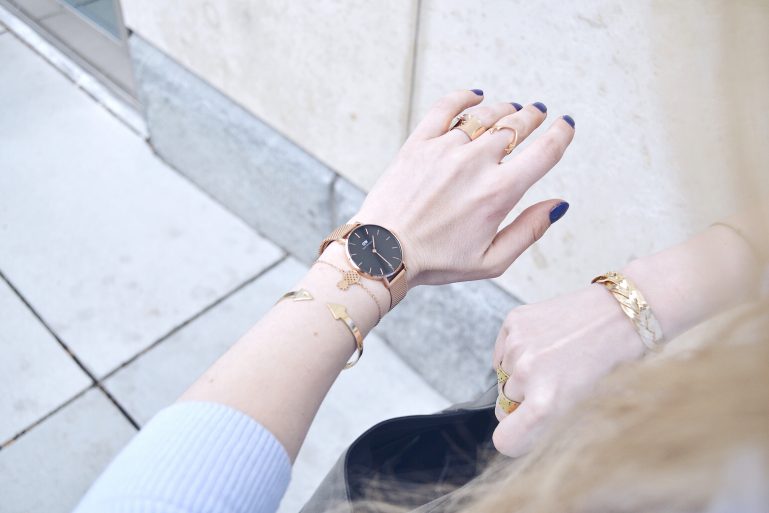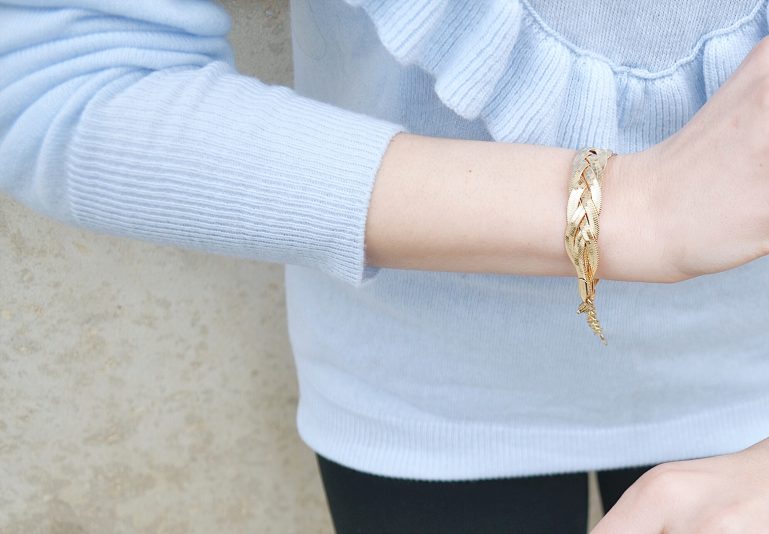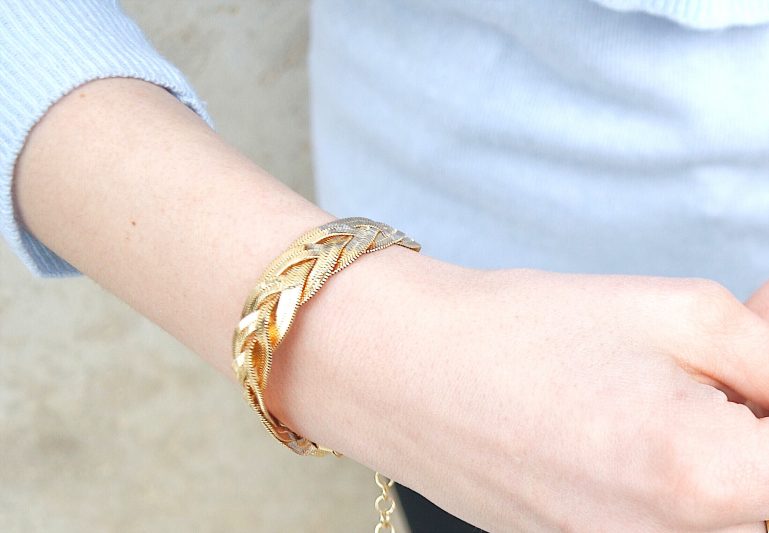 I hope you like this look babes ! As well as the little stories about the origins of Easter! Enjoy your break, eat good chocolate and don't forget to brush your teeth after all this sugar 🙂 "Yes mom …".
* Happy Easter ! *