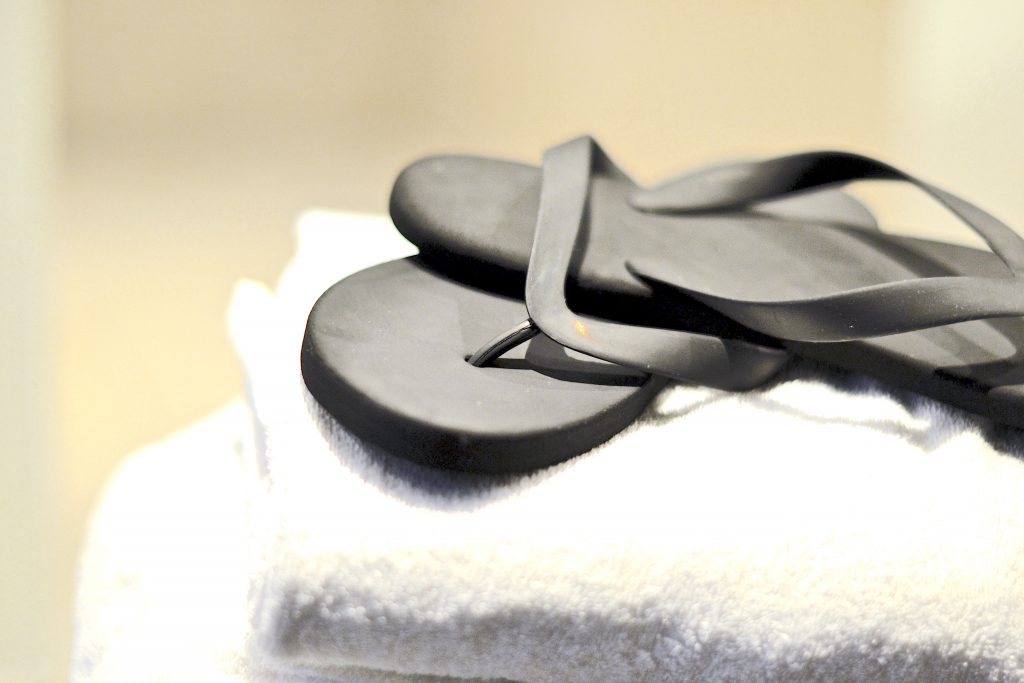 Copenhagen is a city that I love, and apparently, I'm not the only one because it attracts many tourists for holiday or for weekends throughout the year! So, as I live there (or almost – I live 30 mn away from Copenhagen and I go there very often), I think that sharing with you my good tips as a "local" can give you good ideas for when you come to visit this beautiful city (or if you live here but want to discover new places) ! So, if you are in the area, don't hesitate to look at the "Top places in Copenhagen" category for inspiration and to find good addresses! And today I will tell you about a good spa in Copenhagen, with massage and dinner at a really reasonable price considering everything you get! Frankly, if while in Copenhagen you want to enjoy a relaxing "Danish style" afternoon and eat well, go for it! I discovered the great Arndal spa, with its package including spa + massage + dinner for less than 70-100 euros (depending on the exchange rate), in the heart of Copenhagen. There you can get pampered as a couple, with friends (or alone) for a good half day. Let's talk about it!
Get some Danish "me time" in a great spa in Copenhagen
The benefits of the spa, especially the sauna
Before I introduce you to this beautiful spa in Copenhagen in particular, I would like to give a little focus on the benefits of the sauna, which is so much practiced here in the Scandinavian countries.
And for good reason, because a single sauna session has many virtues:
Relaxing: it helps to fight stress and tension. How? By stimulating the production of endorphins that the body releases more easily under the effect of heat. Once all these endorphins are in the body, you sleep like a baby.
Purifying: the strong heat of the sauna opens the pores of the skin, which can more easily perspire and release their toxins.
Cardiovascular and muscular virtues: under high heat, the blood vessels dilate and the blood pressure remains low. So the blood circulation is faster and helps to relieve muscle pain (tensions, muscle aches …).
Immune system: here do not be afraid of what follows … because it is positive! But the fact is that it is so hot in a sauna that it makes our body believe that it has a fever (kind of an artificial fever). So, in the sauna, it produces antibodies and white blood cells that it normally uses to fight diseases, which boosts the immune system. This is why in the Scandinavian countries practice it very much in the winter periods when epidemics of flu, colds and so on are coming! Smart, right?
Beauty: by eliminating toxins through the pores, the sauna cleans the skin deeply. It is advisable to take a cold shower after the sauna to tighten the pores and give your skin elasticity and firmness!
Not to mention the fact that in the winter, it warms you up … so cozy. I would dream of having one at home as in some Nordic houses (but generally more north than just Malmö or Copenhagen!).
Well, after all that, are you ready to go to the sauna?
A very nice spa in Copenhagen, Arndal Spa
We gave ourselves this little pleasure to go to the spa with my boyfriend last week as a little pleasure before the holiday :). We were so looking forward to the holidays that we wanted to get a little taste of it before departure (now as you read me we have finally started our holiday last Friday … yeah!).
We both loved it and I really wanted to share this good plan with you! For about 70-100 euros/person at Arndal Spa, you get:
Access to the spa (as long as necessary). We went there personally around 2 pm and left at about 5.30pm, but there are no limits
A "hygge" snack with fruit and ginger/lemon tea, delicious, and served at the SPA, please!
A 30-minute massage (just WOW: one of the best in my life! Frankly, I always blame the masseurs for not enough "pressure" but it was just incredible. My back finished as relaxed as butter, I felt like flying … And I really enjoyed it because the masseuse offered me to dose the pressure from the start, and asked me several times during the massage if it was nice, etc. Almost personalized!).
dinner at Bistro Royal, right on the beautiful central square of Kongens Nytorv, including a nice dish and a glass of wine.
I am aware that 70-100 euros are still a budget, but frankly, it's not bad for everything you get! For example, we went as a couple and had a full relaxing half-day + dinner for this price, from 2 pm (our entry to the SPA) to about 8 pm (after dinner). So I think you get back what you pay for!
I now let you discover all this in pictures :
A nice place with Caudalie beauty products to test (French brand so I was not disoriented) :)…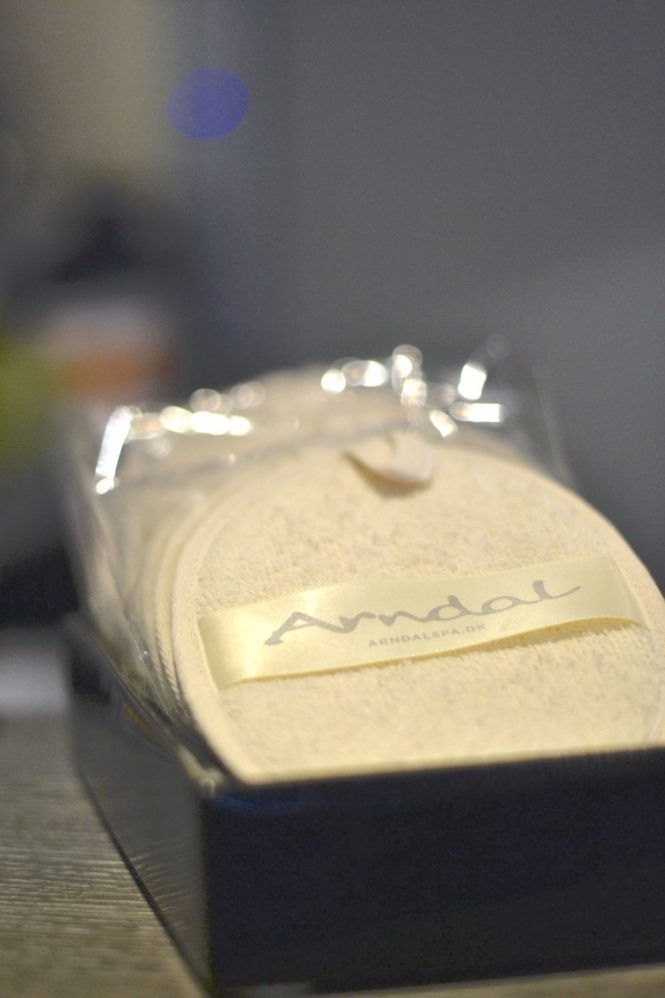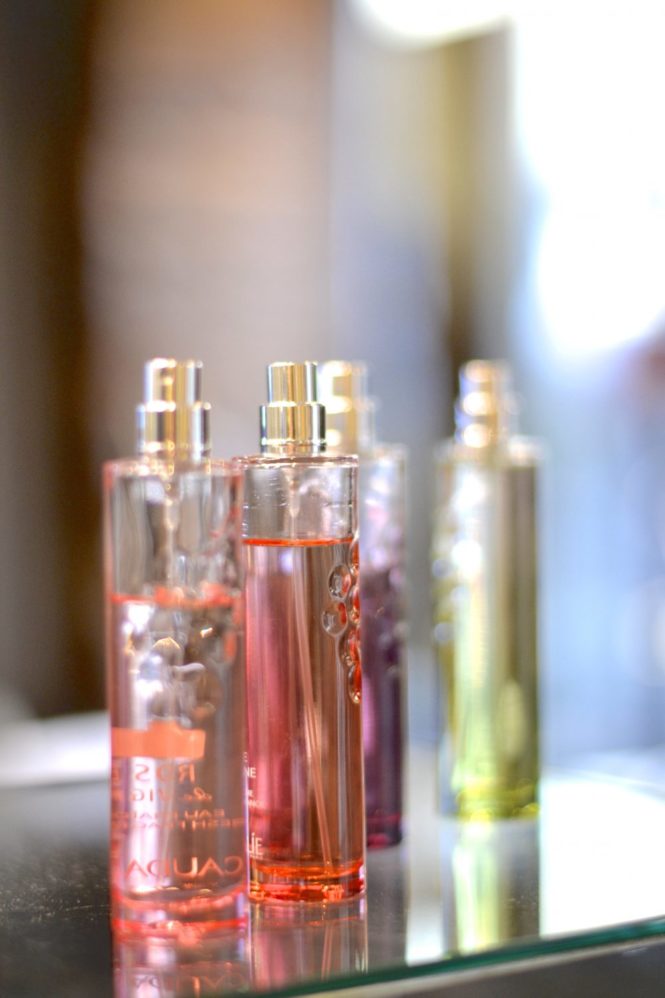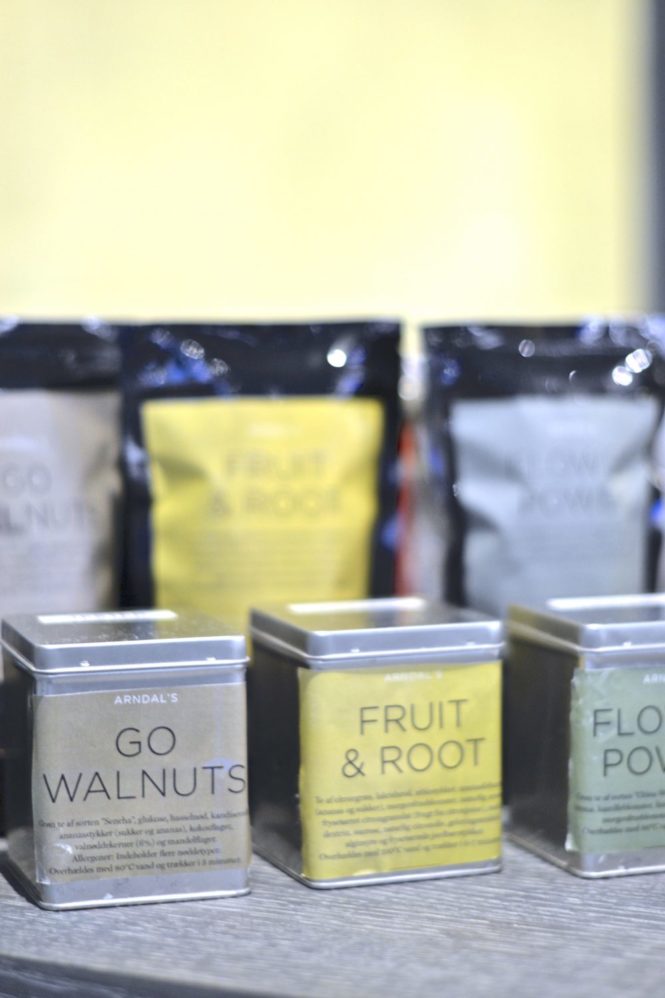 Then a spa, so relaxing, with a small snack with tea & fruit served in the middle of the experience. The spa has a saltwater pool (with bubbles that can be activated whenever you want), an 80-degree steam room and a sauna. Everything is super clean, and the relaxation is perfect …
Forgive the bad quality of the pictures but the light was very dimmed, so not ideal to get a good result.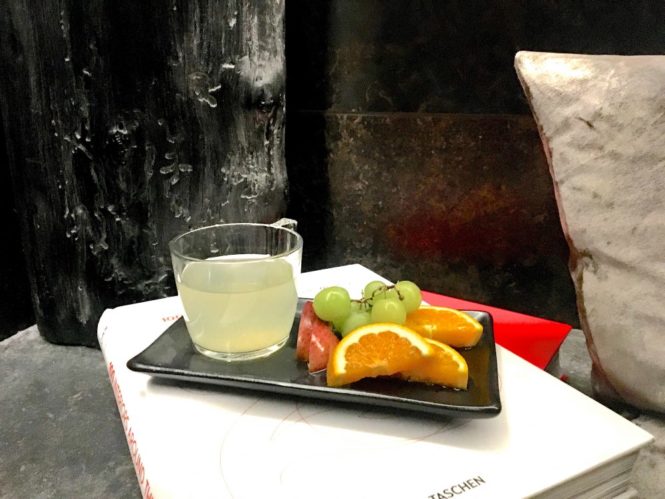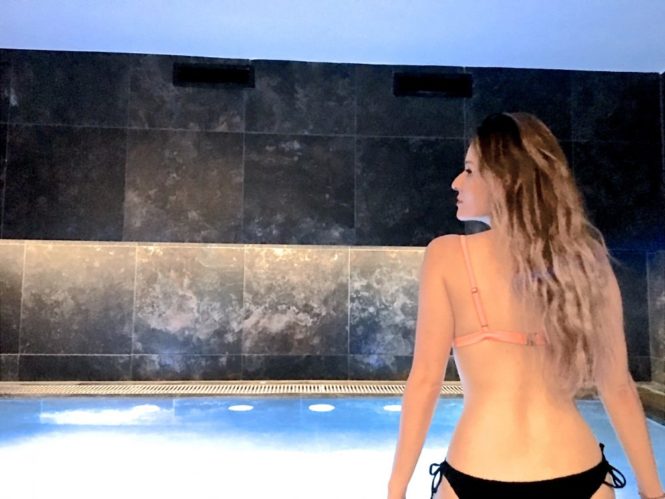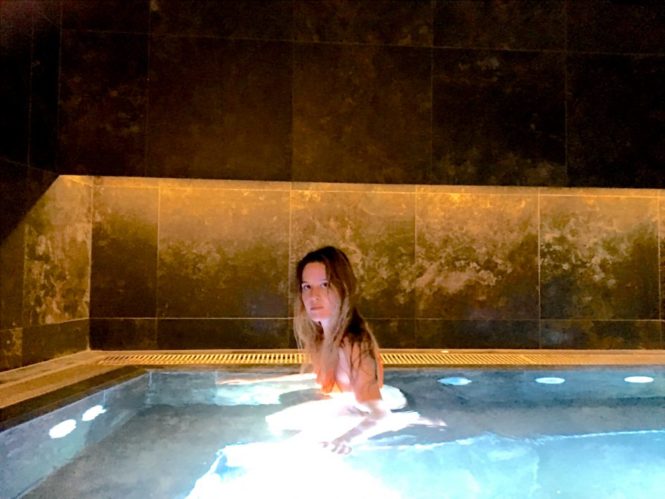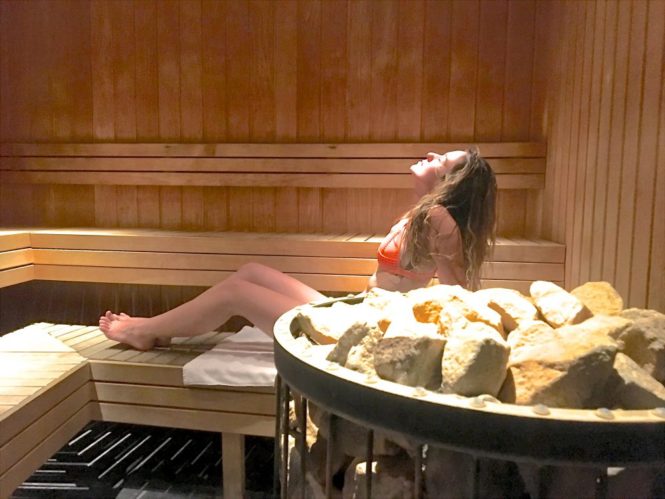 Then, once the relaxation afternoon ended (not forgetting the 30-minute madness massage that was just…wow!), we went to the Bistro Royal, at the end of the street, right in the square of Kongens Nytorv (near Nyhavn, you know these beautiful little colored houses that are so famous?). In short, a great location, and very good food! We enjoyed a good piece of beef with fries and wine sauce and a salad with pumpkin seeds. In addition to a tasty glass of wine, which was perfect to finish this beautiful day.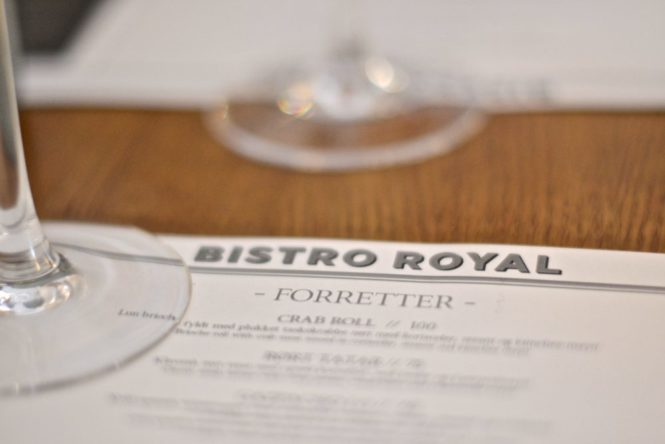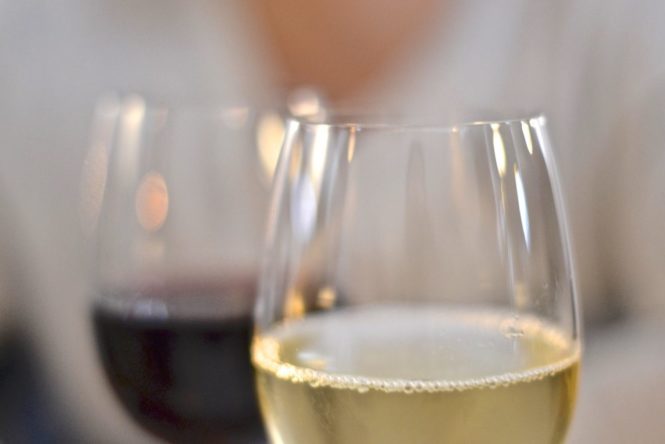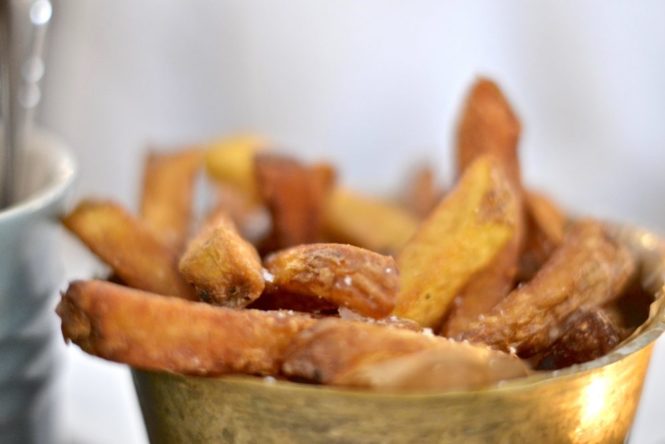 We came out of this experience very relaxed … and exhausted, haha! I can tell you that all the good virtues listed at the beginning of the article were well felt! It's crazy how this kind of treatment can relax the body… We were really exhausted (in a good way) in the evening: in bed at 9 pm and woke up not less than 11 hours after! Luckily it was in a weekend, haha.
Sincerely, a great experience that I can only recommend!
Practical info
If you want to book, here is Arndal Spa website. It's all in Danish, so if you're not Danish you might have a hard time to understand. But good news! Here is the package that I'm talking about and you can just write to info@arndalspa.dk to book or ask info (and English is not a problem, Danish people speak very good English!). They also have other packs (which I personally have not tested but which I'm pretty sure are good): family spa, spa for new moms, spa for pregnant women, spa for her/him, Spa and brunch (instead of dinner), etc. Don't hesitate to ask them in your email. For Danish people, take a look at the site, all the packages are detailed! 🙂
So, babes, I hope you enjoyed this post and will enjoy this spa place if you get to go there! And if you try it, don't hesitate to tell me how you liked it!
* Do you sometimes also go to the sauna? *
SaveSave
SaveSave