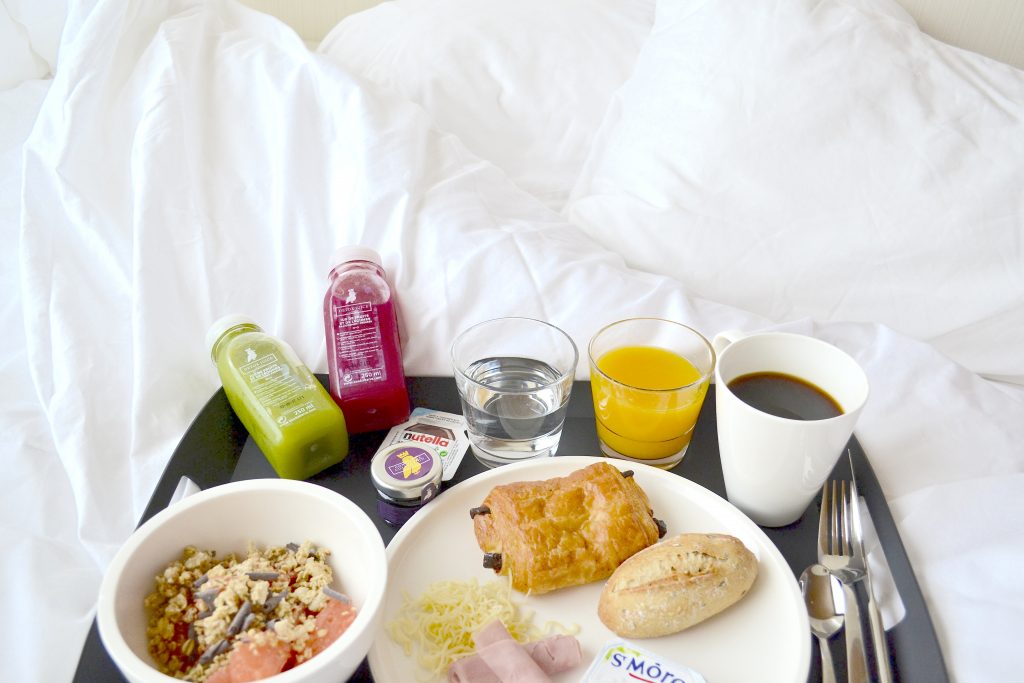 Hello my sweeties ! Here I am, well arrived in Paris! What a pleasure to meet my mother, my friends in my childhood city. I always like to come back here from my little Sweden to enjoy Parisian moments, because after all it is from where I am originally ! As in love with Sweden as I can be, coming back to the roots from time to time is always nice ! I am very happy that my new life as a freelancer allows me to have a little more freedom, so I can go to Paris more often. Clients to meet for my Marketing Consulting activity, blog events : there are plenty of excuses for me to come back (and enjoy time my mom who is so happy as well every time!). To be honest, it's even hard not to fly back every week. But hey, I have to fix some limits. But I can tell you something : when I come here, I enjoy it thoroughly with a busy schedule. In any case, what better way to start my busy week than to arrive and stay at this charming citizenM hotel? I really thank their staff for being so welcoming. I just love the design of this hotel! With its small hot air balloons, its small planes that hover above our heads … SO cute … SO aligned with my universe. I could not miss this! I had to spend a night there! And what a practical location. In addition to being a beautiful break for my eyes, staying at this hotel was so practical for me. I landed on Tuesday night at 10:30 in Paris after a full day of work  (+ the trip). My mother lives in the Parisian suburbs, and I hate taking public transports in Paris when it's so late. It's not super safe… And a taxi is SO expensive in Paris and it feels shit to pay like 70 euros for just a ride ! I am therefore delighted that I could enjoy its perfect location 5 mn away from Charles de Gaulle airport, to rest after my long day and to get ready for my busy week. Let's visit first ! And then I'll also tell you about my plans in Paris
Well arrived in Paris! Had the cutest night at the citizenM hotel, and I'm full of projects
I arrived in Paris a little exhausted. Haha. 22h30, after a full day of work, and with the journey in the legs from Malmö to Copenhagen and then from Copenhagen to Paris. I was delighted to see that the cute hotel where I was staying, the  citizenM, was located 5mins from my terminal. Just perfect. Everything from A to Z was very "digital" with, for example, a self-service check-in in 1 mn. Getting the keys from a computer, order number in hands… So trendy. So digital. So 2017.
So I could quickly lay on my bed, and sink into the pleasure of sleeping. A crazy desire to visit the hotel, play with my connected room (smart room connected to all devices : TV, smart lights, smart curtains…) and take plenty of photos, though. But well, 1) it was dark and 2) it was time to go to sleep. It's ok, I could enjoy the next morning.
The next day, however, I woke up and took advantage of my room and my nice bathroom. I love hotels! I always loved them, haha. Everything is clean, tidy, and there are always plenty of little goodies & surprises in the room. It's a little luxury that is not to be refused when it presents itself :). And play with the colour of the lights in the room is, I have to say, VERY FUN! I'm a child. Haha.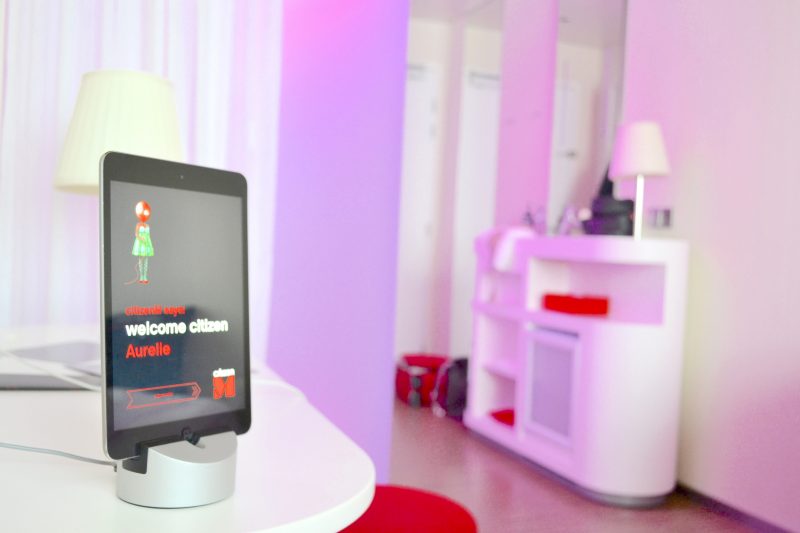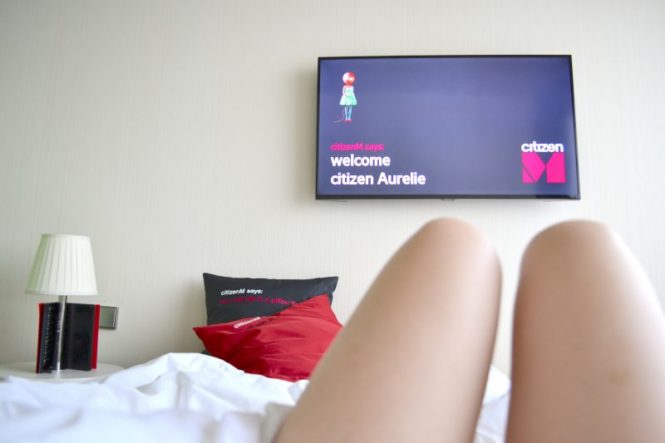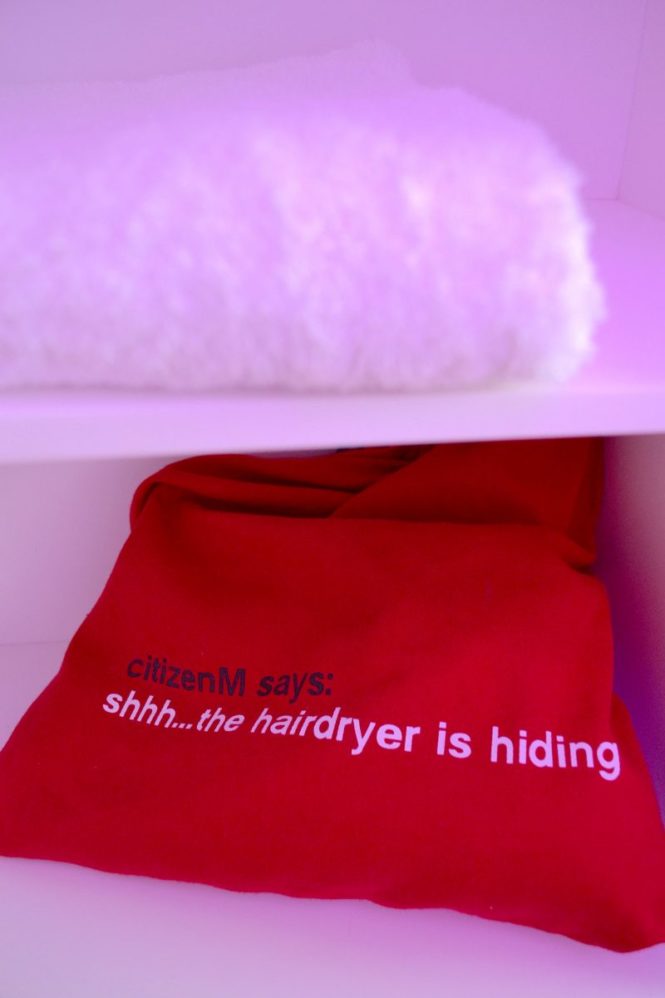 Me and hotel breakfasts, a big love story
And you know what's EVEN BETTER than the actual night when you sleep at the hotel? 😀 THE BREAKFASTTT ! OMG, hotel breakky = happiness. Sincerely, every time I go on a weekend, and I sleep at a hotel, I can not help it : one of the things I'm looking forward to the most is the breakfast. My boyfriend always tells me that I am a food monster. He's probably right…
But look at this ! So delish !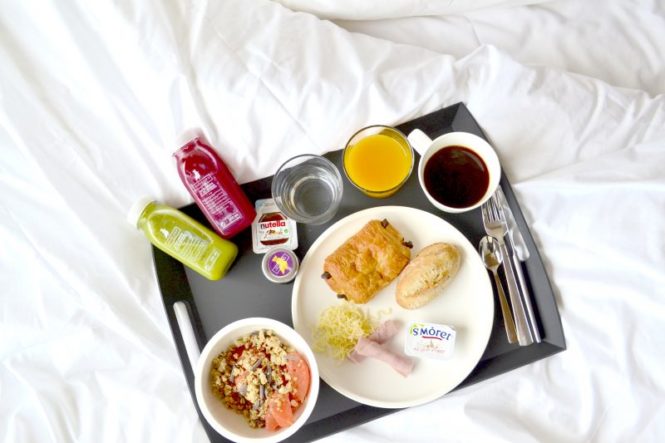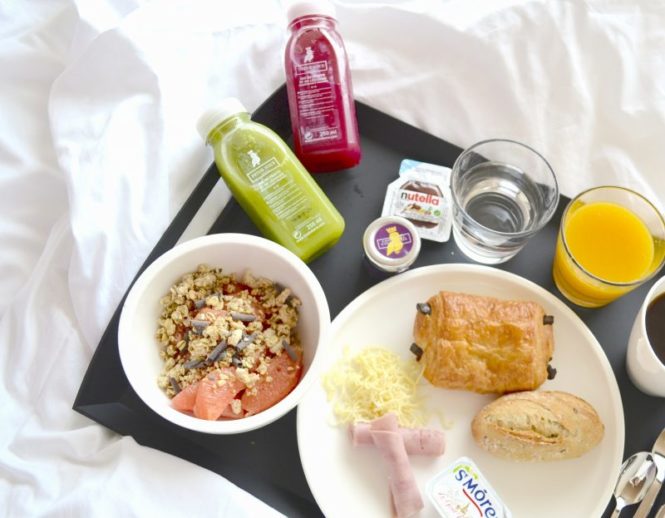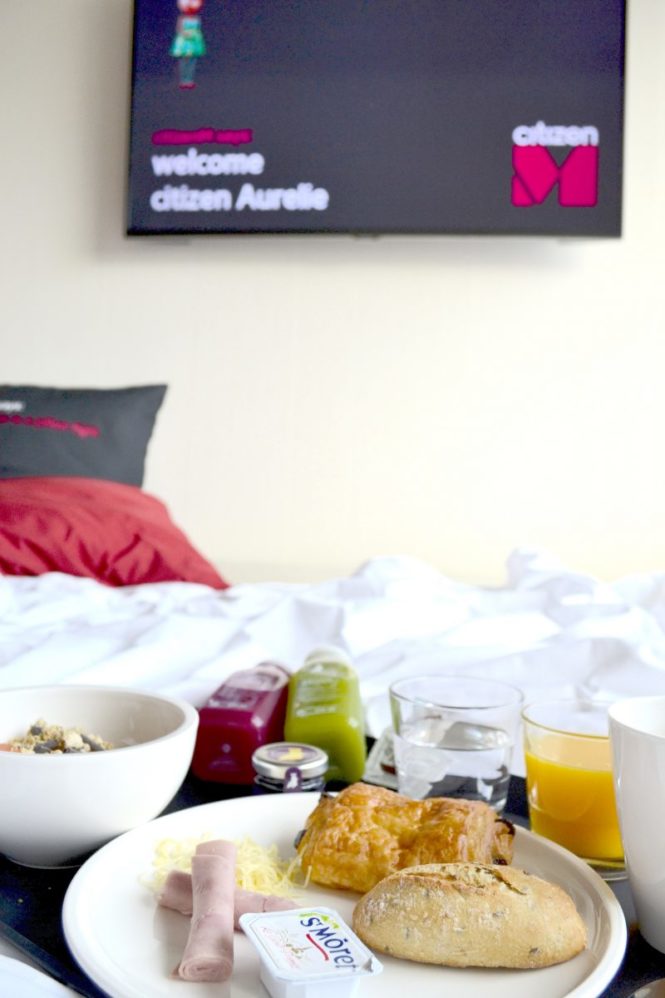 Such a cute design, it almost feels like Disneyland
I told you that the design of the citizenM was so cute. Well, proof in pictures. I really love it. All these little details make it almost an attraction! Small air balloons, little airplanes all over our heads. A lot of little details that make you just want to watch all the time around and above you … to not miss anything :). A bit like Disney attractions. Have you been there before? Because if yes you will see what I mean! For example in the attraction Nemo, you can see the seagulls chatting, the port atmosphere, etc… Or the attraction with the dolls "It's a small world" that you could just ride 10 times in a row so you can see all the pretty things there are to watch. Well, it was a bit like that. Full of pretty details to notice.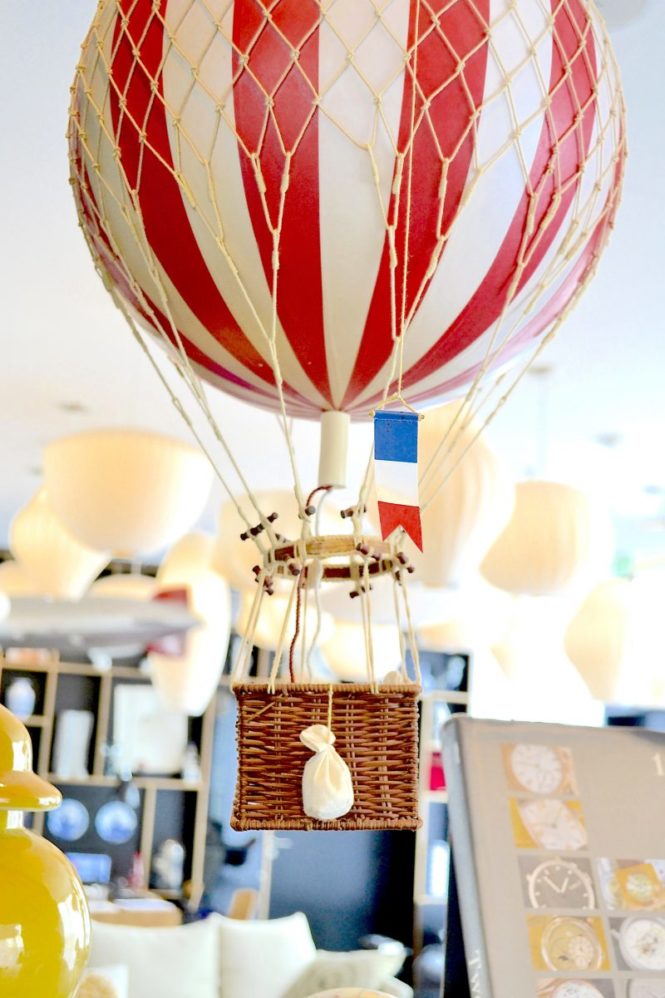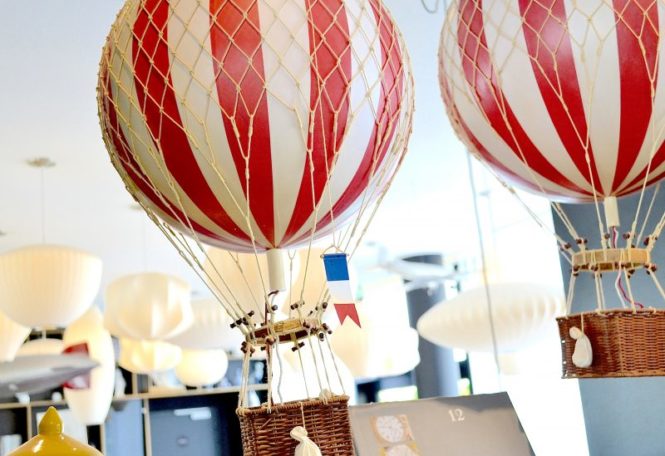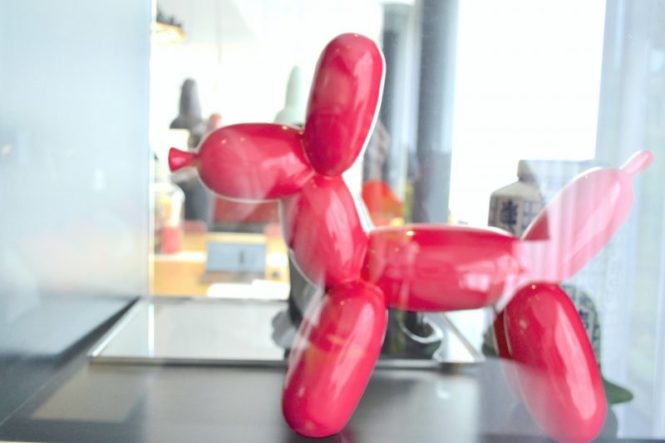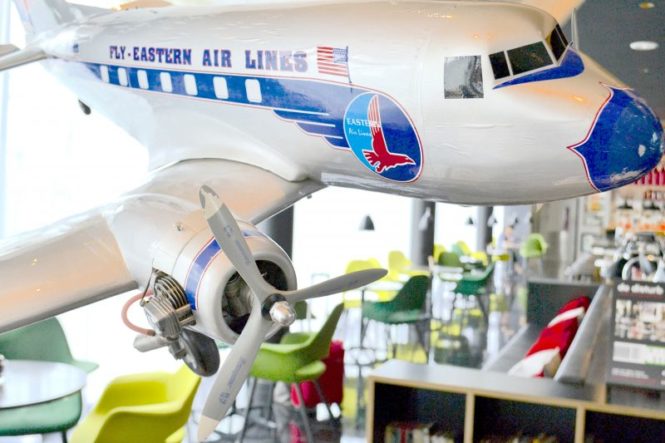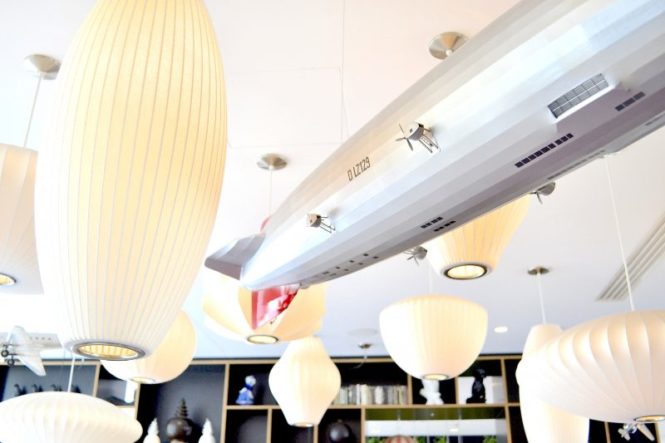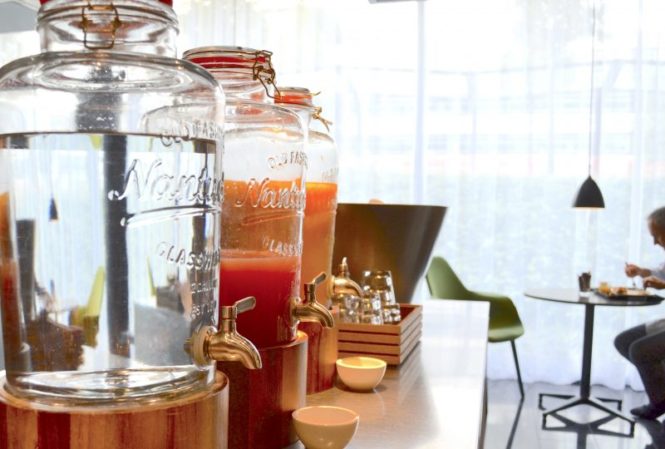 They actually just opened 2 new citizenM hotels in  la Défense and in Gare de Lyon. Other "practical" places to stay but this time while visiting Paris. I am curious what decorations they have … (as I imagine it's not planes this time). Perhaps small trains for Gare de Lyon and a "business" decor for the Defense? Hope I can try it so I know :)!
My program for the rest of the week
Let's go for a craaazyyy week ! Today, I've had an appointment with a potential client for a free-lance project (wish me luck so I get the project!). Thursday evening, I have an event with Rituals and with a friend and then we go to a workshop with a chef, Ferrero and Riso Gallo to make our own Buddha Bowls. Friday, it is a little evening between friends, then a launch for a jewelry collection. Saturday, I go to the instapreneurs fair in Paris (the 1st of its kind organized by Instagram itself! So cool). Sunday is rest (haha – I must). And finally Monday, it's the Lolita Lempicka evening for their 20th anniversary with the meeting of the founder herself and their new muse! It promises to be a great week ! 🙂 As you see I will not get bored, haha.
*****
Here you go my sweeties. I hope you enjoyed the visit ! For my part I really loved testing this hotel! These hot air balloons, these little planes, it was just perfect for a first night in Paris. SO! Now it's time to kick off this cool week in Paris ! Do not hesitate to follow me on social medias (especially Instagram and Snapchat – always @plumedaure) so that we can enjoy it together ! Lot of kisses your way ! <3
* Wanna go for a hot air balloon ride ?*