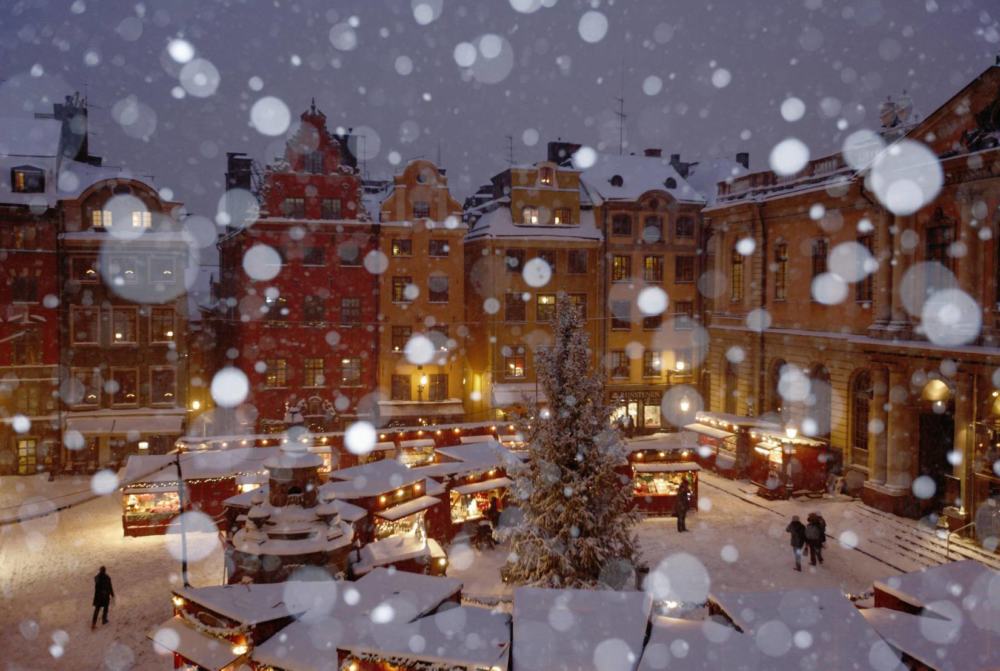 The magic of Christmas in Sweden: if you close your eyes and imagine it, you immediately think of a fairy tale postcard, with cities and villages full of sparkles and beautiful white snow. It's gorgeous! I've been lucky enough to live in Sweden since 2015 and this year-end, I'm taking you with me into the Christmas magic in Sweden. There will be several articles on this theme published until Christmas so stay tuned! Also feel free to follow my instagram account where I will be sharing lots of photos about the Swedish Christmas magic.
Main photo : sweden.se
The magic of Christmas in Sweden begins in November
In Sweden, as early as November, the streets are decorated with a thousand lights. The Julmarknad (Swedish Christmas markets) start to appear. The stores dress up their windows with Christmas decorations. That brings us plenty of warmth with all these lights and attractive colors: we need it very much. The days are short (the night falls around 3 pm during the winter in the South of Sweden, for example. And in the North, the day does not rise during weeks…). I think that's also why the magic of Christmas in Sweden starts so early.
Everything the magic of Christmas in Sweden has to offer for 2021
After the pandemic, we will finally rediscover the magic of Christmas a little more normally: the Christmas markets, the possibility of going to the stores without (too) much fear in order to purchase our presents. What a pleasure!
Here is what the magic of Christmas in Sweden looks like and what I am looking forward to the most this year:
The Advent season
Traditionally, Swedes light a candle from an Adventsljusstake (a Christmas candle holder) every Sunday until Christmas. It can be real candles, or electric candles. Almost everyone in Sweden has the same one (this one) and from mid/late November you can see it on every windowsill – companies, stores or private homes. It is also a tradition to hang lighted figures and decorations on windows and shop fronts, and Jultomte (little Christmas gnomes) on the ground, under the Christmas tree and in the gardens. In the legends, it is said that the Jultomte served as a guardian of the crops for the year – thank you, Jultomte!
Christmas markets (Julmarknad)
Walking between the bright stands, wrapped up in a scarf, gloves, a hat and a heavy coat. With pink cheeks because of the ambient cold. Taking a trip to the open-air ice skating rink. The Christmas markets in Sweden – and the ones in Malmö, where I live – are beautiful! To warm up, a good glass of mulled wine (glögg) and a hot dog (korvbröd). Yummy. Then do some shopping with nice Swedish handicrafts, seasonal culinary products (smoked meats, reindeer, Swedish Christmas pastries). Double yum.
Lucia (Saint Lucy)
Being in Sweden on December 13 (and/or the whole week before) is a fairy tale. Lucia, or the festival of the "Queen of Lights" (Saint Lucia), has been celebrated here for 400 years. Throughout the city or town, there are processions and concerts, Christmas hearts, as well as in the churches.
All these processions gather thousands of young girls all over Sweden, who come to light up the Swedish winter night by marching and singing in front of silent crowds. They are dressed in a big white dress, hold candles in their hands and carry crowns of candles forming angelic halos. It is impossible not to be transported by the beauty and the charm of these processions, and not to be tempted by the small Lussebullar (sweet breads with saffron and raisins, typical of Lucia in Sweden) distributed and sold everywhere in the surroundings. It's magical.
Julbord (Christmas table)
Once again from the end of November until Christmas, Swedes enjoy – often several times – a Julbord, or a traditional Swedish Christmas buffet. At least, it is common to have a Julbord at work, a Julbord with the family (often THE Christmas Julbord on December 24th), a Julbord with friends, and why not even one or a few Julbords in restaurants. Most restaurants serve them. What is a Julbord? A big buffet with lots of delicious food:
sill (marinated herring). It is delicious, find a recipe for Swedish marinated herring to do it yourself.
gravad lax (marinated and/or smoked salmon)
knackebröd (crispy bread crackers with seeds)
cold meats: pâtés, Julskinka (Christmas ham with a mustard crust)
hot dishes: meatballs (köttbullar), Janssons frestelse (a gratin of salted fish and potatoes), fermented cabbage (brunkål or grönkål), prinskorv (knacki sausages)
hard-boiled eggs with kaviar (no, not the expensive caviar, but a kind of very salty tarama that goes well with an egg or cheese – you can find it at IKEA if you' re curious!)
a plate of cheeses.
different mustards to go with all this, seed mustard, sweet mustard…
as a dessert : it's what Santa eats, it's a rice porridge with red-berries sauce called "risgröt".
In short, a lot of delicious things! Smaklig Måltid! (Bon Appetit!)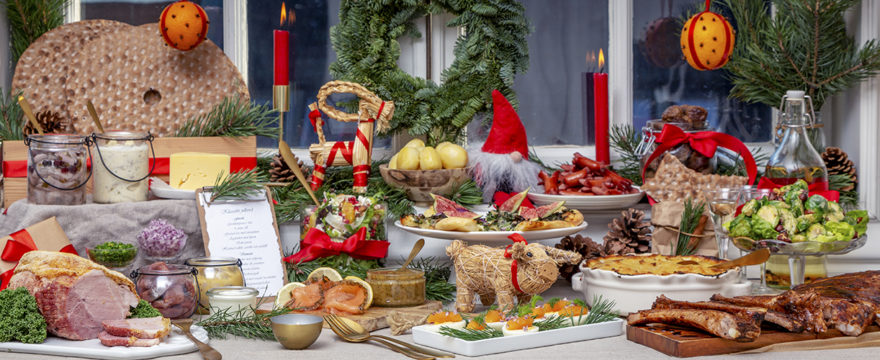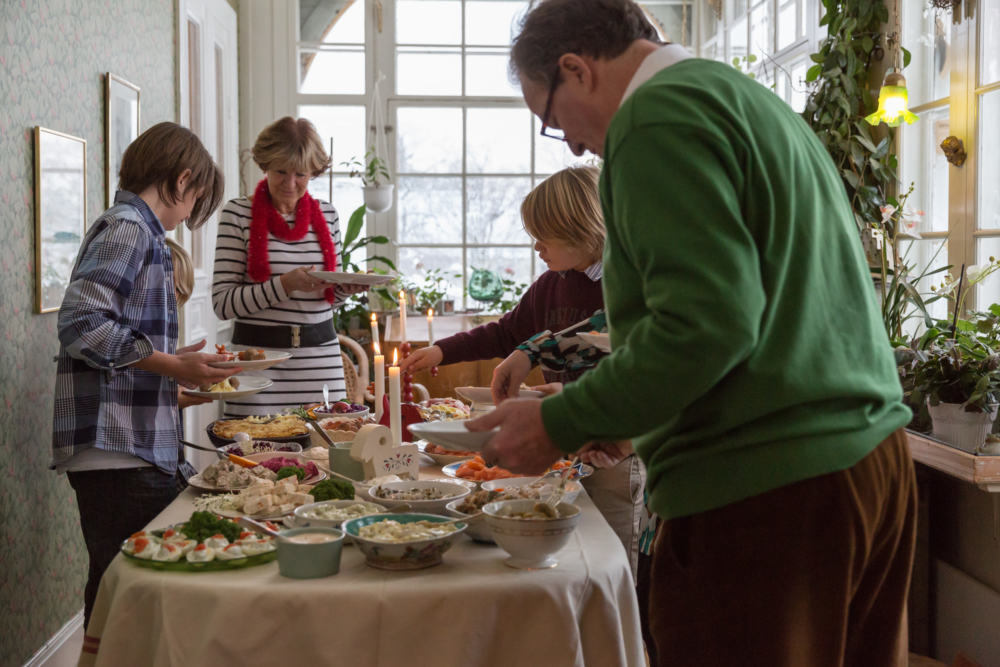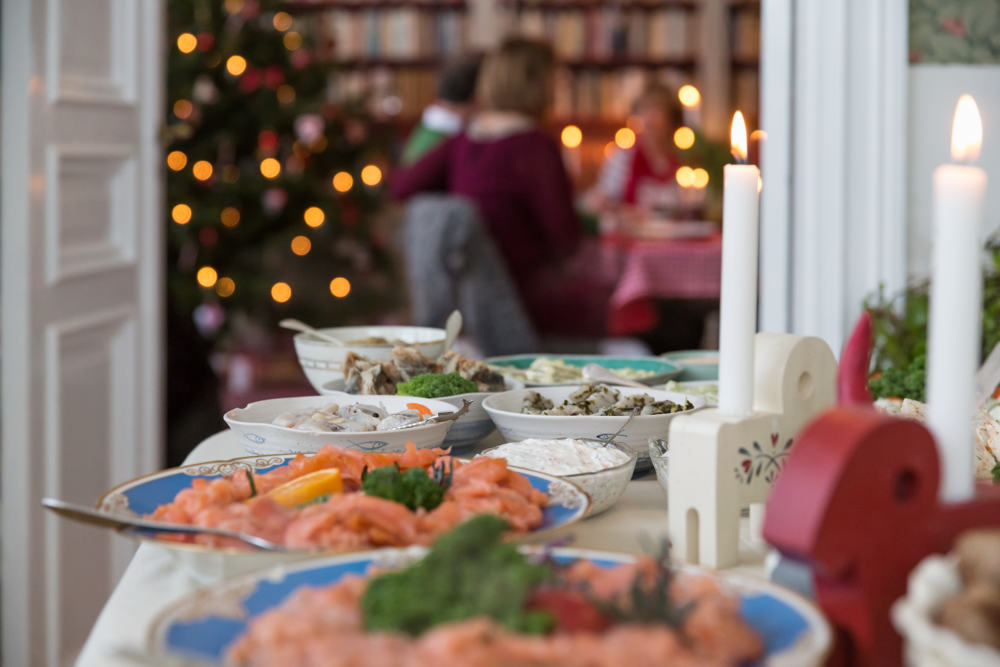 Christmas Day and Christmas land
In Sweden, Christmas is mostly celebrated on December 24 (Julafton), often with the family. Jul Tomte (Santa Claus) distributes presents and sweets to the whole family.
Often it happens like this: we spend the day together, we watch Kalle Anka (television program which is the same every year since 1960 at 3 pm on the SVT channel). Everyone watches this program, and then the presents are distributed and we drink Glögg (mulled wine) with a fika (a snack) then at dinner time – around 6pm in Sweden – we enjoy a Julbord.
Did you know that Christmas land actually exists in Sweden? In Dalarna, in the center of Sweden, you can watch Santa's reindeer or visit the workshop and the gift warehouse. Magical!
Ah… I love this period!
So, are you coming to Sweden for your next Christmas?