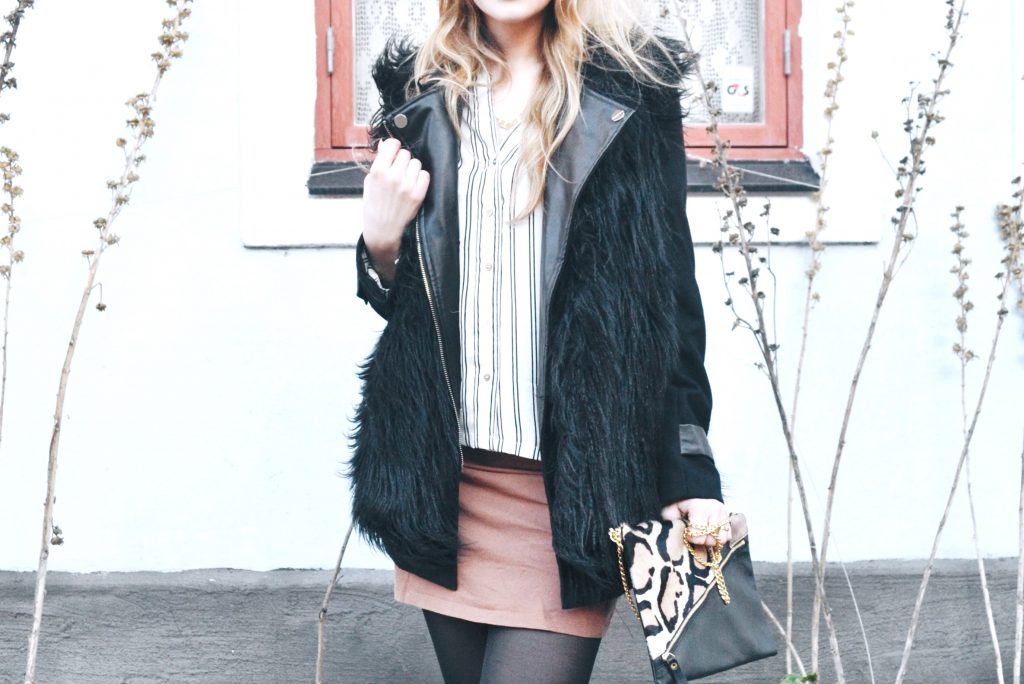 Hello my pretty feathers! How was your week-end ? A new week starting again … and personally, I'm starting my second last week before CHANGE. For those of you who are new here, by "change" I am referring to : my move to a new apartment on April 3rd and, as if it were not already enough, also to my new professional life. Indeed, I decided, as I explained in a last post to be self-employed as a e-Marketing / e-business freelance consultant. I'm really excited ! April is going to be hectic! And for the appartment, I really can't wait to show you all this and discover my new little home sweet home. Soon! Only 2 little weeks left… Fiew, feels weird but exciting ! Introduction finished :). Today I wanted to compose a little look that you can wear in the office. A professional outfit but with a little extra touch: the faux fur coat. I think we've seen this kind of coat everywhere lately! And of course, it fits perfectly with good old destroyed jeans, a white t-shirt and boots, in a "rock / sexy / grunge" version. But I wanted to mix this piece with an office look, often very classic and that can get boring. So, do we dare?
Faux fur coat at the office: because "working" does not mean "boring"
How many of us have to go to the office with "appropriate" outfits? No sneakers, no shorts, no crazy stuff. Personally, I've been lucky for 2 years in my current job because in our company it's pretty casual. But I've been in other companies where the combo blouse + skirt + blazer were obligatory. So how not to get bored to death with this kind of outfits every day? There is always a way to spice up an outfit: a hat, a bag with intense colors, an original necklace, and so on.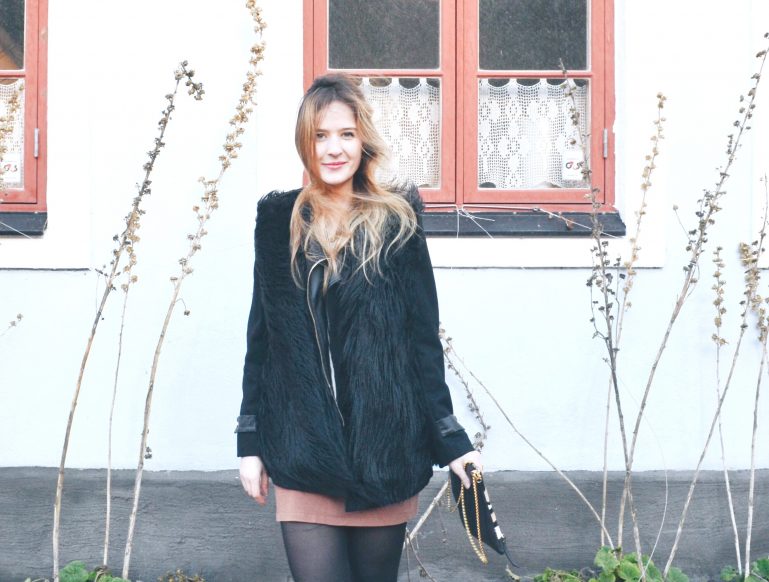 Since at the moment it is the return of the faux fur jacket, I immediately thought of this as a way to pimp an office outfit. Indeed, what is simpler than a skirt, a shirt, black tights and boots? Still nice of course, but after a while you can get tired of it … when the only "difference" every day is the colours, or getting from skirt to trousers and vice versa. So, let's wear a faux fur coat in addition to all this, and voilà ! Immediately, we transformed the outfit into an evening one, almost. Don't you think ?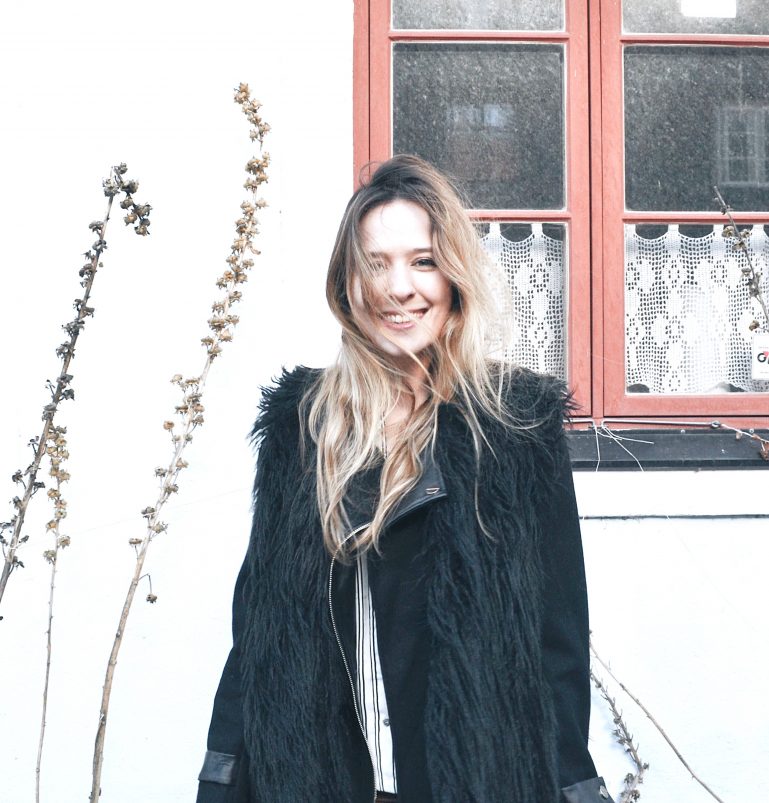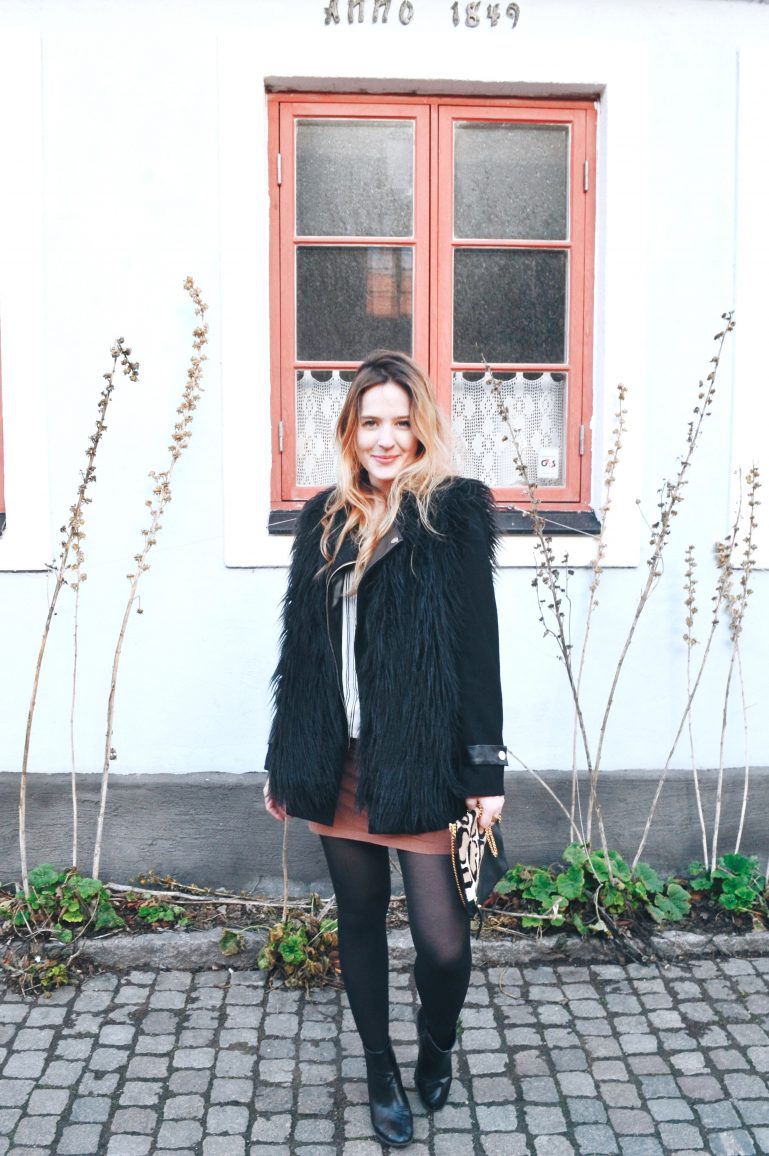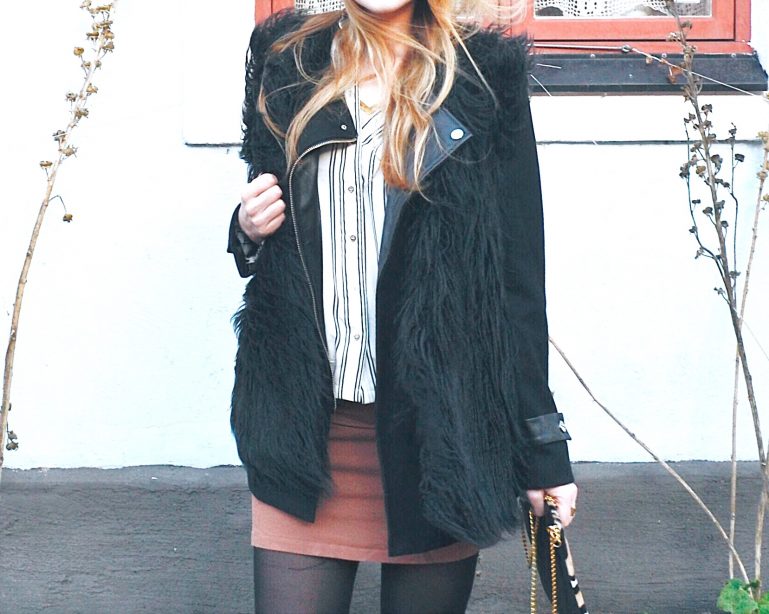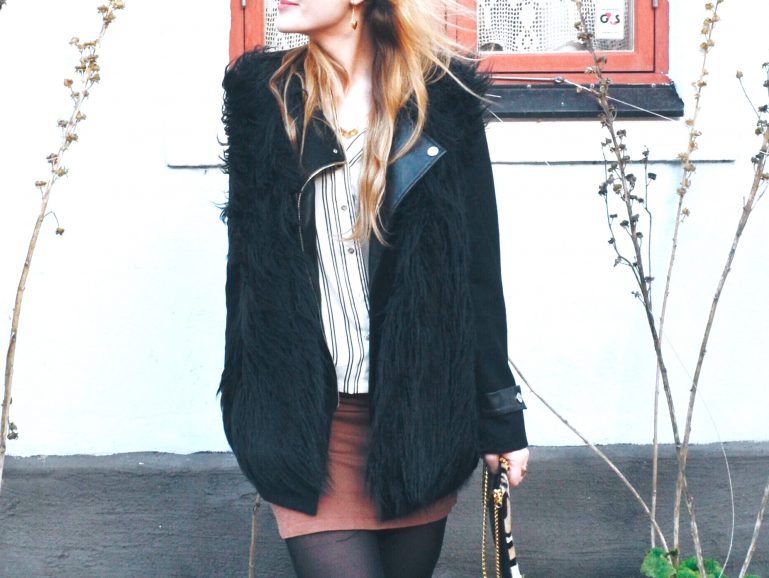 And for the more shy of you, just remove the faux fur layer when your boss passes, and here you go ! Haha :)!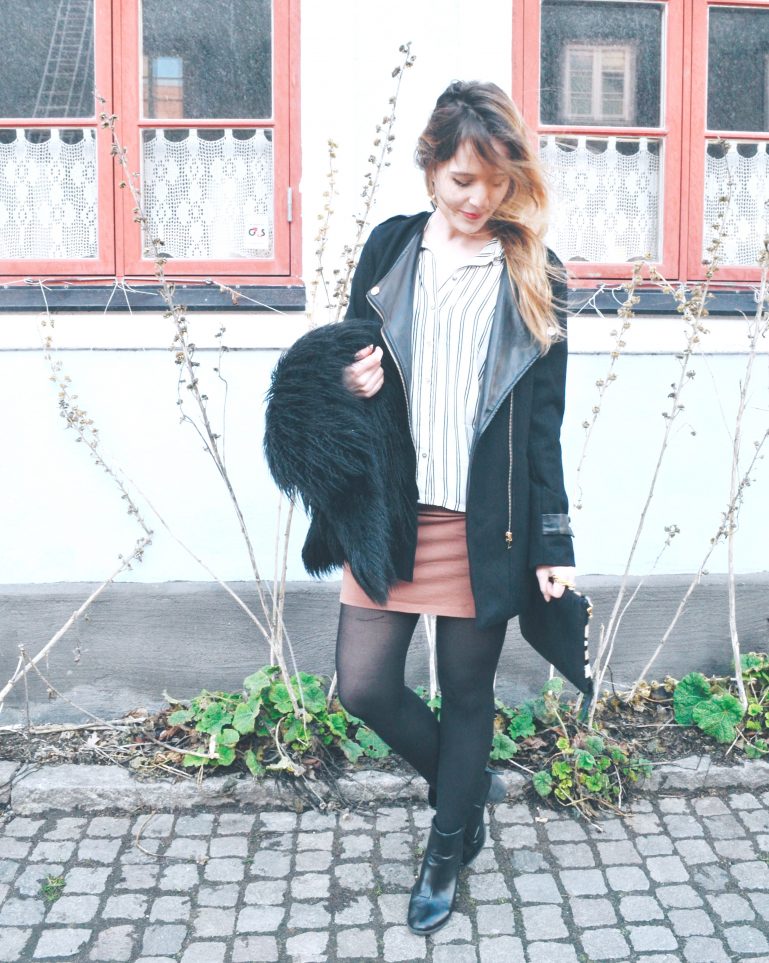 As accessories, I wear my pretty bag from the designer Cécile Biais whose all creations are entirely hand made, bluffing, isn't it? I invite you to go see her creations (the link is at the end of the post). As for the jewelry, everything comes from my crush brand La Jungle, that I don't need to introduce anymore. A talented, adorable young woman which makes little marvels ! I love how she works with metal, as well as her geometrical pieces !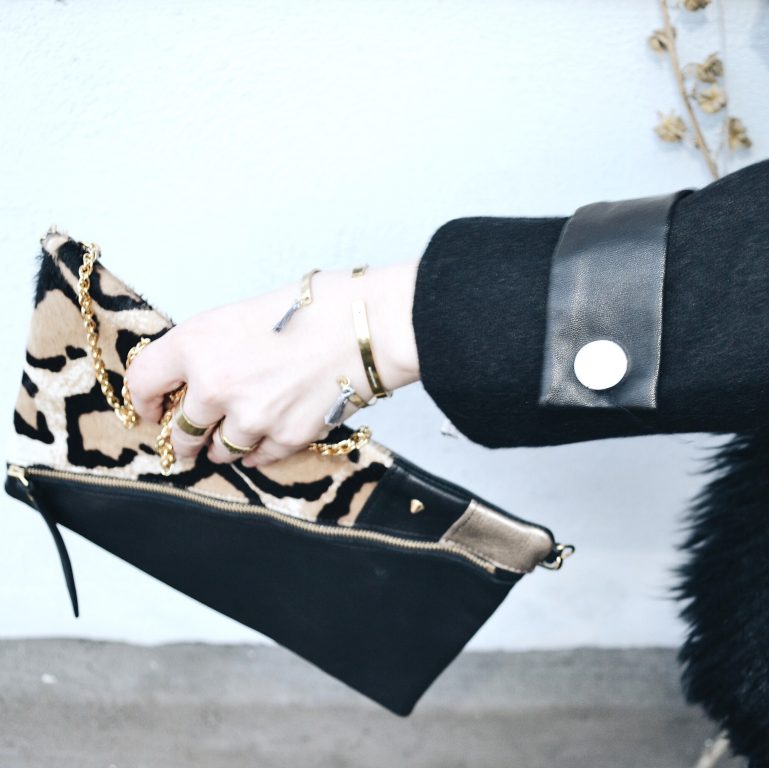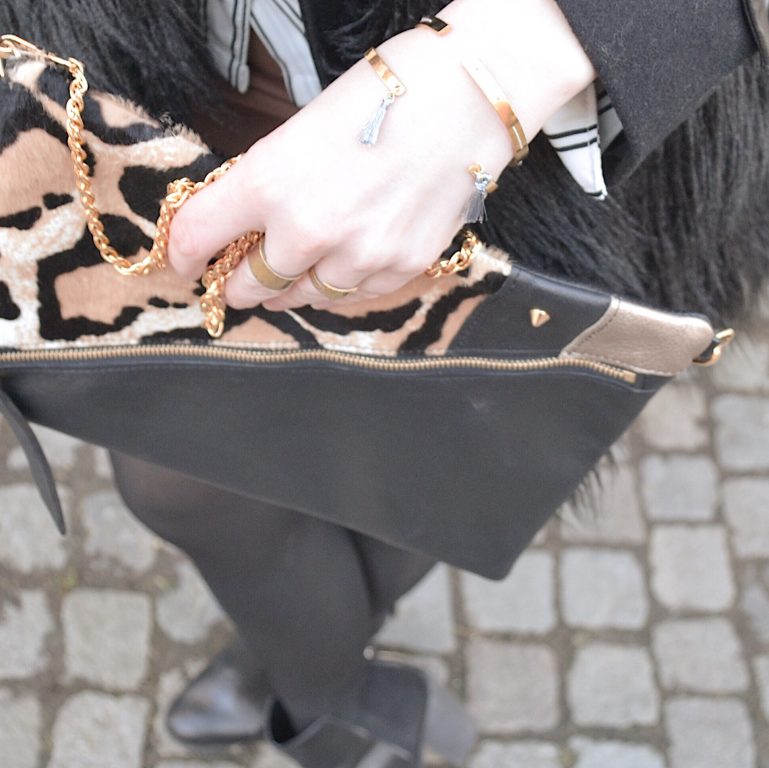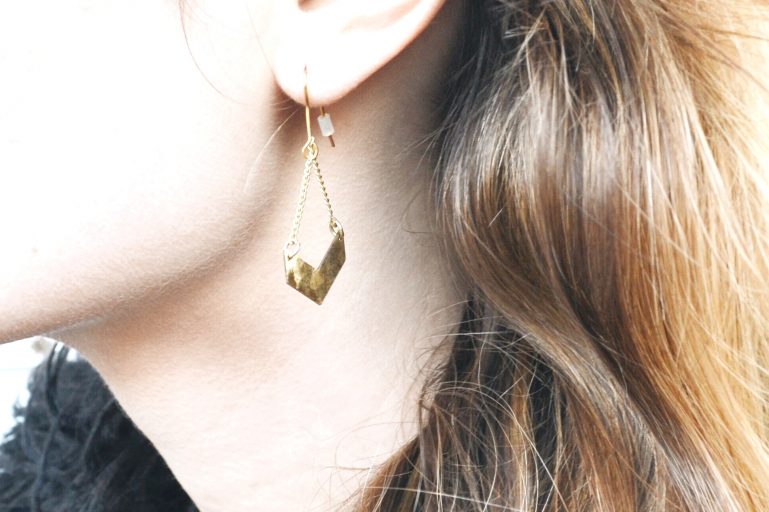 +++ And you, what are your tips to pimp a working girl outfit ? +++

Credits : 
Faux fur coat from Pink Martini Collection
Fake leather and cotton black jacket from SHEIN
Jewelry from La Jungle
Bag from Cécile Biais
Shirt, skirt, tights and boots from H&M