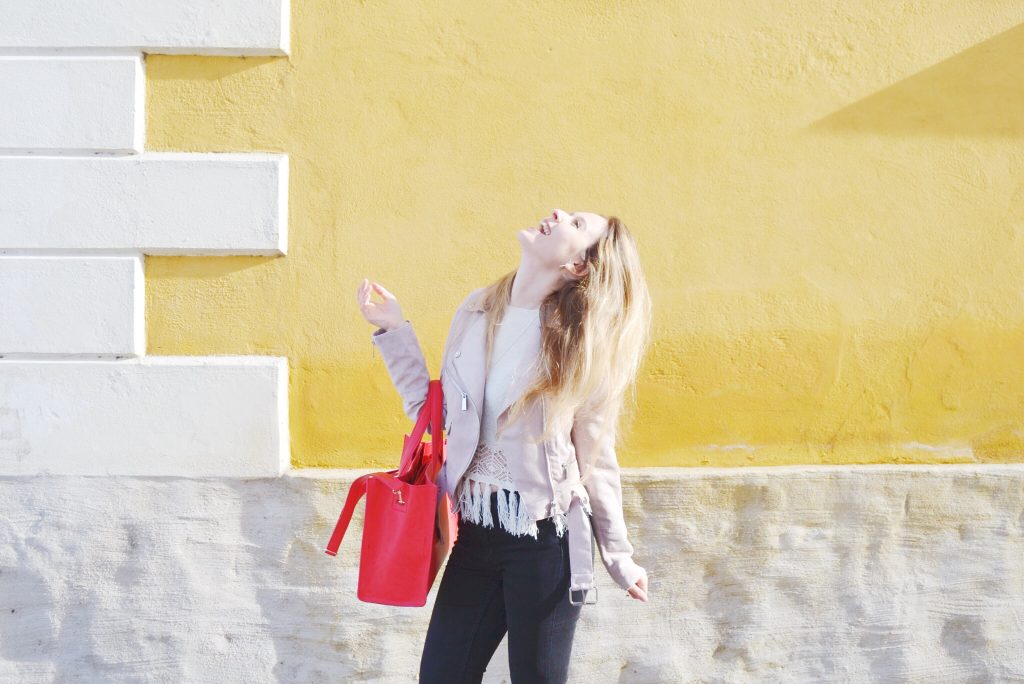 Hello my lovelies ! I hope you are doing well ! I'm doing extremely well, and one of the reasons of this is because I just spent a nice weekend in Malmö bathed in beautiful sun! AMAZING ! The sun really boosts the energy levels, especially when the long, gray-gray and icy winter begins to last… Finally come the beautiful days! Or at least they are not very far! In short, this beautiful weather inspired me, and I of course took the opportunity to shoot a look with pretty spring colours  The two star items of this look : my powdery pink jacket from Ivy Revel (a brand I love and that I no longer introduce) and my brand new red peppy bag from Maison Gaja (another crush brand that I no longer present). In short, just beautiful and colorful pieces that I will not leave during spring (and summer)! Something else that I included in this blog post : a big life project ! And I tell you why this spring will be special. A turning point in 2017. I told you I would tell you about it in April but I can not wait! Too excited! Are we talking about that in more details?
My powdery pink jacket and my red peppy bag full of exciting projects: spring is here!
A very nice day spent in Malmö this weekend to shoot this colorful look! I chose to use as a background the pretty walls of Boule Bar, a nice French coffee / brunch in Malmö. This yellow is sparkling, it is the color of the sun! Perfect !
Let's start with the look. I took advantage of these few rays of sunshine to give up my big scarf, my big bonnet and my thick coat to wear my new powdered pink jacket from Ivy Revel. I LOVE this brand, as you know. Created by the Swedish blogger Kenza, it's becoming more and more famous and offers beautiful clothes, high quality and affordable! I am a true ambassador of Ivy Revel, and I can only recommend it to you. (Do not hesitate to use my coupon code PLUMEDAURE20 to always get -20% on all your orders. A good opportunity to try it out if you want to! )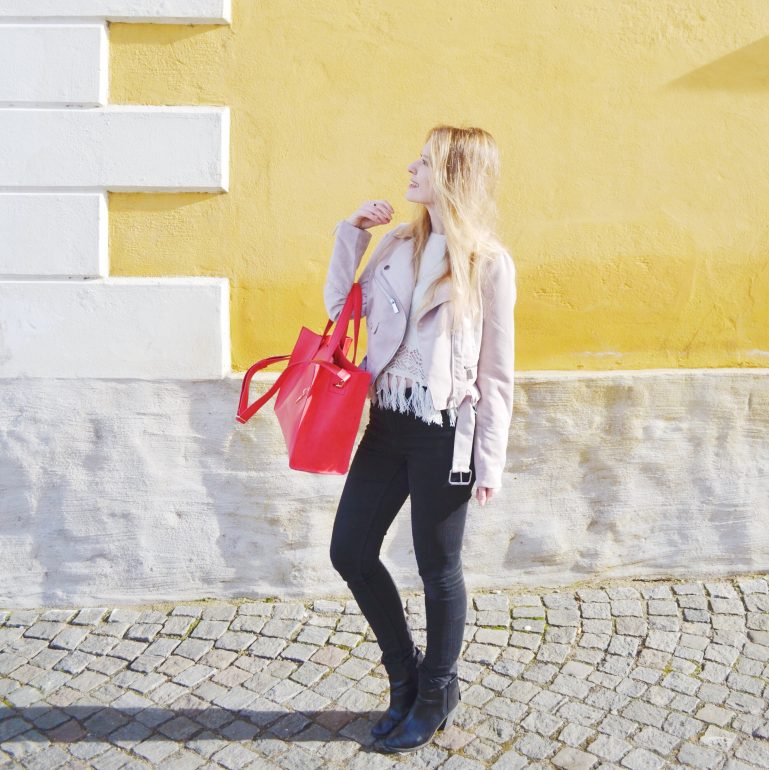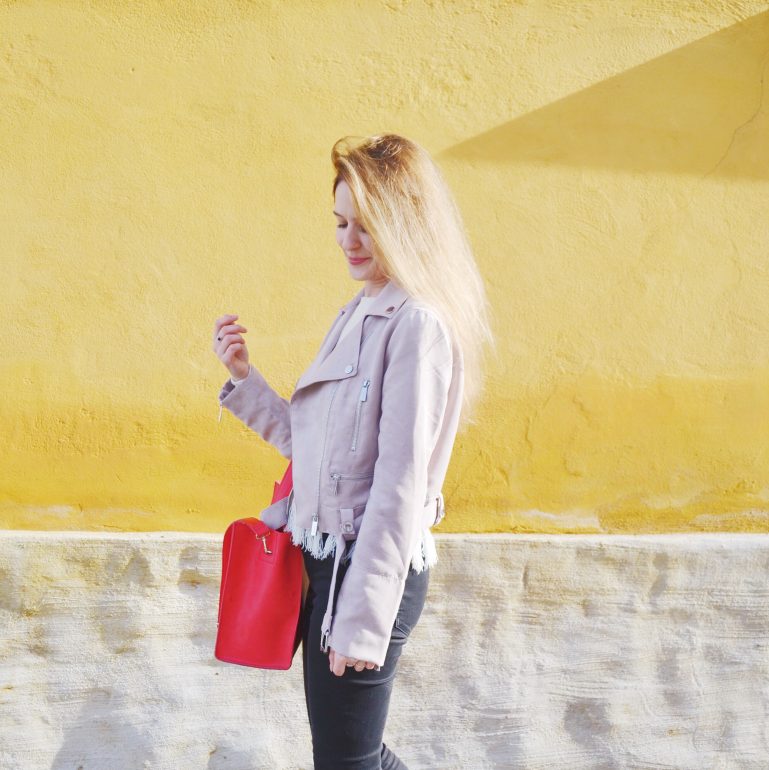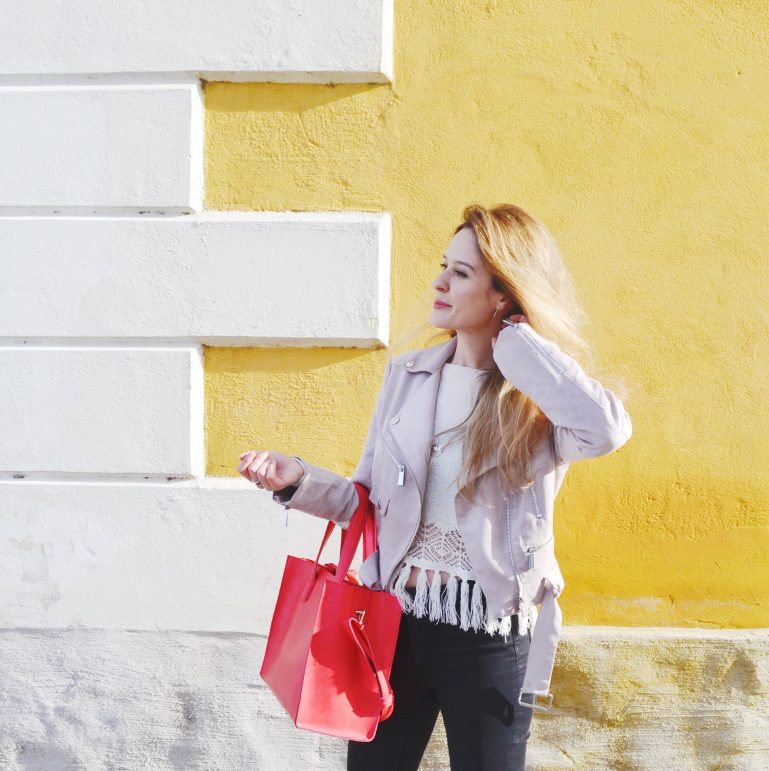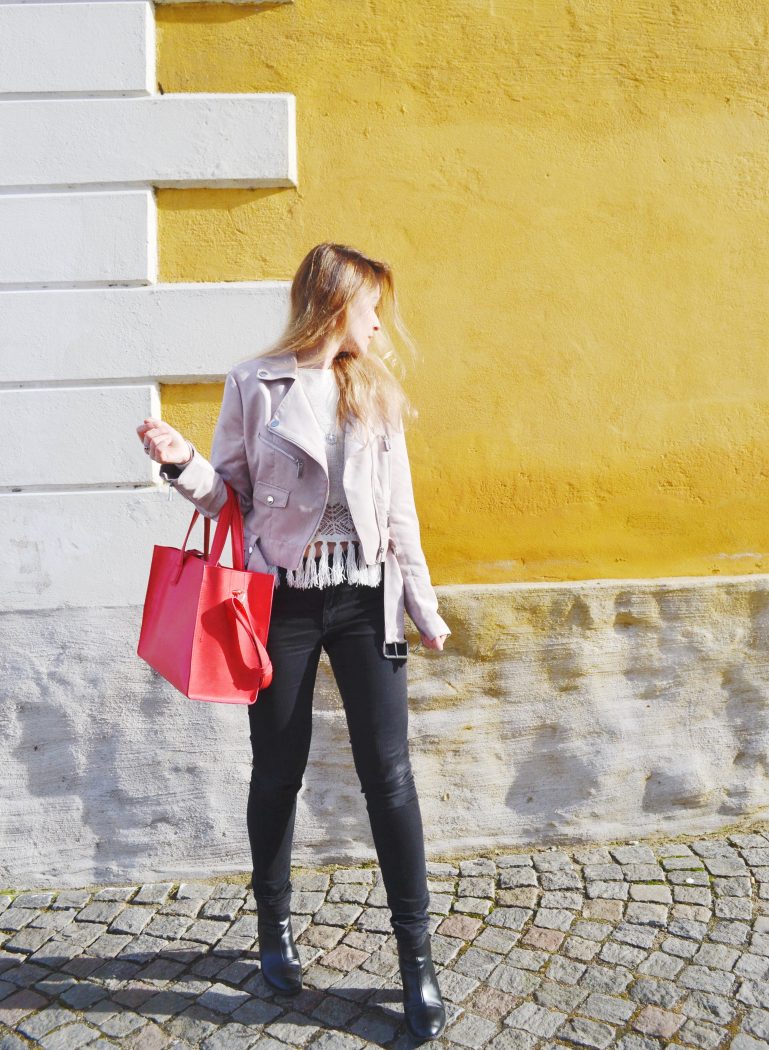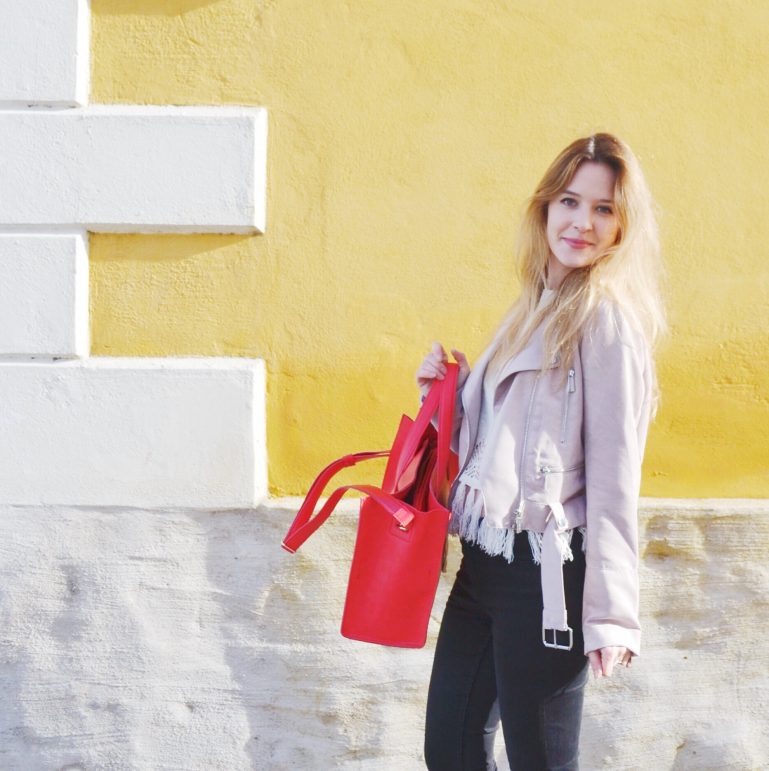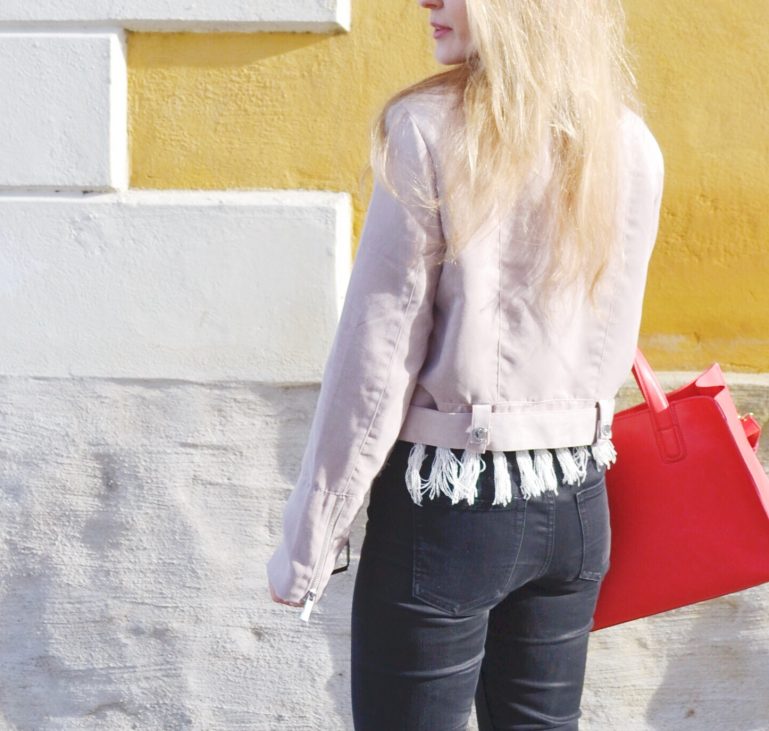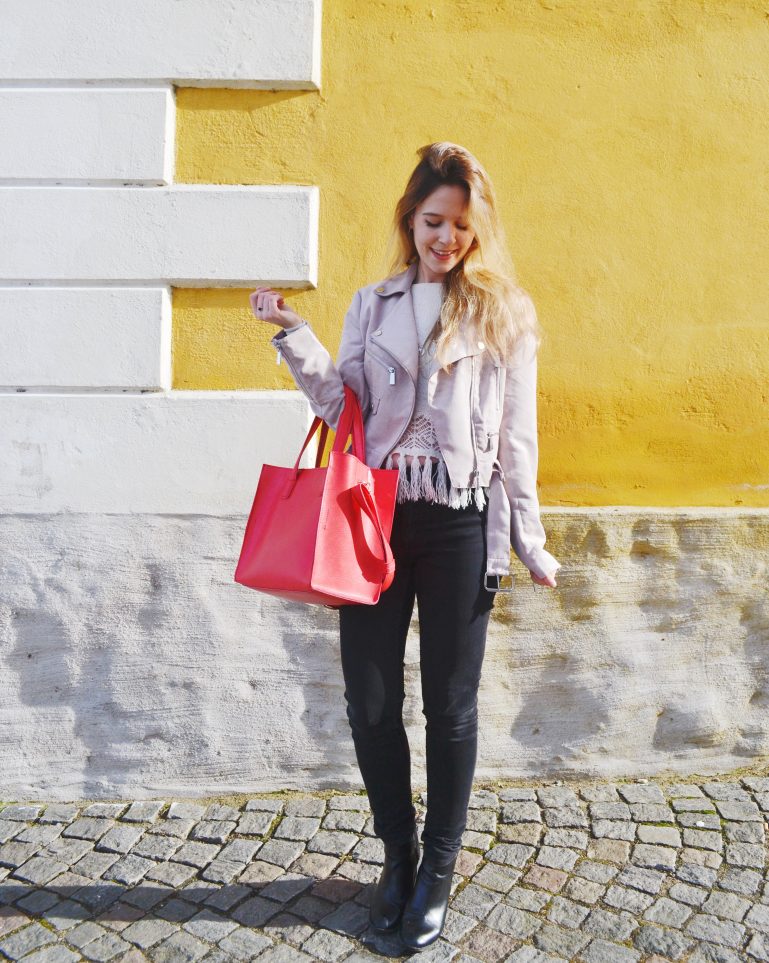 To be associated with this sublime jacket, I chose to use a fringes top that I had shopped on ASOS last summer and which I adore. These little fringes are very summery and give a little hippie / chic side to the outfit, don't you think?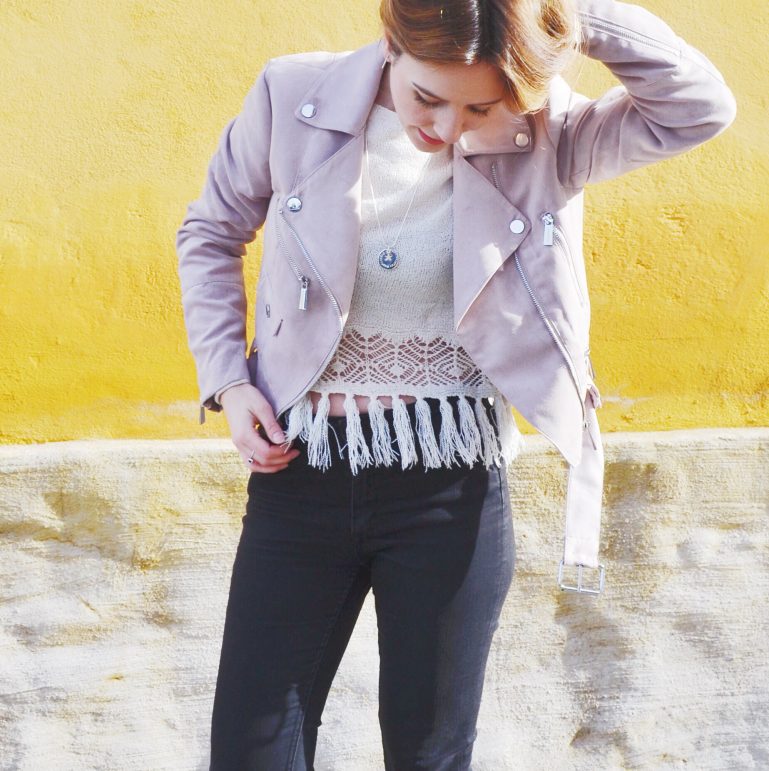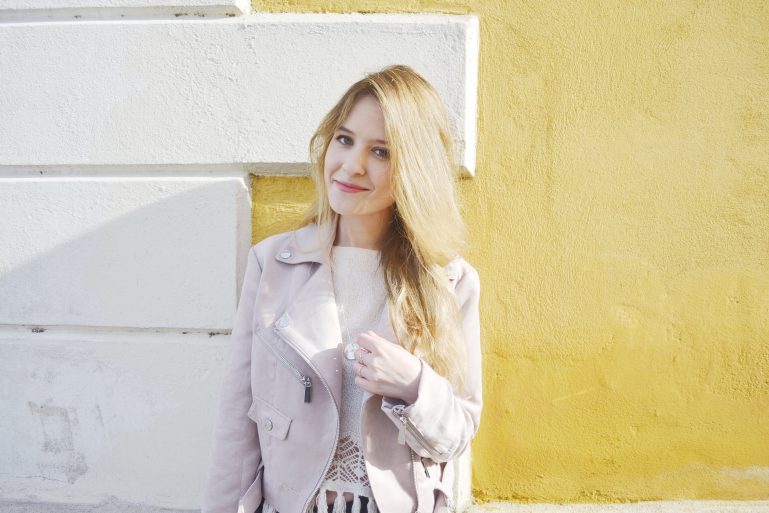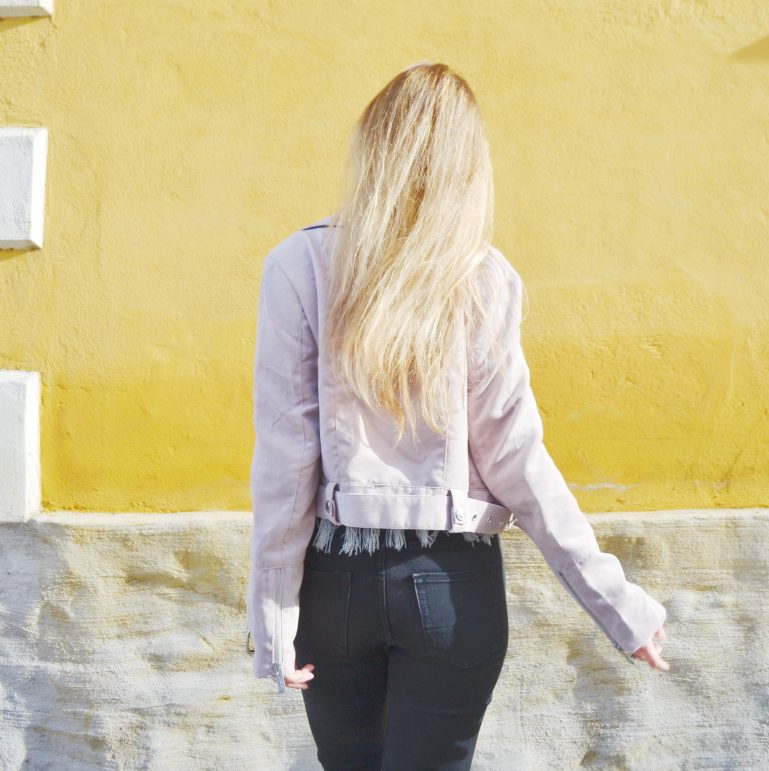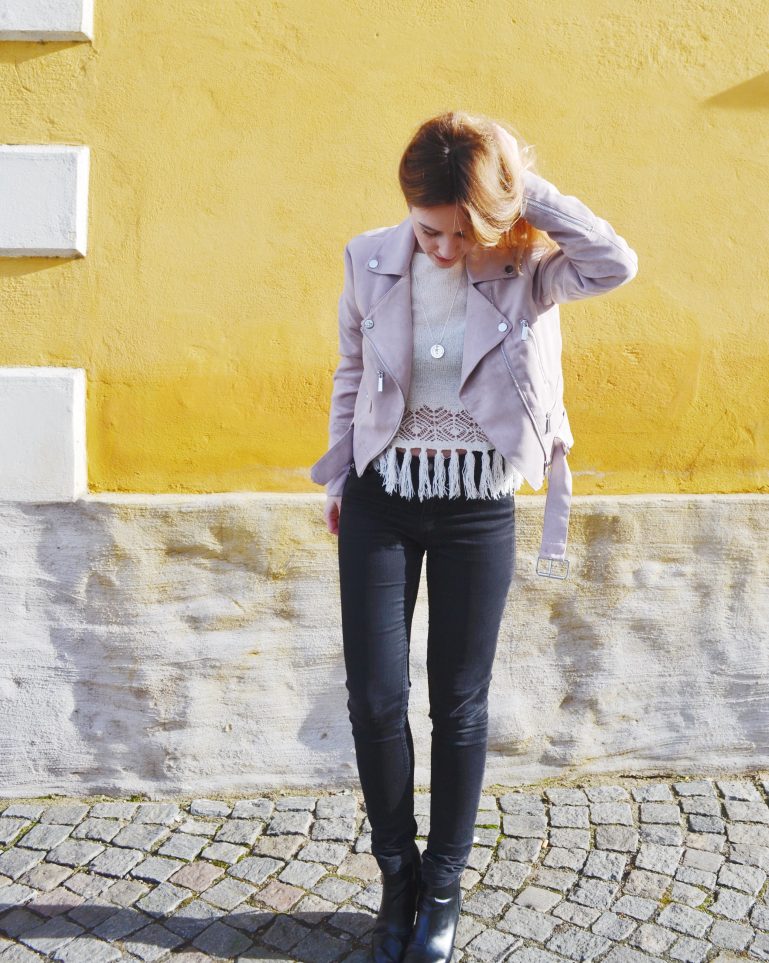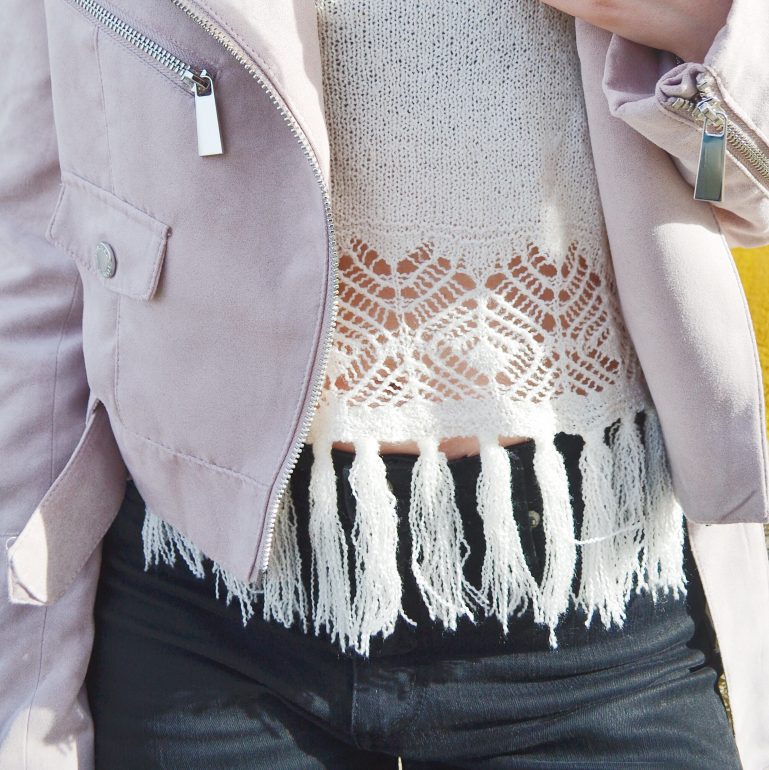 On the jewelry level, I also wear new things that I love and can't wait to present you! Let's GO!
First of all, I wear earrings and a ring (the collection "small dots" – because of their shape composed of super small dots) from the brand JoyaBrussels. When the blog allows me to meet inspiring and talented people … one of the favorite facets of my passion, which motivates me every day to give even more of myself! JoyaBrussels is the name of the boutique (physical and e-Shop) of a Belgian designer. An adorable woman, a "jewelry designer" who mixes style, sensitivity and art in her jewelry creations. She owns her own brand "Aurore de Heusch – jewelry designer" with her own creations (for example the jewelry I wear) AND she also sells the work of other designers, to propose the "Crème de la crème" in terms of jewelry. I put the link to her site at the end of the article, which I advise you to visit <3.
(The other honeycomb ring comes from the brand Milvic Design, also a superb Danish designer about whom I spoke to you here).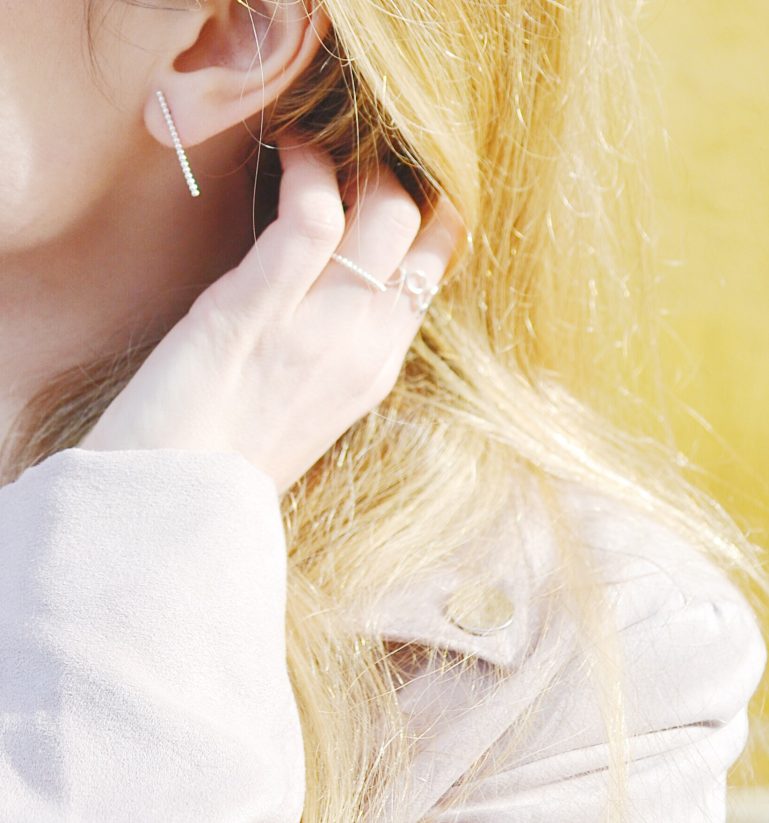 And, the beautiful necklace personalized with my phrase "EVERYTHING IS POSSIBLE" comes from the brand Chère Lisa Bijoux, which before being a "brand" is a person who is important to me. A beautiful encounter thanks to Instagram, a girl full of sweetness, with whom I know I could spend hours around a cup of coffee and madeleines to remake the world. A big kiss my Aude if you pass by, and I hope that very soon we will have the opportunity to see each other in real <3! In any case, Aude makes very nice jewelry too. Quality silver pieces where she can write anything of your choice, in order to personalize your jewel and make it unique. I also put a link to her e-shop at the end of the article, so that you can also order your little "totem".
… Which allows me to make a transition to the "project" part of this article…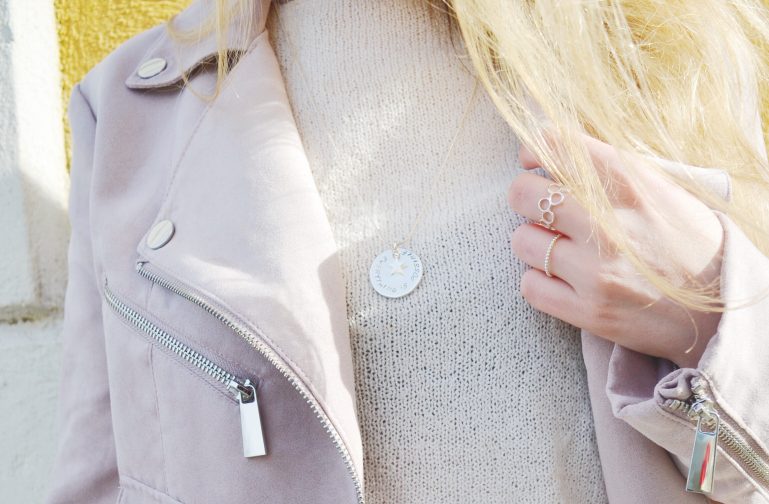 +++ EVERYTHING IS POSSIBLE +++
Personally, here is my totem: I chose "Everything is possible". Because it's a phrase that has been repeating in my head since I was a child. Because it is this phrase that, like a little guardian, pushed me to make the craziest decisions of my life that I have never regretted. Because it's the phrase that comes even more in "repeat" mode and louder volume as soon as I enter a period of life that does not satisfy me more fully, like if it would say to me "Hey! You're done with this chapter of life. Now it's time to make your next move! It's time to realize your next dream!".
Yes, you have understood, I am at a turning point in my life. One again :). After the last two major decisions I took for myself in 2013 and 2015 – the first one being to travel in backpack mode one year in Australia and Asia, and the second being my expatriation in Sweden to live my life together with my beloved Swedish boyfriend (that I met in Australia by the way, which shows how every crazy stage of life leads to another!) – I decided in 2017 to get even closer to the lifestyle of my dreams. I had already spoken a little about it on Instagram, and I told you that more info would come in April, but I can not wait! I'm too excited! So here we go : my crazy change is to get away from the classic office life, the classic everyday life routine, and to work for for myself, as a freelance.
What ? How ? Well I will take in a big bag type Santa Claus hoot ALL my skills in Digital Marketing, Web Design, Web Communication, Social Media Management, Marketing Strategy (etc. etc. – Yes, I am a small Swiss-knife geek in addition to being a blogger, I admit!), and I will go on doing this but as a freelance, proposing my services to various companies! Exciting, right? That does not mean fewer hours of work, oh no! On the contrary I think. But that means being free of my schedules, my projects, with whom I work. It also means another good thing : much more time to develop my baby blog and to always offer you quality content! Here, you know EVERYTHING!
So the program is : April, move in our new Home Sweet Home + set the administrative paperwork for self-entrepreneurship, then in May, it's launcheeeddd! I look forward to it! Wish me luck <3
(I'm a little scared too). But you know what ? Before making this decision I re-read my article about the importance of loving your job in a loop and I also read a lot online, absorbing all the principles of the "worst theory". And frankly, even if it did not work, the worst case is : looking for new job! It's no more complicated than that! I speak to all of you: never content yourself with a life that does not fully satisfy you. Life is full of opportunities, get out of your routine and grab them! I advise you to read my article here if some of you recognize themselves in those words and feel like some motivational reading!
---
HAHA. OMG I'm a real machine of producing words today ! Sorry for the long paragraphs.
Let's go back to our look post and to the #springvibes. I would like to finish this article full of good waves, motivation and colorful projects, focusing on this CRAZY bag. Again, a brand that I no longer present. Maison Gaja, which I've talked about here, here and here. This brand is my CRUSH brand. Vegan bags, beautiful, practical, feminine, accessible, in short everything we love! And the spring / summer collection is to give small colorful stars to your eyes! Pastel, sparkling colors, like this magnificent Martini Peppy Red Bag.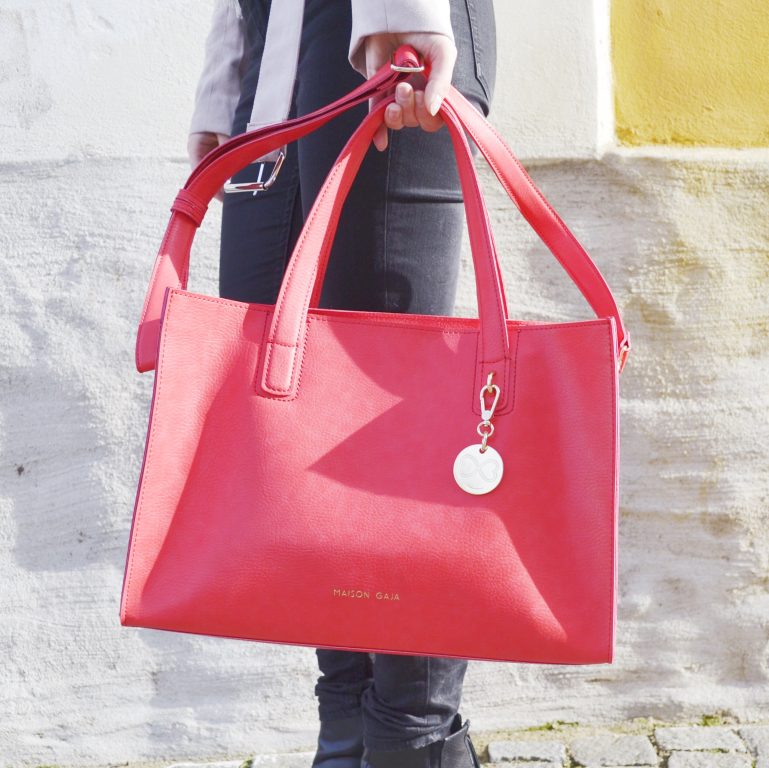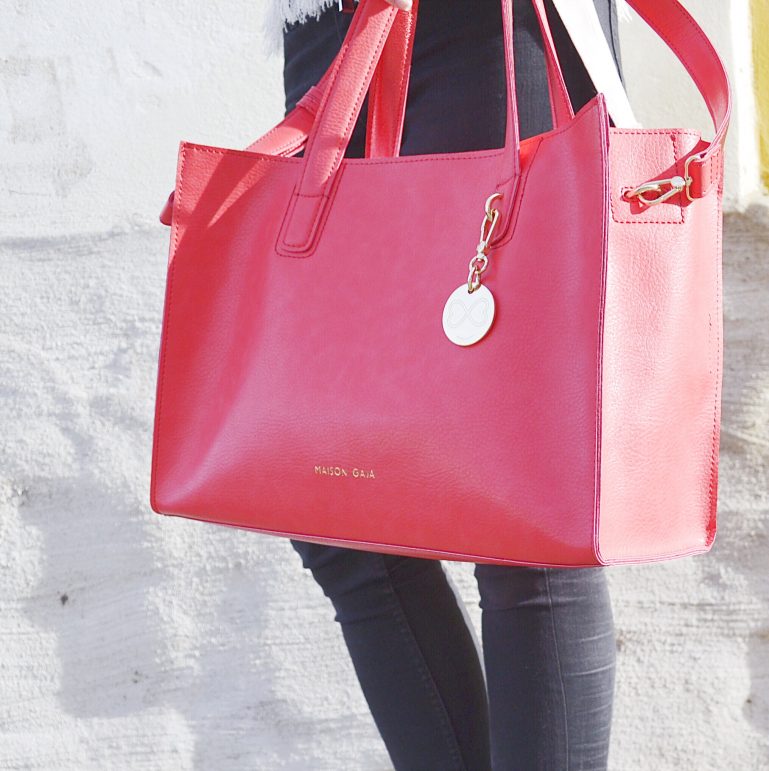 In addition to being beautiful, it is ultra practical and perfectly matches the modern woman with two caps (busy business woman – that we are many to be!).
Imagine yourself : as an office worker, you end up a bit late and have to pick up Lulue at the kinder garden but you have work to finish for your online jewelry business tonight. So you have to carry your laptop + Lulue's toys + make-up kit and all the stuff that we, women, have in our bag.
Or … you are a student, and a blogger. Tonight, before going home, you have to go see Caro for a blog shooting + then your friends for a drink on a terrace. Equals = computer + ordinary stuff + camera + replacement jacket because you will shoot a small pink perfecto while it is 2 degrees outside (HAHA …). Anyway, what better than a BEAUTIFUL bag and that turns being actually … TWO bags in one? I JUST LOVE IT ! Proof in pictures!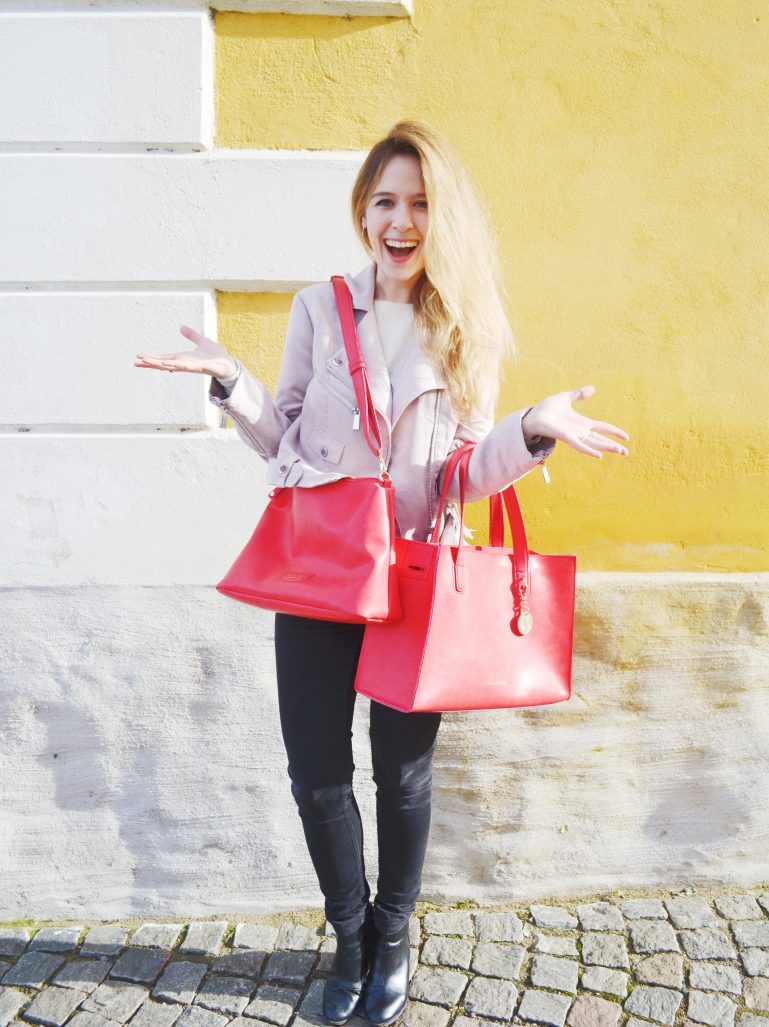 On these words, my little cuties … I will stop writing to you 2KM of text! I was very inspired today … I told you, all this sun, it gives me ENERGY. And that day in Malmö yesterday was a real happiness treat. I add a few photos of yesterday as an after-shotting below, with also a PREMIERE on the blog, a photo of my darling who shares my life. And who takes all the looks pictures of this blog, by the way<3 And I thank him for this. And for being such a loving, supporting, and amazing boyfriend. I leave you sending out your way big kisses, and wishing you a sweet Sunday. I hope you have taken as much pleasure in reading my article as me writing it. Lot of love <3 Plume d'Auré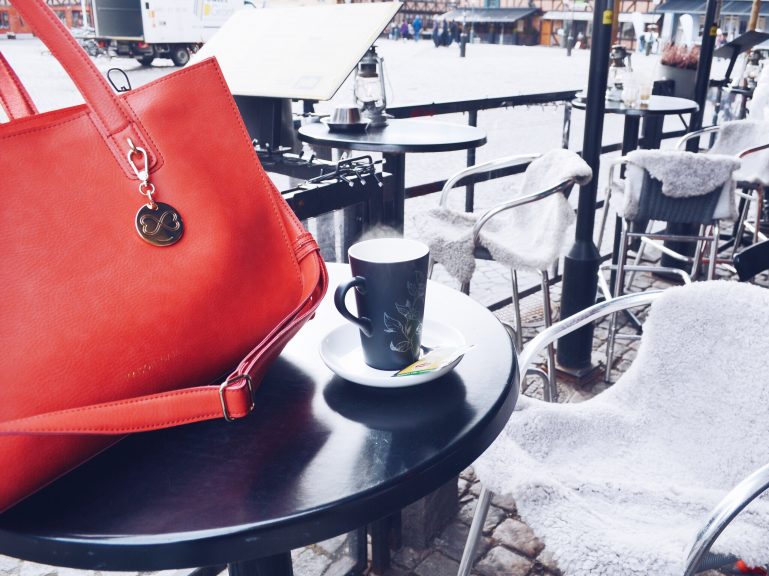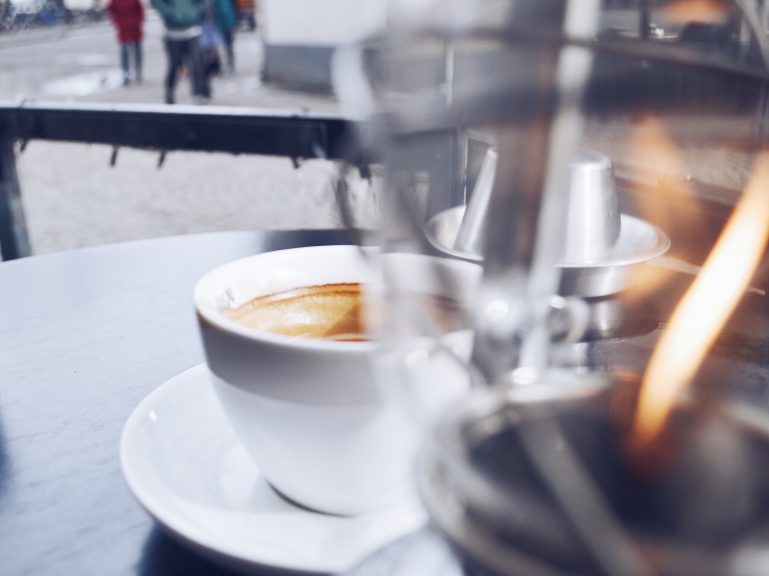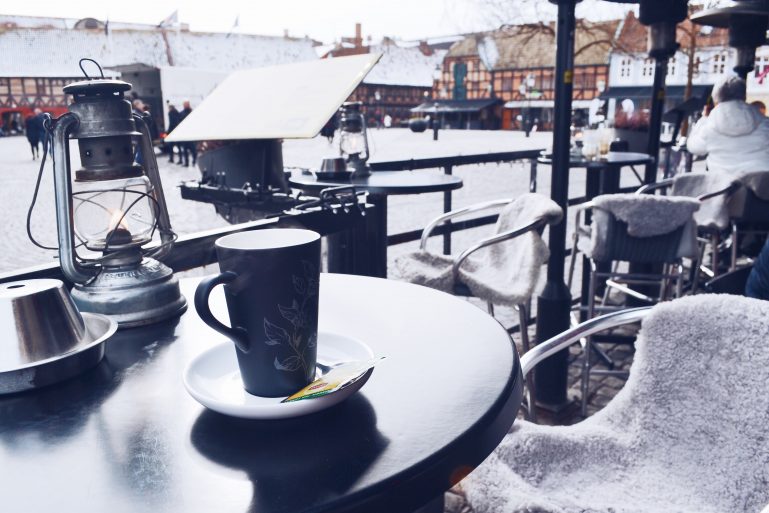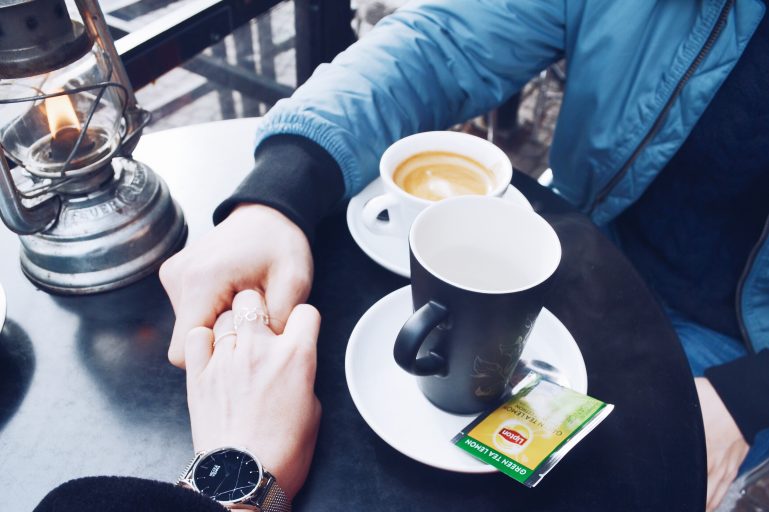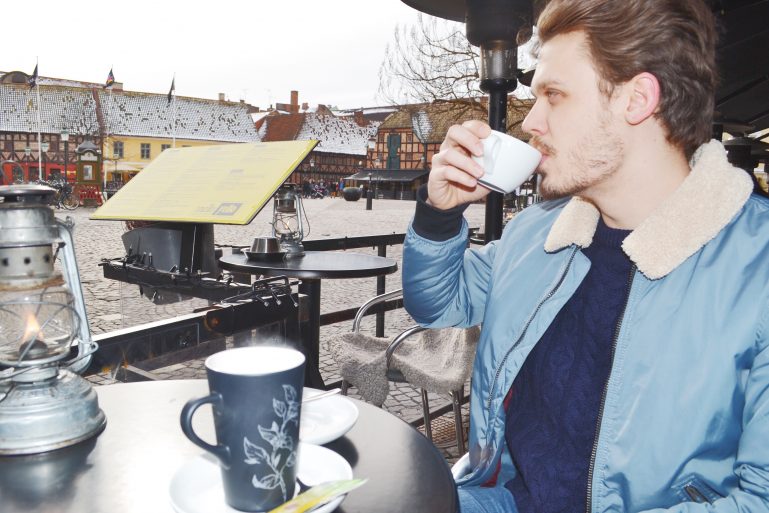 Credits : 
Pink jacket from Ivy Revel (-20 % on the whole website ivyrevel.com with the code PLUMEDAURE20)
Martini Red Peppy Bag from Maison Gaja
Necklace from Chère Lisa Bijoux (Get -10% with the code PLUMEDAURE)
Small dots collection : ring + earrings / Creations Aurore de Heusch – jewellery designer, e-shop Joya Brussels
Honeycomb ring from  Milvic Design
Fringes top from Only 
 Slim Jeans from Cheap Monday
Boots from H&M