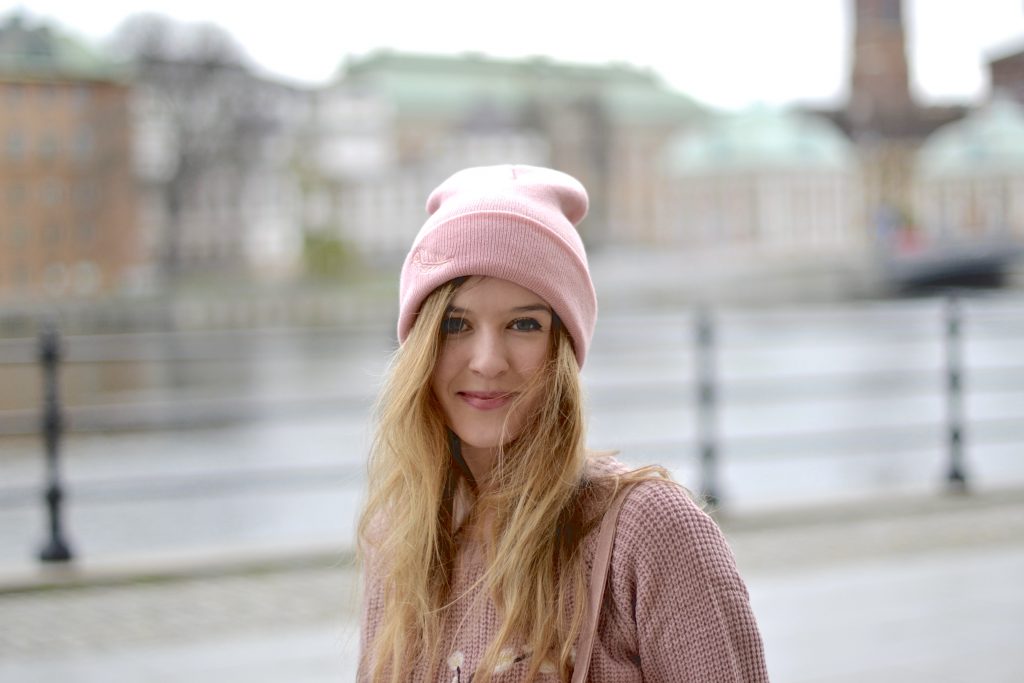 Hello my little cats! Of course I was going to present you look shot in the beautiful city of Stockholm ! We had the pleasure of visiting the colorful Swedish capital with my darling this weekend, and we loved it! Besides, I can not wait to tell you more about it in a dedicated article that will arrive very soon on this blog ! It will contain a tourist guide for a weekend in Stockholm and some good addresses found during my stay. #Travellers in love with Scandinavia, stay tuned! Regarding this  outfit, it was shot in the city center of Stockholm, between Drottningatan (the main street) and Gamla Stan (the old town), just opposite the Riksdag (the Swedish parliament). And I have a particular crush on a piece of this look … can you guess which one? The feather hat of course!
Feather hat and japanese sweater in Stockholm
When I saw this hat on Zaful's website, I thought it was made for me. Feathers are my symbol, the symbol of this blog, a bit of my name "Plume d'Auré" ("The feather of Auré" in french) etc … so it was the perfect little hat! And I did not have a pink one yet so I'm very happy. It is very soft and warm.
I am pleasantly surprised by the quality of the Zaful clothes, I must admit. This look is a total Zaful outfit (except from the bag and shoes) and also my very first order on this site that offers so attractive price that can sometimes leave you doubtful. Well, I have to say … the materials are really okay for what you pay for (and the resist washes!), and they're comfortable.
I am very satisfied with my purchases whether it is this pretty feather hat, the suede skirt or this sweater. I had a crush on the sweater with its small Japanese style embroidery. A winter sweater with flowery embroidery for a little color and spring touch, I say YES! Don't you agree ?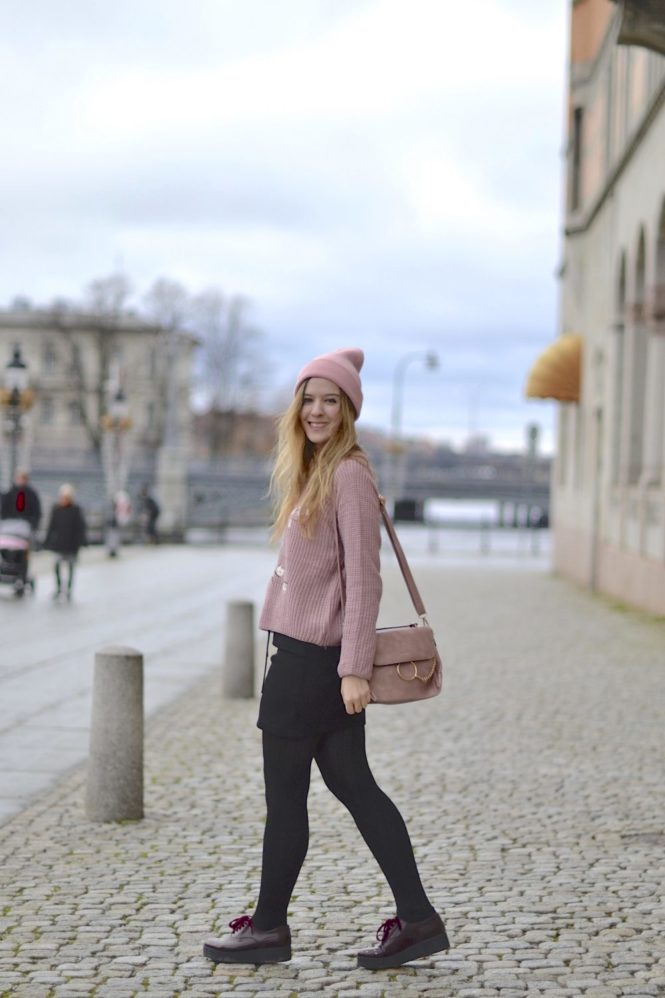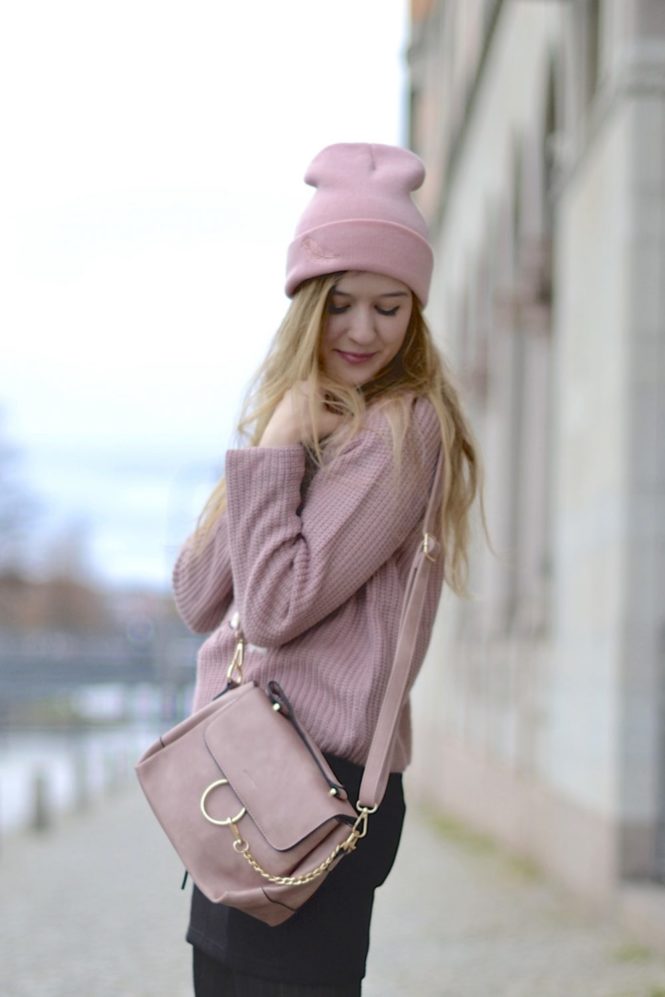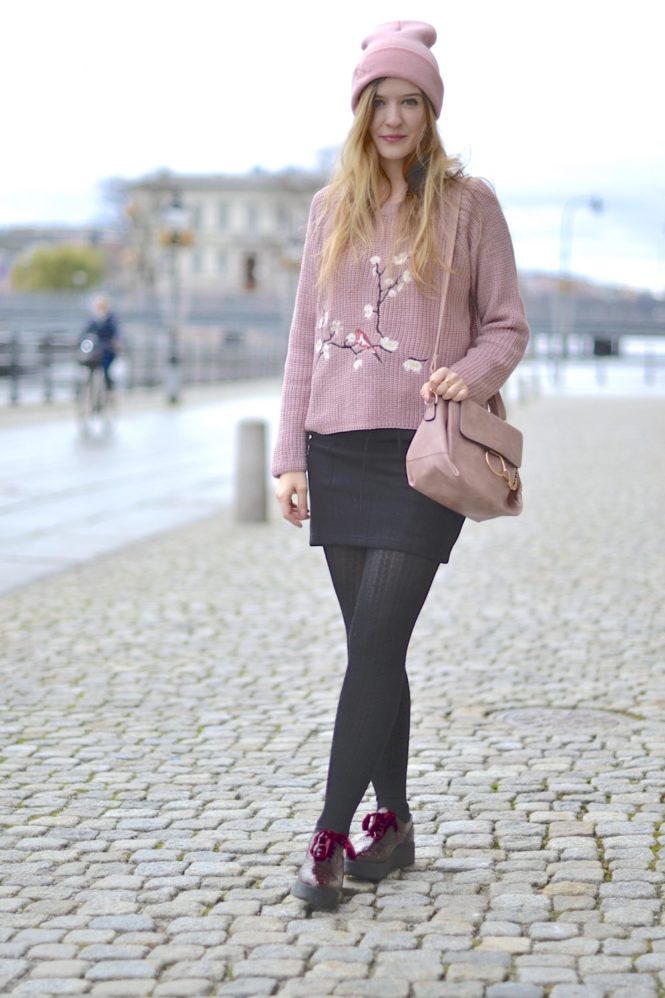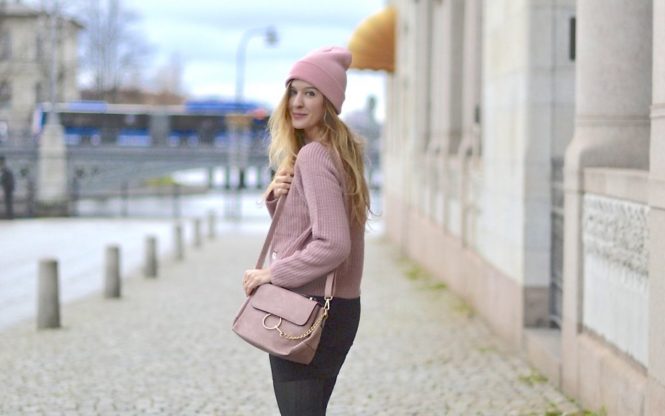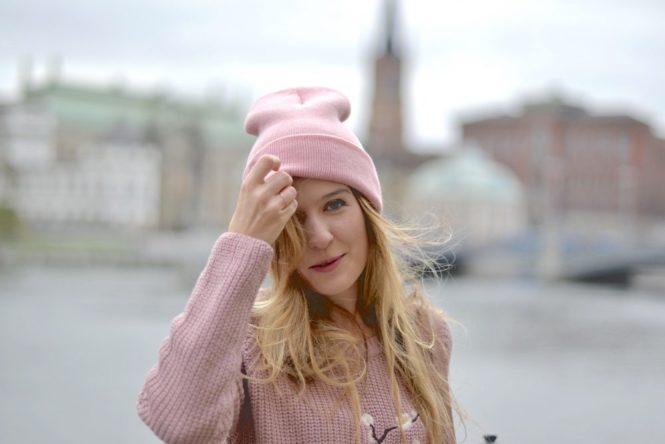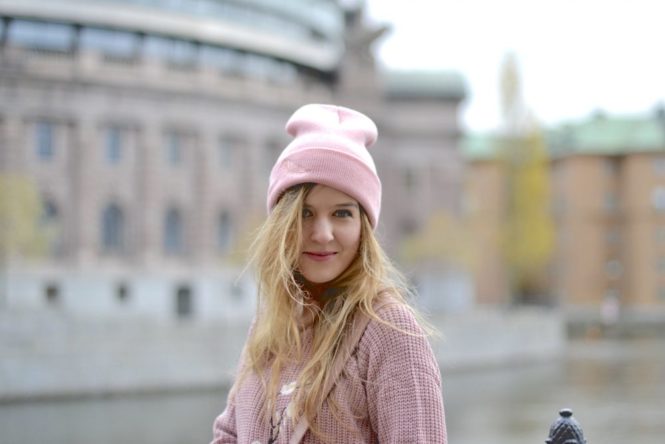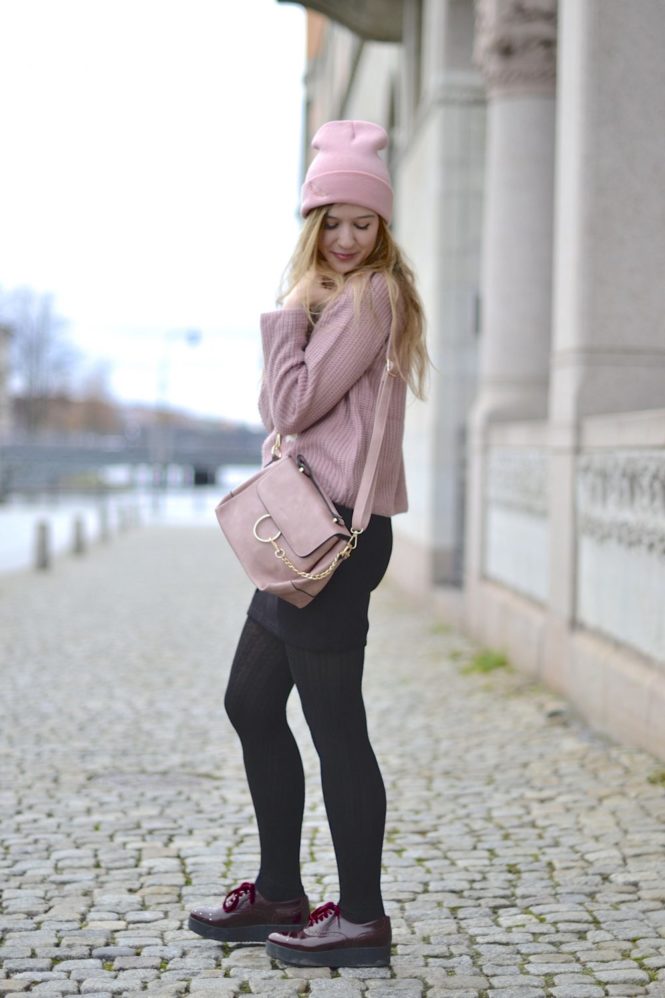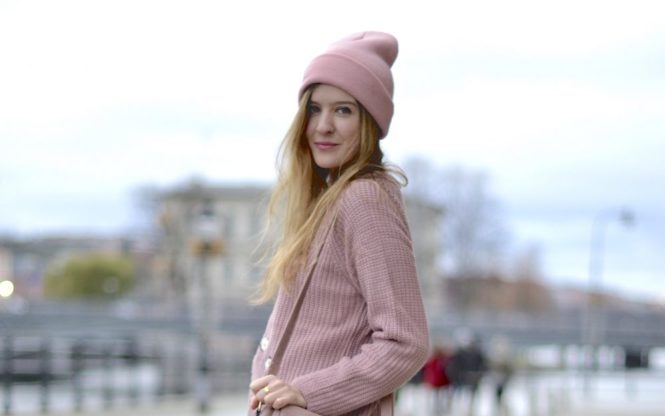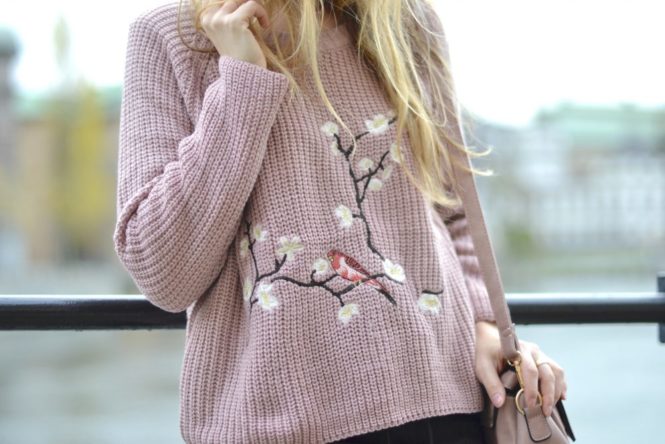 Shop the skirt here / the hat here / and the sweater here
As for the bag, it comes from Adopt , a french brand. I had a big crush on this pretty pink schoolbag with a golden ring, which easily feminises an autumn outfit! Plus it has the perfect size to be carried all day without getting tired while having enough room for all our little essentials 🙂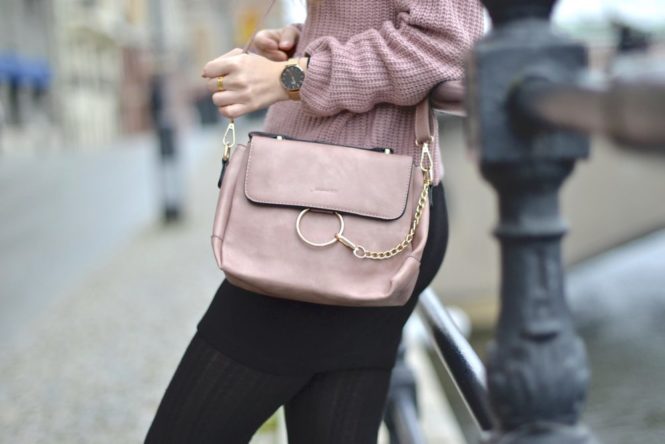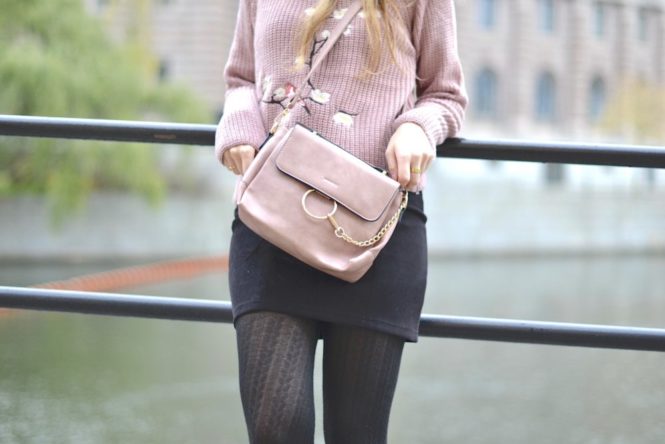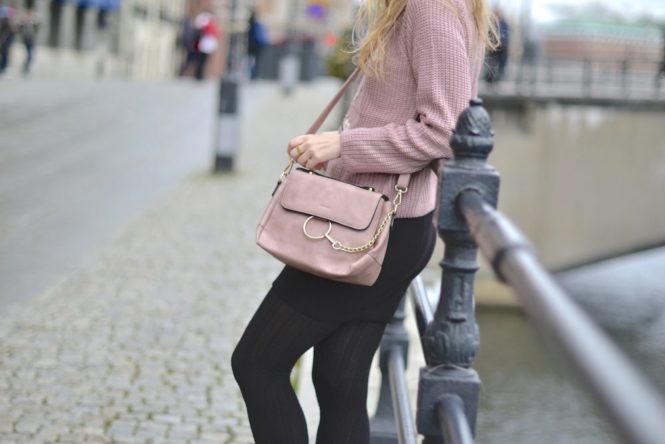 Finally, I'm still in love with my burgundi lacquered Galeries Lafayette derbies. I had already presented them to you in this look and since then I can't stop wearing them ! They are super good quality! I have not found the same model but here are similar models from Galeries Lafayette here, here and here. Are you also fan of derbies ? #perfectshoes
So my dear babes, it's all for today. Time to go back to my series and my ginger herbal teas. I got the flu in Stockholm 🙁 Me who told you in my last article that I was going to Paris this morning for a week… well… nop! Cancelled! I couldn't get out of bed to take the plane this morning, so now my day is about being under the duvet and switching between naps, series and blog so I don't die bored, haha.
I hope you are in better shape than me!
Lot of big kisses <3 and have a good week!
---
Credits : 
This post contains RewardStyle affiliate links