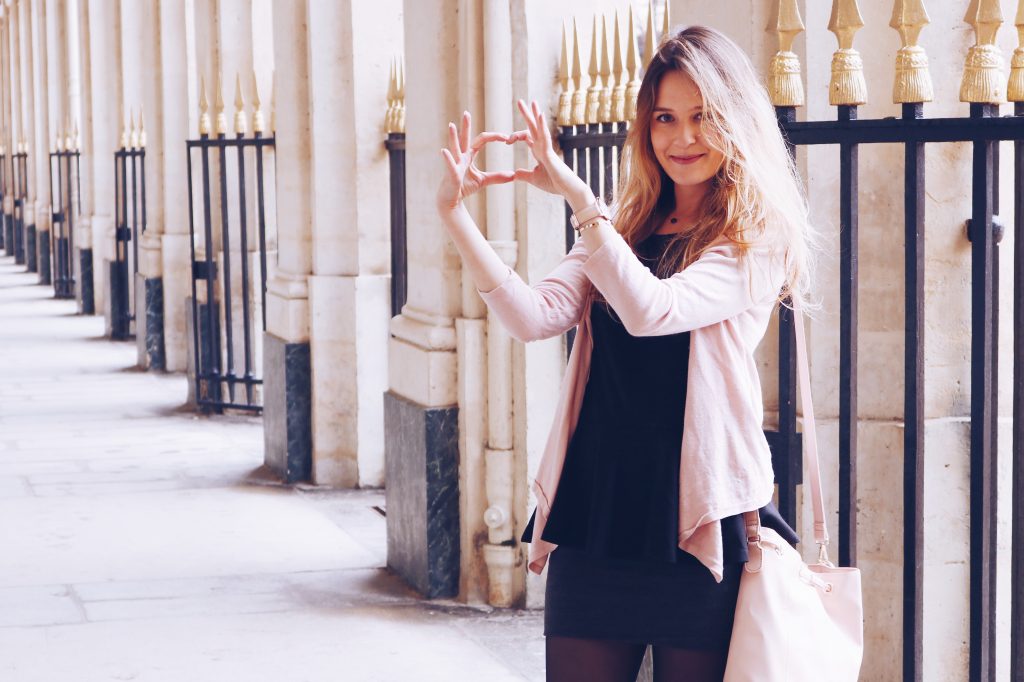 Hello my little Valentines! I hope you are well! Valentine's Day is coming, in no more than 9 days! I am in Paris until the 12th in the evening and will come back just in time to celebrate it with my darling on the 14th. We have planned a small romantic dinner to celebrate our 3rd Valentine's Day (even our 4th because we already celebrated one when we were in Australia, even though these were our very beginnings). Time flies ! This celebration generally counts more for us, girls, than for guys: I took care to "remind" him like every year to be sure that he would not forget haha, it is the same for you? In any case, even if it is true that "it is commercial", that "the small attentions in a couple must last throughout the year and not only on February 14", I find that despite everything, it remains a beautiful occasion to press "pause", to celebrate love in a couple and to remember the beautiful past year together. We write a little letter, we put our words on paper. The opportunity to freeze the feelings instantly, and to build a box of memories to be re-seen together in the old days. Yes, it is clearly the image of the ideal couple that lasts for life as in our dreams as little girls. Despite what we see in our society, I believe in it, I always believed it! 🙂 And you? SO, I'm ready for this year, and here is my outfit for Valentine's Day!
My sexy and discreet outfit for Valentine's Day
For Valentine's Day, I always both want to "impress my boyfriend" but without doing too much, because I still want to stay myself. In my outfit style, I am not too fan of the whole sexy thing and prefer small sexy details but discreet, otherwise I do not feel at ease. All in delicacy.
So for this year, I chose to wear a very nice black top from Vero Moda (a color that always makes its small effect in the silhouette according to me) with a lace effect on the neckline.
To match it, I chose to wear a simple but short skirt from H & M, and black tights (always this color which gives a nice line).
And, pretty and high black heels, to give nice legs and a pretty curve to the body. Here are the basics, in my opinion.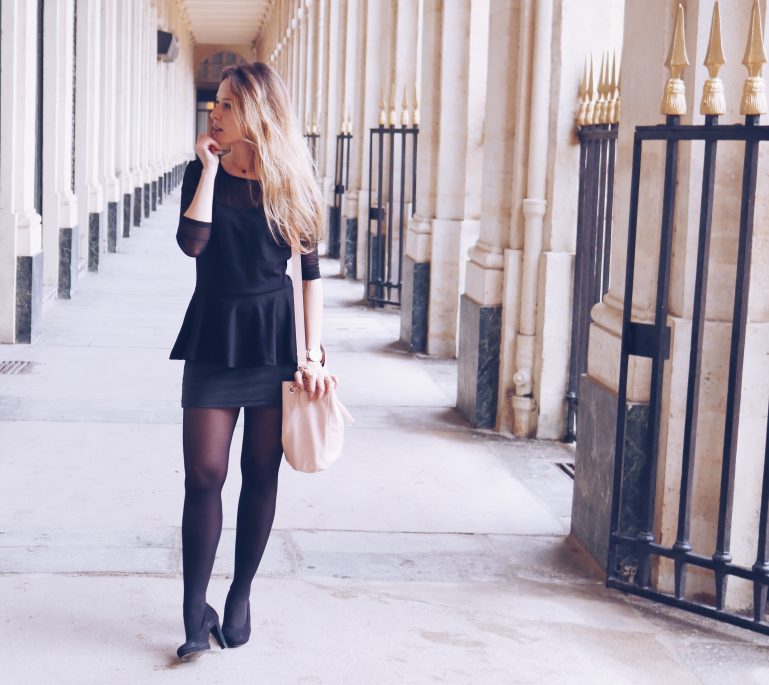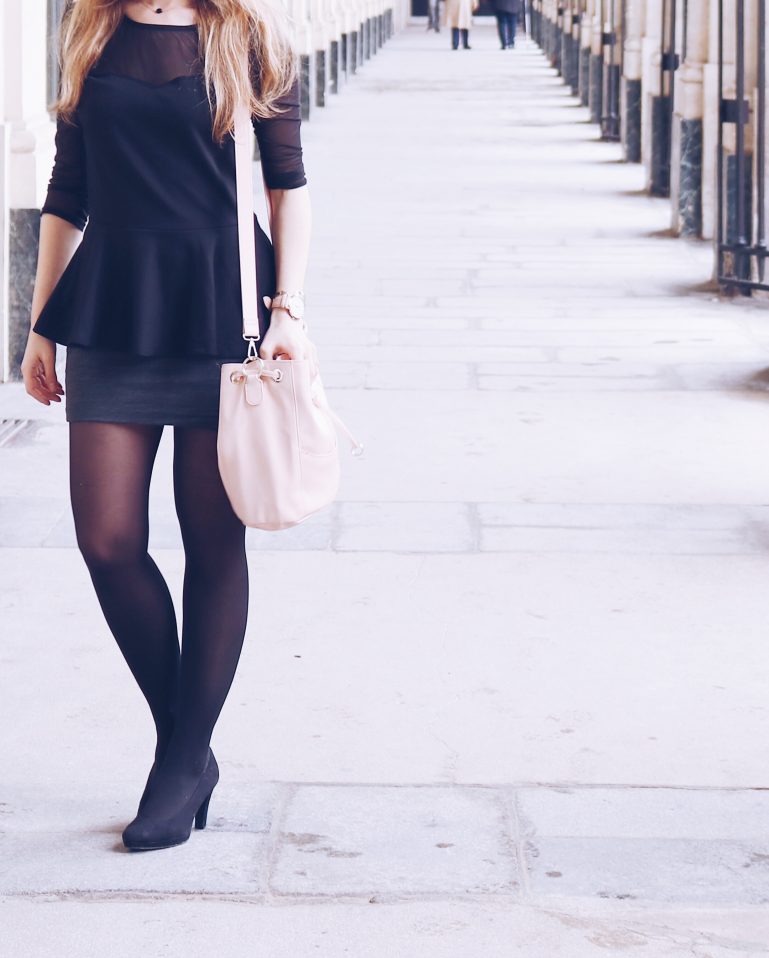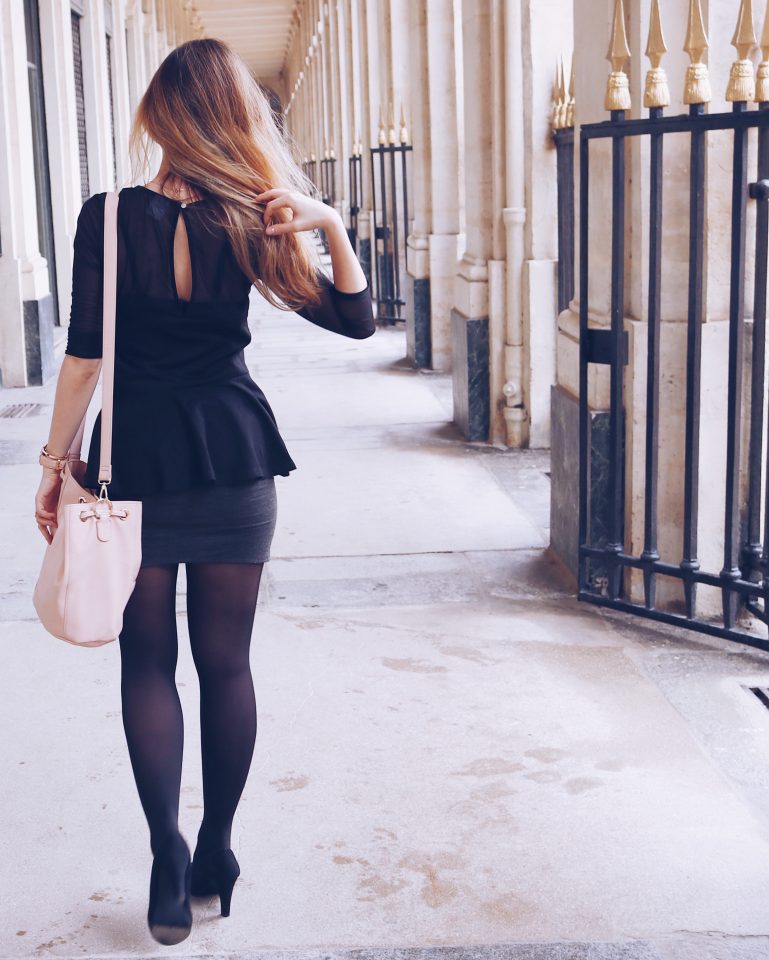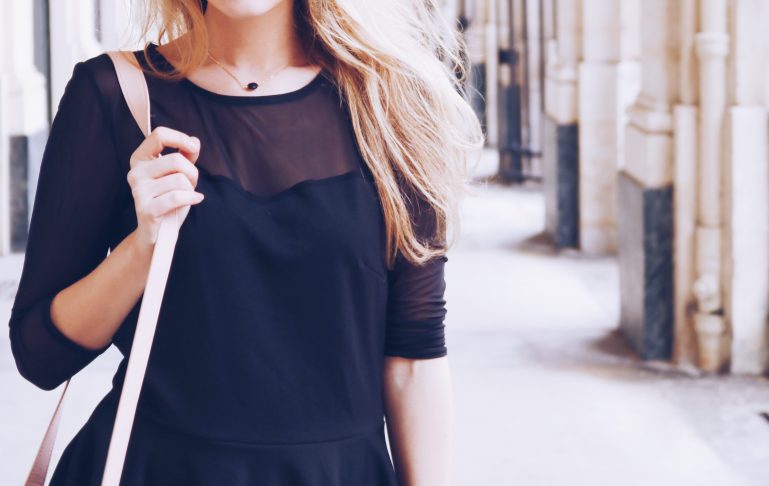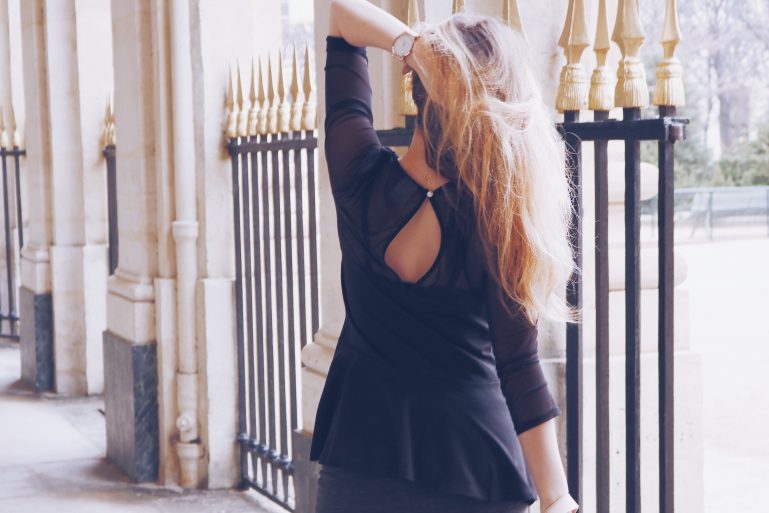 +++ What are your own basics ? +++
+++ Personally, if I had to give you one advice, whatever your morphology is, here is what will ALWAYS do the business : heels, black nylon tights, a nice top highlighting the décolleté, and a pretty skirt. Preferably one of the pieces (top or bottom) being black to refine the silhouette and give you a sexy and mysterious side +++
+++ Avoid the total black look on the other hand, that can give a sad side. Accessorize with color! +++
For my part, to add a slightly more "powdered" and "candid" side, I wanted to add touches of pink. A nice pink sweater, perfect for always chilly people, if you are like me. And this Maison Gaja bag that accessorises the outfit just right!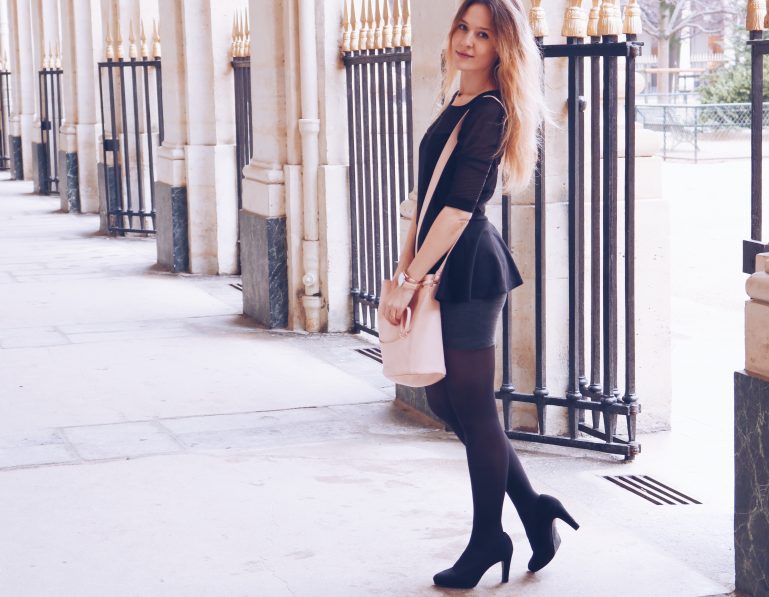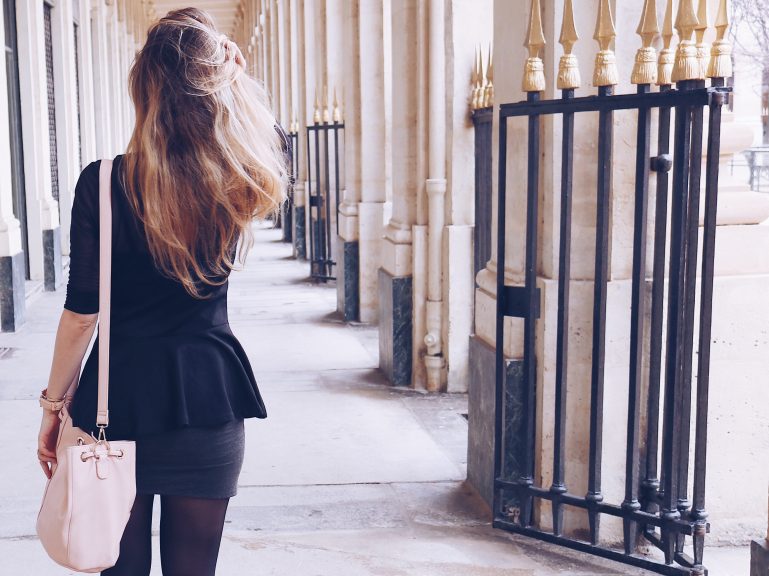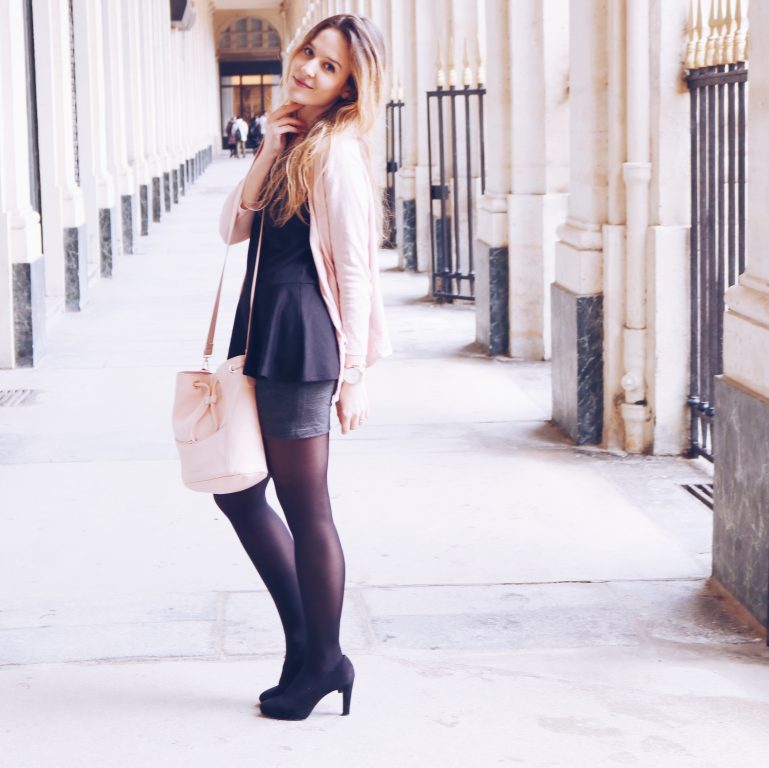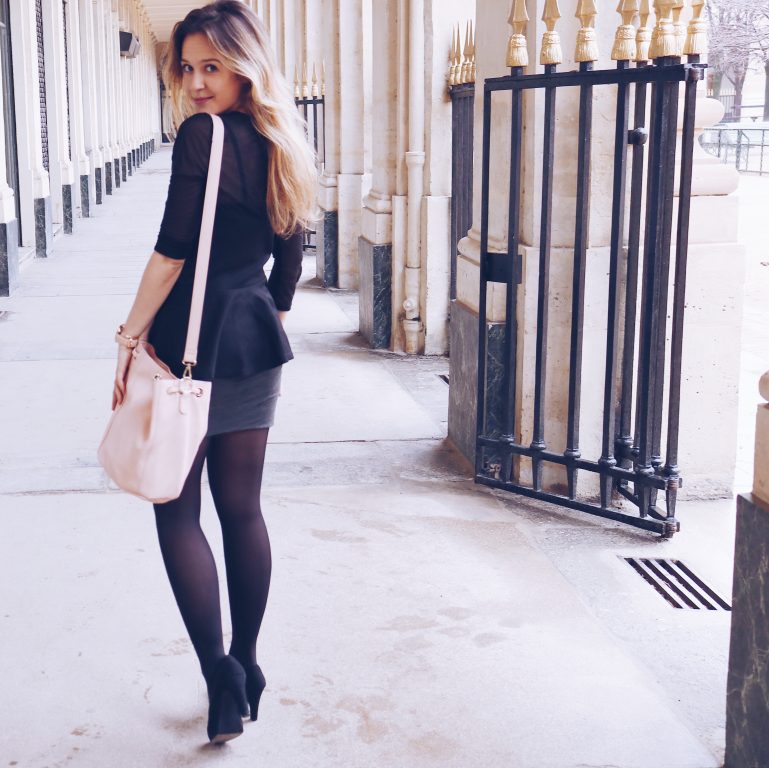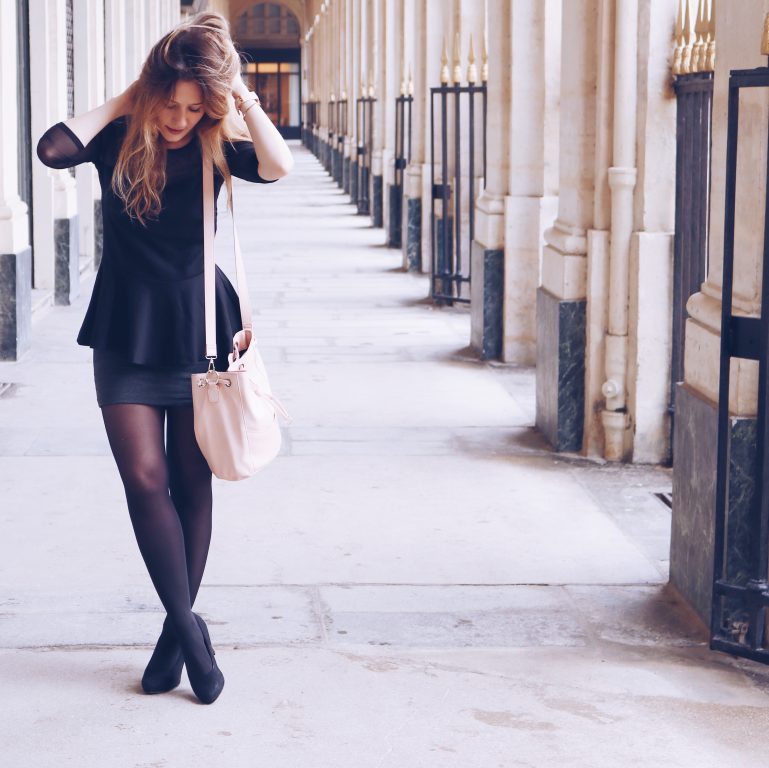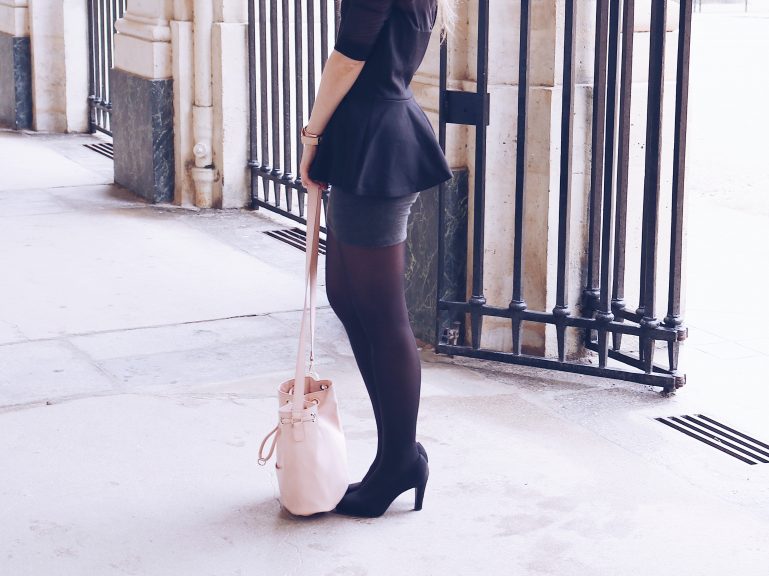 By the way, let's talk about this bag. I stole it for the occasion from my blogger friend Pauline (blog Confidences of a Blonde), which I had the pleasure to meet this weekend and who took these photos. I love Pauline, her blog and her Instagram. She has a pretty, very girly and sweet universe. If you do not know it, go for it! I put the link to her blog at the end of the article. It was a pleasure to meet her and to spend a nice moment between bloggers under these beautiful arcades of the district of the Royal Palace. Her, from Nancy, me, from Sweden, we met for this shooting, a good Japanese (#sushisaddict) between girls and finally (and especially) for an event at Maison Gaja (the brand of this beautiful pink bag and also of my great Mojito bag here). Maison Gaja… I'm a fan, I explained you all about it here. We had a terrific afternoon that I would tell you about in a dedicated post soon!
Last little touch of the look: my new jewellery pieces from Léa Galli. A French designer that I just discovered and that I love ! Her creations are of great refinement, do not you think? This ring with its fine chain is sublime … and this necklace. This little black stone. All in gold. I am conquered. These jewelry, I will wear them super often. All that I love !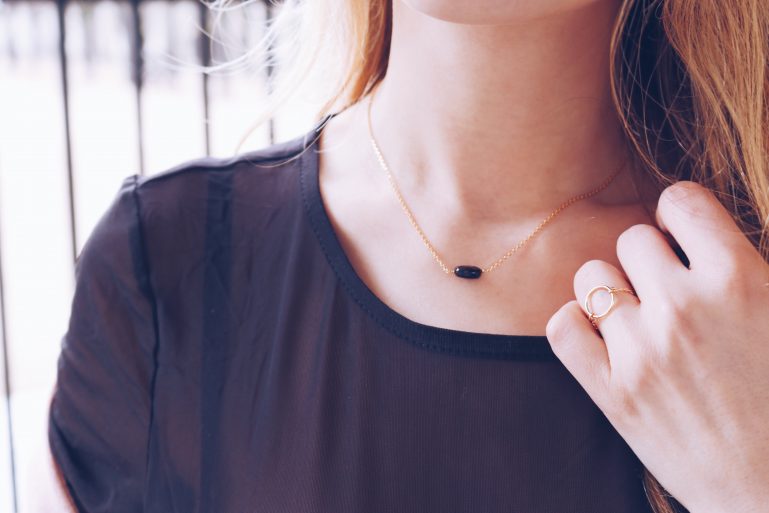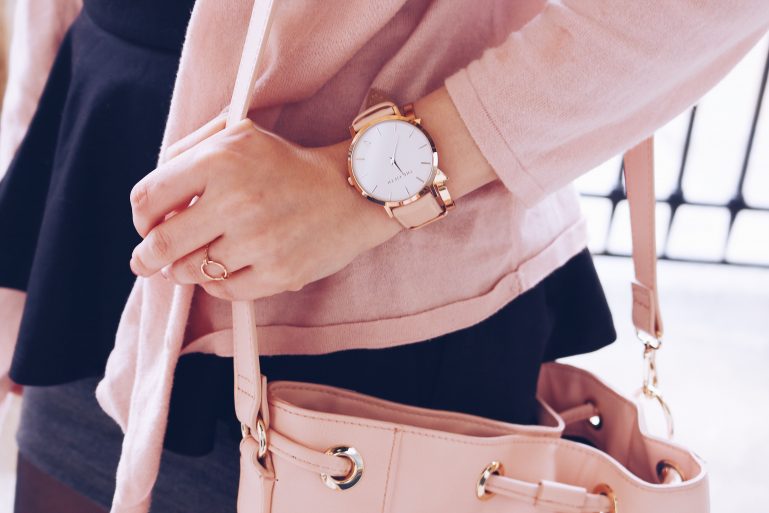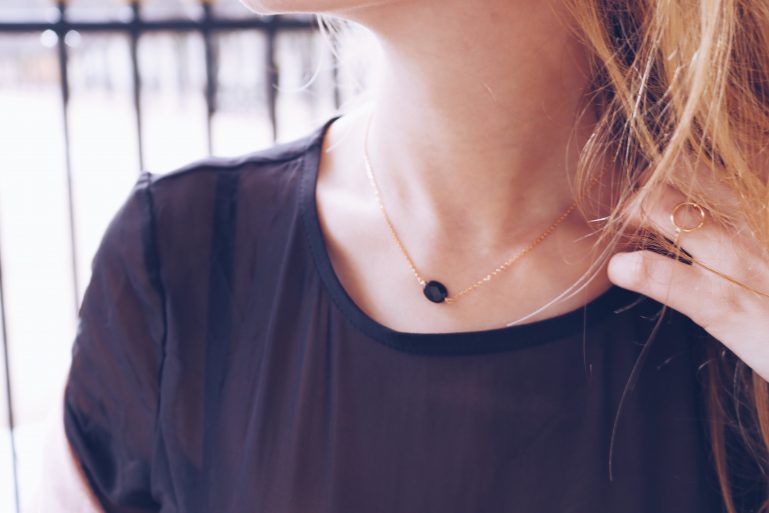 Here you go my Valentines ! I hope you like this Valentine's Day look! I wish you a sweet Valentine's Day full of good waves (even for single people!). After all, even without a boyfriend, just a good evening with TV / sushi / friends will do ! Here is a little heart for you! XOXO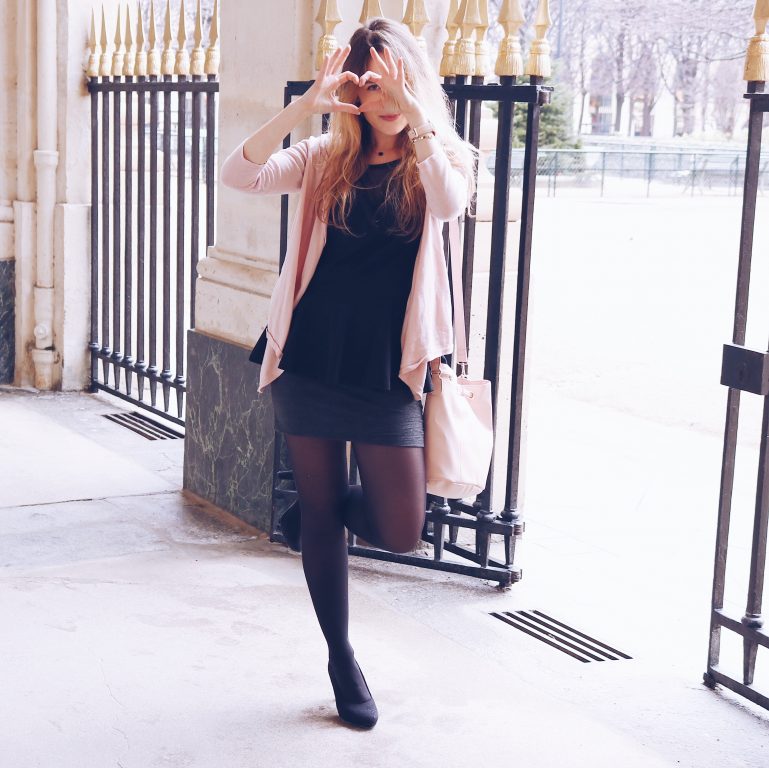 Credits :
Bag from Maison Gaja
Sweater from Camaïeu
Skirt, tights from H&M
Top from Vero Moda 
Heels from Primark
Jewelry from Léa Galli 
Watch from The Fifth
Photos : Pauline from Confidences of a Blonde, @paulinevlter on Instagram (a must follow girl!)